Category Archive for
Belgium
It's almost the holidays, and I'm winding down my travels for the year. While in Hong Kong this month, I snapped some photos in front of a cute Xmas tree and decorations.
I've had so many work trips this year that it's been hard to catch up on blogging. There's a lot from Asia to come (Hong Kong, Myanmar, Japan).
But before Christmas comes around, it feels right to release my final post from Brussels — one of my favorite destinations of 2016.
If you Brussels is a boring city — then I have a feeling this story will change your mind.
"Bruxelles" is currently one of the best places in Europe to be a young artist. There's a huge number of new galleries and fairs here, which are open to emerging artists. These experimental attitudes and relatively low rents have resulted in a vibrant scene (remember the David Bowie mural I wrote about?)
Not convinced? Then let's start with a visit to a fetish art exhibit!
Visit Belgium introduced us to Maison Particulière, and it turned out to be one of the best exhibits I've seen in a long time. (Address: Rue du Châtelain 49, 1050 Ixelles, Belgium)
This unconventional space is a private townhouse originally built in 1880. Nothing is for sale, but anyone can walk in and appreciate the works without fees. Maison Particuliere encourages you to pick up a book, curl up on one of the seats, and enjoy the displays for as long as you wish.
The exhibits are constantly changing, and pertain to a theme. With S&M birdhouses, silicone labias and Thai ladyboys… I'd say this "ta.bu" curation lives up to its name!
(I'm wearing a velvet dress by Alice's Pig, a London vintage-inspired brand. You can purchase it directly from me from my wardrobe sale.)
Everything — from Mapplethorpe nude photographs, to scandalous taxidermy — reflected on the idea of taboo.
"Banned, proscribed, prohibited, censored, feared, dreaded, transgressed, trespassed… Taboos are inherent to society and to mankind. No matter what they are, taboos are invariably rooted in the fear of danger."
The idea of Taboo was expressed in an impressive range of mediums. Age, disease, sexuality, sadomasochism and other "repulsive" subjects are brought to the forefront for discussion.
Some of the works were unnerving, such as large-scale paintings that depicted the Holocaust.
Others took a funny, pop culture approach. Quite the surprise to come across giant hanging boobs, and a monkey fetus in a sack!
I came across works that commented on body modifications, such as this tattooed pig. Maison Particuliere did an incredible job at facing these social dangers head-on, and left me with a lot of food for thought.
Onward, to a very different yet equally impressive environment. The St. Gilles district is home to many top galleries, including Galerie Daniel Templon (Address: Rue Veydt 13A, 1060 Saint-Gilles, Belgium).
I was immediately captivated by the dream-world spun by Japan's Chiharu Shiota. She covered the room in black cobwebs, hand-laced and knotted by hand. With this deceptively simple technique, she conjures up subconscious feelings: the past, dreams, anxieties.
Brussels is a magnet for the world's most exciting contemporary artists. Perhaps you've heard of Chiharu Shiota from her massive display of keys, strung by red yarn, at the 2015 Venice Biennale. 
She created this original installation in a single week. At the opening of "Sleeping is like Death", her two assistants slept in hospital beds covered by dark spider webbing — uncanny, eerie, magnificent.
I explored more of Brussels' art scene with my local friend, Jérémie Venganza of Super Dragon Punch!!, a synthbit Industrial band.
We walked next door to the Op Art exhibition, called "Let's Move" at La Patinoire Royale.
(I'm wearing a coat by Alice's Pig.)
We were dazzled by the eye-popping displays of kinetic art from 1955 to 1985. There were works from more than 30 artists, all of which tricked the mind into perceiving motion and dimensions. Once again, an offbeat and world-class collection — free for anyone to see.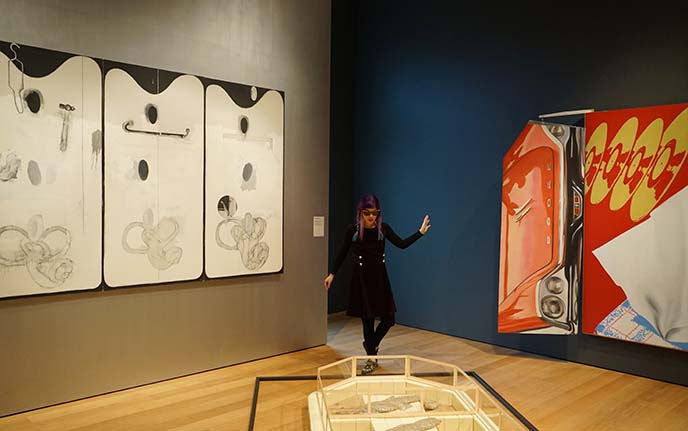 Our last stop was "Pop Art in Belgium," a temporary collection at the ING Art Center. It brought together famous works from stars of the movement (Warhol, Lichtenstein, Rosenquist) — and even had a funny photo booth in the basement.
After all that astonishing modern art, it was time for a drink. Jeremie took me to a Gothic / metal bar, Le Cerceuil or "The Coffin."(Address: Rue des Harengs 10-12, 1000 Bruxelles)
Le Cercueil burst into the city center in 1974, after the popularity of horror movie, "The Exorcist." The decor lives up to its morbid names: Skulls and bones and death, oh my!
Inside the dive-y basement, we sat on couches next to ribcages and monster paintings. Metallica and other metal bands blasted from the speakers.
Like a scene from The Rocky Horror Picture Show… the table are shaped like coffins, with skeletons inside!
The drink menu had a long list of gruesomely-named cocktails, like Sperm of the Devil and Piss of the Cadaver.
We had a fabulously spooky time at Le Cerceuil. Highly recommended for those who like to hang out in cemeteries.
Jeremie also recommended Floris Bar, nearby in the City Center. (Address: Impasse de la Fidélité 12, 1000 Bruxelles) I nicknamed it "Absinthe Heaven" because… well, this photo says it all.
Over 350 varieties of the Green Fairy, including  Belle Epoque, Die Grune, Fee Verte, Tabu. The environment is a little touristy, but the spectacular selection of absinth — served French-style, with flames — makes it worth the trip.
Did I change your preconceptions of Brussels? I found out for myself that the modern art scene is edgy, and among the most vibrant in all of Europe. (Belgian photos by BorderlessMedia.)
PS – you can purchase this exact dress that I'm wearing on my Depop (browse all items here, and email gothiccarmina@gmail.com to buy directly from me). There's also a similar velvet dress by Alice's Pig available here, at a discount.
Got any Nightmare Before Xmas plans? Will you be traveling anywhere over the holiday season?
I'm very excited to share my latest travel video with you — about the vibrant culture of Brussels, Belgium! 
In my view, Brussels is one of the best places in Europe to be a young creative. The city's relatively low rents and large number of galleries have shaped a vibrant community for artists.
My team and I captured Belgian food, fashion, and festivals in this new travel show episode, published on Business Insider. Please take a few moments to watch it here and above. Did my "chocolate dress dance' make you smile?
(Produced by Borderless Media, and all these photos are by them too).
Let's take a deeper look at the travel attractions we featured in our episode, including two top restaurants, and museums dedicated to Rene Magritte (Surrealist master) and comic books. 
(Above, I'm relaxing at Charles Home apartments. Loved staying in this hip abode, right in the historic district.)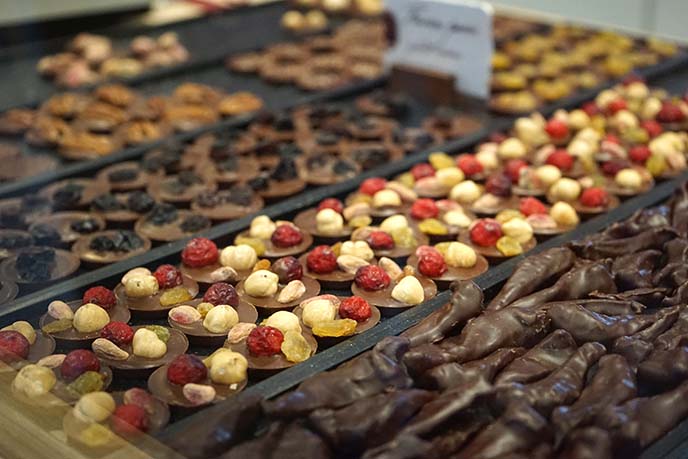 Perhaps Belgium is most famous for its "chocolat." To my delight, I got to learn how to make these delicacies by hand.
My film team and I went to visit one of the best chocolatiers in the city – Laurent Gerbaud — for a sweet cooking lesson. (Address: 2 D rue Ravenstein, Brussels 1000, Belgium)
I was thrilled to be the apprentice of this local master. He surprised me by asking: "Would you like to put on a chocolate dress?" Oui, naturellement!
Laurent had made this design for the Salon de Chocolat, which had a runway show with models in edible haute couture. This corset and bell skirt are made of brown fabric — and entirely covered in chocolate creations.
In our Brussels travel video, you can see me sashaying down the streets, and letting passersby eat chocolates from my skirt. Each of these edible disks is attached with string.
Back inside, it was time to learn how to make Belgian chocolates. Laurent a true artisan who creates everything by hand. He taught me the process from start to finish (with many tastings along the way).
First, I ran a chocolate mold under a stream of liquid chocolate. Then, I had to quickly press toppings into my squares before they set. As you can see, I had many high quality ingredients to choose from: pistachios, berries, ginger and more.
Laurent Gerbaud's chocolates are melt in your mouth magnificent. This is as fresh and gourmet as it gets — and we got to take home several bags of our own creations. 
His chocolaterie is open to anyone who would like a chocolate making and tasting experience. I hope you seek him out.
Now that our chocolate cravings were satisfied, it was time to step into the Rene Magritte Museum. I knew I was in for a surreal experience: this is the world's largest collection of the Belgian artist's works.
(I'm wearing a Miffy sweatshirt – you can find it on my shop – and Black Milk leggings.)
The Magritte Museum is dedicated to the work of the Belgian surrealist artist, René Magritte. (Address: Rue de la Régence 3, 1000 Bruxelles, Belgium). It's located next to the Royal Museums of Fine Arts of Belgium, as well as other sights in the City Center, so you can easily spend a day wandering around this area.
Hats off to René Magritte, whose surrealist visions were ahead of his time. I'm sure you have seen his famous works featuring pipes, clouds, bowler hats, apples and other "regular" objects — but in dreamy and bizarre contexts.
In addition to his Surrealist masterworks, there are rare collections of his early Impressionist paintings, photography, and experimental films. The museum displays about 200 original Magritte works from the early to mid 20th century.
I admire his thought-provoking surrealism. This seeming simple painting (of two coffins, bent and seated as if they were having a conversation) is imbued with wit and meaning.
I also enjoyed seeing Magritte's lesser-known works in different styles, such as this pig in a suit.
"Ceci n'est pas une pipe" is one of his most recognised images. If you're intrigued by this artist and Surrealism, I encourage you to check out this book about Rene Magritte. 
Design is everywhere in Brussels. We loved the old world architecture of the city center.
(My leggings are Black Milk.)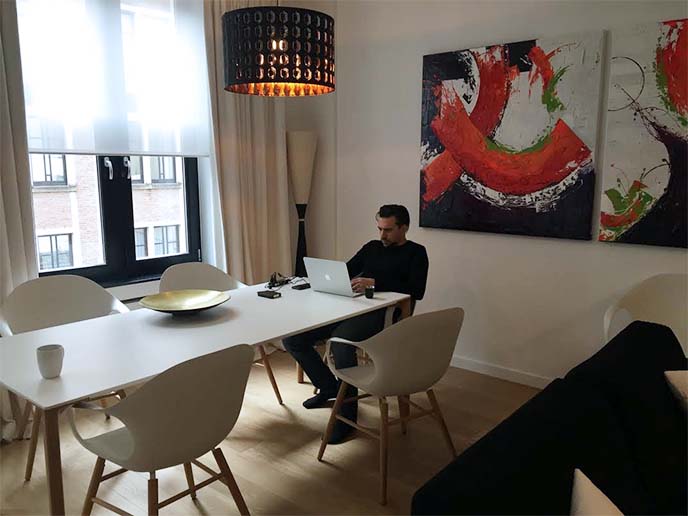 And how cool is the modern interior decor of Charles Home apartments, where we stayed during our Brussels trip.
The location couldn't be beat —  the apartment was right by Central Station. Our Montagne two-bedroom had a huge kitchen and dining area, where we could make coffee and share late-night feasts of waffles and French fries. 
Everything was provided in the apartment, including free Wifi, high end TV and speakers, and all amenities. Each room was done in tasteful, contemporary design: wood floors, a cozy fireplace, geometric lights.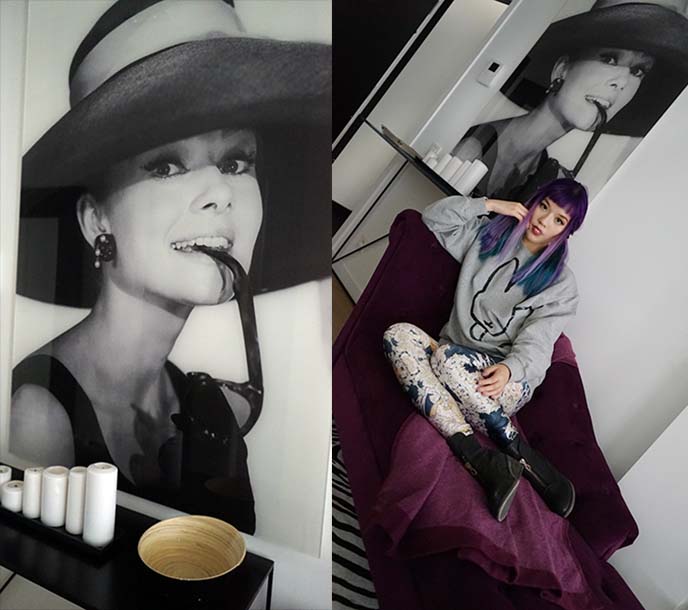 Audrey Hepburn smiled at us near the entrance, and Bridget Bardot lounged over my bed.
I encourage you to stay at an apartment rental instead of a hotel, for a more local and spacious experience. If you're coming to Brussels, check out the fabulous Charles Home apartments. 
As you can tell, there's so much art to see in Brussels. I posed with the Smurfs at the Belgian Comics Art Museum, which is housed in an Art Nouveau building. The exhibits celebrate both international and local comic book characters, such as Tintin..
(I'm wearing a jacket by The Kooples  and sunglasses by Moat House Eyewear. More from this museum below.)