Brussels travel TV video! Chocolate-making lesson, Rene Magritte museum, cool Belgian restaurants.
I'm very excited to share my latest travel video with you — about the vibrant culture of Brussels, Belgium! 
In my view, Brussels is one of the best places in Europe to be a young creative. The city's relatively low rents and large number of galleries have shaped a vibrant community for artists.
My team and I captured Belgian food, fashion, and festivals in this new travel show episode, published on Business Insider. Please take a few moments to watch it here and above. Did my "chocolate dress dance' make you smile?
(Produced by Borderless Media, and all these photos are by them too).
Let's take a deeper look at the travel attractions we featured in our episode, including two top restaurants, and museums dedicated to Rene Magritte (Surrealist master) and comic books. 
(Above, I'm relaxing at Charles Home apartments. Loved staying in this hip abode, right in the historic district.)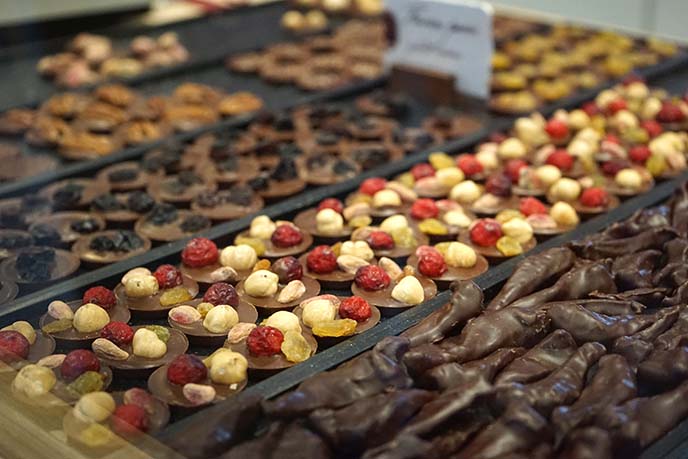 Perhaps Belgium is most famous for its "chocolat." To my delight, I got to learn how to make these delicacies by hand.
My film team and I went to visit one of the best chocolatiers in the city – Laurent Gerbaud — for a sweet cooking lesson. (Address: 2 D rue Ravenstein, Brussels 1000, Belgium)
I was thrilled to be the apprentice of this local master. He surprised me by asking: "Would you like to put on a chocolate dress?" Oui, naturellement!
Laurent had made this design for the Salon de Chocolat, which had a runway show with models in edible haute couture. This corset and bell skirt are made of brown fabric — and entirely covered in chocolate creations.
In our Brussels travel video, you can see me sashaying down the streets, and letting passersby eat chocolates from my skirt. Each of these edible disks is attached with string.
Back inside, it was time to learn how to make Belgian chocolates. Laurent a true artisan who creates everything by hand. He taught me the process from start to finish (with many tastings along the way).
First, I ran a chocolate mold under a stream of liquid chocolate. Then, I had to quickly press toppings into my squares before they set. As you can see, I had many high quality ingredients to choose from: pistachios, berries, ginger and more.
Laurent Gerbaud's chocolates are melt in your mouth magnificent. This is as fresh and gourmet as it gets — and we got to take home several bags of our own creations. 
His chocolaterie is open to anyone who would like a chocolate making and tasting experience. I hope you seek him out.
Now that our chocolate cravings were satisfied, it was time to step into the Rene Magritte Museum. I knew I was in for a surreal experience: this is the world's largest collection of the Belgian artist's works.
(I'm wearing a Miffy sweatshirt – you can find it on my shop – and Black Milk leggings.)
The Magritte Museum is dedicated to the work of the Belgian surrealist artist, René Magritte. (Address: Rue de la Régence 3, 1000 Bruxelles, Belgium). It's located next to the Royal Museums of Fine Arts of Belgium, as well as other sights in the City Center, so you can easily spend a day wandering around this area.
Hats off to René Magritte, whose surrealist visions were ahead of his time. I'm sure you have seen his famous works featuring pipes, clouds, bowler hats, apples and other "regular" objects — but in dreamy and bizarre contexts.
In addition to his Surrealist masterworks, there are rare collections of his early Impressionist paintings, photography, and experimental films. The museum displays about 200 original Magritte works from the early to mid 20th century.
I admire his thought-provoking surrealism. This seeming simple painting (of two coffins, bent and seated as if they were having a conversation) is imbued with wit and meaning.
I also enjoyed seeing Magritte's lesser-known works in different styles, such as this pig in a suit.
"Ceci n'est pas une pipe" is one of his most recognised images. If you're intrigued by this artist and Surrealism, I encourage you to check out this book about Rene Magritte. 
Design is everywhere in Brussels. We loved the old world architecture of the city center.
(My leggings are Black Milk.)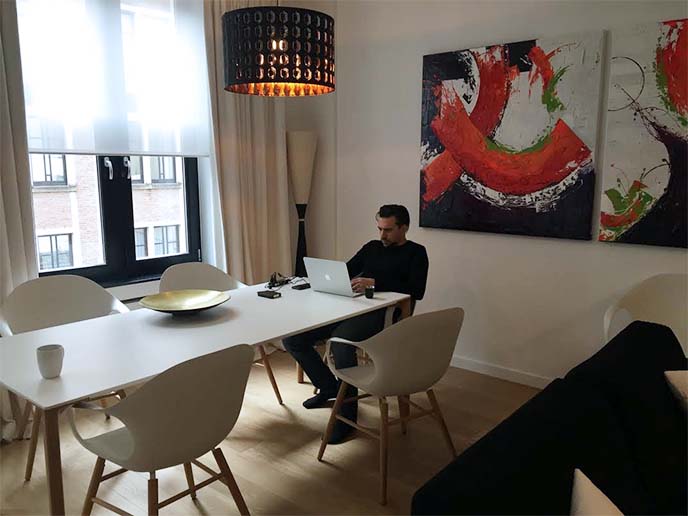 And how cool is the modern interior decor of Charles Home apartments, where we stayed during our Brussels trip.
The location couldn't be beat —  the apartment was right by Central Station. Our Montagne two-bedroom had a huge kitchen and dining area, where we could make coffee and share late-night feasts of waffles and French fries. 
Everything was provided in the apartment, including free Wifi, high end TV and speakers, and all amenities. Each room was done in tasteful, contemporary design: wood floors, a cozy fireplace, geometric lights.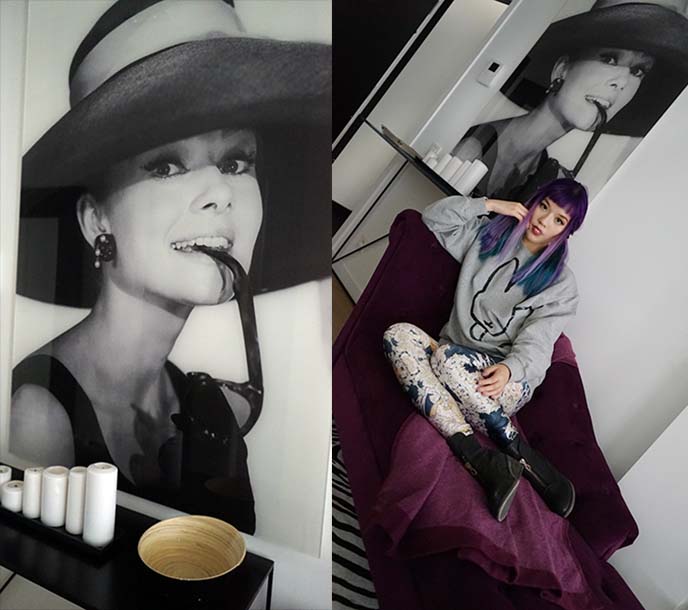 Audrey Hepburn smiled at us near the entrance, and Bridget Bardot lounged over my bed.
I encourage you to stay at an apartment rental instead of a hotel, for a more local and spacious experience. If you're coming to Brussels, check out the fabulous Charles Home apartments. 
As you can tell, there's so much art to see in Brussels. I posed with the Smurfs at the Belgian Comics Art Museum, which is housed in an Art Nouveau building. The exhibits celebrate both international and local comic book characters, such as Tintin..
(I'm wearing a jacket by The Kooples  and sunglasses by Moat House Eyewear. More from this museum below.)
The Belgian Comic Strip Center or Comics Art Museum (Address: Rue des Sables 20, 1000 Bruxelles, Belgium) was designed in 1905 by world famous architect Victor Horta. The ceilings and curves are Art Nouveau at its best.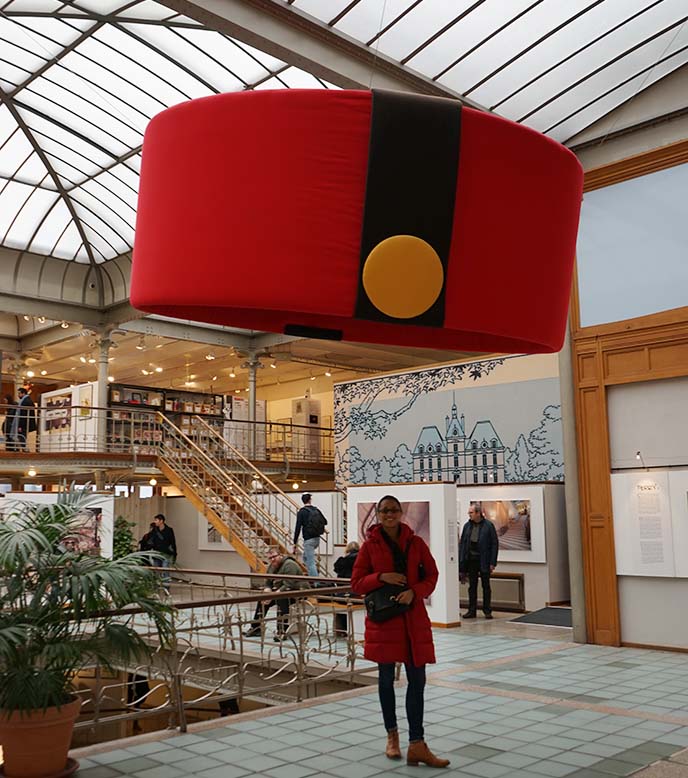 My friend Eremi posed under the red hat of Spirou, one of the most popular classic Franco-Belgian comics (which debuted in 1938).
The lobby has giant sculptures of characters, including Lucky Luke on a horse. Inside, the displays celebrate comics art from past to present, from artists around the world.
I'm sure you are familiar with Tintin, the intrepid journalist who encountered mysteries around the globe. He's the creation of Belgian illustrator Herge. (If you haven't read any Tintin books, get started here!)
The gift shop has lots of Tintin items, as well as collections from other Belgian characters (The Smurfs, Dickie, Little Nemo).
I leave you with a run-down of the magnificent food scene of Brussels. I'm standing inside the cheery San Restaurant. (Address: Rue de Flandre 19 Brussels, Belgium)
San is one of the most exciting new restaurants in the city. The Michelin-starred chef, Sang Hoon, serves up every dish in a bowl, to be eaten with a custom-designed spoon.
The chef only uses seasonal produce, and likes to play with molecular gastronomy. In this colorful bowl, he delivered creamy, complex flavors that I never imagined could come from vegetables. He also combined cauliflower and cod with broth, bringing out unexpectedly subtle and delicious flavors.
Belgium is also known for its world-class seafood. I ate a five-star meal at La Quincaillerie, a former ironmonger's shop designed in the Art Nouveau style, with a giant clock over the bar.
(Address: Rue du Page 45, 1050 Ixelles, Belgium)
In addition to its famous mussels, or "moules," we tried an incredible seafood dish on mash. The risotto, ravioli and steak were all perfection.
And Belgian waffles are a must-have. At La Quincaillerie, they were served hot with a drizzle of maple syrup, and a scoop of ice cream in the "Mikado" style.
A few other food recommendations. Try Maison Dandoy, oven fresh biscuits that melt in your mouth. They're shaped like hearts, too.
You'll never lack for chocolate in Brussels. There are dozens of shops in every major area, especially the City Center and Grand Place.
Neuhaus is one of the famous local makers, and their gift boxes are elegantly decorated.
Do my eyes deceive me… or is that a chocolate gorilla in the window?
That's a hint at the vibe inside Patrick Roger Chocolatier. (Address: Place du Grand Sablon 43, 1000 Bruxelles, Belgium)
The shop turns chocolates into works of art, like these surreal bowler hats. I think Magritte would approve.
Patrick Roger's shop has a futuristic design, which matches the sleek boxes and sculptural presentation of his sweets.
Merci to Visit Belgium, for taking such great care of us!
If you'd like to learn more about the city, come check out our travel video. Can you spot David Bowie?