Visiting the Miffy Museum in Utrecht, Netherlands! Nijntje Pleintje statue, traffic lights & Schiphol airport shops.
As a hardcore Miffy fan, it was a dream come true… to visit the Miffy Museum in Utrecht, Holland!
The recently-opened Nijntje Museum is dedicated to the X-mouthed bunny (that's her name in Dutch).  I took advantage of a brief Netherlands stopover to visit with Leyla, my fashion blogger and vlogger friend (who made a video of the trip on her LeylaFashion YouTube.)
Get ready for Miffy Madness. We'll take you inside each room of the museum, as well as the Nijntje Pleintje plaza, traffic lights crossing, and gift stores dedicated to this adorable mascot!
(Update – I now have a travel guide to Miffy shops in Amsterdam, Netherlands too! It covers De Winkel Van Nijntje, Mr Maria and more.)
We couldn't resist posing with X-fingers to mimic her mouth. However Leyla's son, Danny, seems ready to go inside…
Address and directions: The Miffy Museum is located at Agnietenstraat 2, 3512 XB Utrecht, Netherlands. Utrecht is the hometown of her creator, illustrator Dick Bruna, and a 30 minute train ride from Amsterdam. The museum is open every day except Mondays, from 10am to 5pm.
How to get here by train: I came straight from my stopover in Schiphol Airport (Amsterdam). I rode the train —  track 1 or 2, direction Heerlen or Nijmegen — and arrived in half an hour at Utrecht Centraal Station. From there, you can walk 15-20 minutes or take a short bus ride. You can also come here direct from Amsterdam Central or any major station.
When you arrive, look for the giant statue of Miffy in a red sweater, and the sign "Nijntje Museum" next to a light-up outline of her head.
Earlier in 2016, the museum reopened after a significant renovation. Now, the two-level building brings Miffy's universe to life, with colorful and interactive displays for kids and adults.
The human-sized statue is from the Miffy Art Parade in 2015, a project that celebrated her 60th anniversary.
Sixty artists decorated a gargantuan Miffy statue, in a variety of styles ranging from creepy Goth to rubber ducky. (There are photos of these statues at the end of this post, so keep reading). The works went on display all over the Netherlands and Japan.
Many people mistakenly think that Miffy is Japanese, because of her "kawaii" and minimal look. In fact, she's Dutch and older than Hello Kitty. (Sanrio even got sued for copying her design; the court ordered them to discontinue their "Cathy the bunny" character.)
Her name, Nijntje, is a shortening of "konijntje," which means "little rabbit." Dick Bruna released his first bunny book in 1955, followed by over 30 more. She's also the face of many fashion and home good products – shop a selection below.

Dick Bruna's storytelling and bright drawings have proved to be timeless. Even today, children are charmed by the Miffy universe he created — including her family, Grunty the pig, and Boris the bear.
The Nijntje Museum puts his deceptively simple illustrations front-and-center. For example, the lockers are decorated with different drawn objects, for easy remembrance.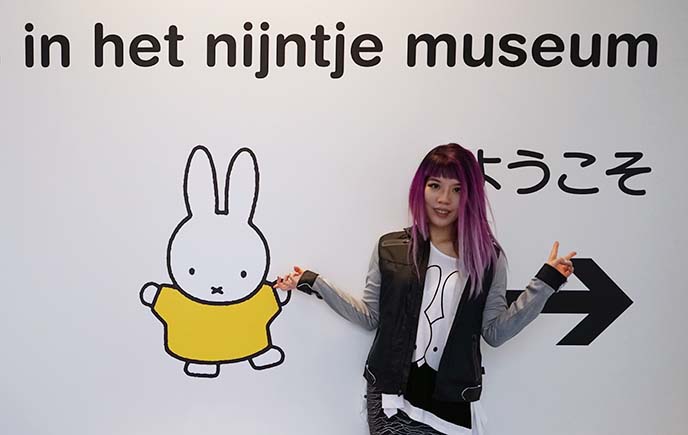 The Japanese characters spell out "yokoso," or welcome — because visitors from Asia (especially Japan) are plentiful!
People from all over the world are flocking over to see Miffy's museum, which has quickly become one of Utrecht's most popular attractions. I recommend getting tickets online in advance, and arriving early to avoid crowds (doors are open from 10am to 5pm, Sunday to Tuesdays).
The Miffy Museum is designed as a series of magical miniature worlds. There are 10 rooms, which look like scenes from the picture books come to life.
In this one, her star-mouthed mother stands over the family kitchen. Children can pretend to cut vegetables, cook, and even climb through the cabinets.
There are all sorts of interactive displays for fans of all ages. Leyla and I snuggle up to the plush bunny and Snuffy the dog. 
(PS: I'm selling some of my Miffy fashion and accessories here; email me if you'd like anything! My sandals are this Joanie Mule by Sorel Footwear.)
The museum's displays encourage you to "play house" and let your imagination roam free. 
We helped Miffy work in the garden. I must have done something wrong because her dad seems to be watering me with his can…
I've been a Miffy obsessive for years, but I developed a deeper appreciation for artist Dick Bruna after seeing his full oeuvre. 
The museum's figurehead is his white bunny, his most popular creation (her books are translated into 50 languages and sold more than 85 million copies).
However, Dick Bruna wrote more than 100 other picture books for children, and also did graphic design for organisations including hospitals. I got to see these lesser-known yet equally impressive works for the first time.
Dick Bruna is known to be a very kind man, and his children's books promoted the acceptance of everyone, including those who are different or disabled — very progressive themes for his time. This room encouraged children to help others in need of medical treatments.
Dick Bruna was inspired by Matisse, and his works are tied together by simplistic forms and blocks of primary colors. This room shows his interpretation of Snow White and the Seven Dwarfs. (Danny loved running up and down the ramp!)
As we moved through the rooms, we got to see Nijntje's evolution. In the first books, she looked a plush toy with floppy ears. From the 1960s onward, her face got rounder and her ears stood up.
The rabbit's simple look and narratives are key to her appeal: anyone can project their imagination onto her. In my case, she's a creepy-cute minimal Goth icon with her mouth sewn shut, hence the X!
Dick Bruna always portrayed Miffy as a regular little girl with universal experiences such as making a new friend (the brown bunny Melanie), or suffering the death of a grandmother.
The museum is full of play areas: matching games, puzzles, funhouse mirrors. As Bruna said in an interview, "The most difficult thing is keeping it simple, to leave plenty of room for the child's imagination."
Danny fell in love with this spacious room, beautifully designed with cars and trains that you can push or ride. 
Bruna's world keeps children engaged while helping them learn. He wrote a book about safely crossing the road, illustrated in minimal orange and grayscale.
But as you can see from our funny Instagram shuffle... navigating roadways is a lesson for all ages!
(There's actually a working Miffy traffic signal, in Utrecht. Keep scrolling down to see the real deal.)
Whether you're a toddler or grown-up, you can't help but smile as you explore the Miffy Museum. Her world is all about creativity, positivity and imagination — expressed in bold primary paints and outlines.
On the upper level, there's a space that represents a zoo and farm. These two parrots repeat your words when you speak into a microphone. Danny loved crawling through the cages and going down the slide.
Dick Bruna has a genius for conveying the essence of an animal, with only a few brushstrokes. His simple forms add up to a warm, minimal style that's unmistakably his own.
The only negative about the Nijntje Museum… It's hard to say goodbye! Leyla and I felt like this crying child, when it was time to go. We'll simply have to come back again soon.
(My Miffy top is for sale on my Depop shop, and my shoes are the Sorel Joanie Mule.)
Thankfully, there are more Miffy sights to see in Utrecht, making it the ideal day trip from Amsterdam.
Right across the street from the statue is Centraal Museum, which features a range of artwork including by locals.
In the atelier of Centraal Museum, you'll find an exact replica of Dick Bruna's studio. Everything from his original workshop has been set up here, from his drafting table to a modern chair in primary colors.
The circular painting shows his simple yet powerful design of the black bears (zwarte beertjes).
I watched a fascinating video of Dick Bruna at work. To this day, he continues to draw with brush and ink: it takes many precise strokes to create the seemingly simple X of Miffy's mouth. The slight shake in the hand-drawn forms results in what he calls "a line with a heartbeat."
Dick Bruna always appreciated his fans, and kept displays of the mementos that they sent him. The studio let us get a closer look at his creative process, and I recommend visiting Central Museum too (it's just across the street from the Miffy Museum).
You can't leave Utrecht without seeing Miffy's crosswalk. The bunny shows up as the pedestrian traffic signal: red for "Don't Walk," and green for "Go."
Look for the rainbow colored crossing called 'Regenboogzebrapad', and you'll find her directing traffic. (Location: it's in front of the shopping mall at St Jacobsstraat 1A, 3511 Utrecht, Netherlands.)
A short walk away is Nijntje Pleintje, a dark Miffy statue created by Dick Bruna's son, Marc Bruna. (Address: 1e Achterstraat 1, 3512 VL Utrecht, Netherlands).
Nijntje Pleintje is located in this little grassy square, at the beginning of the Van Asch van Wijckskade. It looks like a flat, black metal, cut-out Goth version of the bunny — which matches our style rather well.
(You'll laugh when you see the Boomerang Instagram video we did, next to this statue!)
But wait — how can you take Miffy home with you? There are several Netherlands gift stores that you can't miss — they even have vampire Gothic versions of the bunny. Keep reading the rest of the story below…
A guide to shopping at Miffy stores: The rabbit has a gift shop at the Nijntje Museum, as well as on the ground floor of Centraal Museum. If you're in Amsterdam, don't miss the large De winkel van nijntje (there are two locations, check the site for details).
At Schiphol Airport (Amsterdam), you can find Miffy goods both before and after checking in. The photo above shows the "Let's Play!" store, which you can access after going through the Interational Departures check-in.
The internal airport stores will only let you purchase something if you have a boarding pass. There's a large range of cute items available, which can't be found online — such as Dutch blue ceramics and clogs featuring the bunny.
It's no surprise that Japan loves Miffy. I found these ceramic figures with the rising sun flag, which match my nail art.
Remember the 60 Years of Miffy art parade that I mentioned at the start of this post? At the airport, you can purchase miniature versions of the statues, each customised by a different designer. (These figurines are available on their online shop too.) 
The designs are all so creative… but the Goth vampire Bunnicula version is obviously my favorite! Miffy has bleeding red eyes, a choker, rings in her ears, a lace black dress, and tall platform boots. Win.
Still, there's nothing like the original. The Miffy shop has something for everyone, including children's clothing, books, keychains… (Below are some found online, click for details)

… and magnets, including Dutch clog shoes with tiny Miffies. (I bought some of the 3D Miffy magnets; they're on my fridge now.)
The plush toys are hard to resist. Miffy dresses up in different styles, including traditional Holland dresses with an apron. I also saw a steampunk pilot version of the bunny, and a princess ballerina one.
There's extra incentive to arrive early to Schiphol Airport in the Netherlands… So many Miffy products to buy.
During my stopover, I stayed at citizenM Schiphol Airport. It was by far the best airport hotel I've ever experienced: affordable luxury geared to mobile citizens of the world (hence the M — although it could also stand for Miffy!).
The touch screen check-in was a breeze; my sleek room had a king-size bed and free movies, and Wi-Fi was free.
CitizenM is all about hip, modern design. I felt happy and at home in the lobby, lounging on Vitra furniture, next to a Vespa and red bicycle.
This is a hotel that turns expectations on their head. The gift store had rubber duckies and Tenga (Japanese pleasure devices). I smiled at the two cute elephant stools, arranged to look like they were drinking water through their trunks.
Fashion meets Barbapapa and Elvis — this is my type of design hotel. They're geared the experience towards a "new breed of traveler" that loves world cultures, technology, art... essentially, people like me.
And how cute is their rainbow conference room? CitizenM has hotels in London, NY, Amsterdam and other world cities — I'm eager to room with them again, on my next journey.
Hugs to Leyla and her son Danny, my local companions on this perfect Miffy adventure.
Check out her blog and vlog here or above; you can see me falling off a chair!
Did you know that Miffy had her own museum, statue and traffic light in Utrecht?
Psst: If you like what I'm wearing, take a peek at the cute fashion for sale on my Depop shop…