Category Archive for
Netherlands
Get your fangs out… Halloween 2017 is going to be bloody fabulous!
This year, I'll be in three European countries famous for Vampires, Alien, and Jack the Ripper. (Any guesses? The reveal is below.)
First, I'm excited to officially announce: I'm off to the land of vampires, Transylvania! I was invited to attend and speak at Experience Bucharest, the largest project ever to promote tourism in Romania's capital and beyond. For several days, worldwide travel influencers will be gathering to see the capital through the eyes of its passionate residents.
It's been my long-time dream to visit the ultimate Goth destination, and experience the dark underground culture. I'm honored to be speaking on at Travel Massive's "Future of Tourism in Romania" conference, on a panel about travel and social media.
Follow along my social media @LaCarmina and hashtag #experiencebucharest to join the fun, including a visit to the castle of Count Dracula. (Above, photographer Joey Wong captured me in front of UK's Whitby Abbey, an inspiration for Bram Stoker's novel.)
While in Europe, I'm also teaming up with Switzerland Tourism and La Gruyère Tourisme… to visit the H.R. Giger bar in Gruyeres! 
Fans of the Alien movies will immediately recognize these eerie bio-mechanical works, which form the backbone of the art design in the series. I'm fascinated with Giger's imagination, and can't wait to see his sci-fi bar and museum. (Images above by Kristin Thorogood Photography).
Finally… I'll be in London, England for the first time in ages! Time to reunite with spooky friends, and check out the many dark Halloween events in the city. If you have suggestions for what to see and do (around the end of October), please let me know in the comments.
(To get you in the mood, here is my friend John's London Goth travel guide. His photo above shows a store in Camden Market.)
Since I'm off to Europe again, I thought it was nigh time to release my final article about the Netherlands.
A while back, I shared my tour of Noord, the artistic district north of Centraal Station. Now, I'll take you around De Pijp, another Amsterdam hipster neighborhood.
De Pijp translates to "the pipe," for reasons that are unclear (perhaps it refers to the winding streets, or a former gas company with that name). In line with this spirit, the borough has a funky, good-humored vibe. Both travellers and locals come here for the bustling Albert Cuyp market, and to dine in ethnic restaurants.
My friends and I went for lunch at Bazar Restaurant, which was recommended by several people. The word "bazaar" aptly describes the tw0-level space filled with Middle Eastern decor and music to delight the senses.  When I walked in, I was transported back to the time I visited the markets of Morocco. 
(Address: Albert Cuypstraat 182, 1073 Amsterdam, Netherlands)
The bathroom situation is straight out of 1001  Arabian Nights! Photographer Arina Dresviannikova had fun taking photos of Leyla (Dutch fashion / mommy blogger) and me, reflected in the many mirrors.
– I love my alien sweater, which looks similar to the keyboard emoji. There's a similar alien shirt here, and more sci-fi fashion below: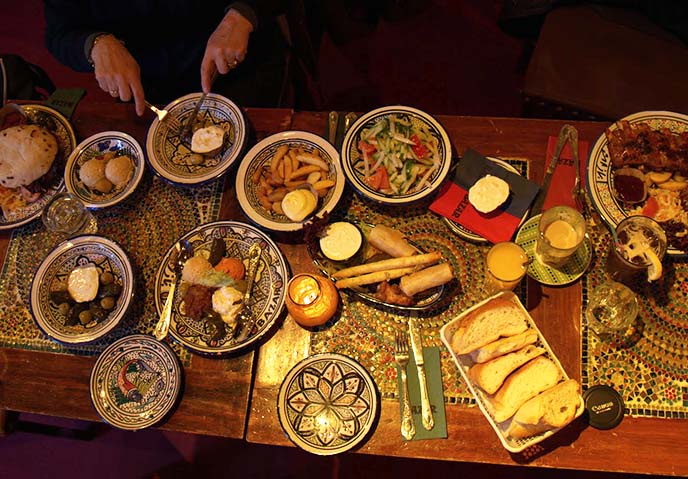 I began with a cup of fresh Moroccan mint tea, while Leyla perused the gluten free menu. Bazar has options for everyone, including vegan and vegetarian plates.
As you can see, we ordered a bit of everything! Bazar's dishes take inspiration from the cuisine of North Africa and the Middle East — everything is moderately priced, and perfect for sharing with a group. I particularly loved the grape leaves, garlic sauce and falafel that came in one of the mixed platters.
A visit to Bazar feels like stepping into a Far Eastern fairy tale. I lounged under the high ceilings, next to these spectacular hand-painted tiled walls.
The vibrant spirit continues right outside Bazaar, at Albert Cuypmarkt. Six days a week, this street is packed with vendors selling everything from hippie skirts to stroopwafels.
I think we fit in rather well with the creative spirit of De Pijp! (My alien top is similar to this one; browse more styles below:)

De Pijp was once a working class quarter, and home to residents of many nationalities. Today, the neighborhood remains filled with color. Leyla spreads her wings on Gerard Doustraat, a street lined with indie shops. 
These rainbow flags beckoned us into De Kinderfeestwinkel, a store for kid's party goods.
Doesn't this feel like a Wes Anderson dreamscape? Masks and gadgets and hats everywhere!
Arina couldn't resist taking home this magical stuffed unicorn. My attention went to the rack of Miffy books, of course.
The smiling ghost light stole my heart. We wandered past a 3D printing shop, and saw these "octo-pussycat" designs.
The other "hipster district," Noord, is more for experimental art and murals. If you're looking for indie fashion and cafes, De Pijp is the place to be.
Case in point: Anna + Nina, a shop with eclectic jewellery and old-world home accessories that reflect their love of travel.
The boutique is filled with textures: a floral silk dressing gown, golden leaves, fresh blossoms.
If I had more space in my apartment, I'd set up a curving mid-century modern floor lamp like this one. Many of the stores in De Pijp sell both clothing and interior decor, mostly by local designers.
Pick up a cactus, or Michael Jackson's glittery mask… that's the humorous spirit of De Pijp!
In the evening, my friends and I had dinner at Supperclub. The restaurant is designed like a nightclub, with flamboyant light projections and quirky performances throughout the evening.
All of the diners get to lounge on beds while eating dinner! Between the courses of the set menu, we watched dance and art performances right in front of us. My favorite was a woman with a giant eyeball for a head — she came up to each bed and interacted with guests, in funny ways.
(Watch Leyla's travel vlog about Supperclub for footage of this unique dining experience. All our Amsterdam videos are in this playlist that she created on her LeylaFashion YouTube.)
Later in the evening, the venue turned into a dance club. Cheers to the fantastic staff, for keeping our wine-glasses filled and making this night a delight.
I leave you with some snaps from our walks around Amsterdam. I was drawn to the city's modern architecture, and never-ending rows of bikes. 
Amsterdam is great for wandering around and popping into stores. Arina is peering into Nunc, which carries handmade, fair-trade and recycled products.
We saw cute skeleton cats and robots in one window…
… and posse of Miffies in another. (Psst: I wrote this guide to Miffy stores in Amsterdam, which includes De Winkel Van Nijntje, Mr. Maria studio and a chocolaterie).
We couldn't leave without a stroll through the Red Light district, home to brothels and marijuana cafes. Note: it's forbidden to take photos of the girls in the glass windows. If you attempt to take an image, you'll get shooed off by their security.
Tourists can see live erotic entertainment at venues like Casa Rosso, which has a cheeky red elephant mascot.
Dank je to Hotel The Exchange and Lloyd for hosting us, and to iAmsterdam for the City Card (which provides unlimited public transportation, and access to the top museums).
If you're planning a visit to Amsterdam, here are all my Netherlands offbeat travel tips on a single page. I hope you find them helpful.
I had such a great time with my friends in Amsterdam, and I'm sure we will be back soon.
And now, time to prepare for London, Bucharest and Gruyeres! If you have travel advice for me, or know of events happening in these cities at the end of October, please let me know in the comments. Here's to the bloodiest Halloween yet.
I've got Miffy mania! My favorite mascot, the minimalist bunny, is a Dutch creation. Naturally, when I was in Amsterdam, I sought out everything related to her.
My friends and I visited her De Winkel van Nijntje store, and swung by Mr Maria's lamp studio (they create the glorious Miffy lamps, as well as other cute creatures). We bit off her chocolate bunny ears, and even took her to a castle in the form of a balloon.
Enjoy this travel guide to all things Miffy in the Netherlands!
(PS – if you aren't anywhere near Amsterdam, don't worry. Miffy is taking over the world… she has a new animated TV series, and just released a product line available at Walmart in stores and online. Above are some toy figures from this collection, plus books, bags, stationery, a rainbow lamp and and more that she sent me! You can find out more on the Miffy and Friends US Facebook.)
Now, let's follow the white rabbit through Amsterdam.
Because of her "kawaii" round look, many people mistakenly assume Miffy is Japanese. In fact, Dutch artist Dick Bruna released his first bunny book in 1955, 20 years before Sanrio's Hello Kitty.
I loved Miffy as a child, and continue to be… a tad obsessed. Her minimal look and narrative leave tons of room to the imagination, and make her adaptable to numerous products. (You might recall that I have a lot of her designs in my apartment decor.)
If you're a Miffy fan in Amsterdam, you must head straight to her largest store. It's called De Winkel van Nijntje, which translates to "The store of Miffy" (Nijntje means "little rabbit," and is her name in Dutch). I snuck up behind her giant window display, where she wears the traditional clothing of her homeland.
(Address: Scheldestraat 61, 1078 GH Amsterdam, Netherlands)
This is heaven… A wall of Miffy stuffed toys in every size, color, material and costume! From Santa Claus to steampunk, she seems to have an outfit for every occasion.
(If you aren't in Amsterdam, you can still shop for her character goods with a click below):
At the counter, there was a warm tribute to Dick Bruna, who passed away on February 16 of this year. The kind-hearted illustrator is loved for his storybooks and unmistakable designs.
I'm most drawn to Miffy in her most minimal form, such as the all-white statuettes above. I ended up taking home at postcard with only the outline of her bunny ears, drawn with Bruna's brush. (You can see it in my bedroom, on top of my books).
Behold, a massive Miffy! I must go over and squish it.
When you push the numbers on her feet, she talks (not sure how, since her mouth is an unmoving X!)
A lot of Miffy items are designed for babies and children, which makes De Winkel Van Nijntje a great shop for families to visit. There are items for every stage of life: I saw teething rings, bibs and nightlights.
But no matter how old you are, you can enjoy a hang-out session with the Dutch bunny!
My local friend Leyla, who runs LeylaFashion blog and @leylafashion YouTube, grew up with Nijntje and now has a young son. She picked up some interior decor in this shop, for Danny's room renovation.
Above, watch Leyla's vlog about our visit to De Winkel van Nijntje store in Amsterdam, as well as Mr Maria's studio, and the Miffy chocolate shop.
I was pleased with the large selection of items in this store, which encompassed all types of products in different price ranges.
On the right, there are collectible Miffy statues from the 60th anniversary Art Parade. Artists made their own interpretation of the bunny: one turned her into a duck, one spraypainted her gold, and another put her in Goth vampire piercings!
It all began with a storybook about a little white bunny. All of the Miffy books ever written and illustrated by Dick Bruna can be found here, in different languages. They're charming and timeless, with universal lessons about family, loss, friendship and strength.
That's the Tao of Miffy: she reflects who we are, in any stage of life.
Thanks to Arina Dresviannikova for the photos in this post. I was keen to visit De Winkel van Nijntje for ages, and it was even more fun to do so with friends.
On another day, I crossed off another bucket-list item: meeting the Mr. Maria studio team in Amsterdam! I've been friends with the lighting designers for years, but never got a chance to meet them in real life until now.
Mr. Maria famously created the Miffy lamp, which I have in my living room.  (You can see it in the window above, along with their upcoming Miffy cushions and bean-bag chairs). 
Dutch designers Jannes Hak and Lennart Bosker welcomed us with heart (literally — they just released this Lia white heart-shaped lamp!) They showed us around their inspiring Mr. Maria studio, and then we sat down for a coffee and chat.
Although their lights are often found in children's bedrooms, these two are alternative spirits like us. Mr Maria established their design studio with a go-getting, DIY attitude — they used to make Miffy lamps late into the night, while blasting Rammstein!
To this day, the studio is a space for joyful experimentation. Lennart and Jannes showed us 3D printed prototypes of potential new designs (they are now producing more home interior design objects, in addition to lamps). They sometimes make one-offs for special occasions: playfulness and modern, simple creativity are truly at the core of this brand.
Kawaii minimalism is the connection between all their designs. With only white rounded shapes and a few black strokes, they convey pure happiness. (Above is their Kokeshi Japanese doll lamp; you can see the full Mr Maria collection here.)
Although the team is constantly pushing forward with new concepts, the X-mouthed bunny remains the star of the show. "Miffy is like the Buddha," said Jannes. It's true; she sits in silent repose, and is everything and nothing all at once.
In the bottom corner, you can see another similarly Zen-like character: Brown, the bear from Line friends. I have this lamp in my apartment too; they really do feel like calm, glowing Buddhist statues.
Above are a few experimentations: a cut-out 3D paper design, and a Snuffy prototype (Miffy's dog).
Mr Maria lives up to their motto, "making people smile." It was an absolute joy to visit their studio and see the creative energy in action.
I'm excited for the release of their next products: sleepy Miffy beanbag chairs and oversize cushions! Here's your first glance at what is coming soon.
(My bag is from Hong Kong, and no longer available… but you can get my dress and tights directly from me, on my shop.)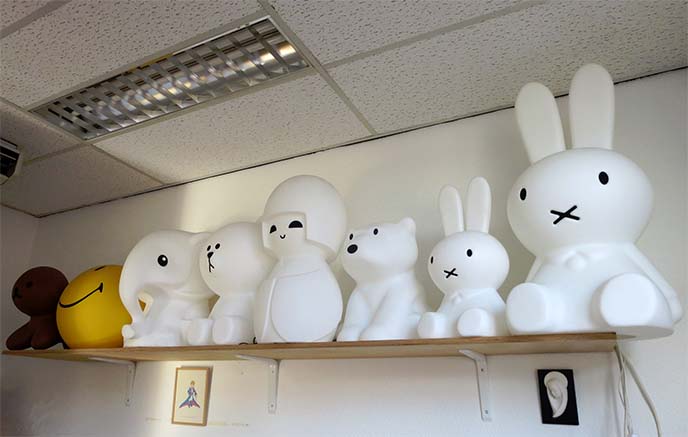 The sweetest family ever sits on one of their shelves: Snuffy the dog, Smiley face, Anana the elephant, Line's Brown, Kokeshi, Nanuk the bear, and Miffy in small and large. Which one is your favorite?
You can find out more and choose a lamp here. I encourage you to order direct from MrMaria and support my independent, Dutch designer friends.
After, my friends and I went on a hunt for Miffy chocolates! We walked over to chocolate shop T Goede Soet (Address: Keizersgracht 95, Amsterdam, Netherlands).
T Goede Soet is a specialty chocolate shop, and always carries a number of hand-made Miffy sweets. I had a hard time deciding between the white chocolate lollipops, dark chocolate bunnies (I guess they represent her brown bunny friend Melanie). Each was only 1 Euro each. There's also a larger bunny chocolate that comes in a box, which is a nice gift.
The chocolates are locally made and well-designed — and absolutely delicious. I felt bad biting Miffy's ears and head off, but it was worth it.
Finally, you can find lots of Miffy products at Amsterdam's Schiphol Airport. The shopping center there (which anyone can access) has several gift stores — and I found this funny bunny balloon floating above a display.
I cut Miffy loose, and took her with me on an outing with Leyla and her mom. (Above — this is a trick photograph. We're actually standing up behind a board, designed to look like a bed).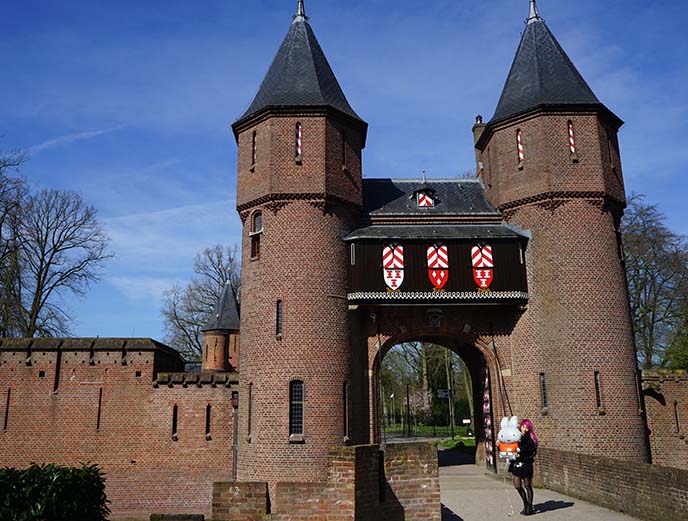 We took a day-trip to Kasteel de Haar, the largest and most luxurious castle in The Netherlands. Once you see the moat and draw-bridge entrance, marked with coats of arms, you know you're in for a grandiose experience.
(Address: Kasteellaan 1, 3455 RR Utrecht, Netherlands. To get here, I rode the subway to Vleuten station.)
Naughty Miffy kept trying to blow away from us! I was afraid she'd get spiked on gates of De Haar Castle.
We took Miffy for a walk in the splendid gardens, which include a pond and labyrinth made from hedges. Every year, the castle hosts a Renaissance fair that Leyla attends.
(I am wearing this exact Iron Fist silver and black dress.)
The castle was always owned by the van de Haar family, and this building dates back to 1391.
In the last 19th century, Etienne Gustave van de Haar married the fabulously rich Baroness Hélène de Rothschild. They hired Dutch architect P.J.H. Cuypers, who set about in rebuilding the castle in a neo-Gothic style. 
The finished castle has 200 rooms and 30 bathrooms, and was inhabited off-and-on by the couples' descendents until becoming a museum today.
The staff of volunteers did a terrific job at telling us tales of de Haar castle. The Baroness loved pink, and insisted on decorating her room in pastel hues — much to the dismay of the architect. We also learned that the family was afraid of ghosts, so the architect attached spikes to the ceilings to keep them at bay! (Thankfully, our Miffy balloon didn't pop on one of them.)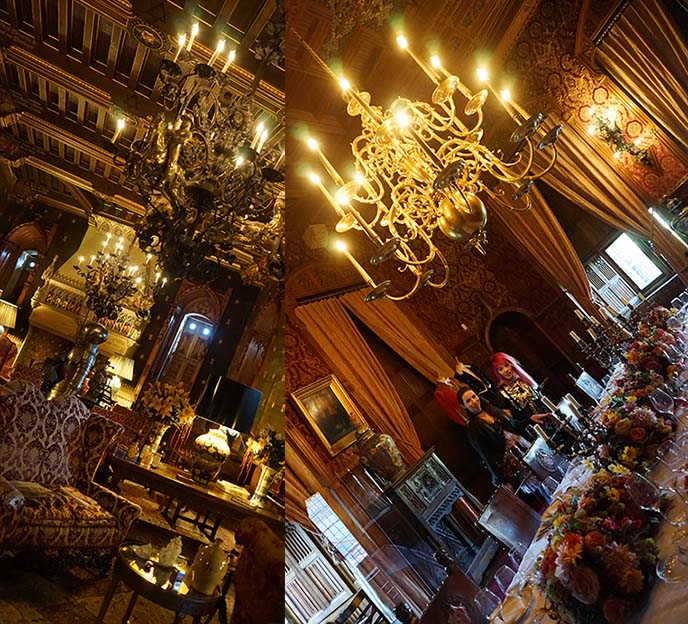 We were in awe at the castle interior, decorated with ornate woodcarvings and chandeliers. The maximalist rooms are filled with rare art from the Rothschild collections, including rare Flemish tapestries and European church relics.
The wealthy couple traveled to Asia (quite a feat in those days), and came back with Chinese and Japanese antiquities including a palanquin (carrier coach) that belonged to the Shogun's wife.
Oh Miffy, you're so fine! If you're as mad for the Dutch bunny as we are, you've also got to check out the Miffy museum in Utrecht (I visited with Leyla last year).
Thanks iAmsterdam for making this dreamy trip possible.
If you're going to Amsterdam, I hope you get to check out these Miffy attractions in her homeland. Do you have a favorite cute character, like I do?
I leave you with a display of Nijntje  souvenirs at Schiphol Airport (you can also shop for her cute items below). And take a minute to watch Leyla's fun vlog about our Miffy escapades!