Category Archive for
Food + Theme Restaurants
Domo arigato, Mrs Roboto! I had a grand time this summer in Vancouver, as I do my best to avoid travel in the high season (too expensive and Collapse-prone these days).
Instead, I stayed home in British Columbia and enjoyed art exhibitions (including Hajime Sorayama's sci fi futurism), sushi on the waterfront, day trips to islands, and outdoor activities.
Read on for my offbeat, artsy guide to the top summer activities in Vancouver, BC — and check out the accompanying videos/reels on my Instagram @LaCarmina.
First, an announcement on the writing front…. My latest publication, "The Little Book of Satanism," was translated into Spanish! It's available now from Spain-based publisher Melusina, who did the translation and new cover design above.
To get a copy of my translated book, Google "El Pequeño Libro del Satanismo" (and more info below en español). The Little Book of Satanism is also available in English through Amazon, Kindle, Barnes and Noble and Simon & Schuster. Canadians can find it at Chapters/Indigo or Amazon Canada — or simply search for the title to find it near you.
Here's the Spanish description of my book "El Pequeño Libro del Satanismo":
"Con demasiada frecuencia, el satanismo se malinterpreta como una religión que hace sacrificios de sangre a un malvado Príncipe de las Tinieblas con cuernos y cola. En realidad, los satanistas modernos no son violentos ni teístas, y consideran que el Diablo es una metáfora significativa para la búsqueda del conocimiento, la razón y la justicia.
Nos asomamos así a la marca de la bestia en los movimientos culturales e históricos a lo largo de los siglos, que han informado las creencias y prácticas sinceras de los satanistas en la actualidad. Escrita por la galardonada periodista de cultura alternativa y bloguera La Carmina, esta completa guía incluye información sobre los orígenes bíblicos de Satanás y sus diversos nombres, apariencias y símbolos; su trato en la tradición esotérica del siglo XIX, así como su papel como chivo expiatorio, desde los juicios de brujas medievales hasta el «pánico satánico» desatado en la década de 1980. El libro concluye con una revisión concisa de la filosofía y las prácticas modernas, centrándose en la Iglesia de Satán, La Biblia satánica escrita por Anton LaVey y el activismo del Templo Satánico."
EL PEQUEÑO LIBRO DEL SATANISMO de La Carmina, una obra que ahonda en sus valores afirmativos como inspiración en la vida. 14 x 21 cm. Páginas: 112. ISBN-13:978-84-18403-80-4. Precio: 14,90€.
To grab a copy of my Spanish-translated book, Google "El Pequeño Libro del Satanismo."
The English version ("The Little Book of Satanism") is also available worldwide from all major retailers. See links below, or Google the book title to find it near you.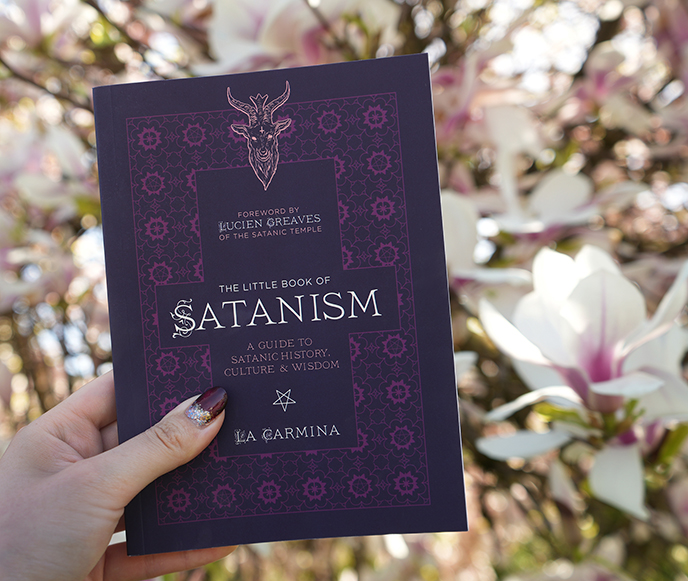 I asked ChatGPT to describe my book, and the AI spat out: "The Little Book of Satanism" provides a brief overview of the philosophy and practices of Satanism. Written by La Carmina, it covers topics such as the history of Satanism, the Satanic Bible, and the rituals and practices of Satanism. "The Little Book of Satanism" is a concise introduction to the basic ideas of Satanism and the worldview of its adherents."
Order my Satanic book worldwide via Amazon, Kindle, Barnes and Noble or Simon & Schuster. Those in Canada can find it at Chapters/Indigo or Amazon Canada. Thank you for reading — gracias!
Speaking of robotos — I was chuffed to visit the CICA Vancouver in Gastown for the first time. The Vancouver Centre of International Contemporary Art is a space for boundary-pushing works like the sci-fi visions of Japanese artist Hajime Sorayama.
Sorayama's superrealist Mrs Robotos and visions of artificial intelligence / femininity / human emotions are out of this universe. CICA's "Space Travelers" show features this immersive installation — doesn't it remind you of an alien movie?
Since the 1970s, Hajime Sorayama has been mesmerizing viewers with his robotic-space-fantasy visions, which have a surprising warmth. I got to see his earliest commercial works from the 1970s, and large-scale paintings with pop culture themes like his take on Marvel's Iron Man. (Wearing a leopard print active jacket by Mulu.)
Sorayama is known for his sexy robot ladies, which inspired films like Robocop and Ex Machina.
So shiny and chrome… To see how the light reflects off the metal surfaces and mirrors, watch my video of the CICA Sorayama show. (I always set my reels to the best space disco songs!)
Sorayama has become more well-known in recent years due to his collaborations with Dior (above), Uniqlo, and more.
Hajime Sorayama created mecha-dino sculptures for the film Jurassic World, which continue the theme of sentience vs AI. A remarkable show at CICA — and I can't wait to see more of his works when I'm in Tokyo, where the artist is based!
Here's a first look at my new blue-black hair by Katya at Kore Salon in Vancouver. Happy to change up my look from the purple, which I've now had for years!
I took my new lilac cloud bag from Verafied to Buntzen Lake in Anmore, BC. My jacket is Mulu — love the cropped fit and breathable fabric, and glad to rep a woman-run, size inclusive label (up to 7XL).
Buntzen Lake and this pier were the shooting locations of horror films Lake Placid, Freddy v Jason, and Jennifer's Body. Quite a few cult movies were shot in BC, which is known as Hollywood North.
Here's the purple-blue hair I had before switching it up. Catching the breeze at the rooftop pool of the Fairmont Pacific Rim. I was writing a review of this stylish luxury hotel, which gave me an opportunity to hang at their waterfront property.
(Wearing a black MISBHV shrug and UK Swimwear top.)
You couldn't ask for a better summer day at the Fairmont Pacific Rim's outdoor pool fringed by palm trees, overlooking the North Shore mountains and harbour.
My friends and I lounged in this private cabana, and devoured salads, falafel, poke, and Prosecco.
See my Insta reel / video of our Fairmont Pacific poolside hang here.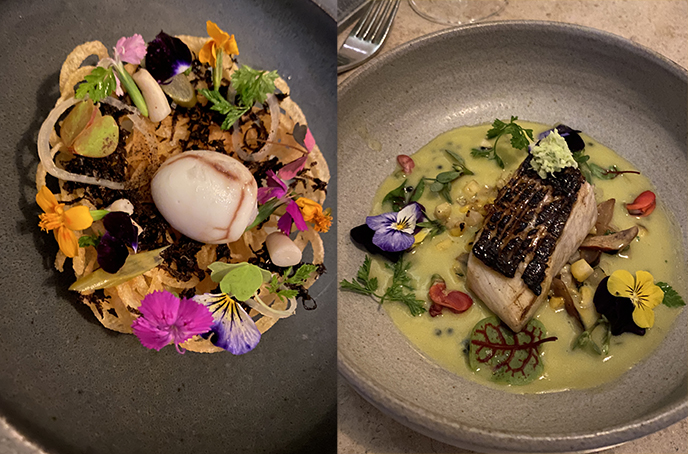 And then, dinner downstairs at Botanist Restaurant, one of the most exquisite fine dining spots in the city. The Chef's Selection at Botanist was to die for: gorgeous, gorgeous cocktails and full-flavored Pacific Northwest creations like a quail's egg on a floral black truffle nest, and perfectly charred kanpachi on creamed corn.
I also served Sporty Spice for a day at Capilano Suspension Bridge Park. I hadn't been to this iconic North Vancouver landmark since the 90s, and discovered that there's so much to see and do now — like a  daredevil cliffwalk and treetops adventure, and encounters with birds of prey!
I'm into the Y2K crochet bolero vibe these days. It's hand-knit by Maryuan77, who sells them here on Depop.
The Capilano Suspension bridge hangs 140 metres above the rocky river, and sways as people move across. The bridge was originally built in 1889, and became a leading tourist attraction in the 1980s. (Rest assured that there's nothing sus about the bridge's safety!)
Capilano Park now has many other outdoor activities for all ages, like the Treetops Adventures. I had fun moving across seven footbridges hanging between tall fir trees, and looking down at the forest floor.
Another highlight: Capilano's totem or story poles, which were carved by local indigenous artists. They depict spirits and animals that have special meaning in their culture, like the Raven and Bear. (If you're interested in BC First Nations art, I recommend UBC's Museum of Anthropology as well.)
Be sure to wear sneakers or good walking shoes. I'm a fan of active / fitness dresses these days, which come with shorts and a built-in bra.
Would you step onto Capilano's suspended bridge?
Check out my video from Capilano Bridge Park here (it's set to the Bee Gees!)
The forest is home to birds of prey, like this adorable kestrel.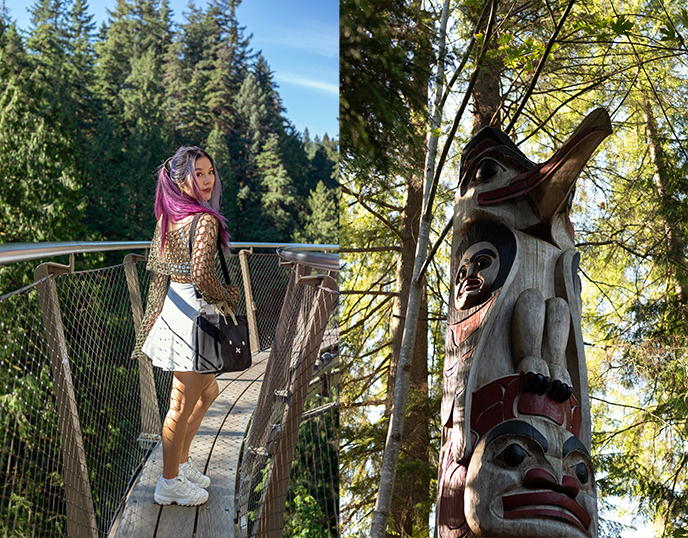 The Cliffwalk was beautifully designed — it's a narrow cantilevered walkway that curves around the Capilano River Canyon.
Capilano Suspension Bridge Park is lovely to visit year-round. It will soon transform into Canyon Frights for Halloween, and the attractions are then lit up with lights for the winter holidays.
Who here is part of Leo Nation? For my birthday on August 17, I received the best present imaginable from my favorite Vancouver restaurant, Miku. They invited photographer Joey Wong and me to try a seven course kaiseki of dreams!
For my bday dinner, I wore this eyeballs puff dress by Sourpuss Clothing.
Miku is part of Aburi Restaurants, which has become a worldwide name for their creative Japanese cuisine (they invented the pressed salmon and jalapeno oshi sushi, which is often copied but never surpasses the original).
Predictably, I ordered all the cocktails with yuzu (it's my birthday after all). The Paper Crane (whiskey, amaro, aperol, yuzu) came with an origami bird.
The chefs spoiled us with a multi-course menu featuring the freshest catch of the day and Miku's signature aburi nigiri. Everything was beautifully plated on handmade Arita plateware from Kyushu, Japan.
I loved visiting Tohoku last year with the Japan Tourism Board. The Iwate wagyu croquette with yuzu creme fraiche and black truffle snow brought back tasty memories.
Here's a video of my Miku kaiseki meal. The chef's selection of sashimi came with dramatic puffs of dry ice, and each slice melts in your mouth (scallop, tuna, hamachi).
Miku's waterfront setting and attentive service are also unbeatable (no wonder the Japanese restaurant is Michelin recommended). You can sit indoors or outside on the patio, and take in the lights of Canada Place convention centre and ferry terminal.
I'm a little allergic to shellfish, so the chefs changed up the menu and invented this wagyu x sukiyaki sauce x mushrooms dish just for me!
The nigiri platter was a show-stopper. Vancouver is known for having some of the world's best sushi, and Miku's high quality fish / seafood paired with creative sauces and ingredients are top of the line.
And the sweetest ending: peach earl grey mouse (even Joey got a belated birthday cake). Thank you Miku for a kaiseki dinner I'll always remember. (Check them out in Vancouver and Toronto, and sister restaurant Minami in Yaletown too.)
I leave you with some photos from a day trip to Bowen Island, British Columbia. It's a much-loved summer getaway spot for those in Vancouver — Bowen is only a 20 minute ferry ride from Horseshoe Bay, and you get to take in these spectacular views of the water and tall mountains.
When you arrive, stop at the pier for Earnest ice cream and smoked salmon tacos. Then, head over to Tunstall Bay beach — I'm wearing AmyLynn Clothing on the shore.
The waters are cool and oh so clear. (Photos by Yusheng.)
Thousands of you loved my video of the Bowen Island day trip — come give it a view, and see more Instagram @LaCarmina reels here.
I'm not a camping / hiking type, but it's lovely to get outdoors in the Pacific Northwest during the hottest months. Wearing fashion from Tokyo at Killarney Lake on Bowen Island.
Did you have a fun summer as well? Now, let's get ready for spooky season… including Halloween in Japan! Follow along @LaCarmina on social media to see my costume and adventures in Tokyo and beyond.
And thank you for reading my book! If you'd like the Spanish translation, Google "El Pequeño Libro del Satanismo" to find it. "The Little Book of Satanism" is also found on Amazon, Kindle, Barnes and Noble and Simon & Schuster. Those in Canada can find it at Chapters/Indigo or Amazon.ca.
Ready for round two of my Puerto Vallarta travels? Read on for my offbeat, alternative guide to Zona Romantica — the LGBTQ district and best place to stay — including molecular mezcal cocktails, Day of the Dead skeletons, and a xenomorph alien!
I recommend staying in Zona Romantica as it's within walking distance of the beach and hippest restaurants, as well as LGBTQ clubs and bars. My daily protocols were a dream: get ice coffee, walk the Malecon (boardwalk) and dip my feet in the foam, eat 20 peso tacos, and watch the sunset. (You can see my fav Puerto Vallarta attractions at a glance in my @LaCarmina Instagram Guide.)
I took some photos to showcase my updated hair color — it has blue streaks in it now, along with dark purple and my natural black underneath. My stylist is Katya at Kore Salon in Vancouver.
Living the jungle life in Puerto Vallarta, Mexico. Wearing a halter bikini top by UK Swimwear — they have lots of chic swim styles, and I like how I can wear this as a crop top as well. My comfy animal print pants are from Medellin, Colombia.
I'm forever living in the 90s — that era is my makeup inspiration these days.
Digging the foreground blur. These images were shot on my Sony a7 IV mirrorless camera.
I also take images on the iPhone, as it brings out landscape and sky details nicely. I made it a habit to catch the sunset over the ocean every day.
Here's another beachwear look. My red bikini and long resort dress are by UK Swimwear.
I took these photos at the only uncrowded spot on Los Muertos beach, under the palapas. If you're looking for a quiet, deserted beach experience, go to Playa Conchas Chinas instead (all info and pics in my first PV post).
Speaking of living in the 1990s… I got these reissued Steve Madden Slinky sandals (I had the same ones in the late 90s!) The slight platform and "fwap fwap" noise bring me back. Get a pair below, in various colors:
Zona Romantica is Puerto Vallarta's rainbow district, as you can see from the pride flags and Tom of Finland murals. The streets are filled with LGBTQ clubs, bars, and shops with friendly vibes.
Always a fabulous time traveling with Trevor. (We met this local who was obsessed with my hair's realness!)
Long live the Queen in Puerto Vallarta (or the Queen Mother)…
I recommend getting a local Airbnb or booking a boutique hotel in the Romantic Zone, rather than staying in the distant resorts. Mine had a cute patio area. I'm wearing an Abysm Internal kimono that matches my hair and the turquoise door.
Abysm Internal has a wide selection of original, dark and fantastical designs — I was drawn to this Japanese horned hannya with a pentagram on its forehead. I chose it in the sheer fabric, and purple/blue color variation.
Leave it to us to find the most Gothic parts of Puerto Vallarta. We saw Day of the Dead skeleton figurines in a store near the Malecon.
This Mexican skeleton couple was looking out at the ocean from a patio by the boardwalk.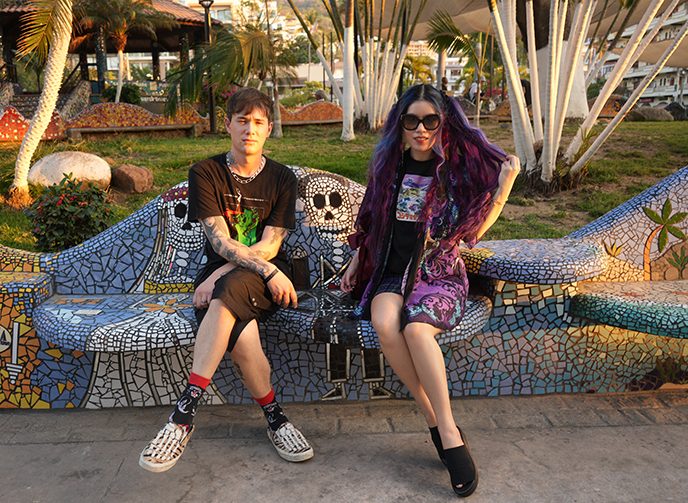 At Plaza Lázaro Cárdenas in Zona Romantica, there are a variety of colorful seats… including this Dia de los Muerto themed one. We had to take a photo here at Golden Hour.
Find my Steeeveee Maddennnn shoeesss below (if you've seen Wolf of Wall Street, you'll know what I mean).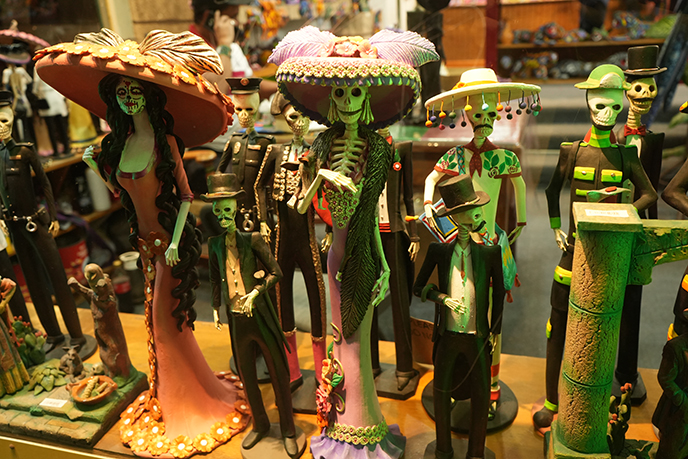 Puerto Vallarta has quite the party scene, and would be a thrilling spot for Day of the Dead. (You can see how I celebrated Dia de los Muertos and Halloween in Mexico City and Merida, in my past Mexico posts here.)
Although there weren't any Goth clubs or events in Puerto Vallarta when we were there, I loved visiting El Colibri bar, which serves mezcal craft cocktails and has an alt / Gothic atmosphere.
As The Collapse accelerates… Abysm Internal's Gothic / devilish kimonos are a stylish way to keep cool and covered from the sun.
Mexico's west coast has a dry heat and no mosquitoes (unlike in Riviera Maya / Tulum). It's easy and inexpensive to get here from the North American west coast, making it a perfect winter getaway.
Golden Hour at the beach by Zona Romantica. Take off your shoes, and have a "Gaywatch" moment.
My Japanese demon kimono is the perfect Goth summer beach coverup.
Been making it a habit to walk 10k steps a day and spend more time outdoors.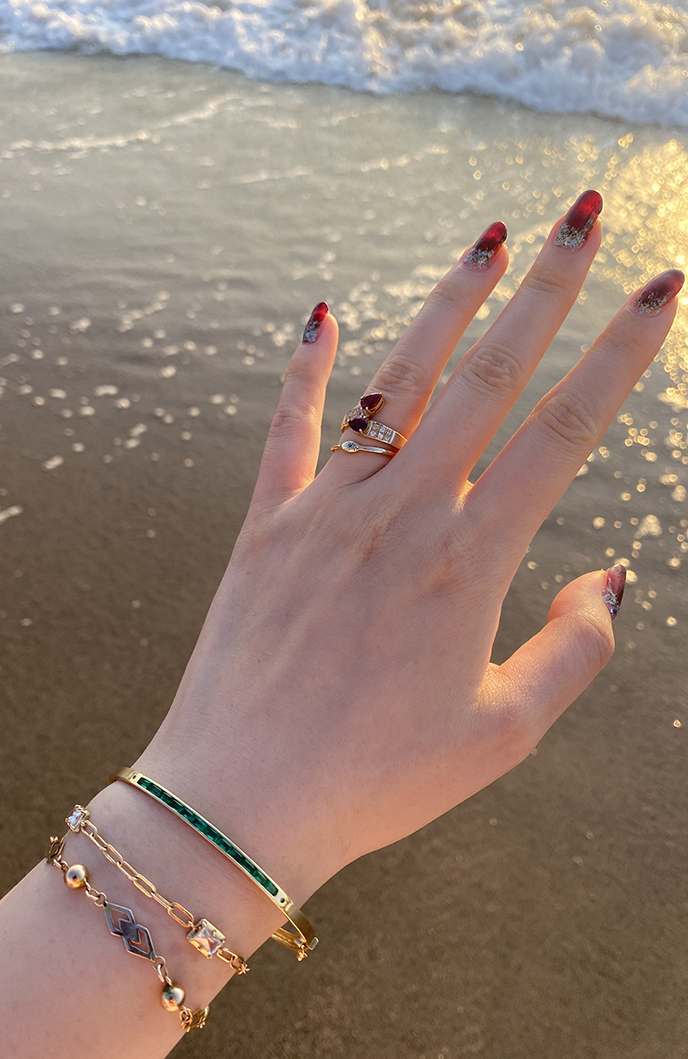 Here is a video of my jewelry at sunset. Wearing a gold and diamond ouroboros ring by Ingrid Valou (stacked with my mom's ruby/diamonds/gold1970s ring). The topaz and gold paper clip bracelet is from Anzie Jewelry (stacked with my mom's 70s gold chain bracelet, and a Colombian emerald and blue diamond gold bangle I got in Medellin.)
We were all about the witchy molecular cocktails at Mezcal & Sal, in Zona. The drinks came with magical presentations like bubbles, slides, and drops.
Mezcal y Sal also puts a creative take on Mexican dishes — such as watermelon tiradito (that tastes like marinated tuna), and cactus mousse for dessert.
I'm on a mezcal kick, as it's a pure alcohol. Visit Agave Liquors in Zona Romantica for a wide selection of artisanal mezcals. and also check out Vinos America (I got the Alipus San Andres there for 999 pesos). Stay out of the tourist stores, and make sure you purchase mezcal that is over 40% alcohol with no additives. I recommend getting a small-batch handcrafted Mexican mezcal for around 1000-1500 pesos.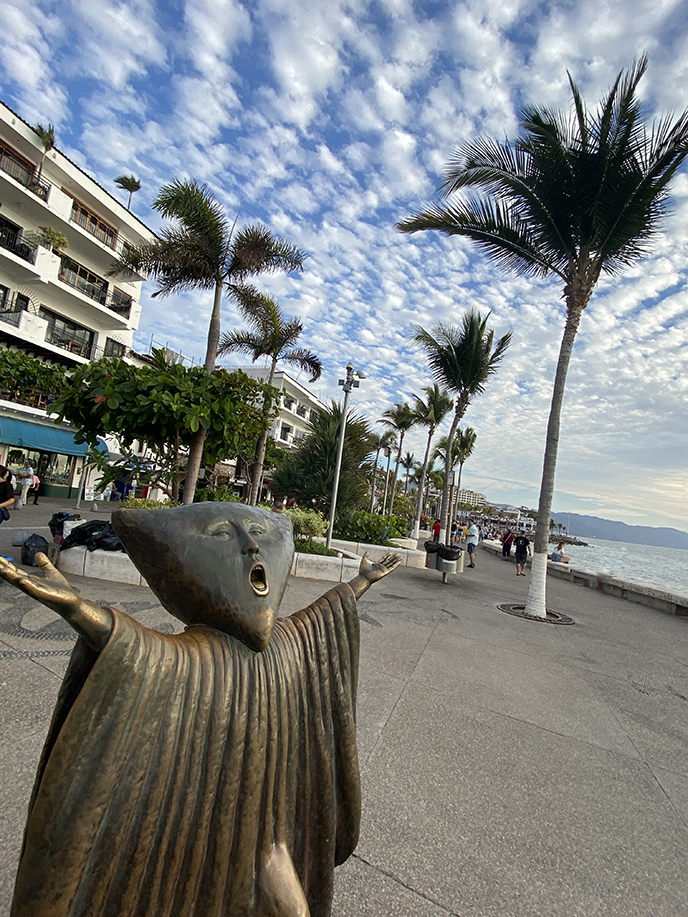 Ran into a Dorito-faced cult leader on the Malecon. While Puerto Vallarta is a popular tourist destination, it doesn't feel overly commercial or Americanized, especially if you avoid spring break and peak times.
As you walk the seawall, you'll come across weird sculptures, performance artists, and other inspiration.
We dared to approach this Alien xenomorph… What a costume! I passed by an Edward Scissorhands as well.
Loved being close to the water and birds in Mexico.
The skies turn dramatic after sunset. (See my first Puerto Vallarta post for more recommendations.)
Leave it to me to find Miffy wherever I go… next to a UFO!
The Tarzan life in Puerto Vallarta suited me well, and I'd jump at the chance to go back (especially in the coldest months)!
For more of my food / beach / attraction tips, see my Instagram Guide to Puerto Vallarta here. And if you'd like anything from my personal wardrobe, take a look at my Depop @LaCarmina (I ship worldwide, and can do bundle discounts).
Finally, a reminder that I've been ramping up my social media content… Add @LaCarmina on Instagram and other social networks (YouTube, X as it's now called) to see the latest updates, and learn where in the world I'll be next!