New Zealand local fashion boutiques: Britomart, Auckland! Cassia modern Indian restaurant & cocktails.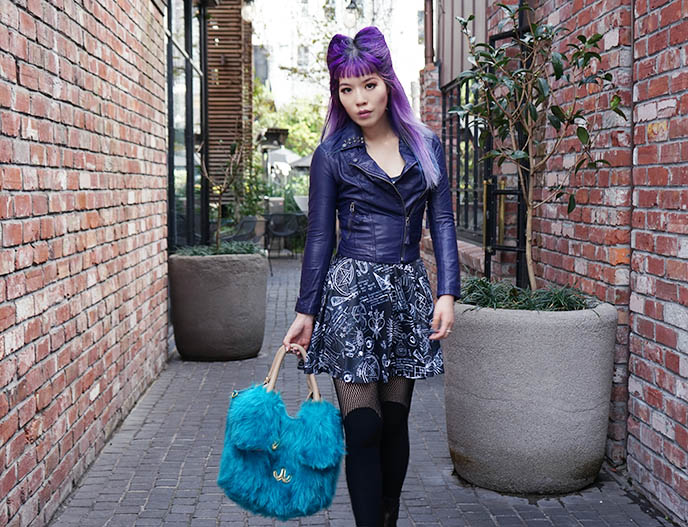 Kia ora… from Auckland, NZ!
If you've been following my social media (@lacarmina), you'll already know that I've been travelling with Contiki — a tour company for 18-35 year olds — in New Zealand. 
I joined about 30 young travellers on their Sun and Steam tour, and it felt like a big road trip with friends. We went all around the North Island, stopping to take in the spectacular nature, nightlife, and a daredevil activity or two.
My Contiki trip started and ended in Auckland, NZ. In this first post, I'll take you to a hip fashion district, and one of the city's top restaurants: Cassia! 
It was my first trip "down under" and I flew 14 hours to get here (direct from Vancouver to Auckland). I was rewarded with the perfect sunny weather and a pristine view of the harbour, with the Sky Tower hovering over the central business district.
Why was I was excited to travel around New Zealand with Contiki? Let me count the ways…
– The tours are for millennial travellers. Everyone was my age, and the itinerary was tailored to our interests.
– There's lots of "Me Time" and optional events, so you can explore at your own pace. 
– Contiki takes care of all the logistics: transportation, hotels, activity bookings, most of the meals and entrance fees. I could just relax and pose in front of the bus!
I'll introduce you to my Contiki crew in the next posts — but let's begin in Auckland, where we had a free day to spend however we wished.
Outfit details:
– I'm wearing a witchy dress and hosiery from Black Milk. They also make this dress in a Game of Thrones map print!
– My bag is from Japan, but you can get this similar blue faux fur purse here. Or this blue handbag, which also looks it has a face on it.
– My jacket is from Hong Kong. It's very similar to this blue cropped leather jacket, or less expensive Elie Tahari one.
First stop: Britomart, the best area of Auckland to browse local, indie fashion.
(Nail art by Glam Nail Studio, and silver Ouroboros ring from the legendary Alex Streeter Jewelry.)
Britomart, a former industrial area, underwent a transformation in the 1980s and 90s. Today, it's a hip shopping district that mixes old (heritage buildings, Maori art) and new (mod green spaces). 
You can find international clothing brands in Britomart, but I went straight to the local designers. New Zealand's Karen Walker has been making a splash worldwide, particularly for her fabulous eyewear and bags. (I own a pair of her round sunglasses.)
Below are my favorite Karen Walker designs (click photos for more info.)

A local friend encouraged me to visit Taylor Boutique. Everything here is 100% designed and made in New Zealand. 
Taylor uses leading-edge fabrics to make experimental, yet wearable garments. Love their oversized sleeves and peek-a-boo layers.
These NZ stores were advertising winter fashions, since the seasons are reversed down under!
(Here's where to find my Black Milk dress. faux fur purse and studded leather jacket. Hair by Stephanie Hoy in Vancouver.)
Local designer Juliette Hogan is another must-visit. Her contemporary fashions are notable for their cut and craftsmanship.
(You're probably noticing that Britomart is eco-design heaven… gorgeous greenery everywhere.)
For fabulous dressers, World is your destination. I could have spent an hour in this store, a treasure-trove of peacock taxidermy, exotic perfumes, dapper hats and other oddities.
In addition to Britomart, it's well worth taking a stroll in Auckland's Posonby district. You'll find many of the same local designer stores here, as well as shops dedicated to home decor, coffee, raw food and more.
(Photography by Salima Remtulla and me.)
All this shopping worked up my appetite. I walked over to Cassia, a modern Indian restaurant that is racking up all the top dining awards in Auckland. (Address: No 5 Fort Lane, Auckland, NZ)
Inside, there's a mural of the Hindu festival Holi — a perfect summary of how Cassia's menu mixes creativity and tradition.
Chef Sid Sahrawat (famous for his fine dining establishment SidArt) wanted to break away from the stereotype of an Indian restaurant. At Cassia, he fuses the authentic flavors from his childhood with the seasonal, local produce of New Zealand.
Before we talk about the food… let's start with a drink! Cassia has an exceptional gin and tonic menu that made me re-think the possibilities of this "basic" cocktail. Mixologist Prateek Arora made me a Tanqueray Tan with grapefruit and East Imperial Burma tonic — fine ingredients that elevated the flavors. On the right, he prepared The Herbalist, a perfect balance of Domaine Canton French ginger liquer, kaffir lime, cucumber, Angostura white rum and Benedictine.
I encourage you to chat with the friendly Prateek; I enjoyed hearing him talk about the inspiration for these drinks.
I'm a fan of anything ginger, and adored the Ginger Monkey (an infused whisky sour with egg white foam). The Kashmiri Dragon above is exceptional: a hit of chili powder, vodka, fresh lime, and Six Barrels feijoa syrup.
A quick aside… if you're in New Zealand, you can't leave without trying feijoa. This green fruit tastes a bit like guava, and is found only in NZ and parts of South America.
Cassia's exposed bricks and lightbulbs create a hip dining space. The industrial design once again breaks away from one's expectations of an Indian eatery.
Head chef Lesley Chandra prepared a selection of dishes designed for sharing. I recommend the starter of roasted carrot, cashew, leek, cavolo nero (kale) — the rich colors point to the careful choice of ingredients.
Next up: venison tartar, beetroot, cabbage. Once again, he prepared a vivid dish infused with authentic spices. I confess that I scraped up every morsel of the sauce!
One of the most popular main courses is the free-range pork with vindaloo, apple and ginger. Tender layers, perfectly cooked, in a spectacular balance of sweetness and heat.
Dessert was this deconstructed beauty: blackcurrent sorbet, raspberry and hazelnut. I was blown away the intensity of the berry flavors, which unfolded on your tongue. An outstanding, clean finish.
Cassia deserves its reputation as one of the best restaurants in Auckland. I encourage you to come by for an innovative meal and cocktails, which will change your perceptions of Indian cuisine.
I leave you with this night-time scene from Auckland's Wynyard Quarter, a reclaimed area by the waterfront with over a dozen international restaurants.
Coming up, I'll show you more of Auckland and the North Island, on my Contiki journey. Their motto, #NoRegrets, is in line with my approach to travel: challenge yourself, see new places, meet people, and never look back.
On that note… Would you like to go on a Contiki trip to New Zealand, like mine? They're offering my readers a discount code for 10% off all NZ trips, if you book with Contiki Asia by May 30! All details of the voucher are here; just be sure to reserve your place before it's too late.