Marrakesh Square of the Dead! Snake charmers, Yve St Laurent's Jardin Majorelle.
Morocco remains one of my favorite destinations of all time. Plan-It Fez Tours took us on an extraordinary road trip throughout the country, which we captured in this travel video.
I still have a few tales to tell from mysterious Marrakesh. (Doesn't it look like I am searching for Aladdin's magic lamp?)
In this photo diary, I'll share our photos from the Square of the Dead (Jemaa el-Fnaa), which has a dark history to match its name.
We'll also take a stroll in Jardin Majorelle, the garden of French couture designer Yve Saint Laurent.
Anyone who comes to Marrakesh must see the ancient marketplace, the Square of the Dead (Gemaa el Fna). The name likely refers to the public executions that took place in this plaza, around the 11th century.
During the daytime, the Square of the Dead is not as crowded. Vendors begin to set up their food stalls in the afternoon.
Even during this less busy time, the Square of the Dead can feel overwhelming to the senses. You'll encounter monkeys performing tricks, snake charmers sticking out their tongues at cobras, and water bearers in traditional Moroccan costumes.
(Be aware that if you take photos of them, they'll ask for about a dollar, and won't let you go until you pay up.)
You'll come across rows of friendly orange juice vendors. The citrus fruits are extremely tasty in Morocco, and refreshing on a hot day. The price for a large, freshly squeezed cup is also a fraction of what you'd pay at an American juice shop.
Many readers asked me: is it safe in Marrakesh, especially for solo female travelers?
Yes. The medina is clean and well policed. Just exercise your usual caution (such as giving a firm no to touts, and keeping your belongings secure). Even if you cover up your limbs, you may encounter some cat-calls — simply move on, and don't let it take away from your experience here.
The marketplace is a bit touristy, but still conveys the feeling of time standing still. Incredible that the medina has been the center of activity in Marrakesh, ever since the 11th century!
We couldn't resist filming the snake charmers in action. They coaxed the reptiles with music, and put their faces close to cobras who reared their heads and hissed. (Photography by Borderless Media.)
This slithering snake is non-poisonous. This man draped the animal around our heads and shoulders, and encouraged us to stick out our tongues.
There's a lot to see and shop in the medina. I loved these little tagines, or triangular clay pots that can hold spices or other belongings.  Each is only $1 US , so I got some for my cat to use as food bowls!
One of these magic lanterns has a genie inside, I'm sure of it…
Night falls, and the Square of the Dead lives up to its spooky name. From a restaurant high up, we took in this fascinating view of the medina. The food stations are open, and smoke wafts over the hoards of people. (Here's my Vine video of the action.)
The glowing tower is Koutoubia Mosque, which dates back to the 12th century. From the minaret, we heard the muezzin singing the call to prayer — and felt like we had time-traveled back into time.
The souk was filled with strange and mesmerizing sights. We saw locals gathered in a circle to play a game, which involves using tall fishing poles to grab a soda bottle. Like in amusement parks, very few participants succeeded.
As I explored, I felt like I was in a tale from 1001 Arabian nights. We passed Chleuh dancing-boys (who crossdress as women), storytellers, musicians, peddlers and magicians.
The energy levels are especially high in the food and drink areas. Vendors set up stations in closely-packed rows, and offer everything from mint tea…
… to snails and sheep brains. For the less adventurous eaters, there are grilled meats, dried fruit and nuts, and the ever-present orange juice carts.
The atmosphere can be a bit intense, especially for women traveling alone. Be prepared for stares, and for the vendors to approach you and yell out names (I got called Lady Gaga and Barbie).
Just ignore the words, keep on walking, and don't let them grab you (as the more aggressive sellers might do).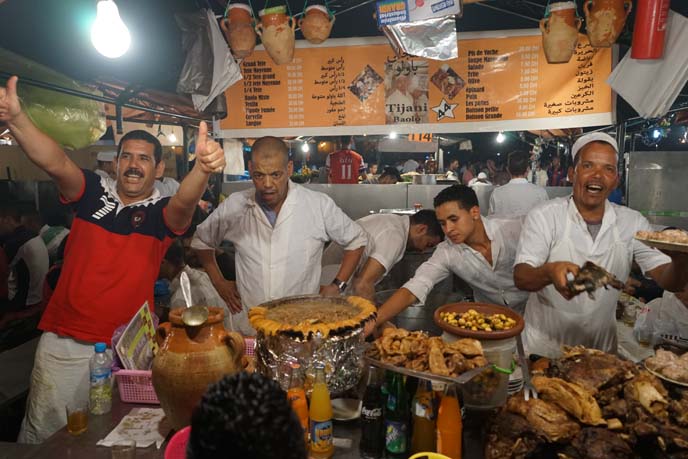 It's all part of the Marrakesh experience, and I never felt unsafe. (Watch our travel video to see these scenes in action.)
One of the best decisions we made was to travel with Plan-It Fez Tours. I spoke with friends who did Morocco on their own, and they told me they felt stressed by logistics such as public transportation. They told me about taxi drivers who tried to scam them, and touts who constantly approached them.
Thanks to our friendly driver and guides, we encountered none of these complications.
With a car, we got to visit off the beaten path places — such as Berber villages several miles from Marrakesh. Our Plan-It Fez guides introduced us to locals and translated Arabic, making immersive activities such as a henna workshop possible.
We visited Jardin Majorelle, which was designed by artist Jacques Majorelle in the 1920s and 30s. Our guide Mohammed told us about the fascinating history of Marrakesh, from its earliest days through the French protectorate and independence.
The red paths are surrounded by cacti plants and calm pools dotted with water lilies. Birds call out from under the palm canopies.
The winding garden pathways lead to the French artist's house, built in Moorish and Art Deco styles. The bold cobalt blue color, which brightens up the entire property, is called Majorelle Blue.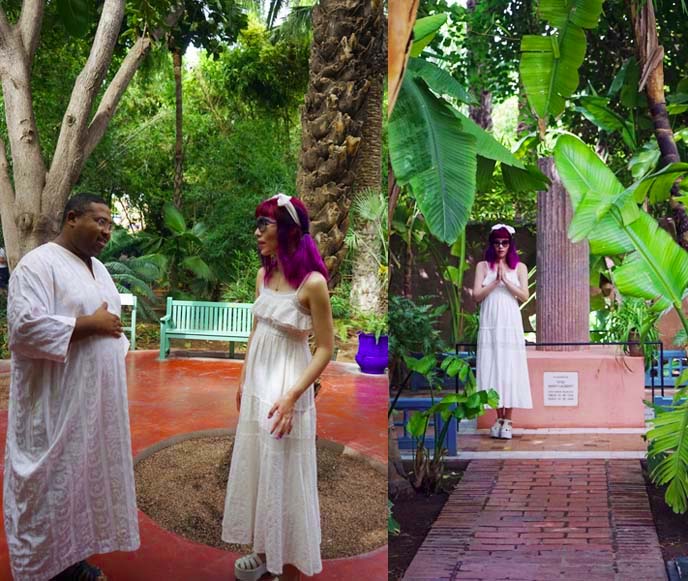 Since 1980, Majorelle Garden was owned by fashion legend Yves Saint-Laurent and Pierre Bergé. I visited the gravestone of YSL, who died in 2008.
To be honest, I wasn't blown away by Jardin Majorelle. There were a lot of tourists around, and I was more impressed with the lush landscapes at our Royal Mansour hotel. Nevertheless, I enjoyed spending time here with the jovial Mohammed, and seeing St Laurent's illustrations in a special art display.
Sometimes, the best travel moments are not from visiting famous attractions — but merely sitting back and enjoying the ride. Nowhere but in Morocco can you see views like these: the High Atlas mountains and argan trees. 
We originally came to North Africa by taking the ferry from Algeciras (southern tip of Spain) to Tangier (northernmost point of Morocco). Plan-It Fez picked us up, and we began a road trip along the coast.
From these first moments, we were fascinated by the contrast of ancient and modern. We saw glitzy nightclubs pumping with music and women in sequined headscarves on the boardwalk… and then turned into the Tangier medina, which looked like scene from Medieval times.
The sun set over the waters, turning the sky blood red.
As the hours on the road passed, we drifted into semi-sleep. The car zipped by this alien-esque Arabic poster, and I wondered if I was in a dream.
I leave you with this image of the lively Square of the Dead, at dusk.
Is Marrakesh what you expected it to be? I hope you enjoy our Morocco travel video – please take a minute to watch, and let us know what you think!