Hello Kitty Chinese dim sum restaurant, Hong Kong! Gudetama theme cafe buns, Sanrio museum.
Yet another reason you should drop everything and travel to Hong Kong… there's now a Hello Kitty dim sum restaurant! 
At Hello Kitty Chinese Cuisine, diners can bite into fresh steamed buns that look like the famous cat. Read on for dozens of photos from the theme restaurant.
I'll also take you inside the somewhat-controversial Gudetama cafe in Hong Kong (where you can squeeze chocolate poop out of the egg character), and a Sanrio anniversary exhibition in Taipei. 
And if you're a fan of Hello Kitty, you've got to check out the cute fashion items below!

Let's start with my visit to Hello Kitty Chinese Cuisine. There are many Sanrio theme cafes worldwide — remember the Seoul Hello Kitty one, where I ate cake shaped like her face?
However, this is the first time anyone has done a Cantonese-style Hello Kitty restaurant. It's a cute-faced version of dim sum, the traditional dining where everyone shares bite sized dishes around a table.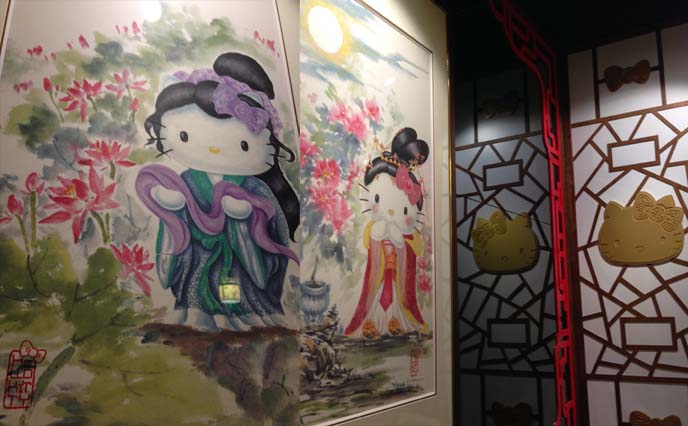 The local owner pitched the dim sum idea to Sanrio, and won them over. The restaurant's interior design is magnificently executed, combining Chinese tradition with Japanese kawaii. Case in point: the paintings of beautiful ancient Chinese ladies… with Hello Kitty's face!
Hong Kong Hello Kitty Restaurant Address: Shop A to C, Lee Loy Mansion, 332-338 Canton Road, Jordan, Kowloon.
It's about a 3 minute walk from the Jordan MTR subway station, or ask your taxi driver to go to 佐敦廣東道332-338號利來洋樓A至C地舖
The Hello Kitty Chinese restaurant is extremely popular, so don't expect to walk in and get a table. Fortunately, you can make a reservation in advance through their website.
The excitement begins at the entrance, where there's a glass case glittering with Sanrio jewelry and wines.
Even the table and chairs have Hello Kitty faces, carved right into the wood. The attention to detail is apparent here — a nice change from other Asian theme restaurants, which often skimp on quality.
The menu is in both Chinese and English, with illustrations. You can choose from a range of Cantonese dishes or fusion creations, all decorated with a Hello Kitty touch.  (On left, a giant bread-cat, with Chinese patterns imprinted on her bow!)
The restaurant has several special dishes, such as this one made with apples since this is Hello Kitty's favorite fruit. 
Another happy departure from other theme restaurants: Hello Kitty Chinese Cuisine uses "real" ingredients such as vegetables and beans to make the decorations.
The owner focuses on healthy ingredients, and it pays off. The har gow (steamed shrimp dumplings) were so good that we wanted to order several more baskets!
We were pleasantly surprised that the quality of the food was so high, considering the pristine Hello Kitty faces on everything.
Every aspect of the dim sum experience gets a Kitty makeover, even the paper lining of the steam baskets.
I'm sure you "awwed" at this photo of Hello Kitty steamed buns… We won't show you the "after", where we tore into her face! Inside, there is a light and delicious red bean paste filling. 
(Photos by noircorner and Ken Yuen.)
Finally, we ended with this light egg white custard and fruit. A perfect palate-cleanser, without added sugars or fake flavors.
This was by far the best Hello Kitty theme restaurant I've visited, with high standards for the Cantonese food, cute presentation and interior design. The prices are also very reasonable.
It's the small touches that make this dim sum experience such a pleasure. I love how the owner was able to create an authentic Hong Kong dining experience, fused with Hello Kitty. 
More info including how to make reservations on the Hello Kitty Chinese Cuisine site.
Sanrio characters are extremely popular in Hong Kong, possibly even more so than in Japan. One of their new mascots — Gudetama, the lazy egg — seems to be everywhere.
We stopped by Mongkok's Langham Place, where they were celebrating the mall's 10th anniversary with a Gudetama exhibition. I admit I don't really "get" this character's appeal… maybe someone can explain it to me?
People lined up to take photos with the funny displays, including Gudetama as an egg sushi, and a subway train. There was special Gudetama merchandise at the pop-up store, but fitting with his attitude, I was unmotivated to take a look!
Hong Kong also opened up two Gudetama theme cafes. The one in Kwun Tong is a "YATA Gudetama Café by Izumi Curry" (Address: LG/F, apm Millennium City 5, 418 Kwun Tong Road).
I took photos of Dim Sum Icon, the sort-of controversial Gudetama restaurant. (Address: L308, 3/F, The ONE, 100 Nathan Road, Tsim Sha Tsui, Kowloon, Hong Kong)
Similar to the Hello Kitty restaurant, this one has dim sum dishes that look like the egg character. However, there are also international selections like burgers and ramen, and the decor is much simpler.
Do these diners look engrossed with their food? Perhaps they are grossed out… by the Gudetama bun, which has a rather bizarre design…
If you squeeze his body, chocolate sauce comes out of his butt! I doubt I'd be able to eat something that looks like a mascot with brown liquid oozing out the back…
On the other hand, I was gung-ho to pose with Hello Kitty statues at her 40th anniversary exhibition in Taipei. 
We actually took these Taiwan photos a while ago, but I never got around to posting them. Last year, Sanrio celebrated Kitty's big birthday with an interactive exhibit at Songshan Cultural Park (松山文創園區). (Address: No. 133, Guāngfù South Rd, Xinyi District, Taipei.)
Fans paid an admission fee of about $20 to see Kitty in various guises, such as Marilyn Monroe and Holly Go Lightly.
The exhibit consisted of several giant rooms, each decorated with large-scale displays that you can pose with. Most of these feature Kitty, but there are also statues of other Sanrio mascots. Above: Pom Pom Purin, Lala from Little Twin Stars, Keroppi the frog, and Pom Pom Purin.
The Taipei exhibit hall also had a Hello Kitty pop up cafe, serving desserts and drinks decorated like her mouth-less face.
This pop up has now closed, but you can still visit Taipei's permanent Hello Kitty Sweets Restaurant. (Address: No.90, Sec. 1, Da'an Road, Xinyi Distict, Taipei).
These colorful macaroons and cupcakes, topped with Hello Kitty candy decorations, look too cute to eat!
I paid a bit extra to see the Hello Kitty hologram show. (Hey, you only live once.) We weren't allowed to shoot it, so imagine a bizarre hologram of Hello Kitty entering the stage — it was basically someone in a glittery purple dress and giant cat-head mask. She sang and did para-para moves with two background dancers, while soap bubbles floated in the air. We had a lyric sheet, and wanted to sing and dance along to the "Kitty Kitty Kitty" rap song… but nobody else in the audience was moving a muscle.
Are you curious as to why I'm doing this bizarre hand pose? It's a tribute to Brown, the bear from Line Friends — yet another character with a single expression! He always does this tentative morose pose, with the tips of his index fingers pointed together.
One of the best ones was "Hepburn Hello Kitty: Breakfast at Sanrio's." You wouldn't expect to see this cute cat combined with Hollywood icons… but it works.
I was impressed by the amount of creativity that went into these intricate sets. In front of Marilyn Kitty, there's a grate that puffs up air, blowing up your skirt! The designer even incorporated Kitty's bows into the background architecture.
Hello Kitty's design has changed over the past 40 years. One room was like a museum, showing her evolution from baking pies in the 80s, to Charmmy Kitty in the 2000s.
Is that a tattoo on my arm? Nope, it's a Sanrio stamp. There were special stamps and inkpads located all throughout the exhibit. Fans collected these prints on notebooks or on their bodies.
This exhibition took place in Songshan Cultural and Creative Park. Originally a Japanese colonial tobacco factory, Taipei's government has converted this unexpected space into a "Creative Hub" for artists and innovators. The park transforms ghosts of its past — boiler rooms, warehouses — into modern design museums, gardens and stores.
You can check the Songshan Park website for upcoming special events. This "Hell Kitty" presentation is no more, but there are always other kawaii displays.
Taipei is crazy for this cat. In addition to the Sweets theme cafe, the airport has a Hello Kitty lounge. EVA Air also has a Hello Kitty airplane, which I'm keen to fly.
The Kiss by Gustav Klimt turns into Hello Kitty and her teddy bear. A wonderful use of colored mirrors to recreate the Art Nouveau work.
You all know I love Italo Disco… so this was perhaps my favorite backdrop!
Wouldn't you love to party all night with me and DJ Disco Queen?
The life-size sets encourage guests to pose and be silly. In front of this retro TV, there were giant Charlie Chaplin shoes that you could step into.
Near the end of the maze-like exhibit, you could see the concept drawings and a video of how it all came to life.
Pretty amazing how a simple character design can inspire so many artistic variations, over the course of four decades.
Taipei's Hello Kitty exhibition encapsulated what I love about Sanrio. They're more than cute merchandisers. Their designs inspire creativity, unite fans of all ages, and put smiles on their faces.
Would you visit a Hello Kitty dim sum restaurant, or exhibition where you can pose with the characters?
(Here are my favorite Sanrio fashion items and toys below — click the images to shop them.)