We got Henna tattoos! Moroccan beauty workshop & Couscous rolling class, Plan-It Fez tours.
Morocco was one of my dream destinations for years. My team and I finally went this summer, and the trip turned out to be as rejuvenating as I had hoped.
This year, I've tried to put a greater focus on projects with meaning. I love sharing stories about travel, underground culture, and locals (especially women) who are forging unique paths.
When I spoke to Plan-It Fez Tours — a female-run independent business in Fez — I knew that their goals were exactly in line with ours.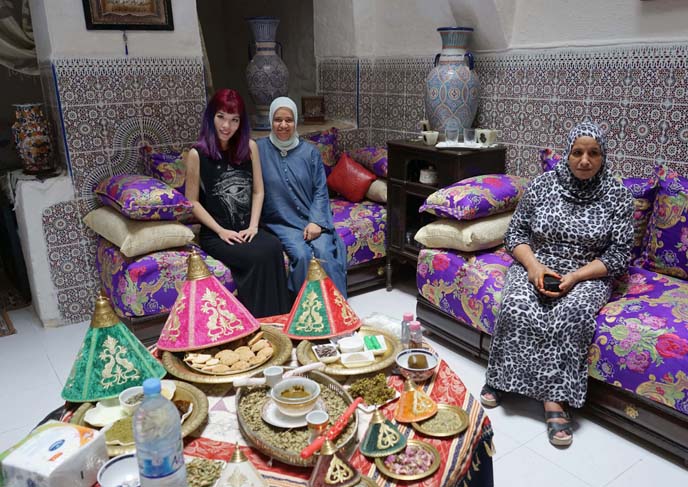 Plan-It Fez collaborates with Moroccan women, and offers immersive activities that support their livelihood. It's a win-win that lets travelers get a more intimate tour experience. 
On the first day, we did a drum-making activity. This time, I'll show you how we did a beauty workshop with women inside the Fez medina! 
The ladies taught me Moroccan beauty secrets, and I got henna for the first time (a temporary skin art, using dye that comes from a flowering plant).
Then, we drove to a Berber village, where I made (and ate) the best couscous of my entire life. Be sure to read to the end, so that you don't miss this adventure.
(Henna dyes have been used since Ancient Egyptian times, so it's appropriate that I'm wearing an "Eye of Horus" dress from Pretty Attitude Clothing.)
The Fez medina is a sprawling market filled with the smell of spices, calls from vendors, and mysterious twisting corridors. Our guide led us to a low door, and we had to duck to go through the tiny pathway. Like in a dream, it opened up into a gorgeous circular space decorated with curtains, ottomans and tiles. 
At the center was a table topped with herbs, argan oil, and flowers. These ingredients form the basis of beauty mixtures, which have been passed down throughout the centuries.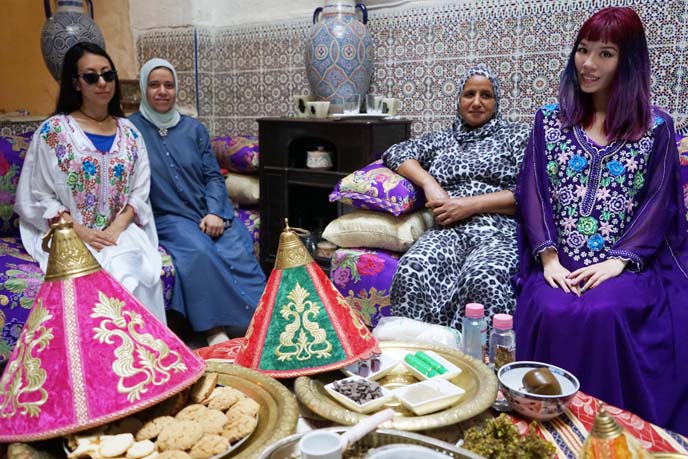 Our Plan-It Fez guide, Siham, introduced us to these local ladies. She translated for us, since they only speak Arabic.
"They are asking if you'd like to wear a traditional robe," she said. Of course, filmmaker Melissa and I said yes. The women brought out a silky purple one for me, fronted with intricate beading, since it matched my hair color.
In Moroccan culture, the women care for their skin with natural products, usually mixed at home. The ladies let us participate the process from the start, with a base of dried henna leaves.
We learned about a "magic" lipstick that looks bright green — but when you put this henna tint on your lips, it turns red!
The family atmosphere and Moroccan decor made us feel as if we were transported back in time.
We looked up, and saw the matriarch waving at us!
The beauty workshop is run by three generations of women. The youngest showed us how to blend and then hand-mix a herbal paste that softens the skin. It had a light, earthy scent and felt soothing on the back of my hands.
Then, it was time for my first henna experience. This temporary body art / hair dye has been used for centuries in North Africa, the Middle East and India (where it's also called mehndi).
Today, the mixture is still made in the same way, with crushed and liquefied henna. However, Moroccan women tend to use a modern syringe to apply the designs for ease.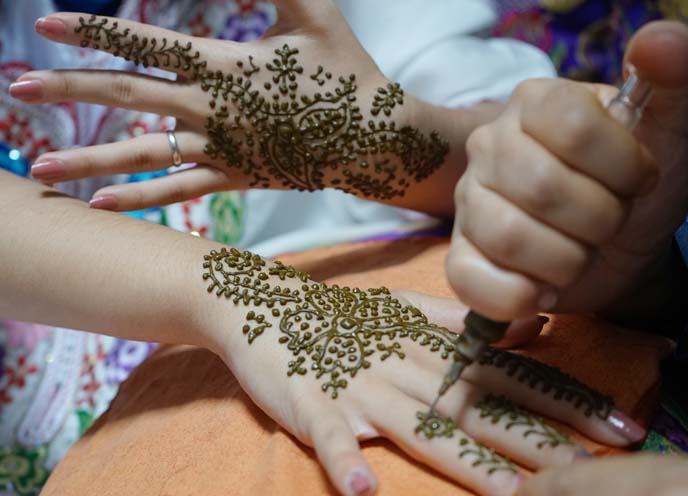 The designs tend to have floral, natural, swirling motifs (above is a modern style, on Melissa's hands). The women are experts and work quickly, completing a hand in as little as 10-15 minutes. They told us that they don't plan out their drawings — they simply go with the flow.
Henna is traditionally used for special occasions like birthdays and weddings. However, it can be worn at any time, and women often bond by applying henna for each other.
We loved seeing how these women worked, and how the designs organically took shape.
Here are my finished hands, done in the traditional henna style. I was in awe at the amount of detail and variation.
Melissa also got "I'm allergic to nuts and white fish" written on her forearms, in Arabic!
It took about 30 minutes for the paste to dry, and then I left it on for most of the day before flaking it off.
The finished henna is a rust-orange color. If you're careful, these designs last 1-3 weeks.
A big hug for Siham, our guide at Plan-It Fez, for taking us to this Moroccan beauty workshop. 
Shout-out to Eric Bergemann of Borderless Media for running around and doing all the photography and filming, while we got our henna on!
Our cultural tour continued with a visit to yet another women-run business: a bakery and couscous shop called Fatima Zahrae (فاطمة الزهراء). It's located in a Berber village about an hour's drive from Fez.
We would never have gotten an authentic, participatory experience like this without Plan It Fez.
The little shop looked like something from a storybook. Inside, about ten women worked at different tasks.
It was wonderful to see how the bakery operated. The collective business lets them earn their own independent living, work alongside other women, and share the profits fairly. 
I took off my shoes, and sat on the couscous-making carpet with this Berber lady (notice the henna dye on the soles of her feet). She taught me how to "roll" couscous, starting with moistened semolina flour.
Using these traditional tools, we rubbed the larger pieces in a circular motion, until they broke down to the right size and texture.
We shook the basket to bring the bigger pieces into the middle for further rolling. Of course, I caused a bit of a spill!
When the couscous was ready, the women steam-cooked it to the perfect fluffiness.
We continued the cooking lesson by seeing how the women prepared bread. They kneaded, shaped and "poked" the round flatbreads at an incredible speed.
Cooking classes are always a fun way to make memories and learn about the local culture — even if all you do for the "cooking" part is put the loaf into the oven!
The experience included lunch… and my jaw dropped when this Berber woman brought out a towering plate of couscous, topped with vegetables and chicken! (Note her pretty light-colored eyes).
Before coming to Morocco, I admit I wasn't fond of couscous. It always came out of a box, and had a dry cardboard taste and texture. But let me tell you… the couscous at Fatima Bakery is a whole other species. Fluffy, nuanced, fresh. We ate together from the large plate, and I couldn't stop taking more spoonfuls of the couscous!
When we ate our fill… the women surprised us with a second dish of chicken and olives! I could have dipped the warm oven-baked bread into the sauce all day long.
Finally, a fruit plate with local melons, grapes, and peaches. I've had a lot of memorable meals worldwide, but without doubt, this couscous cooking class ranks in the top ten.
Time to walk off our meal, with a stroll around the neighborhood. We saw women and children shopping and socializing.
How funny — in this tiny Berber village, we came across street art from the Japanese anime, Dragonball Z! 
We ducked into the marketplace, which has a funny dolphin cartoon on the wall.
I try to do market visits wherever I go. It's a great way to get a sense of the local daily life. 
You might come across sights and smells that you find more difficult, such as this hanging rack of meat. I encourage you to keep an open mind, even if you may not be comfortable with everything you see. In my opinion, stepping out of your usual zone is one of the best aspects of travel. 
Morocco can be a more challenging place to visit, and we're so glad we did this journey with Plan-It Fez Tours. Thanks to our guides, we were able to directly meet local women who run creative businesses, and experience beauty and food through their eyes.
Have you tried henna tattooing before? What was your experience like?