Guide to El Raval, Barcelona hipster district! Street art, Marmelade restaurant, Karl Lagerfeld x Melijoe fashion line.
Ten years ago, if you visited Barcelona, people would warn you to stay out of El Raval. It had a red light reputation and was considered a dangerous place to wander into unaware.
Today, El Raval is one of the coolest neighborhoods of Barcelona, and a center of skateboard subcultures and gritty street art. Intrigued? Then let me give you a tour — and scroll to the end of the post, to see the new country I'm traveling in right now!
But first, speaking of colorful art… I wanted to share with you the new Karl Lagerfeld and Melijoe fashion collection! How sweet is this animation video above, starring the iconic couture designer and his white cat Choupette?
Karl Lagerfeld and Melijoe have released the cutest clothing line for children and babes — including hoodies with embroidered prints, knit caps with whiskers, and other adorable yet classic designs. Personally, I want to get my paws on the black purse with cat ears.
Check out more cat-inspired juniors fashion and pre-order items now on their website.
Back to my Spanish hipster tour. El Raval is located next to the Gothic Quarter  — I'll show it to you in an upcoming post — not far from Las Ramblas.
(I'm wearing a white dress with long sleeves, and a cut-out skull back, from Pretty Attitude Clothing.)
El Raval used to be one of the most densely populated urban areas in the world. During the 1800s, it was a poor district peppered with brothels and bars.
Today, the area still has an industrial feeling, and a large immigrant population.
However, thanks to rejuvenation programs, El Raval has become a cool cultural center. It's the best place in Barcelona to experience cutting-edge art, food and nightlife.  
One of the most innovative restaurants / bars in this quarter is Marmalade. I spread my wings at the 1950s dapper decor, featuring angel-winged lamps and an illuminated Art Deco bar.
Address: Carrer de la Riera Alta 4-6, El Raval, Barcelona
I felt at home in the vintage New York meets Havana atmosphere. You can sit in the lounge, or reserve one of the long tables for a party with friends.
Marmalade has an extensive cocktail list. We couldn't resist this generous goblet of sangria, made with red wine and fresh fruit.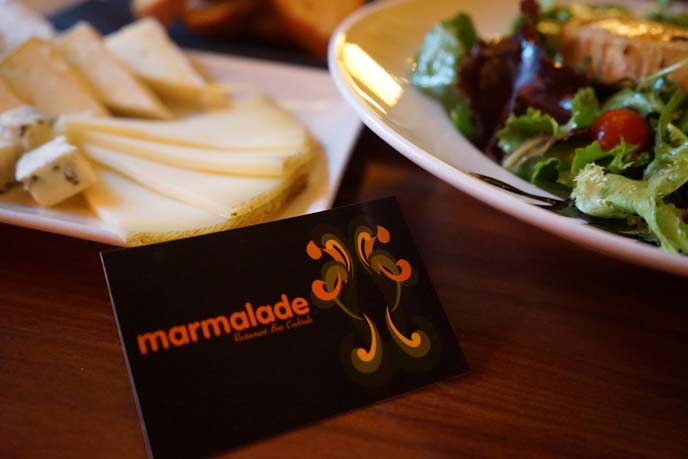 Marmalade is known for creative burgers, including a ramen noodle burger. Diners also rave about the brunch offerings such as eggs Benedict. That evening, we ate up every last bite of the cheese plate appetizer and a warm goat cheese salad.
One of my local friends recommended their hip sister Milk Bar and Bistro too, decorated "like a millionaire's drawing room." I'll be sure to check it out next time.
Marmalade is located near the Rambla del Raval, an open space lined with palm trees and benches.
This neighborhood felt like a breath of fresh air, compared to the tourist-packed La Rambla. We passed by eclectic street art, old-style buildings, and not a single souvenir shop.
There aren't any "landmarks" or big attractions in El Raval. The pleasure comes from strolling around and encountering unexpected street art, like this Empatia and hearts on a brick wall.
If you're doing an Instagram wall crawl, you'll find plenty of backgrounds in El Raval. We saw intriguing murals on every street corner.
Cthulhu made his mark here, with a winding tentacle.
Even though El Raval is no longer a dangerous area, it still has an edgy, red-light feeling. You'll find lots of bars and tattoo shops here.
Layers upon layers of posters, graffiti, and paint.
No wonder El Raval is the known as the most offbeat neighborhood of Barcelona.
(Shoes by YRU, dress from Pretty Attitude)
I found an Art Nouveau pharmacy with my name on it.
Those swirling moldings, and absinthe fonts… I got a new appreciation for Catatonia Modernisme after this trip.
In the summer, Barcelona's best-known districts are filled with tourists, which put a bit of a damper on the experience.
Filmmaker Melissa and I stopped for a healthy snack, in this cute open-window cafe called Komo en Kasa. (All photos by Borderless Media)
There remains quite a large Moroccan and Middle Eastern population in El Raval.
An anarchist black flag hangs above the graffiti.
The Portlandia "Put a bird on it" has made it to Barcelona.
We filmed outside the MACBA modern art museum, located next to the Centre De Cultura Contemporanea. It's become a gathering place for skateboarders to hang out and practice tricks. 
Skaters zoomed around and used the long ramps to leap into the air.
Nearby, there was a skate shop. Love the custom skateboard with kittens and rainbows. 
After spending the day exploring El Raval, we went back to our Art Nouveau hotel, El Palauet. 
I was in the mood for something sweet, and found exactly that at a Xococake, a specialty dessert shop run by chef Albert Badia Roca.
Address: Carrer Gran de Gràcia, 17, 08012 Barcelona, Spain
At the front window, I had a hard time deciding on which gelato flavor to get. I wound up with a scrumptious dark chocolate, and can vouch that this is the best gelato in Barcelona.
Xocockae makes all sorts of desserts, from candies to fruit tarts to cakes. Everything is adorably decorated, and perfect for bring home to friends.
There was even a station for horchata, a hot and sweet drink made from tigernuts, water, and sugar.
Have you heard of Barcelona's El Raval? What do you think of the current street art and hipster bars, in this formerly sketchy district of Spain?
Finally, I'm overjoyed to share my next travel destination… Siem Reap, Cambodia — home to the temple of Angkor Wat! (Photo above via Wikipedia Commons.)
I've been working long-term with Hong Kong Express Airways, and they are sending me there to capture the experience. I can't wait to see the Tomb Raider temples for myself, and experience the warm Cambodian hospitality I've heard so much about. If you have suggestions for things to do and see in Siem Reap, please let me know with a comment.
PS: I'll be sharing my journey live, on Snapchat (@lacarmina) and Instagram. Check me out on these social networks, to see behind the scenes.