Health Goth: Farfetch Autumn Winter fashion! My diet & fitness routine, Gothic workout clothes.
Winter is coming… and autumn has most certainly arrived!
My friends and I love this time of year because we can finally take out our leather jackets, and vamp up our wardrobes with cold-weather accessories such as gloves.
I was excited when Farfetch invited me to create an Autumn / Winter look from their latest collections. This online fashion portal carries an immense selection, including a lot of independent and Japanese designers — and you know I'm all about that.
I love taking walks outside any time of the year, but there's a particular joy in crunching through autumn leaves, and breathing in the crisp air. So I thought I'd show you what I wear on one of my outdoor excursions.
In the Farfetch workout essentials section, I found this cut-out Michi top that doubles as a sports bra. It's perfect for wearing under a leather jacket, and if you start to feel cold, you can simply zip up your coat.
I love these black leggings with white line details — they're Y-3 by Yohji Yamamoto. I usually have a hard time finding activewear that I love, but this Japanese edgy label is right up my alley.
I paired my Gothic activewear with a studded, dark blue leather jacket from Hong Kong. It's by the brand Bauhaus, which is only found in Asia.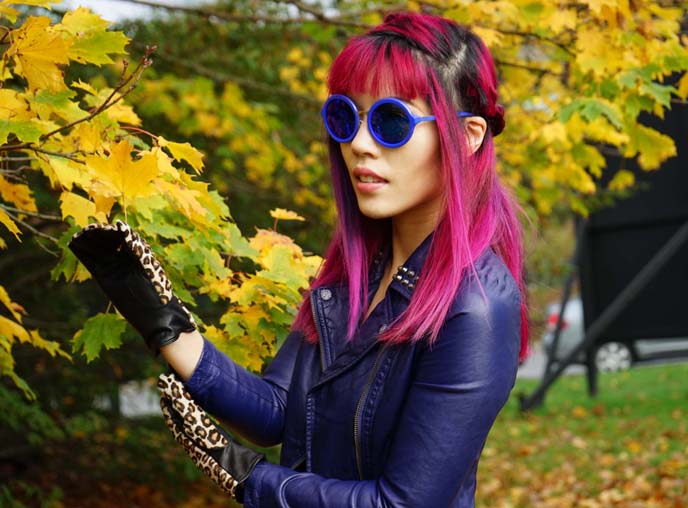 In the wintertime, it's still important to protect your eyes by wearing sunglasses. The glare from the snow can be blinding, and the harsh weather can dry out and irritate your eyes.
Happily, Farfetch has a treasure-trove selection of sunglasses. I picked out Linda Farrow x Phillip Lim sunglasses: I adore retro accessories, and couldn't resist these round glam-hippie frames. I also thought the blue color was a nice fit for winter.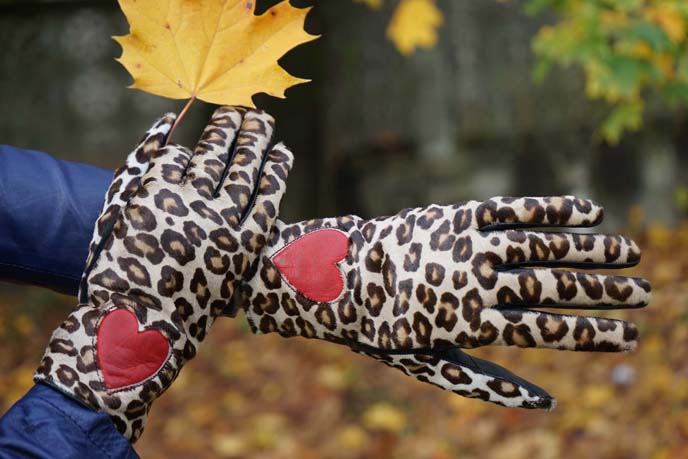 Finally, my hands get cold easily, so I'm always in need of gloves. Many people think of winter accessories as "utility garments," but why not get something with style?
When I saw these Moschino gloves on Farfetch, I couldn't resist. The style is 100% "me," with a red heart, leopard print, and black leather! 
I hope my outfit post got you inspired to revamp your autumn / winter wardrobe. There's no need to stick to black colors and boring accessories… have fun with this season!
If you liked these looks, you can get everything I'm wearing (plus much more) on Farfetch. They invite you to share your finds on social media with hashtags #farfetch #myfarfetch.
During the winter months, you'll inevitably be spending more time inside.
Instead of seeing this as a negative, I make this an opportunity to re-boot my workouts. Keeping fit also helps me feel energized, even if I'm staying indoors.
Have you heard of the term Health Goth? The media has been talking about the trend of people wearing black, Gothic-looking activewear. But in fact, this has nothing to do with the subculture, and the sportsgear is still by mainstream brands.
Nevertheless, I like the general idea of "health Gothic" — in the sense that you can work out hard, and still dress and feel like yourself. I don't think any of you could picture me in a pink yoga outfit, right?
I'm wearing black workout leggings with a stripy twist: Y-3 by Yohji Yamamoto. They're functional for all types of fitness activities, and well made so that they won't thin out or stretch out of shape (two of my pet peeves about leggings).
This Michi sports cropped top fits my aesthetic perfectly. I'm a big fan of cut-out designs, and the bra has built in support.
I hope these outfit photos give you some ideas for how you too can be Goth at the gym. 
What type of workout routine do I have? 
When I'm home for an extended period of time, I enjoy taking fitness classes. This month, I did a mix of pilates, yoga, and TRX (a Navy Seal suspension training method that's brilliant for core).
I also work out on my own. I do bodyweight exercises, videos (such as Tracy Anderson), and high-intensity interval training. I choose cardio that is gentle on the knees, such as sprinting on an elliptical or rebounding on a trampoline. And, as mentioned before, I go on long walks.
Overall, I mix up my workouts and try to maximize efficiency (no moderate chronic cardio for this girl). I focus on exercises that build up my core, flexibility, and balance. This all works toward my goal of "functional" strength and endurance, which helps me on my sometimes grueling travels.
Now, let's talk about food and diet! When I'm home, I try to eat "clean" about 80% of the time. It's not complicated: I focus on high quality whole foods (especially organic / grass fed / free range / seasonal / local). Everything is prepared simply (baked, steamed, poached, stir-fried) with simple flavors.
I eat a lot of vegetables, healthy protein and fats, and low-glycemic fruits. I love my raw cheeses and organic plain yogurt / kefir.  I avoid "junk foods" (with chemicals and unrecognizable ingredients), added sugars (including fake sweeteners), and empty carbs / gluten (I stick to brown rice, sweet potatoes etc). The above sashimi salad from Hong Kong's Sushi To is a great example.
However, it's important to stay flexible, and thoroughly enjoy the other 20%! (Coco Ichiban curry gets a thumb's up and bow, during our Norway travel TV shoot in Tokyo.)
Now, when I travel, I don't stick to the 80/20 equation. I consider food to be a huge part of the traveling experience, and eat my fill of local dishes while I'm there. (It's actually good to mix things up, to avoid having the body adapt and stagnate. You can Google "leptin reset" for more on this phenomenon.)
Eating freely while you're overseas lets you learn so much about the local culture. I often didn't realize certain ingredients or dishes existed — or that the Japanese were this creative at cute food design!
Did you enjoy reading about my diet and workout? What do you think of my fall / winter "health Gothic" outfit?