Tokyo Ganguro Cafe & Robot Sushi! Gyaru Black Diamond makeover & nail art in Shibuya.
Dark-skinned makeup, zebra print dresses and massive eyelashes… Yes, 1990s Japanese Ganguro fashion is back!
In this dispatch from Tokyo, my friends investigate the new Ganguro cafe and get a technicolor makeover by the Black Diamond Unit gals.
As you might remember, I was recently in Tokyo for a Travel Channel TV shoot. Although I'm not permitted to reveal anything about the filming yet, I can share photos of the latest Jpop trends in the city, taken during my days off.
Keep reading to see a "cat party" with friends, Haneda Airport's new kawaii stores, and sushi made by Mr. Roboto!
We'll begin with John Skeleton's review of the new Ganguro theme bar / cafe. He writes:
If you missed your chance to see Ganguro girls in their natural habitat (Shibuya, Tokyo) during their heyday in the mid-9os and early 2000's, now is your chance! All you have to do is take a trip to the Ganguro Café (ガングロカフェ), run by the Black Diamond musical unit that has performed at such international venues as the Japan Expo in France and Anime Expo in the U.S.
The café is equipped with a fully stocked bar, karaoke machine, and darts, and while it may be rather small, it sets off the larger-than-life Ganguro fashion even better. (Address: 2F, Crea Dogenzaka Building, 2-22-6, Dogenzaka, Shibuya, Tokyo, 150-0043)
Super-tanned skin, contrasting white makeup, bleached hair, and impossibly elaborate fingernails are the order of the day at the Ganguro Café. My new friend Alcy and I decided to venture into this latest hotspot and see what all the hype was about.
Staff member Harutamu was assigned to our table, well-coiffed and happy to discuss what drew her to Ganguro fashion. "I remember seeing some Ganguro girls on TV and thinking, Wow, this is amazing! They were like beautiful dolls and so colorful. I've never been interested in normal fashion, so this was perfect for me!"

Although the initial Ganguro boom had ended more than a decade ago, Harutamu and her fellow staff members represent the next generation of young people who have been inspired by their fashionable forerunners. She also explained how, while often misunderstood as an imitation of hip-hop style, Ganguro is a fashion and musical sensibility all its own, embracing J-pop and rejecting the common aesthetic that says white skin and natural makeup are the ultimate in feminine beauty.
(Some girls take the look further, with stark white eye makeup and Day-Glo clothing, in an offshoot called Yamanba or Manba. And yes, the spiked nail art on their hands are acrylics, meaning they don't come off.)
Of course, the establishment is also a café, so we had to try some of the food. The signature dish is the "Ganguro Balls," a dish similar to takoyaki (octopus balls), but dyed appropriately with black squid ink and and containing sausage and cheese – the perfect accompaniment to the many alcoholic beverages available at the bar. For dessert, we tried the pudding and chocolate cake, both of which were mouthwateringly good.
It wasn't long before it was makeup time. Alcy had volunteered to make the dramatic transition from light to dark, Ganguro-style, and the Ganguro Café "Image Girl" Erimokkori was up to the task, even with her outrageously adorned fingernails.
Watching her apply false eyelashes with six-inch nails was quite a sight to behold and, if nothing else, one certainly has to respect the amount of time and effort these young ladies put into constructing their striking appearance.
To top it all of, a green wig was applied and Alcy had been transformed from Goth to Ganguro.
Even if you don't make the full transformation, if you're looking for an underground tourist spot off the beaten path in Tokyo, the Ganguro Café is guaranteed to be an unforgettable experience!
Info: Thanks to John and Alcy for the photos and story. You can find out more about the Ganguro Cafe on their website, and also reserve tickets in advance – since the seats often sell out, especially on weekends.
Price: The 3000 yen package includes entry, 1 drink and 1 food dish, and souvenirs. For 7000 yen, you will also get a ganguro make-over and purikura with the gals.
What else is relatively new in Shibuya, the neighborhood with the famous street crossing? Well… there's a robot sushi parlor.
Located near Shibuya's 109 department store, Uobei Sushi looks like a factory assembly line, and there are no chefs in sight. Tip: go early or at off-hours to avoid lineups, since this sushi parlor is popular among both locals and tourists.
(Address: 2-29-11 Dogenzaka, Shibuya, Tokyo)
How do you order from this bizarre sushi restaurant? Everyone sits in front of a touch screen, which you can toggle between Japanese and English (and other languages).
Flip through the various screens, and press to choose up to three items. I'm a fan of the nigiri selection, especially the salmon topped with pepper. There are also pages for desserts, edamame, and side dishes.
When you're ready, push the big Order button. A few minutes later, your sushi will come zooming down the rails on a platter, which stops right in front of you!
Take your sushi, and you'll hear a beeping noise. Look for this unhappy-faced blinking yellow button, and push it.
This will send the empty tray hurtling back into the kitchen.
You can keep on placing computer orders until you're full (and drink unlimited green tea). The meals will arrive on different ramps (top, middle, bottom).
The robot sushi parlor is a marvel to behold, and inexpensive too (two nigiri are about $1 US). The quality of the food is excellent, considering the price. That's what I love about Japan — even the cheapest sushi is made with better quality rice and fish than most places in North America and Europe.
Want to see the flying sushi in action? Check out my video above and on my @lacarmina Instagram.
Who else is a fan of fish? Cats, of course! (That's my attempt at a topic transition…) My friend Lily was celebrating her birthday, and invited us over to play with her kitties. Here she is above with Luna.
The black-and-white Noche greets guests. Many of us are crazy cat-lovers, so the party turned out to have a kitty theme. 
Our friend Xiomara Entropy showed up with adorable cat-faced cake pops. (She runs a "baking with a mohawk" blog, with recipes for original baked goods like these.)
Atsushi couldn't resist taking cat selfies with Luna…
.. who looks a bit confused by the face he's making!  Meanwhile, Yukiro worked the room with vampire-red wine.
Cats are the best, aren't they? Soon, I'll show you photos from Tokyo's cat-themed temples, Gotokuji and Imado Shrine.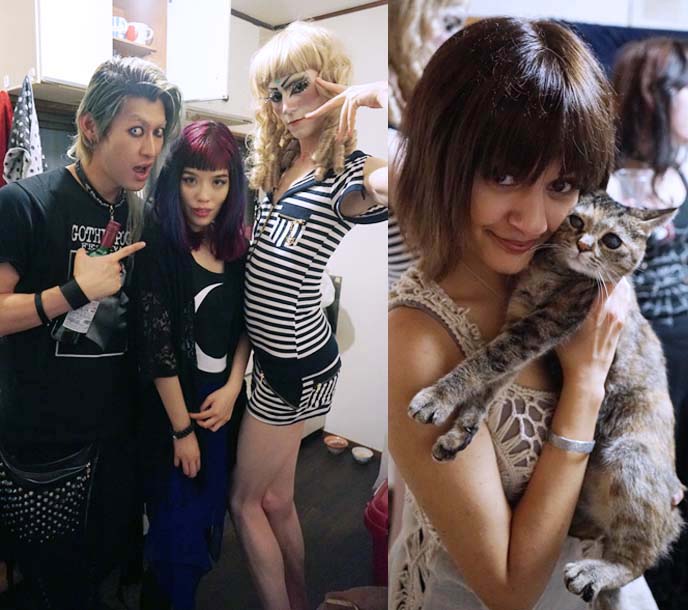 It was fun to catch up with my Japan friends and finally meet Lily's "babies."
We laughed when we compared their iPhones. These mobiles are version 4, 5, and 6 — but all with kitty wallpapers!
The Japanese queen of the nekos, however, remains Hello Kitty. She has a new souvenir store in the revamped Haneda Airport.
Fortunately, you can order items from anywhere in the world! Browse below; I personally want the Kitty iPhone case.

I had time to kill before my flight to Singapore, so I went around to the kawaii stores and took photos for you.
I prefer Haneda Airport to Narita because it's closer to the city, modern, and filled with cuteness — like Sirotan the seal.
If you didn't have time to pick up souvenirs in Tokyo, you can make up for it at these airport stores. Tons of photos below… click to see

Perhaps you can pick up a yellow chicken jumpsuit — although I'm sure you will have a hard time explaining it to Customs.
Haneda has a pleasing selection of local design stores, as opposed to the same old brands found in any international airport.
I haven't seen these characters before. I like the maneki neko (lucky fortune cat) with eyebrows.
The "Akihabara store" is a hub of Jpop culture. You can find anime goods and high-tech toys, like robotic baby poodles.
Haneda Airport even has a cute official mascot — a flop-eared puppy. The screen shows a game, which tests your knowledge on what you can or cannot bring across the border. (I didn't do very well on it…)
Another big-eyed character, named Starry, zooms over the Planetarium Cafe in his UFO spaceship.
Haneda airport even has a "Uotami Torii Gate," to add a bit of tradition into the modern Jpop mix.
I leave you with a few photos of a matsuri (festival parade) that took over the streets of Shibuya. Musicians dressed in traditional robes, and played hand-held instruments such as drums and flutes.
The dancers readied their colorful costumes and props, as they waited for the festival to start.
Futuristic, yet ancient — and always stylish. There's so much to love about Japanese culture.
Would you visit the Robot Sushi restaurant, or the Ganguro gyaru cafe? Don't forget to add me on Snapchat (lacarmina) and Instagram to see where I'll be travelling next.
And check out my Ganguro fashion picks below!