El Palauet Living Barcelona: Spanish Art Nouveau boutique hotel. Where to buy Goth clothes, skeleton dress!
La Carmina loves Barcelona! Finally, I have a chance to catch up on work and share my recent travels in Spain. My film team and I flew into Barcelona, and rode around the country on Eurail train passes.
Long-term readers of this blog know that I'm an Art Nouveau obsessive — so it was a dream come true to stay with El Palauet Living, a masterpiece of decadent Catalan architecture.
We couldn't resist shooting fashion photos in the curvacious lobby and suites. In this post, I'll also reveal my favorite places to purchase Gothic clothing — including skeleton dresses and spiky shoes!
When we first saw photos of El Palauet hotel, my team and I were mesmerized. We simply had to stay here.
The five-story mansion, built in 1906, is located on one of the city's most beautiful boulevards. Two of Gaudi's buildings are on the same street, including the skull-like Casa Batllo.
(Address: Passeig de Gràcia 113, Barcelona, Spain, 08008)
The photos say it all. El Palauet is a magnificent example of Modernisme: the flowing, ornate, Catalan version of Art Nouveau.
I'm sure you are wondering about my outfit, so let's chat about fall Gothic fashion before we go inside…
● I'm wearing my new skeleton dress from Rat Baby Clothing. I paired it with a translucent vintage blue dress, and YRU platform shoes. The bag is from the hotel, and I used it during the entire trip.
I'm a fan of Rat Baby, an alternative clothing brand inspired by rock music and Gothic styling. They also make the most delicious shoes, with lightning bolts and spikes.
● Shop their footwear below — the prices are pretty, pretty, pretty good! 

Now that fall has arrived, I've been looking at new wardrobe pieces. I can't get enough of this Killstar hooded witchy dress with dangling sleeves. It can double as a costume for Halloween.
● Pick up this dress online: they make a bodycon version (left) and skater skirt version (right).
Or how about a skeleton dress, like mine? I picked out my favorites, at various price points, below: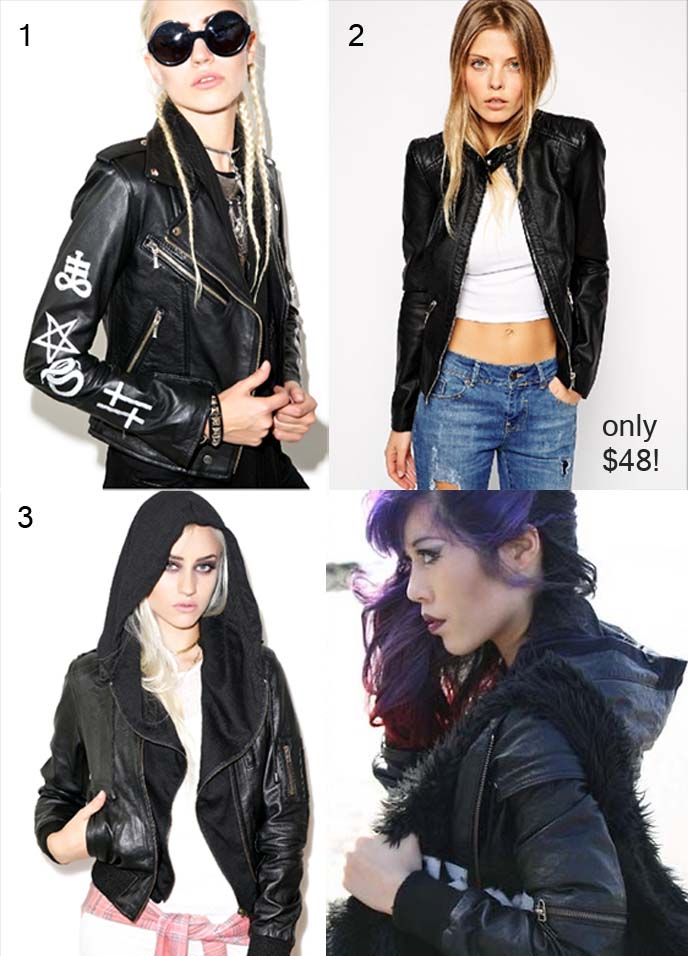 In my mind, fall is leather jacket weather. I've got my eye on the following:
1) Sigil jacket: what glorious symbols! Get it from Killstar
2) This rocker-style one is a steal, at only $48 
3) I love my hooded leather jacket, similar to this
Finally, for those going back to school (or back to Ghoul)… I thought you'd dig these Gothic backpacks.
4) Witch occult backpack
5) Circular Goth bag
6) Luna the cat from Sailor Moon! 
Back to the "Palauet", which means a small palace in Catalan. The hotel is right next to this elegant facade: Modernism was truly a glorious era for design.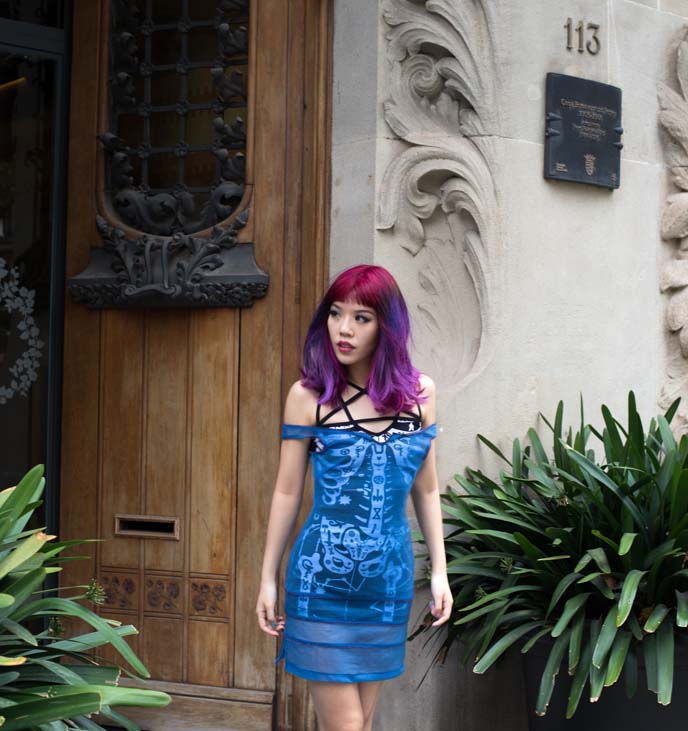 The architect of this building is Pere Falqués, a contemporary of Antoni Gaudí. He's famous for his stylized lampposts and mosaic benches on this exclusive street, Passeig de Gràcia.
Now a hotel, El Palauet Living Barcelona keeps the rich, decorative history alive.
All of the original ceilings, wood carvings and tiles have been restored to perfection. The lobby is a work of art, with details like peephole windows and stained glass.
(My hair color and cut are by Stephanie Hoy of Stratosphere in downtown Vancouver.)
Don't forget to look up, lest you miss out on the rose-painted, swirling ceiling. 
During the early 20th century, Art Nouveau took on a distinct character in different European regions. In Catalonia, the style had a bold and patriotic feeling.
Curves, rich handcrafted details, and organic forms are major themes.
This antique chandelier, which mimics the shape of grapes, drew my attention.
If there was really a "stairway to heaven," it would look like this carved wooden wonder. (El Palauet also has a fun old-fashioned elevator, where you squeeze inside and close the metal gate by hand.)
The hotel has six spacious apartments, which merge Modernism with 21st-century amenities. 
We stayed in the two-bedroom Principal Tibidabo suite. When we first walked in, we couldn't get over the high ceilings and semi-circular lounge!
This is my Art Nouveau apartment of dreams. The floral stained glass window has views of the Convent of Pompeii and Tibidabo Mountain.
All of El Palauet's suites come with a fully stocked kitchen, dining and living room, and balconies or terraces that overlook Barcelona. The magic is in the elegant details, such as these sliding doors to the two bedrooms.
These interiors feel clean and modern, thanks to designer furniture by Eero Saarinen, Philippe Starck, Knoll and others.
The minimal-modern decor harmonizes surprisingly well with the historic stucco ceilings.
El Palauet also equips the apartments with touch-screen panels, which we used to turn lights off and on, and play music. They also offer guests a personal assistant.
(My white 90-style shoes are by YRU. They always have fabulous footwear, including the rainbow platforms below.)

We played around with the beauty lighting in the bathrooms. (Photos by Borderless Media)
The bathtub looks like a modern art piece, and is surrounded by flower light projections that change color. 
Love this lotus-meets-jellyfish lamp.
Can you see my ribcage? (I might get this skeleton-sweater for colder weather).
I'm sure you now understand why El Palauet is my fantasy apartment! I have a new appreciation for Spanish Modernisme / Art Nouveau after staying here.
Thanks also to Visit Spain and Eurail for making our travels possible, and to Blacklane Limousines for the transportation. I'll get off the couch and take you around Barcelona's hippest districts next. 
What do you think of my skull-and-bones dress? Which of these below Goth designs would you add to your closet?