Category Archive for
People + Pets
Welcome to my apartment! For the first time, I'm revealing this intimate tour of my living quarters. I'm overjoyed with how the interior decor came together, creating an environment that feels 100% "me."
Ready to see how a fashion / travel blogger decorates her home? Come on in, and I'll take you through each room.
(Each item of furniture or decor is highlighted in this house tour. At the end, there's a summary of the items — along with design tips for maximizing a small living space.)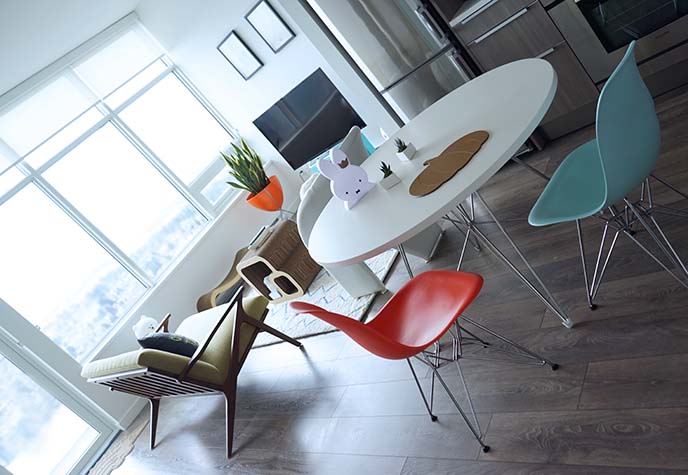 I'm a design-nerd, so let's begin with the aesthetic concept. I'd sum up the apartment with four "M-words":
Mid-Century Modern – Minimalism – Marie Kondo – Miffy!
1. Mid-Century Modern. I've long admired the mid-20th century design movement, which emphasizes organic / geometric forms and modernist clean lines. My high-rise one bedroom apartment in Vancouver has giant windows and a balcony, which bring in lots of natural light — a must for "MCM" homes.
I chose a mid century color scheme for the entire space: tangerine orange, aqua (light turquoise or teal), and avocado green. I also looked for furnishings reminiscent of this era, made with space-age white, steel wire, and natural wood.
2. Minimalism. I'm naturally drawn to minimalist aesthetics, especially Japanese Zen and Scandinavian modern. However, minimalism also has a key function in small spaces: it keeps the environment from feeling cluttered and claustrophobic.
I significantly pared down my belongings, and carefully chose beautiful pieces that served multiple functions — such as a coffee table that is also a cat scratcher, multi-purpose chairs, and lamps that double as sculptures.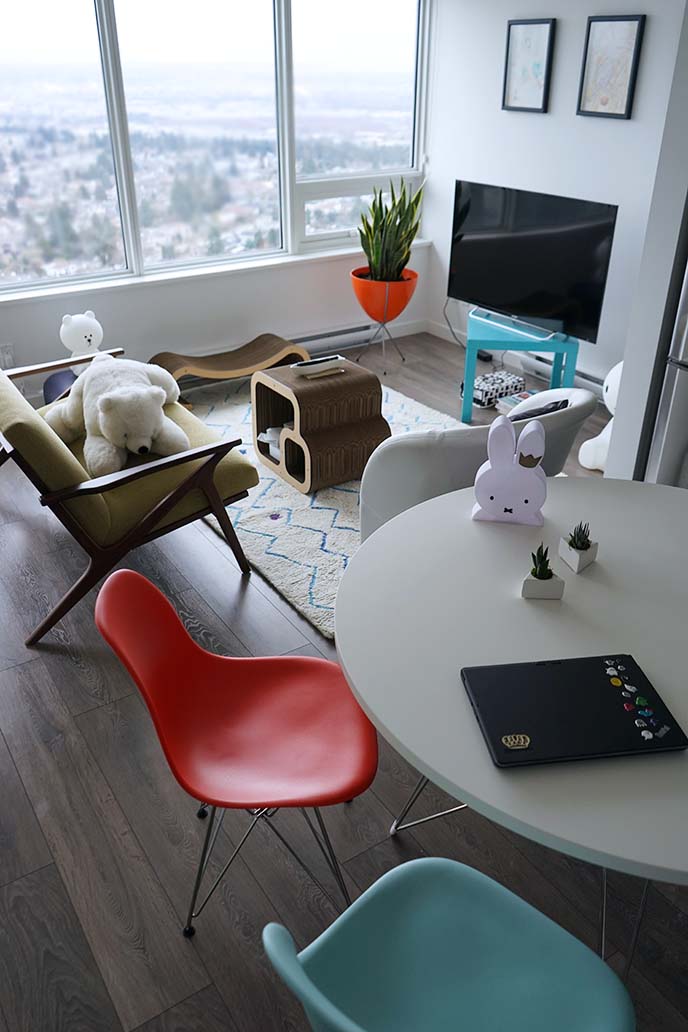 3. Marie Kondo. If you follow me on social media, you'll know I have been in decluttering mode (my items are for sale here)!
However, in another way, the Japanese "Konmari" method has made an impact on my choices. "Sparking Joy" sounds a bit silly, but I realized I wanted every part of my home to reflect what makes me happy. And so, I'm surrounded by items that have meaning: favorite cute characters, souvenirs from travels, mementos and art from friends. That leads us to…
4. Miffy! I'm mad about the Dutch bunny, created by Dick Bruna as a children's book character. Miffy (or Nijntje) also happens to be a minimalist design from the mid twentieth century (she debuted in 1955), which ties together all of the above points.
Now, it's time for the apartment tour! I'll take you around, and end with decorating tips for small condos and apartments.
The happiness begins when you walk through the door, and onto this starry rug from Scandaffaren, purveyors of Scandinavian modern design.
The bold, geometric stars make you feel as if you're on the Hollywood Walk of Fame. This slim runner (long rug) is also strong and waterproof: making it the perfect entry mat.
Scandaffaren's online shop has an eye-catching selection of home goods made in Sweden, Norway, Denmark, and Finland: modern, cutting edge designs that are impossible to find in regular furniture stores.
For instance, Scandaffären has a large selection of Swedish rugs in various sizes, colors and patterns. They sent me this Papellina Viggo Metallic Stone / Vanilla Star rug, which immediately conveys the minimal, pop culture mood of my apartment.
The unique design is reversible, so I can choose between metallic grey or white as the base color. (I plan to switch it up, since both look lovely.)
Pappelina's rugs are made in Sweden from environmentally-aware materials: 90% plastic foil ribbon, and 10% warp thread. These durable materials are woven together by hand in the traditional Swedish method: on looms that date back to the 1950s.
These rugs are made be trodden on by Vikings. They require minimal care, and the color and quality don't fade.
With this rug, I feel like I'm making a grand entrance every time I come in. My hardwood floors have a grey undertone, which complements the Viggo Star Stone Metallic shade. The geometric forms also harmonize with the other pieces in the apartment, including the towels, chairs and lamps (which will be described later on in this post).
Scandaffaren's Pappelina rug may have three stars… but it gets a 5-star rating from me! 
You might notice that I chose a longer runner, as opposed to the standard "welcome mat" size. People often forget that they need room to close the door and take their shoes off. At 28 x 60 inches, this one gives enough space for several people to comfortably step in, and undo their laces.
Big up to Scandaffaren for elevating my entry-way. They're an independent company, which I love to support, and have a wonderfully curated selection of Scandinavian / Finnish designs.
Based in Devon, Pennsylvania, they're the only US retailer for several Swedish brands. If you're in North America, this is the place to get your hands on Scandinavian home decor — here is their website.
Now, let's move into the kitchen. ("Thanks for the flowers! Can I make you a cup of tea?")
The cooking area is small, but there's plenty of counter space, with large cupboards that hide equipment and utensils. All the external objects are stainless steel for a unified look.
You'll notice my little decor elements that "spark joy": illustrations and cards from friends, tiny succulents in white triangle pots, a geometric hand towel by Sunday Minx (more about them below, in the bathroom section.)
As Halloween-loving Goth, I always smile when I see my pumpkin-shaped coaster / placemat. In fact, this is a cutting board from Crate and Barrel.
Don't be afraid to get creative, and use objects for purposes other than their original intent.
"These are a few of my favorite things." The fridge holds magnets featuring George Costanza from Seinfeld, and Miffy the rabbit. And look who is working the cat-walk… Basil!
I spend a lot of time in this cozy white Miffy bathrobe. The robe has bunny ears and embroidered pockets, and was a gift from my cousins in the UK.
My minimalist centerpiece is this exact Miffy Cotton On lamp. It's visually appealing, and also a useful portable light. 
Little apartments can only have limited amounts of furniture — so I encourage you to choose carefully, and invest in a few quality pieces.
Anyone who loves modern design knows the name Herman Miller. This American furniture manufacturer rose to fame during the 1940s-60s, producing iconic pieces such as the Aeron chair, Noguchi table, Marshmallow sofa, and Nelson bench. Today, they remain the leaders in modernist, experimental home furnishings. (See examples below, and click for more info.)

I acquired a pair of Eames molded plastic side chairs. I'm sure you recognize this design, as it's one of most famous manufactured by Herman Miller.
When you order an Eames chair, you can customize the material, upholstery, color, base and finishing. I went for the Aqua Sky and Orange hues, with chrome-finished steel wire legs and a standard glide base.
Charles and Ray Eames are the American design gurus behind this chair. When the first Eames chair came out in the late 1940s, it was a sensation (for the first time, molded fiberglass could create a curving, one-piece seat).
Many stores sell knockoff "Eiffel chairs," but I encourage you to honor the designers and save up for the real deal. If you compare these with replicas, you can see an enormous difference in the finishing and quality. (Shop for authentic Eames dining chairs below.)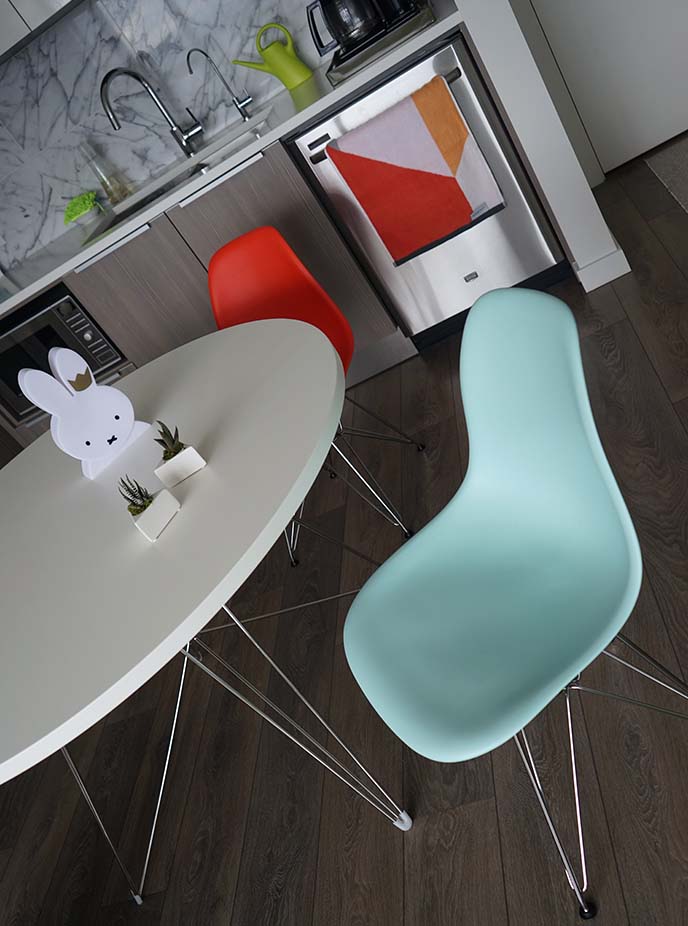 I paired my seats with this Tavolo XZ3 table, also from Herman Miller. Once again, you can customize the shape and legs — I went for the round white tabletop and chrome legs.
The Tavolo XZ3 is an in-house design by Magis, the Italian furniture brand that makes designs by Jasper Morrison and Philippe Starck. The table material is a study white MDF with polymer cover, and the angled legs are made of steel rods.
My round Magis Tavolo doubles as a work desk (for writing, cooking, etc) and dining table. As you can see, the legs go perfectly with wire-based Eames chairs. Plus, the floating effect keeps the small apartment from feeling crowded.
The photos speak for themselves: Herman Miller is the mid-century and contemporary furniture master. Pro tip: if you are a qualified interior designer or architect, you can get a significant "designer's discount" on their products.
Below are more designs to inspire you (click to view).

Shall we mosey over to the living room? There are cute, fuzzy white animals waiting to sit with you…
… including my stuffed polar bear from Korea. (I'm trying to be a bunny to fit in.)
There's no cozier place to catch up on shows, read a book, or gaze out the window at the spectacular view (I'm on a high-level floor).
I'm in love with this retro sofa: the Cavett Loveseat by Crate and Barrel. The sleek lines capture the feeling of mid-century modernism — particularly the American walnut frame and tapered legs.
The cantilevered seat, angular arms and striped wood slat back are attractive from every angle. My Cavett love seat is so comfortable to curl up on, with built-in upholstered cushions. (You can chose from a variety of fabric finishes; mine is the Lemongrass green).
This elegant sofa is the perfect choice for smaller spaces. A longer, overstuffed, bulky couch would overpower the room.
Head over to the Crate and Barrel website, and search for "Cavett Loveseat" to find this timeless piece. Hint: C&B also has an architect / designer trade discount program, which takes 10% off the total.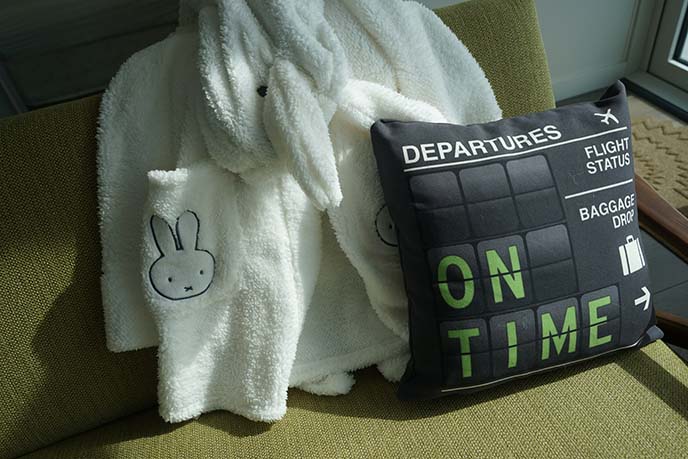 The lemongrass green sofa pairs well with my Departures pillows from Airportag. Their travel-inspired home goods are made for globetrotters like me — Airportag has accessories, posters, cups, tote bags featuring airport codes from around the world.
The retro flip-board look also fits in with my mid-century modern vibe. These pillows are soft and fluffy to lean on… like a certain Scottish Fold cat!
Here's another look at how the living and dining spaces flow together.
When you have limited square footage, a harmonized color scheme / aesthetic can help make the rooms look bigger (as opposed to creating separate areas with different looks). Notice how the orange and blue chairs match the planter and table, and everything has a unified mid-century modern look.
If you like this style of furniture, take a look at Herman Miller and Crate and Barrel for much more.
In tiny homes, multi-function modular furniture is key. (That is, pieces that can be moved around and used according to changing needs).
Case in point: this lightweight white leather chair (similar to this one) can be an extra living room seat, a dining chair, or a window perch for Basil!
The "coffee table" is another modular piece: it doubles as a cat scratcher, made by Kitticraft! 
I didn't want a TV stand or console, as these tend to be chunky-looking. I simply painted my family's Ikea "Lack" table from the 90s, to match the exact shade of blue in my color scheme. (Ikea's furniture quality was much better in the 1990s, and used real wood. I don't recommend getting their current fiberboard and particleboard products).
Above the television, there are three paintings that "spark joy" like nothing else. They're by my artist friend Naomi Rubin, and based around memories of our adventures together.
You can read more about these paintings here and see detailed scans, as well as more of her art on Instagram @naomiyaki.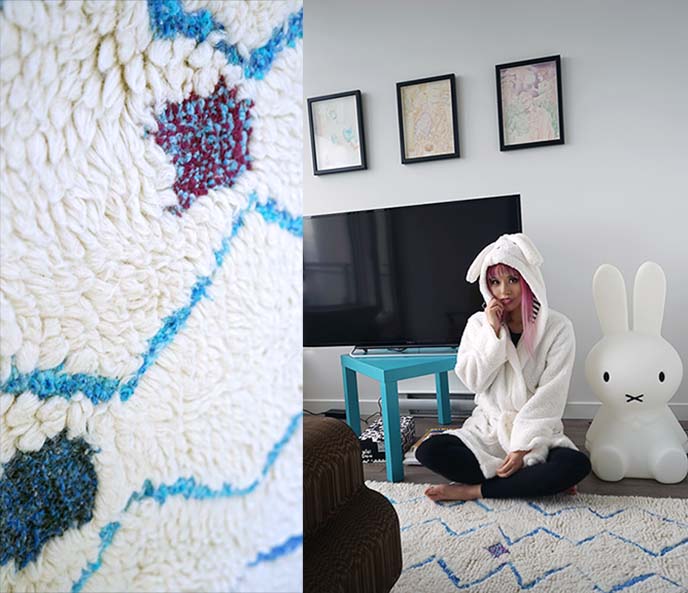 My white and blue zig-zag carpet is as as soft as it looks… it's a hand-tufted Moroccan shag from Rugs USA!
Choosing a primarily white carpet with a simple pattern helps to make a room look more spacious. The blue zigzag is a minimalist take on the geometric carpets from the mid-century modern era. (The close-up shows the detail that goes into each tuft, and the multiple hues of blue in the design.)
My carpet is the "Marrakech Hand Tufted Spotted Moroccan Zigzag Shag Rug" that comes in blue or red, and various sizes (mine is 5 x 8′). It's currently on sale at Rugs USA, if you're looking for a great deal.
(It matches this sardine dish that my friends got for me in Portugal. I use it to hold the TV remote).
Rugs USA.com has thousands of chic carpets in all sizes and styles, from contemporary to old-school to funky. They carry most of their rugs in-house, which means they ship fast within the US and Canada (mine arrived in a week).
They're a celebrated retailer, and I was pleased with their selection, prices, and customer service.
It's a joy to sit on this lush carpet! You can see how the zigzag vertical lines draw one's eye towards the view, and the light color makes the room look larger.
My windows provide plenty of sunlight for my snake plant, Sansevieria trifasciata. This is "the" modernist plant, and it's easy to keep (snake plants require little light and watering).
My Sansevieria sits in this magnificent orange Retro Bullet Planter, from Hip Haven! 
Hip Haven is an Austin-based designer, creating home accessories and lights inspired by mid-century modernism. Everything is made in-house, with the highest quality materials and craftsmanship.
First manufactured in the 1950s, "bullet" style planters reflected the American fascination with the space age. Advancements in plastics also let designers create light, durable furniture with curves for the first time (such as my Eames chairs.)
Hip Haven pays homage to this timeless yet futuristic design, with a colorful curved planter nestled in a steel tripod stand. Doesn't it look ready for take-off?
(My watering can is by Eero Aarnio, designer of the 1960s "ball chair" – another MCM masterpiece.)
I adore Hip Haven's playful, contemporary twist on designs from the Atomic Age.
When you order a Retro Bullet Planter, you can customize the bowl color, stand height (16, 23, or 30 inches) and finish. (Mine is the medium size, in hot orange, with silver powder coat). They have a mini version of this planter as well (great for table plants), and other original home goods on their site.
I'm all for supporting independent designers with a heart, and Hip Haven is all of the above. The owner, Kelley Sandidge, founded her company out of her passion for mid-century modern decor.
She debuted the bullet planters to great acclaim, and now has expanded to decorative screen doors, fiberglass side chairs, lighting collections, and more. If you're looking to spruce up your home with vintage-influenced accessories, give Hip Haven a look.
Hello, Brown bear from Line Friends! My Dutch designer friends MrMaria are responsible for this sweet lamp.
I have the Mr Maria Brown small lamp for reading and mood lighting. It uses fire-safe LEDs and has a dimmer, which lets me adjust the light depending on the situation.
And how can I resist their most iconic design, the Miffy XL lamp? 
The MrMaria family includes an elephant, polar bear, smiley face, Japanese doll, and glowing white heart. When you order one from their site, you can select any type of voltage plug, and even pick up replacement modules.
Modern, minimal, "kawaii" cute… serving both form and function. No wonder Mr Maria is one of my favorite designers on the planet.
(In an upcoming post, I'll show you my visit to their studio in Amsterdam.)
Many people overlook the bathroom as an area for interior decoration — but it has lots of creative potential. By choosing beautiful towels and bath accessories, you can elevate this utilitarian space.
I transformed a small bathroom with these luxurious towels by Australia's Sunday Minx. As you can see, the colors are consistent with the rest of the apartment.
Believe me, these are not "regular" hand and bath towels. They feel like silky, fluffy clouds!
Sunday Minx exclusively uses 100% Turkish cotton with extra long natural fibers, which results in an incredibly soft, thick fabric. The long cotton loops are quick-drying and super absorbent, and the colors will last through time.
I was excited when I came across Sunday Minx's towels. Their geometric patterns and colors add playful sophistication to a typically drab area of the home.
Sydney-based Brooke Rudzis founded Sunday Minx in 2015. This young label is gaining buzz worldwide for its bold prints and vibrant approach; everything is designed in Australia, and made in Europe. 
My four towels are from their recent collection, inspired by the post-modernist designs of the Italian-based Memphis Movement. Sunday Minx encapsulates this non-conformist vibe with bright hues and geometric patterns.
Sunday Minx has just released the new Deco District collection: it's Gatsby glamour meets tropical chic!
Think Art Deco motifs and beachside architecture. These soft towels convey the warm, retro glamour of Miami's famous hotels.
Sunday Minx is a designer full of energy, and I can't wait to see what they release next. You can pick up various sized towels, bundles, bathmats and more from their site.
(Also in my bathroom: cute mementos from my trips. The panda box from Hong Kong holds small toiletries. I got the cute sponge and soap dispenser from Japan, and my toothbrush holder is a Pompompurin cup from the Harajuku theme cafe.)
To the bedroom. I stuck to my color scheme and mid-century modern geometry, with luxury bed sheets from Allem Studio.
I always get a solid night's sleep with plenty of lucid dreams, thanks to my natural memory foam mattress from Essentia.
Remember the Airportag travel pillows from the living room? I have them on the bed too. The "Boarding" and "On Time" flipboards have a 1950s-60s feel.
The shelf above the bed is basically a shrine to Miffy the bunny. There are also statues from the cat temples I visited in Tokyo, Japan.
You've probably noticed I have a thing for white-colored cute characters, depicted in minimal strokes. The San-X pig, Monokuro boo, and Scandinavia's Moomin are two more examples. They look especially cuddly on my organic, top-end memory foam mattress from Essentia.
This fuzzy stuffed toy kitty is rather cute as well, no?
Did you know that Tokyo has two temples… dedicated to lucky cats? 
At Gotokuji and Imado Shrines, Japanese visitors make prayers and offerings in front of thousands of cat statues! 
In this photo diary, I'll show you both of these very special places, and provide all the travel information you need to visit. 
Every cat-lover will be delighted by Gotokuji temple, which has more maneki nekos than you can count.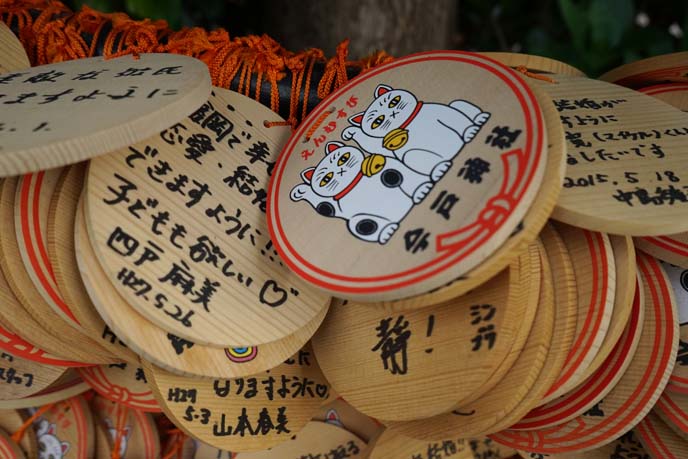 Imado Jinja is just as charming, with a platform where people can bow in front of two giant cat statues.
Both of these temples are dedicated to "maneki neko," or fortune cat statues. You'll recognize these kitties above, wearing a red collar with a gold bell, and with one paw raised in the air. (Some statues even have both paws raised, for extra luck!)
Maneki Neko translates to "beckoning cat" and is a symbol of good luck in Asia. People often place these cat statues or images in their homes or stores, to bring in business, money and other happy things.
Let's begin our feline-worshipping journey at Gotokuji Temple, which has thousands of identical cat statues in different sizes. The address is: 2-24-7 Gotokuji, Setagaya 154-0021, Tokyo. Generally, the temple is open from morning to late afternoon, but double check the opening hours before you go.
How to get to Gotokuji Cat Temple: From Shibuya, it's an easy journey by subway. Take the Odakyu Line, get off at Gotokuji station, and walk about 15 minutes.
If you're visiting destinations all over the country, I highly recommend you pick up a Japan Rail Pass — which lets you travel on any number of JR Shinkansen bullet and local trains, all through Japan! It's the best deal out there (unlimited 7, 14 or 21 day passes, shipped worldwide to you in 2 days), especially if you'd like to see Hiroshima, Kyoto, Osaka, Nagoya and other cities on your trip. The new JRailPass site also offers VIP train car access, along with itineraries, tips and more.
While you are in the station, I highly recommend connecting to the free WiFi and loading up a Google Map of the address, on your smartphone. The path to Gotokuji Temple is a bit complicated, and I had to walk around the complex before finding the entrance. With a GPS map, the journey is much easier.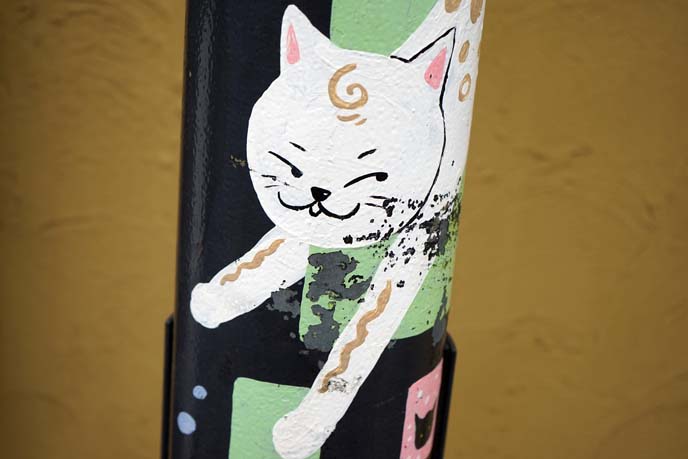 As you walk through Gotokuji's charming, quiet neighborhood — look out for cat art along the way. These creatures are peeking out at you from lamp posts and flags…
… and seen on posters. There's even a lucky cat statue right at the subway station exit.
When I arrived at the entrance to Gotokuji temple, I was enchanted by this gate that opens into a peaceful garden path. The temple complex is quite large and filled with greenery, and beautifully maintained.
After going through the Somon front gate, you'll find the towering pagoda and Butsuden Buddha Hall straight ahead.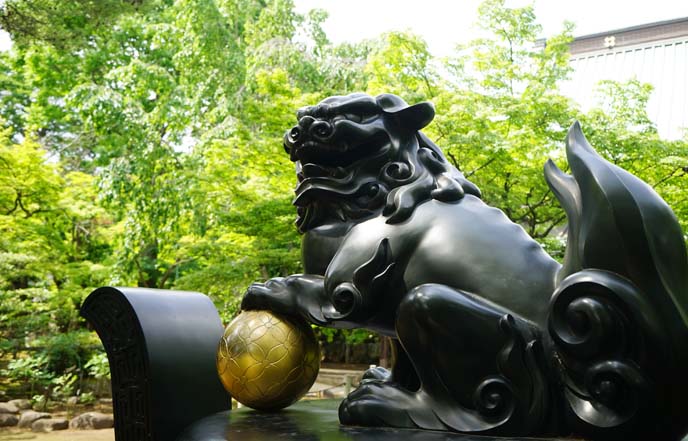 At first, you won't encounter any cats — the maneki neko statues are further inside. However, the giant incense burner has a lion with a big gold ball under his paw.
The temple also has an old cemetery with family gravestones, which adds to the quiet and reflective tone of Gotokuji.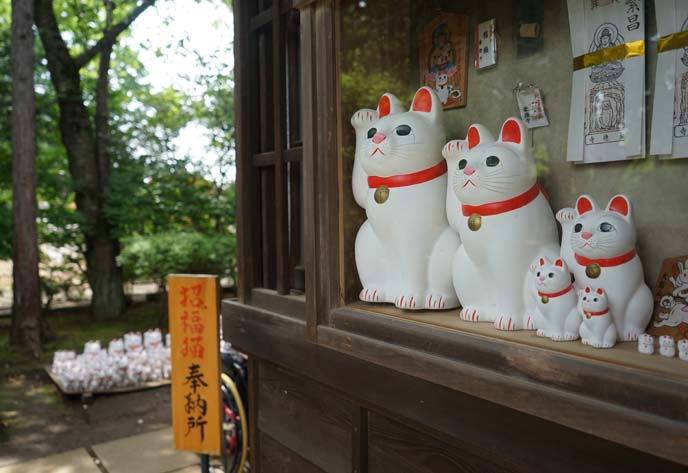 Turn the corner, and you can't help but smile when you see this family of cats! It looks like a mom and dad, and three children of different ages. All have their right paw raised.
Keep on walking, and you'll come across this mind-blowing sight. Thousands upon thousands of Japanese cat statues, lined up and facing you!
Cute as they are, these kitties are not toys. Visitors treat the cat statues with reverence, and refrain from touching them. Since the shrine is outdoors, the bodies get a little muddied at times, but the groundskeepers clean and replace them regularly.
What's the origin story of the Maneki Neko? There are quite a few legends, but one of the most popular ones dates back to the Edo period. A daimyo (feudal lord in Japan) was passing by a temple, when a cat raised his paw and beckoned him to enter. The daimyo followed him inside, and suddenly a powerful thunderstorm broke. Thankful that the cat saved him, the lord rebuilt the temple that is now Gotokuji.
Another version says that the Lord Ii Naotaka was doing falconry, and on his way back home when it started raining hard. He huddled under a tree near a temple, and then noticed a cat raising his paw. Naotaka went over to the cat… just in time, as lightning struck the tree that he had been standing under. Grateful, the lord became the benefactor of the temple.
Regardless of the historical truth, maneki nekos (and cats in general) have been tied to good fortune and the supernatural in Japan. Since Gotokuji is dedicated specifically to these cats, people make offerings here as a sign of gratitude when their wishes come true.
The cat stories are part of Japanese legends and folklore, rather than Buddhism or Shinto in particular. However, the cats fit right in since they are an important symbol in Japanese culture, and a way of giving thanks and strengthening intention. 
Some visitors purchase one of these cat statues to take home. After the maneki neko has delivered with good fortune, they bring back the statue and add it to the shrine's collection. 
Shinto devotees also write out wishes on ema (豪徳寺), or small wooden plaques decorated with images from the temple.
The ema prayer boards or votive tablets are then hung up near the shrine, for the Shinto kami (spirits) to receive them. 
At Gotokuji, the boards are painted with cats and Buddhas, with their right arms raised. The wishes written on the back might be for good health, overcoming challenges or anything at all.
At the gift store, you can purchase these prayer boards and cat statues of all sizes (these are the exact same ones found in the shrine). I bought a medium maneki neko to take home, and a prayer board to hang on my door. The proceeds support the temple, so it's for a great cause.
Even though the legend of the beckoning cat goes back many centuries, these "maneki neko" statues probably only date back to the 18th century in Japan.
Nowadays, these cats are popular all over Asia, especially in Hong Kong and China. The beckoning cat is also the official mascot (Hiko-nyan) of Hikone in Shiga Prefecture, since that is the district that Ii Naotaka ruled.
Gotokuji visitors can also pull this long red rope and ring the bell, which looks like the one worn on the cat's collar. Called a "suzu," these bells bring in the good spirits (kami) and repel the evil ones.
Gotokuji Temple is not often visited by tourists, making it a lovely and unique place for contemplation.
If you're a cat-lady, or simply interested in the fascinating spiritual culture and folklore of Japan, you must go to Gotokuji Temple.
But wait — there's another location for cat-worship in Japan…
Imado Shrine in Asakusa! Here, you can make offerings and prayers in front of two giant cat statues: one white, and one with black spots.
When you approach the stand, it looks like these two cats are greeting you with fist-pumps in the air!
Now, how to get to Imado Jinja? The address is 1-5-22 Imado, Taito 111-0024, Tokyo. If you take a taxi, the address in Japanese is : 今戸神社 Japan, 〒111-0024 東京都台東区 今戸1丁目5−22
Imado Shrine is a bit of a walk from Asakusa subway station, but on the plus side, you can make this a day trip and visit the famous Senso-ji temple as well. Take the Toei Asakusa or Ginza subway line, and don't get off at Akasaka station by mistake! Once again, I suggest connecting to the free WiFi when you arrive (such as from 7-Eleven), and mapping out your route to Imado.
And likewise, double-check the opening hours as the temple usually closes by the early evening.
After navigating the crowd of tourists at Sens0-ji, and going through several small streets, you'll find this little-known temple built in 1063. These two maneki nekos are here to welcome you. The male on the left is Nagi-kun, and has patterns. His mate is the white female Nami-chan.
Imado Shrine isn't as large as Gotokuji, and has fewer statues of "lucky cats". However, they have a larger variety of cats, mostly in pairs. I enjoyed visiting both equally, as they were special in their own ways.
I have many more photos to show you from these temples, so keep on reading below…