Oakland Cat Town Cafe, first to open in USA! ABC Nightline TV interview, Shinjuku Tokyo Robot restaurant.
So many maooos! Last December, I was honored to be interviewed on ABC Nightline, the long-running news program that is broadcast worldwide. The network flew me to San Francisco to be interviewed in a segment about cat cafes and the spread of J-pop culture to America.
If you missed this ABC Nightline episode, don't fret — you can watch it below and on my YouTube channel. It includes footage of the psychedelic Robot Restaurant in Shinjuku, bikini-clad fembots and kawaii maid cafes!
The TV crew and I filmed at the first cat cafe to open in the USA: Cat Town Oakland (near San Francisco). Unlike Japanese kitty cafes, this one has a meaningful mission: to save at-risk abandoned felines.
Want to peek inside Cat Town and a J-pop mall in San Francisco? Then read on.
First, details of what I wore on my TV appearance. There's a mao-mao peeking out from my striped top! It's actually a dress by Mandycat in Hong Kong. (Here's a similar striped top with a bat on it.)
Click the items below, to build an outfit like mine!

My long, leather skirt is by the young Hong Kong-based designer, Erbert Chong. Everyone is raving about his leather, edgy yet wearable designs for women. I can't get over the materials and finish of his pieces — they're some of my favorite items in my wardrobe right now.
My white creeper shoes, with a pirate bear, are Peace Now. This Japanese brand has unfortunately shut down…
My coiled, silver 3D bracelet is from Angelica Brigade.
Everyone should have a cat ring, in my opinion! Here's where you can get a cat-faced ring like mine.
Trevor joined me for the ABC Nightline TV news shoot at Cat Town (address: 2869 Broadway in downtown Oakland, California). Not a bad job, playing on-camera with a dozen kitties. (Watch the video here).
Like the Shinjuku cat cafe, the space is creatively decorated with all sorts of climbing platforms and toys.
Japanese cat cafes — cute as the concept is — tend to operate a bit like petting zoos. These cafes bring in rare purebred species, like exotic shorthairs, for the customers to enjoy.
In contrast, Cat Town is a partnership with Oakland Animal Services. The cafe provides a stimulating environment for shelter cats, especially the ones who are the least likely to be adopted. Volunteers help to run the space, and the goal is to let these abandoned cats blossom and find permanent adoptive homes. 
As soon as you step into Cat Town, you feel that the operation is full of heart. The humans who work here puts the needs of the cats first (and the decor reinforces their prime position!)
The coffee shop is separate from the cat-petting area, but you can bring your latte inside and sip it while playing with cats. The cafe focuses on supporting local businesses, and sells small-batch pastries from a local baker, like cookies laced with "Cattitude." 
Like in the Tokyo cat cafes I visited, there are rules to follow, which keep the cats safe. However, unlike in Asia, guests don't take off their shoes before entering, nor are they required to sanitize their hands.
(Do you see the Scottish Fold drawing in the top corner? It's the only fold at the cafe, since this round-faced breed rarely ends up in animal rescues.)
I've been chatting with ABC Nightline's team for some time now, and gave them travel tips when they went to Tokyo. As a follow-up for their Tokyo pop culture stories, I appeared on the show to give background and context on maid, cat and robot cafes in Japan.
Here I am with ABC News presenter Cecilia Vega, and producer / director Nick Capote. They're so sweet, and we had a fun day together!
Cecilia and I wandered around Cat Town, and played with the cats. It's great to see the strays thriving in this cat-tastic environment.
You can grab a cat toy, and they'll pounce all over it. The walls are covered with colorful murals, including artwork of Grumpy Cat, Totoro, Nyan Cat and more pop culture icons.
The custom-built playgrounds are a tip of the hat to San Francisco's landmarks, like the Tribune building.
Cecilia Vega and I chatted about the appeal of cat cafes, the spread of Japanese concept cafes to North America, and more. Watch our conversation on the ABC Nightline segment. 
Peekaboo, I see you! The cats have a private room in the back where they can escape the crowds and sleep.
A few of the kitties couldn't take their paws off our film equipment. Several took a nap in a camera bag.
Rescuing and re-homing cats continue to be a challenge in cities worldwide. Animal shelters do great work, but are over-crowded and stressful.
So far, Cat Town is succeeding at giving them space to thrive. 
Already, adoption rates are up: customers will play with the cats and fall in love with one. All the adoptions go through a screening process, to make sure the pets go to secure homes.
The volunteers genuinely care about the cats, and do the best for them. As an example, I noticed that they feed the kitties Wellness — a byproduct-free, grain-free brand that I feed my own Scottish Fold baby, Basil Farrow. The staff told me that they turned down sponsorship offers from big-name cat food companies, since this mass-produced food doesn't contain the best ingredients for their health. Go Cat Town!
Another instance of dedication: co-founder Adam has a tattoo of their coffee partner's logo (Bicycle Coffee), with cat-ears and whiskers. On the left, Trevor strokes a black cat, which matches his look.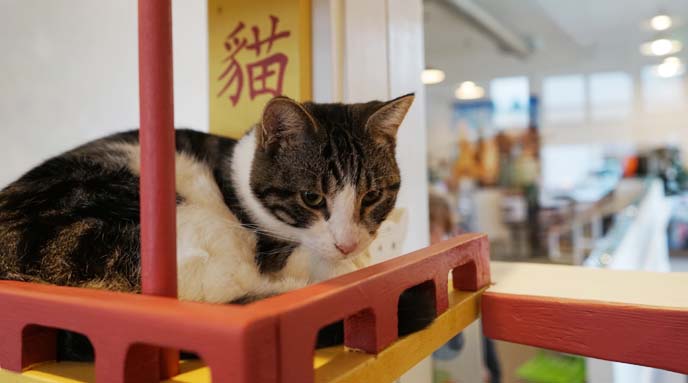 For these reasons, I've been recommending Cat Town to everyone who visits San Francisco. It's the first cat cafe to open up in America, and hopefully sets the standard for a meaningful, adoption-oriented approach.
Entry is by donation; you can reserve a guaranteed visitation time with a minimum $10 donation. Every hour, about 20 people are allowed into the space, and you can play with about 10-15 felines.
Trevor, the ABC team and I took a quick lunch break in SF's Japan Town. I'm still thinking about the ramen at Waraku, it was that good!
We continued filming for the episode at New People World, the Japanese fashion mall. (The address and a tour of the boutiques are in my San Francisco shopping guide.)
MaruQ, located on the first floor, remains my favorite store in the Jpop mall. So much cuteness in one room, including brands like Ayammy, Omocat and Liz Lisa.
Raise your paw if you love Rilakkuma the bear! (Sadly, this segment was cut from the ABC Nightline feature, but I still wanted to share these images with you.)
Cecilia and I walked around the store, and chatted about the growing popularity of Japanese street fashion in America. Can you spot Trevor in the background?
Gothic tattoos and a rainbow cat dress: spooky meets sweet, that's how we roll.
The shop girls are adorable as ever. They're modeling a variety of looks from Japanese style tribes.
Trevor couldn't resist getting these sunglasses. "And I won't break your heart shaped glasses."
For more info on where to get Goth, vintage, alternative and kawaii clothing, check out my San Fran shopping guide.
A million "arigatos" for the ABC Nightline team, for having me on the program!
Please take a moment to watch my interview on ABC Nightline! The segment includes crazy footage from the Robot Restaurant in Japan (with robot-women performers), maid cafes, and cat cafes in Tokyo and California.
Have you ever been to a cat cafe? Would you want one to open in your hometown?
Shop my ABC TV outfit below…