Category Archive for
Scottish Fold Kawaii
Happy Dia de los Muertos — Day of the Dead! To celebrate, let's explore the spooky side of Tulum, Mexico. (I was there earlier this year with Yukiro, and have been saving this special post until now.)
Yukiro and I enjoyed relaxing at Karisma El Dorado resort, but we didn't want to leave the country without seeing a sugar skull or two.
We put our trust in concierge / tour company Loco Gringo, and they truly delivered. Our local guide Paulina arranged a perfect day that included a visit to a colorful Mexican cemetery, and folk museum with hundreds of Day of the Dead skeletons!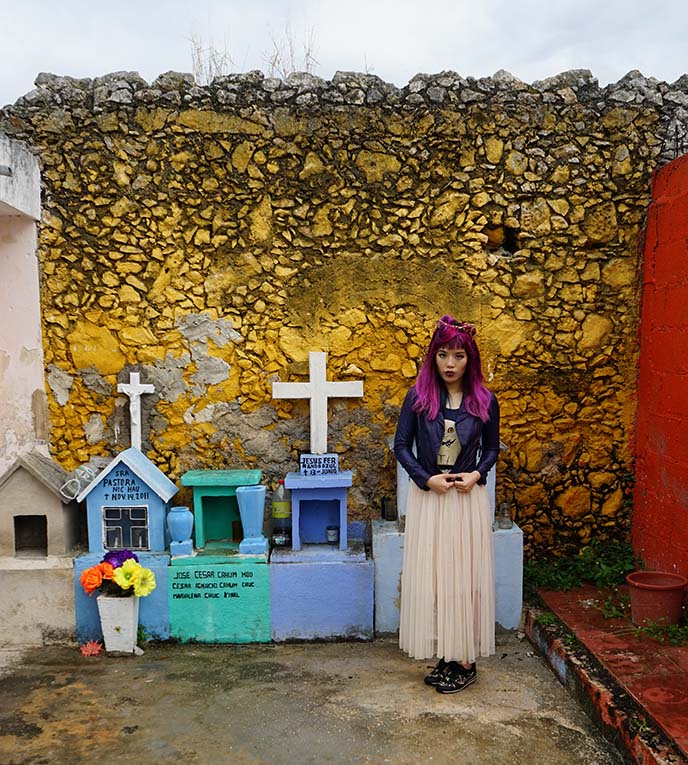 Wherever in the world I travel, I seem to end up in a graveyard. It's no surprise that my Goth friends and I are interested in how different cultures honor their dead.
In the ancient city of Valladolid, the tombstones are painted in bright, colorful hues. Many people think of cemeteries as fearful or depressing places. However, in Mexico, death is represented by smiling and dancing skeletons.
Every year from Oct 31 to Nov 2, Mexico celebrates Day of the Dead (Dia de los Muertos) with skull facepaint, music and raucous parades. It's believed that the deceased come back to visit during this time of the year.
On this special day, families tend to the graves of their loved ones. They leave offerings of bright sugar skulls, flowers, and the favorite food and drink of the departed.
Outfit details: yes, that's my Scottish Fold cat peeking out from under my leather jacket!
My top is a gift from illustrator Lili Chin. She makes custom pet portraits that can be printed onto shirts and other products. If you're interested in a custom drawing of your cat or dog drawing, check out her site.
This is not your typical orderly graveyard, with plots in a row. Each resting place is festively decorated in ways that celebrate the deceased's personality and life.
No two headstones were alike. Despite being a home for the dead, Valladolid cemetery felt like it was bursting with life.
According to local legend, a vampire is buried in this giant grey mausoleum…
These bright coffins seemed to be inviting us to join the party. The decorative elements were a mix of Christianity and Mexican folk traditions.
We even spotted a sacrificial tribute to the ancient Mayans, who once ruled over this area (Tulum and Riviera Maya).
(Loco Gringo also took us to see the famous pyramids Chichen Itza and Ek Balam — read about it in this post!)
Dancing with the dead. I wonder who lies beneath the hot pink grave…
Our guide Paulina answered all our questions about these traditions. I can't think of a single Riviera Maya tour that will take you to the graveyard… but Loco Gringo is extraordinary, and tailored the day exactly to our interests.
Paulina introduced us to the "old graves-keeper" (who didn't seem that old), and translated Spanish for us. He told us an eerie ghost story about the time he dug a grave, and felt someone grabbing onto his arm… eek!
Without Loco Gringo's expertise, we would never have visited this magnificent cemetery.
We climbed back into the van, and our driver took us a short distance to Casa de los Venados: Valladolid's folk art museum. 
The name translates to "house of deer," hence the blue man mascot with the animal on his poncho.
Loco Gringo suggested that I visit Casa de los Venados, since it has the largest private collection of Mexican folk art in the world.
We stepped into a home that had multiple rooms and courtyards filled with fascinating works.
The hacienda's owners, John and Dorianne Venator, began their collection decades ago. Today, their home has over 3000 pieces of art, and is open for the public to appreciate.
The curators have a fine eye for works that reflect the history and humor of Mexico.
To our delight, there was an extensive collection of spooky art. Devils, skulls and monsters — oh my!
We had fun turning the dial of this toy, and watching the parade of demons, skeletons and coffins march into the mouth of Hell.
We saw many interpretations of sugar skulls (I got nail art from Glam Nail Studio to match).
Who is the nun holding a head? We learned she is Juana Inés de la Cruz, a nun and poet who is the face of the 200 peso note. (Perhaps she inspired The Conjuring 2 movie?)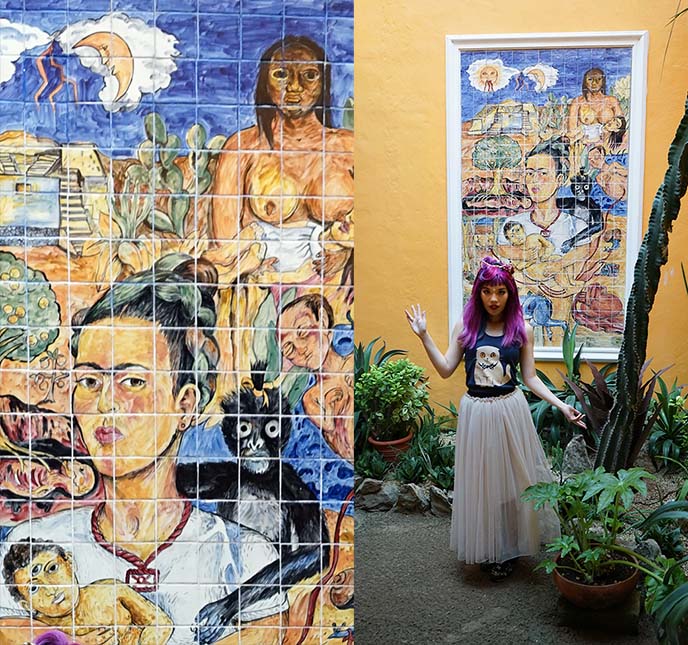 The folk art spanned all mediums and sizes, from the ancient Mayans to modern-day artists.
In one of the many mini-courtyards, I found a tile mural of Frida Kahlo, with a black monkey on her shoulder.
Frida Kahlo is one of Mexico's most celebrated artists, and a personal favorite of mine.
An entire room is dedicated to the female painter. How many Fridas can you count in this image?
Yukiro and I had never seen so many Day of the Dead representations in a single museum.
We smiled at the Calavera Catrinas, or Dapper Skeletons. First depicted by Jose Posada in 1919, these elegant skull-people are always dressed aristocratically.
In Mexican folklore, the dead are joyful during Dia de los Muertos. I wouldn't mind rejoicing with these smiling musicians skeletons.
Even the devils like to have fun. They're represented as cheerful, naughty creatures, rather than as beings to be feared.
Casa de los Venados' owners did a wonderful job in re-vamping the original house. They added a fabulous outdoor area, with a glass bridge spanning several pools of water.
Look up, and you'll see these happy Mexican skeletons waving at you! I thought the undead pet was a cat, but it's actually a dog wearing a bandanna.
I didn't know much about Mexican folk art before visiting this museum. It was fantastic to see so many high quality works under a single roof.
Cheers to this glorious pool, fed by multiple overhead streams!
I found a cat-face fountainhead to match my tank top.
We ducked into the dining room and paid ode to La Catrina, the grand ol' dame of death. 
At this point, our eyes were popping out of our heads — there was so much to see, in every conceivable space! Even the carved dining chairs and chandeliers were Mexican works of art.
You'd think that a Goth lived here, with all the skulls and bones.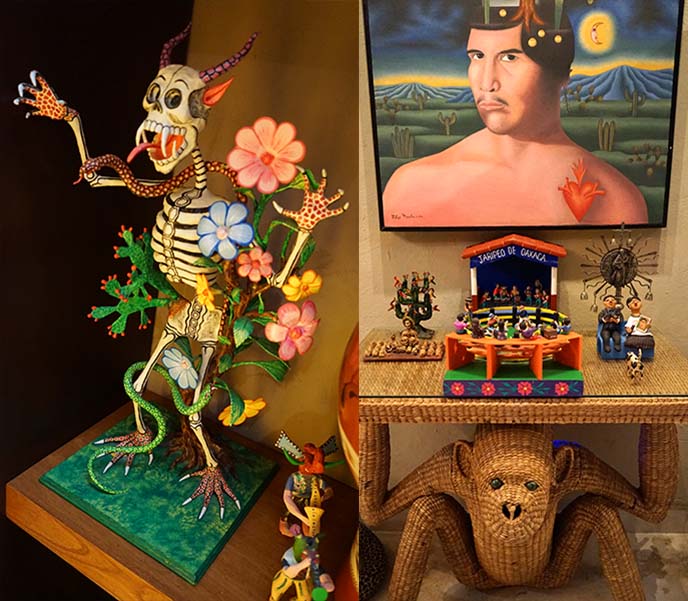 The corner table had a surreal display. I want that monkey for myself.
These photos show only a fraction of Casa de los Venados. I encourage you to visit the Valladolid folk art museum, and see the rest.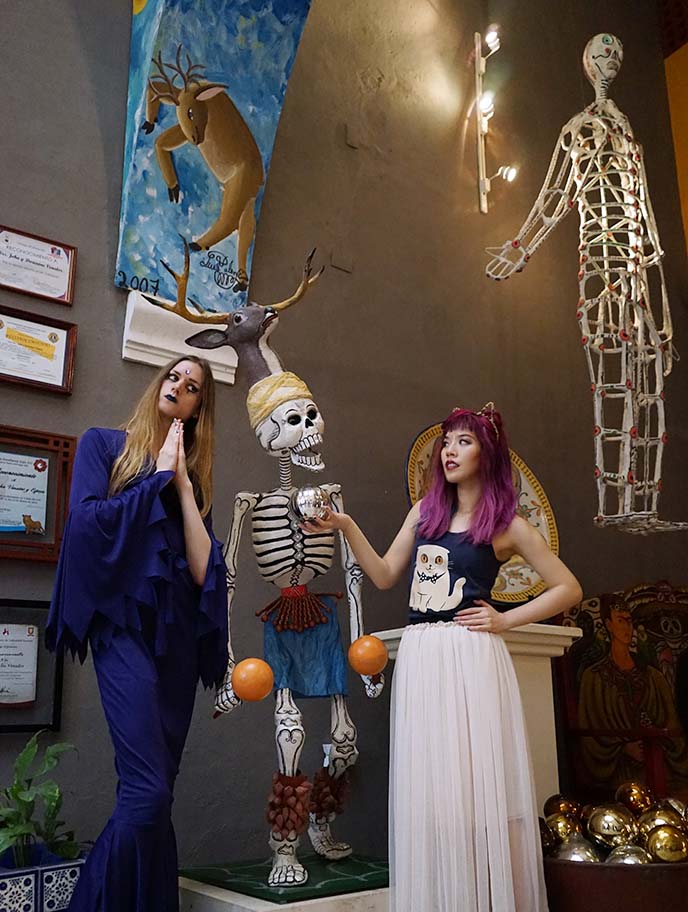 Muchas gracias Loco Gringo for being the perfect local guides!
We're not exactly "regular tourists," and would have been bored with a cookie cutter tour. But Loco Gringo took the time to learn about us, and tailored the itinerary to our dark fascinations.
We hope you'll reach out to them if you visit Tulum, Riviera Maya and Cancun, Mexico. 
Do you share our fascination with Day of the Dead? Have you ever dressed up and celebrated it?
The aliens have landed! Yukiro and I vogue-ed in front of Chichen Itza, the mysterious Mayan pyramid.
That day, we had the best possible tour of Tulum's ruins, thanks to Loco Gringo. This local-run concierge company helps travellers with personalized tours, recommendations, bookings, or anything at all to make their trip outstanding.
In Part 1, we'll show you how our Loco Gringo guides tailored the trip exactly to our spooky interests — starting with the ancient civilizations of the Yucatán Peninsula!
For this special day, I wore my favorite tank top: it has a custom illustration of my Scottish Fold cat on it!
My friend, LA-based designer Lili Chin, is a "pet portrait artist" and made this for me. She can make you a shirt, print, pin or other design that looks exactly like your dog or cat. Simply send her a photo of your pet, and she'll transform it into a portrait. (Check out her pet shirts and pet art websites for details.)
Our Loco Gringo guides went above and beyond our expectations, to deliver a tailored tour and make us feel at home. They picked us up early in the morning, from our Karisma El Dorado hotel, and took us all throughout Tulum that day. We couldn't have possibly covered so much ground without them.
When we arrived at Chichen Itza, we met local expert Abel and were immediately swept away by his passion for Mayan culture. He whipped out his iPad to show us how the ancient calendar influenced the architecture, and encouraged us to do fabulous poses in front of the structure!
Loco Gringo took care of our tickets and logistics, so we were able to bypass lines, and go straight to the best viewing locations.
We found a prime spot in front of El Castillo, the famous stone pyramid of Chichen Itza.
Abel riveted us with tales of rituals and myths about this pre-Columbian city. At the top of this Temple of Warriors is a "chac mool," or sculpture of a reclining person with his head turned 90 degrees. The Mayans made sacrificial offerings on its chest, including human blood and hearts.
In front of the stairs, he clapped his hands — and we heard a reverberating "quack quack" sound! We were amazed at how well the ancient Mayans understood acoustics and design. Or… perhaps the pyramids were built by extraterrestrials…
Abel showed us photos of Mayan skulls, with coneheads. Alien invaders? Not quite: in fact, the Mayans performed cranial deformation as a body modification (they pressed a board to an infant's head, creating a long and flat shape).
I'm endlessly fascinated by the way standards of beauty can vary so widely, in different eras and cultures.
From the 8th-10th century, Chichen Itza was an economic powerhouse. I could still picture the vivid ceremonies that took place right where I'm standing.
Today, the pre-Hispanic city is a UNESCO World Heritage Site, and considered a new World Wonder.
At the base of the El Castillo stairs, I saw these feathered serpent sculptures. At certain times of the day, the steps cast shadows that make it look as if a snake is wriggling down the side. Some believe that this is a representation of the Mayan god Kukulkan.
We walked around and saw the Temple of Venus, and a large ball court where game results were literally a matter of life or death (a member of the losing team could be offered as a human sacrifice).
Chichen Itza fed our fascination for unsolved mysteries and ancient civilizations. If you're staying in Tulum, Cancun or Playa del Carmen, I encourage you to reach out to Loco Gringo for an entertaining private tour like ours.
Our guide Paulina and driver Miguel then took us to the old city of Valladolid, for lunch in a charming courtyard. We always love getting to know locals, especially when they are as passionate about their country as these two.
They helped us pick out the most authentic dishes from the Mexican menu — such as enchiladas with mole, a traditional sauce accented with chocolate.
In Valladolid park, Yukiro shared a cute moment in the love-seat with driver Miguel.
Loco Gringo knows that we are connoisseurs of dark matters… so they made sure we visited a Mexican graveyard, and museum filled with Day of the Dead skulls! Coming up is an entire post about these places, as we saw so much in a single day.
No visit to Tulum is complete without seeing the famous cenotes, or natural sinkholes filled with groundwater. Loco Gringo took us to Ek Balam cenote, where people can dive in and swim. These beautiful natural formations were important to the Mayans, who conducted sacrificial offerings and rituals in these "sacred wells."
Yukiro and I let our imaginations run wild, as we explored the ruins of Ek' Balam (another Mayan kingdom, 35 miles northeast of Chichen Itza). The name translates to "the black jaguar" — and eerily enough, the stairs are always protected by friendly stray black dogs.
Yukiro ascended the steps of El Torre, the 30 meter high tower of the Central Plaza. This evil queen gesture seems appropriate for an ancient structure, laden with Mayan symbolism.
I wish my Scottish Fold cat, Basil Farrow, could go on these journeys with me… But at least he's present on my custom pet t-shirt by Lili Chin!
Yukiro and I are more interested than ever in Mayan culture, after seeing these ruins for ourselves and learning about the history.
Fascinating how blood was considered the nourishment of Mayan gods — and so, human sacrifice was the ultimate offering. 
We're grateful to Loco Gringo for understanding our "offbeat" interests, and tailoring the day trip to suit us exactly! Instead of a cookie-cutter bus tour, we got to move at our own pace, and get to know our sweet guides.
Loco Gringo is an indie company, and all of the staff lives in the Riviera Maya — I can vouch they are true, passionate insiders. They also give back to the local community with each reservation, including donations to Coco's Animal Rescue and other charities.
Yukiro and I hope you'll get to experience Loco Gringo's outstanding service and expertise for yourselves. Whether it's a Tulum tour, apartment booking, or concierge request — they will go out of their way to help you out. For more, take a look at the LocoGringo website and Facebook.
Have you heard stories of Chichen Itza and alien visitors? The truth is out there… I'm kidding…
(PS – check out more funny photos like the one above on my Instagram and Snapchat @lacarmina.)