Category Archive for
J-News
It's going to be the best Halloween ever… because Japan National Tourism Board is sending me back to 日本 for a month and a half!
From October to November, I'll be Goth-ing it up around Tokyo and other cities. You're invited to join me and friends for spooky festivities on Oct 7 (Yukiro's drag Casket of Horrors) and Oct 29 (Mistress Maya's Bizarre Night Circus with a performance by Yukiro) — full info below.
Read on for my fab Halloween Japan plans — as well a look inside a Tokyo church-themed bar, robot cafe, and more.
I'm grateful to Japan National Tourism Board for supporting my upcoming trip. In return for the flights, train passes and more, I'll be delivering travel articles and photos about my experiences for leading publications (stay tuned).
My plans: first, I'll be in Tokyo from early Oct to Nov — of course, I timed the trip around spooky season! Get ready for a deluge of Halloween coverage on my @LaCarmina Instagram featuring friends who will also be there (John, Trevor, Yukiro and other familiar faces).
Then, I'll spend two weeks hopping around by train, thanks to the Japan Rail Pass from JNTO. l plan on maximizing the unlimited 14-day train pass and hitting up Hakone, Kyoto, Nara, Kobe, Osaka, Kanazawa and Shirakawa. Let me know if you have tips for any of these destinations.
If you're in Japan this fall, I hope you'll come to the following events with my pals and me!
⛧ Oct 7: Casket of Horrors, Tokyo's leading drag queen extravaganza masterminded by Yukiro. His Haus Von Schwarz and guest performers will be strut the stage at Shinjuku Club Science. Get discounted advance tickets here, or at the door.
⛧ Oct 29: Mistress Maya (of Midnight Mess) presents Bizarre Night Circus at Salon de Suigeikan in Kamakura. I can't wait to see the venue, which is a funhouse filled with taxidermy and outsider art. Maya's Halloween event includes a kinbaku rope show, a drag show by Yukiro, and other alternative performances (it runs from the afternoon to 8pm). More info here, and I hope to see you there!
Currently planning my Halloween costume for this year… (Above, I was Wicked Lady / evil Chibiusa from Sailor Moon last October).
Do you ever wonder how I have Internet on my phone when in Japan? My trick is to get an eSim from iFree MOGO for my smartphone! In the old days, people could only insert physical SIM cards into cell phones — but now, you can digitally activate a data plan for your device, and get online when you're in Japan or traveling elsewhere.
MOGO's website has electronic SIM plans for over 80 countries and different lengths of time (I got their 60-day 10GB Japan eSIM for my new iPhone 15 Pro). They offer stable connections and coverage at affordable rates, and have 24/7 live chat support. If you haven't heard of eSims, check out iFree MOGO — it's the easiest way I found to have the Internet on my phone when I'm abroad.
To get us even more excited for Halloween in Japan, here are some Akiba photos from my trip last fall, taken by Joey Wong (the tourism board sent us to Tohoku on a press trip, before the country re-opened to tourists). No wonder Akihabara is known as Electric Town — the vibe is electrifying here.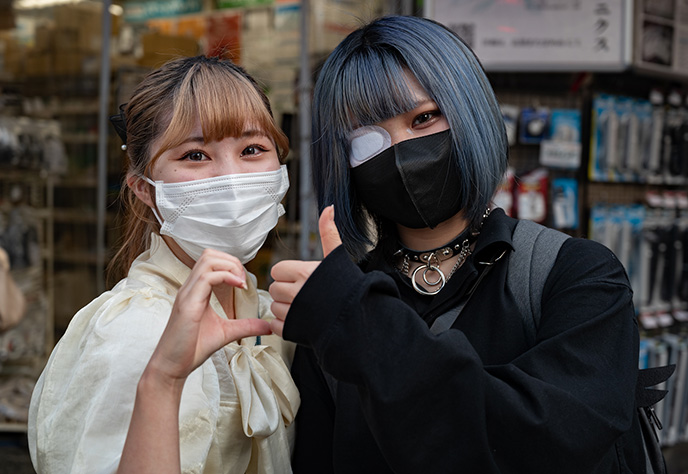 Akihabara is known as Tokyo's anime / manga / otaku / Jpop culture district. You'll come across young Japanese dressed up in alt fashion or cosplay, like these two friends.
People come to Akihabara to unapologetically "geek out." You can cosplay as your favorite cartoon, comic or video game characters…
… and shop for figurines, body pillows, retro game cartridges, you name it.
Head to one of the many game centers to try picking out a toy with a UFO catcher. (Japan's gaming arcades don't allow you to take photos inside, but Joey managed to sneak a few shots.)
Then, have lunch at a maid cafe — these theme restaurants are still popular in Akiba. (The staff wears French maid outfits, performs cute dances and treats you like royalty.)
We loved this local's guro Goth style and genki poses. (The eye bandaid is for aesthetic purposes only.)
A typical scene in Electric Town. You'll see lots of people dressed in anime/manga outfits giving out flyers.
Akihabara is the place to get new or used tech as well — robotos, computers, cameras, cell phones, etc. You can also get funky snacks like Sega-shaped taiyaki, and dine at themed restaurants like the Final Fantasy Eorzea Cafe.
We stumbled upon a racy Japanese vending machine… This one contains adult DVDs. (VHS tapes in this genre remain popular as well in Japan.)
Quite a few of my close friends will be in Tokyo for/around Halloween… can't wait to dress up and celebrate with them!
Akihabara is near the Dawn Avatar Robot Cafe, which is run by a staff of Mr Robotos! Here's our video of the Tokyo robot cafe, which lets you see the androids in action.
At DAWN Avatar Robot Café, different-sized robots are remotely controlled by disabled workers. They greet you with a bow and wave, take your order, and serve it to your table.
I also came across a police patrol robot at Narita Airport… AI is indeed taking over. Check out my footage of helpful Japanese robotos in my Instagram video.
Japan is full of contradictions… the robotics and arcade games are futuristic, but many businesses still use floppy disks, fax machines, and websites that look like they were coded in 1999.
Miffy has become omnipresent in Japan, much to my delight. It used to be difficult to find Miffy items…
… but now, you can find her X-mouth all over Tokyo, including inside UFO catcher / crane games.
Now, let's hang with my friends in Shibuya. I met up with the glamorous Triesste before she conquered the stage with humor at the Tokyo Comedy Bar.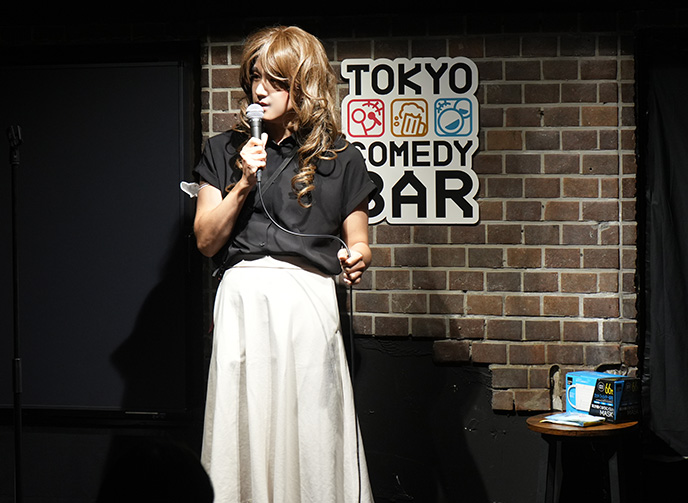 Tokyo Comedy Bar has stand up shows in English and Japanese, and draws a friendly alternative / LGBTQ crowd. Shota had the crowd in tears from his hilarious story-time.
Can't wait to see more comedy, music, and drag performances when I'm back in Japan. Of course, I'll be sharing all these stories with you on this blog and @LaCarmina social media.
And then, my Goth comrades and I had a blasphemous night out at The Church. This slightly sacrilegious Christian-themed bar is the Dōgenzaka district of Shibuya. With stained glass windows and crosses, the exterior looks like you're about to enter into the house of the Lord.
Nuns in full habits greet you — but instead of blessing you, they're here to tempt you into licentiousness and liquor!
Christon Cafe in Shinjuku is now closed, but The Church takes over with a similar kitschy Christianity vibe.
The Church's altar doubles as a DJ booth… but the music consists of live EDM instead of Gregorian chants.
The interior decor continues the sacred theme with Holy Bibles, rows of wooden pews, crucifixes, and pointed arches.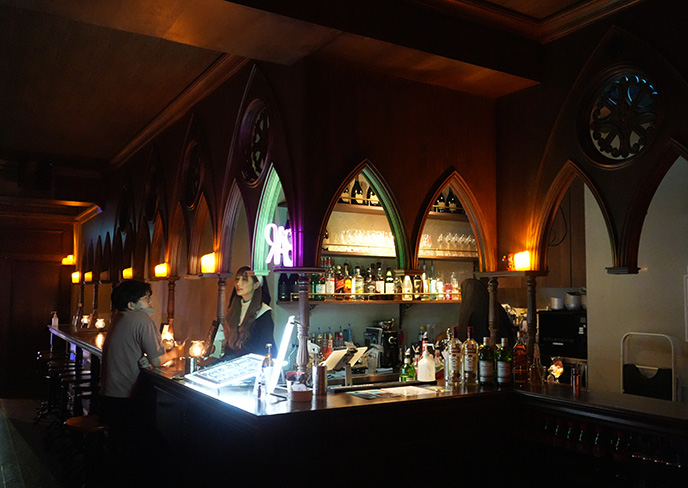 Ask one of the nun bartenders for a glass of blood red wine, and give a toast to Satan before dancing the night away.
We'll always make time on a Sunday to go to church… if it's The Church in Shibuya!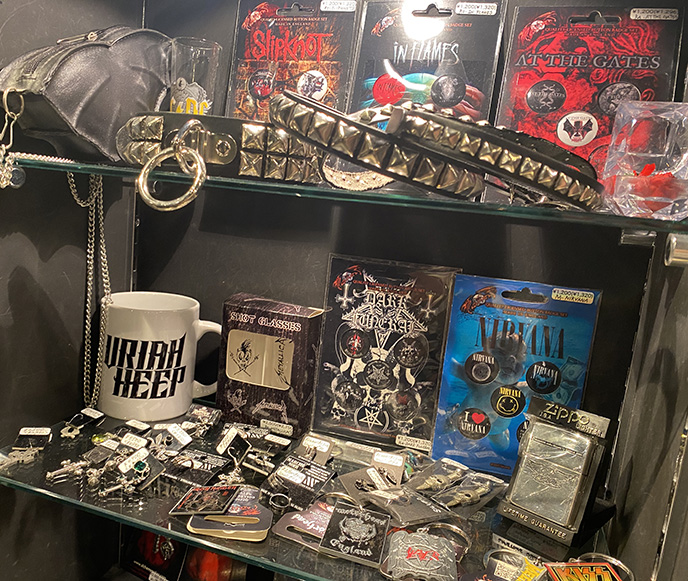 I'll leave you with some final demonic snaps from Shibuya. I popped into Blitz rock shop, which sells heavy metal and hard rock merch.
Shibuya is one of my favorite shopping districts. In Don Quixote and Village Vanguard, you'll be confronted by shelves of kawaii mascots like Pokemon's Gengar.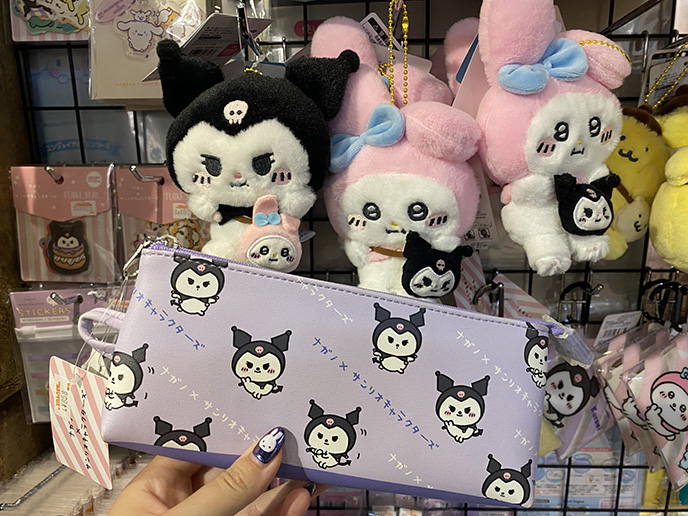 The devilish Kuromi is popular in Japan, especially around Halloween.
I love how plump they made these Sanrio characters!
Miffy the Dutch bunny has her own row of goodies at Village Vanguard.
You can find retro and lesser known characters in the basement of VV.
I'll never grow tired of Japanese kawaii character design.
I was into the subdued colors and rounder shapes of this Sanrio collection inside Shibuya 109.
You can find Hello Kitty shops all over Tokyo, including in Shibuya and Shinjuku.
In Japan, there's a greater selection of Sanrio goods as well as limited edition pieces like these Kuromi bags.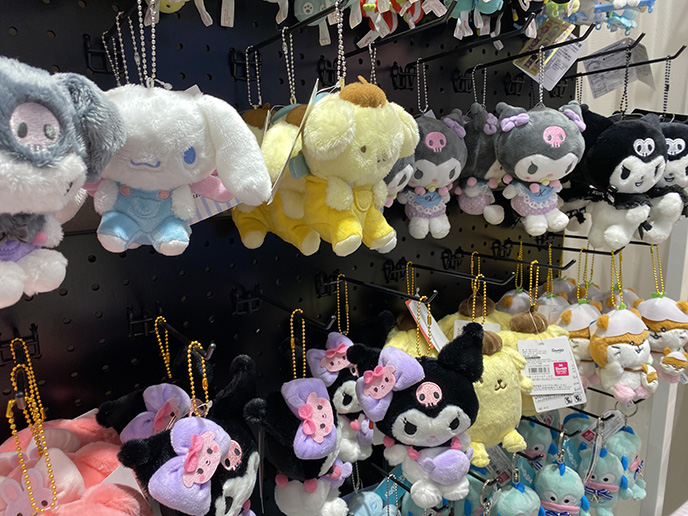 The yen remains low, so I'll be doing some damage when I'm back here…
See you cuties in Tokyo and other cities this Halloween! (Japan Tourism is sending me to the Land of the Rising Sun from October to November — join me at the alt parties on Oct 7 and 29, described at the top of this post.)
For tons of spooky Japanese content, add @LaCarmina on Instagram, as well as FB, TT and X (is that what we call Twitter now?). またね — see you later!
Yikes, where did the year go? Can't believe it is the end of 2018 already! I've recently been swallowed up by work, so my apologies for the lack of blog updates – but we have a lot of exciting travels in store for you soon.

Right now, I'm having fun revisiting adventures for my new travel writing job for Touring Bird, a site by Google Area 120! I'm the insider expert for Tokyo, Hong Kong, and over a dozen other cities in Asia. I've been writing insider travel tips and city guides, of course with a focus on offbeat, hidden, alternative, and cute attractions — like the Tokyo Trick Art Museum above. Can't wait to share more with you once my Touring Bird cities launch.
I have a lot to catch up on in the new year, including blogging about my recent adventures in Bangkok, Tokyo, Naoshima, and Hiroshima. And you can look forward to fabulous new travel stories soon… as Yukiro and I have a huge trip ahead in early 2019. Hint, cunning queens and cat worship! I'll be hitting two other countries as well. Announcements soon, and you can always catch up on my daily life on Instagram @lacarmina.
Let's do a quick review of the past year, as we always do. I'll also share some photos that hadn't made it onto the blog.
Here are some snaps from an eerie new restaurant and bar that opened in Vancouver BC. Enclosed in a space with no windows, The Dark Manor fully immerses you into its haunted mansion theme. The upscale Victorian decor includes old ghostly portraits with eyes that follow you, and skulls and candles on a fireplace mantle.
This bar specializes in whiskey, and the craft cocktails have names like The Tight-Lipped Butler, The Baron's End, and Danse Macabre. Each comes with a theatrical garnish: a "poisonous" vial, a cup of pills, a haunted house silhouette on egg white foam. The menu also has old-fashioned victuals like deviled eggs and pork medallions. If you have a Gothic disposition, you'll love spending an evening here. (Wearing a lace bodysuit by UK Lingerie.)
I also descended under the sea to Vancouver's Laurence and Chico Cafe. With fluffy hooded octopus chairs, this is one surreal place to grab an almond milk latte! You can also browse the couture on display, and munch on delicate pastries.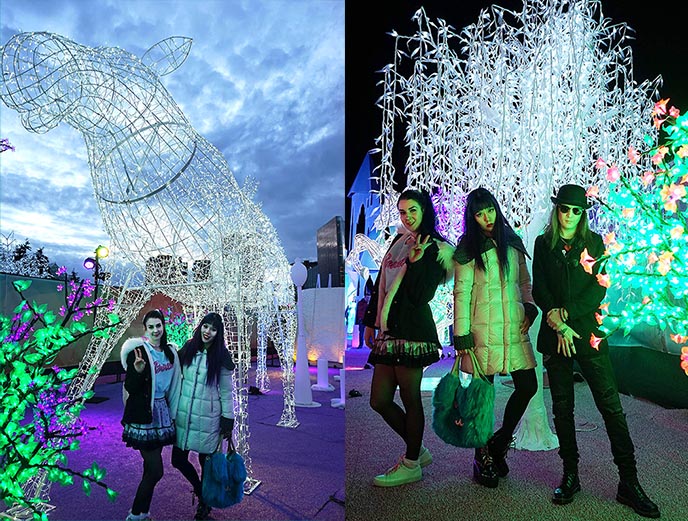 During Festivus season, my friends and I checked out the new Aurora Winter Festival in Vancouver. It's a delight to drink hot mulled wine and pose amidst the Xmas lights displays.
I'm keeping warm thanks to my slim white puffer coat by Snowman New York, and leather leopard print gloves by Moschino.
You can see more outfits and images like these on my Instagram @lacarmina, as I now frequently update there with OOTDs.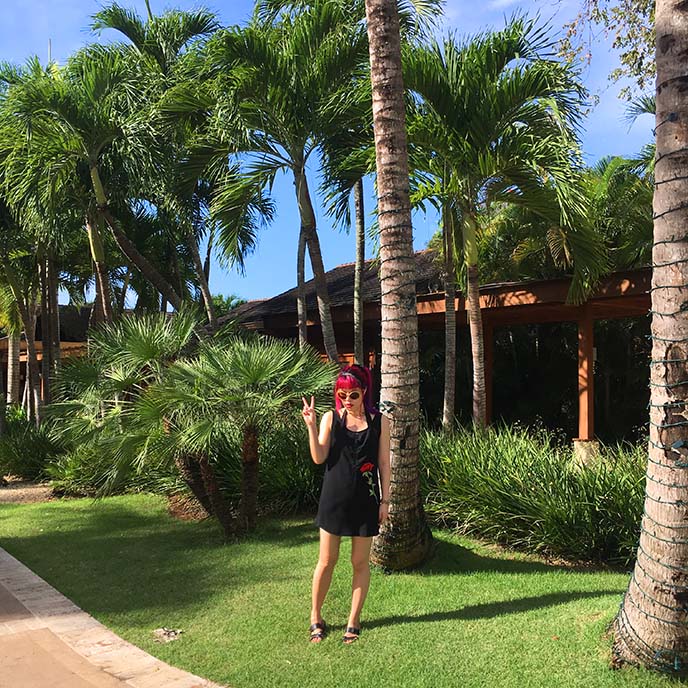 Now, let's go back in time to the year that was! I'm grateful I was able to travel with various close friends this year. (Click the links to each destination to see all the images and stories.)
I started out January 2018 in the Dominican Republic, as a guest of the exquisite Casa de Campo resort. Still dreaming of the tropical food and white sand beach.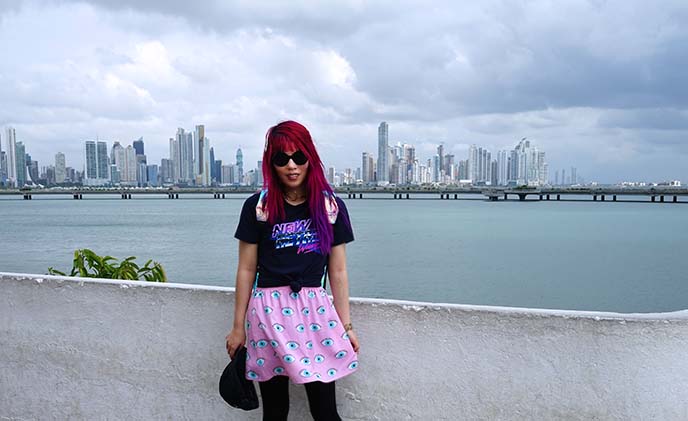 I did a quick stopover in Panama City, where I marveled at the futuristic skyline….
… before getting immersed in the retro culture of Havana, Cuba. I wrote about my Cuban travels for Movato Home, a national print magazine found in newsstands all over Canada. I've been writing regularly for them, so look for my stories there in each issue.
In the spring, I revisited San Francisco, CA with my "ghoul gang." We shopped for Satanic statues, headbanged to synthwave, descended into Gothic clubs… just the usual shenanigans!
Next up, I fulfilled my goal to see South America. In a dream project with LATAM Airlines, I spent time in several major cities — incuding Rio de Janeiro and Sao Paulo in Brazil. (Here I am atop Sugarloaf Mountain.)
Don't cry for me, Argentina… Buenos Aires was a blast. The culture and food lived up to their high reputation.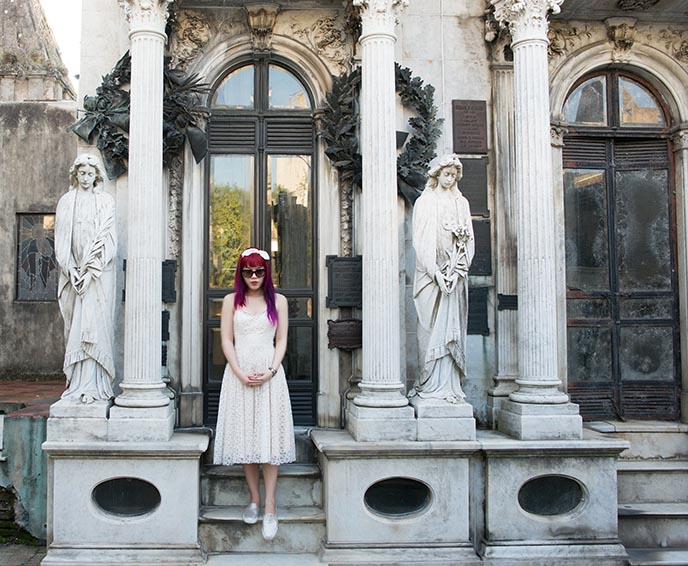 I haunted Recoleta Cemetery as the "woman in white," and went to an Eva Peron (Evita) themed restaurant, among other explorations in BA.
Then, I flew on LATAM to Chile for the first time. I took a quick jaunt to Valparaiso, a wonderland of street art and a place you must visit.
I also explored Santiago, Chile – especially the hip LaStarria district. Random note: I get so many kind comments when I wear my Japanese post punk t-shirt!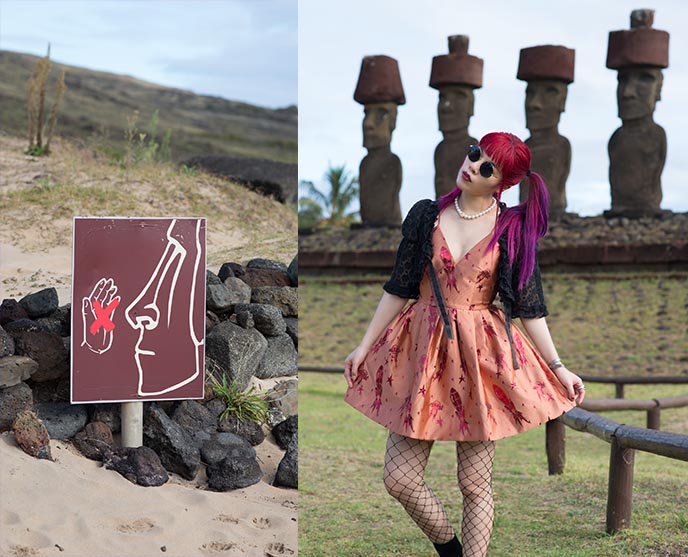 Words fail me when I recall my time on Easter Island, land of the stone-faced moai! Rapa Nui has been my ultimate bucket list destination since I was a kid. Still can't believe I got to see the mysterious icons for myself, thanks to LATAM.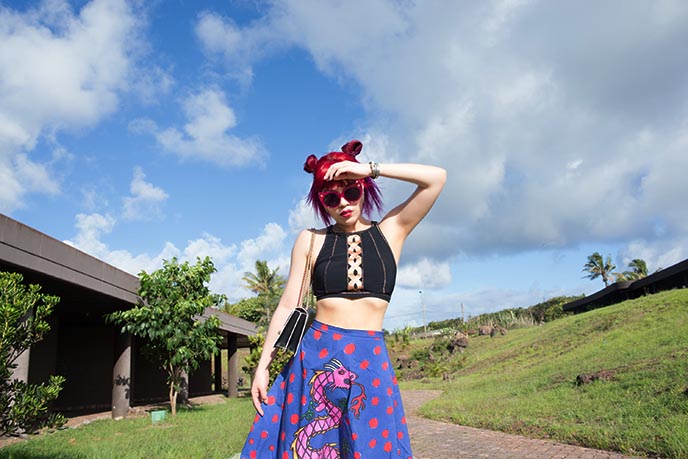 The island is one of the most remote in the world, and the landscapes are fascinating. If aliens ever came to Earth, I'm sure they landed on Easter Island.
After, my pirate Naomi and I plunged into working on a new travel TV show, with me as host. We shot it this fall in Tokyo, Japan – I'll never grow tired of this city. It's interesting how life has changed since launching La Carmina Blog, but Tokyo subcultures remain at the heart of everything.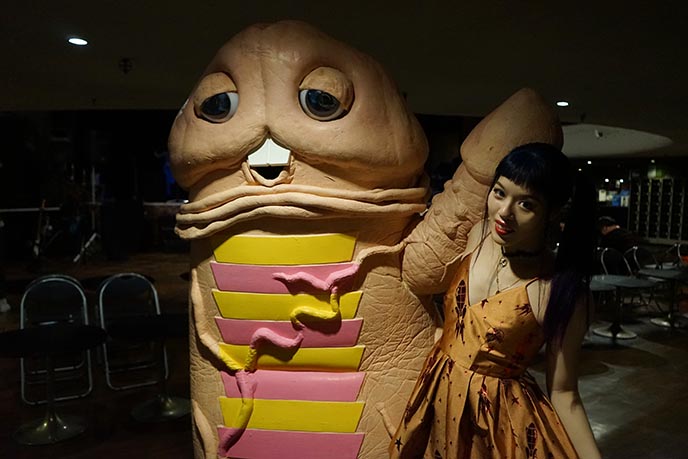 The travel television episode (Joko und Klaas, Duel around the World) aired in late fall. We were chuffed to hear your reactions to the crazy challenge and mascots! Read about it here and see TV clips if you missed it.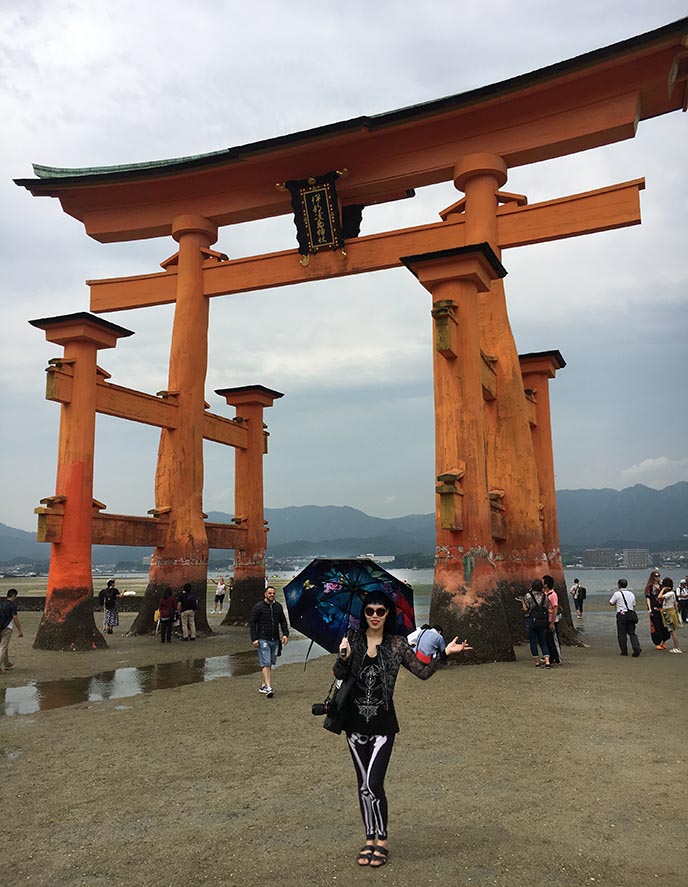 After finishing up the TV job, I traveled for the first time to Hiroshima with friends. Loved seeing Miyajima, the red gate, and visiting the Peace Memorial Museum.
We then hopped over to Bangkok (tons of stories to come), and Laos. The tranquil Luang Prabang charmed us with its warmth and food.
That's 12 countries this year, if you count US and Canada – not bad! As I mentioned, there's a massive trip coming up in February… so stay tuned for exciting visuals and stories.
I'll end with some outfit snaps from the past year. I'm wearing a Morph8ne top and Long Clothing skirt, while lounging on my Crate and Barrel love seat (you know I love mid century modern design). My pink shoes are for sale on my Depop if you'd like to snatch them up.
I had pink hair for the first half of 2018. Wearing a batwing top similar to this, an Erbert Chong bag and silver Irregular Choice ankle boots.
For my birthday party, I wore Print All Over Me skull black overalls and a Chinti & Parket striped top. (If you want to see more images from my minimalist mid-century modern apartment, click here.)
Time for a hair change! I'm going to stick with longer and darker for a while. My shoes are Jeffrey Campbell, similar to these boots. My three quarter length are floral Oroblu thigh highs from UK Tights.
Goth fashion, always. Wearing a faux fur coat and bone barrettes with a Killstar dress. It's similar to this to this pentagram star straps dress.
I'm still selling my wardrobe on Depop @lacarmina – where I'm now a verified official seller! If you'd like anything from my personal collection of Goth / alt fashion and accessories, I'd be glad to send you a package. Simply see what I have listed here on Depop and contact me (gothiccarmina att gmail dotcom).
Leaving you with a final pic from Easter Island, wearing a House of Holland dress. Feeling gratitude for being able to see places like this with my own eyes.
Farewell, 2018 — here's to a fulfilling and peaceful 2019! Happy New Year, everyone!