2018 Travel Blogging Summary! Year end review of my travels, Goth fashion blog outfits, Japan TV shows.
Yikes, where did the year go? Can't believe it is the end of 2018 already! I've recently been swallowed up by work, so my apologies for the lack of blog updates – but we have a lot of exciting travels in store for you soon.

Right now, I'm having fun revisiting adventures for my new travel writing job for Touring Bird, a site by Google Area 120! I'm the insider expert for Tokyo, Hong Kong, and over a dozen other cities in Asia. I've been writing insider travel tips and city guides, of course with a focus on offbeat, hidden, alternative, and cute attractions — like the Tokyo Trick Art Museum above. Can't wait to share more with you once my Touring Bird cities launch.
I have a lot to catch up on in the new year, including blogging about my recent adventures in Bangkok, Tokyo, Naoshima, and Hiroshima. And you can look forward to fabulous new travel stories soon… as Yukiro and I have a huge trip ahead in early 2019. Hint, cunning queens and cat worship! I'll be hitting two other countries as well. Announcements soon, and you can always catch up on my daily life on Instagram @lacarmina.
Let's do a quick review of the past year, as we always do. I'll also share some photos that hadn't made it onto the blog.
Here are some snaps from an eerie new restaurant and bar that opened in Vancouver BC. Enclosed in a space with no windows, The Dark Manor fully immerses you into its haunted mansion theme. The upscale Victorian decor includes old ghostly portraits with eyes that follow you, and skulls and candles on a fireplace mantle.
This bar specializes in whiskey, and the craft cocktails have names like The Tight-Lipped Butler, The Baron's End, and Danse Macabre. Each comes with a theatrical garnish: a "poisonous" vial, a cup of pills, a haunted house silhouette on egg white foam. The menu also has old-fashioned victuals like deviled eggs and pork medallions. If you have a Gothic disposition, you'll love spending an evening here. (Wearing a lace bodysuit by UK Lingerie.)
I also descended under the sea to Vancouver's Laurence and Chico Cafe. With fluffy hooded octopus chairs, this is one surreal place to grab an almond milk latte! You can also browse the couture on display, and munch on delicate pastries.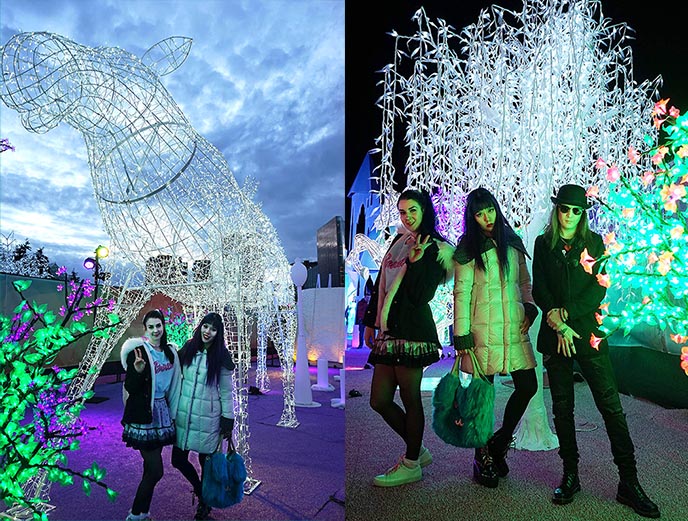 During Festivus season, my friends and I checked out the new Aurora Winter Festival in Vancouver. It's a delight to drink hot mulled wine and pose amidst the Xmas lights displays.
I'm keeping warm thanks to my slim white puffer coat by Snowman New York, and leather leopard print gloves by Moschino.
You can see more outfits and images like these on my Instagram @lacarmina, as I now frequently update there with OOTDs.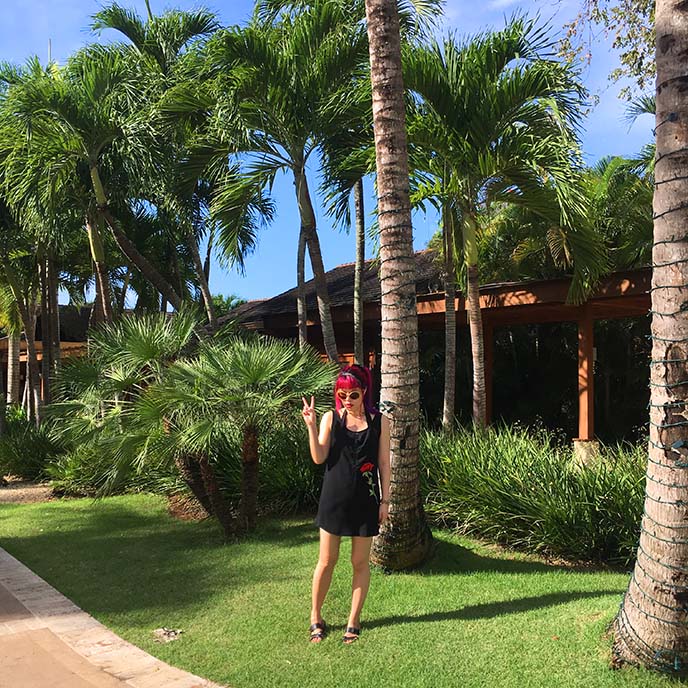 Now, let's go back in time to the year that was! I'm grateful I was able to travel with various close friends this year. (Click the links to each destination to see all the images and stories.)
I started out January 2018 in the Dominican Republic, as a guest of the exquisite Casa de Campo resort. Still dreaming of the tropical food and white sand beach.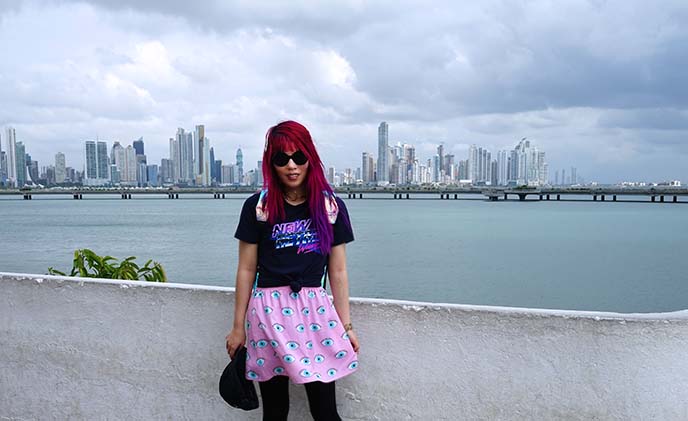 I did a quick stopover in Panama City, where I marveled at the futuristic skyline….
… before getting immersed in the retro culture of Havana, Cuba. I wrote about my Cuban travels for Movato Home, a national print magazine found in newsstands all over Canada. I've been writing regularly for them, so look for my stories there in each issue.
In the spring, I revisited San Francisco, CA with my "ghoul gang." We shopped for Satanic statues, headbanged to synthwave, descended into Gothic clubs… just the usual shenanigans!
Next up, I fulfilled my goal to see South America. In a dream project with LATAM Airlines, I spent time in several major cities — incuding Rio de Janeiro and Sao Paulo in Brazil. (Here I am atop Sugarloaf Mountain.)
Don't cry for me, Argentina… Buenos Aires was a blast. The culture and food lived up to their high reputation.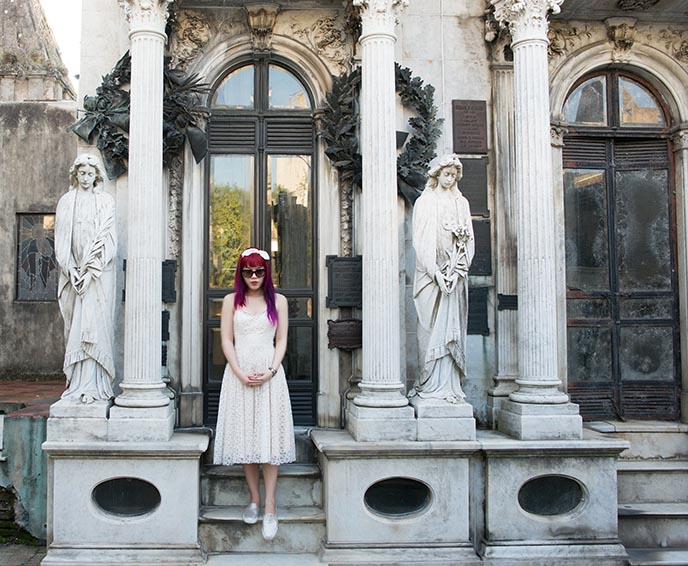 I haunted Recoleta Cemetery as the "woman in white," and went to an Eva Peron (Evita) themed restaurant, among other explorations in BA.
Then, I flew on LATAM to Chile for the first time. I took a quick jaunt to Valparaiso, a wonderland of street art and a place you must visit.
I also explored Santiago, Chile – especially the hip LaStarria district. Random note: I get so many kind comments when I wear my Japanese post punk t-shirt!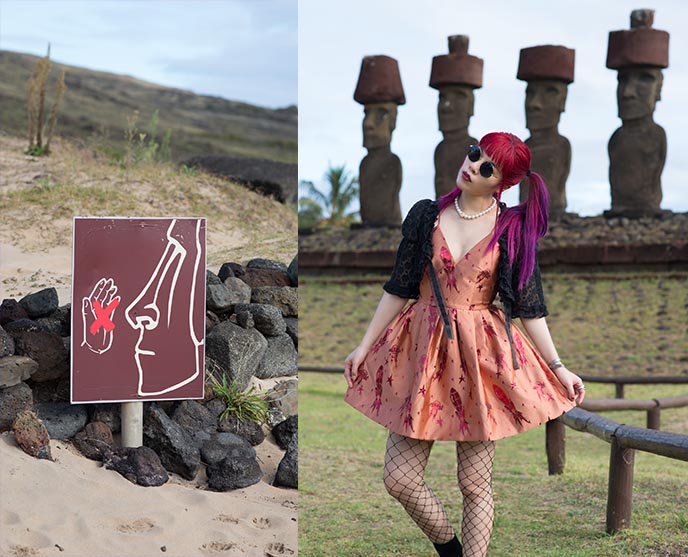 Words fail me when I recall my time on Easter Island, land of the stone-faced moai! Rapa Nui has been my ultimate bucket list destination since I was a kid. Still can't believe I got to see the mysterious icons for myself, thanks to LATAM.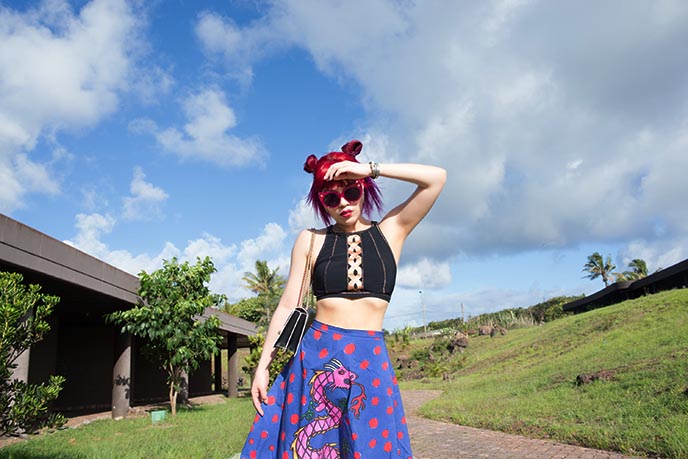 The island is one of the most remote in the world, and the landscapes are fascinating. If aliens ever came to Earth, I'm sure they landed on Easter Island.
After, my pirate Naomi and I plunged into working on a new travel TV show, with me as host. We shot it this fall in Tokyo, Japan – I'll never grow tired of this city. It's interesting how life has changed since launching La Carmina Blog, but Tokyo subcultures remain at the heart of everything.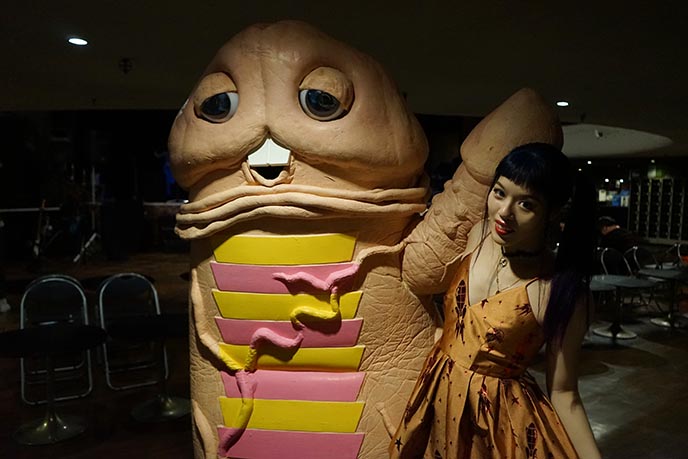 The travel television episode (Joko und Klaas, Duel around the World) aired in late fall. We were chuffed to hear your reactions to the crazy challenge and mascots! Read about it here and see TV clips if you missed it.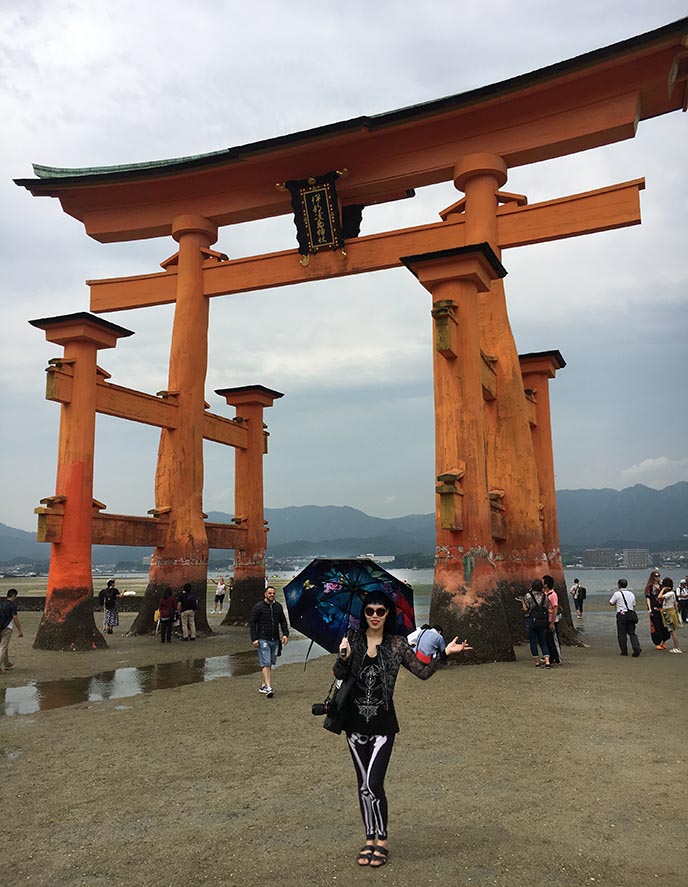 After finishing up the TV job, I traveled for the first time to Hiroshima with friends. Loved seeing Miyajima, the red gate, and visiting the Peace Memorial Museum.
We then hopped over to Bangkok (tons of stories to come), and Laos. The tranquil Luang Prabang charmed us with its warmth and food.
That's 12 countries this year, if you count US and Canada – not bad! As I mentioned, there's a massive trip coming up in February… so stay tuned for exciting visuals and stories.
I'll end with some outfit snaps from the past year. I'm wearing a Morph8ne top and Long Clothing skirt, while lounging on my Crate and Barrel love seat (you know I love mid century modern design). My pink shoes are for sale on my Depop if you'd like to snatch them up.
I had pink hair for the first half of 2018. Wearing a batwing top similar to this, an Erbert Chong bag and silver Irregular Choice ankle boots.
For my birthday party, I wore Print All Over Me skull black overalls and a Chinti & Parket striped top. (If you want to see more images from my minimalist mid-century modern apartment, click here.)
Time for a hair change! I'm going to stick with longer and darker for a while. My shoes are Jeffrey Campbell, similar to these boots. My three quarter length are floral Oroblu thigh highs from UK Tights.
Goth fashion, always. Wearing a faux fur coat and bone barrettes with a Killstar dress. It's similar to this to this pentagram star straps dress.
I'm still selling my wardrobe on Depop @lacarmina – where I'm now a verified official seller! If you'd like anything from my personal collection of Goth / alt fashion and accessories, I'd be glad to send you a package. Simply see what I have listed here on Depop and contact me (gothiccarmina att gmail dotcom).
Leaving you with a final pic from Easter Island, wearing a House of Holland dress. Feeling gratitude for being able to see places like this with my own eyes.
Farewell, 2018 — here's to a fulfilling and peaceful 2019! Happy New Year, everyone!