Category Archive for
Huffington Post + AOL Travel
It's the return of the bagelhead! Enjoy my spanking new travel video about the edgy, kooky attractions in Montreal, Quebec.
The episode features magic shops, pop art, and Daniel Graves — vocalist of Aesthetic Perfection, who performed at Kinetik Festival 2013!
For the full story, read my Huffington Post article. It gives an overview of Montreal's best alternative fashion, clubs and more.
Please press play above, and thumb's up below if you found my coverage useful. Merci beaucoup mes amis!
Montreal is famous for its bagels, and locals have strong opinions over which bakery does it best: Fairmount or St Viateur. Since the top two contenders were a short walk from Le Belmont (the venue for Kinetik Music Festival), Daniel and I put them to the test.
Fairmount (74 Avenue Fairmount Ouest) has a variety of flavors, and offers bagels with smoked salmon and cream cheese.
St Viateur (263 Rue Saint Viateur Ouest) has a frightful logo.
But the wall of accolades must mean something.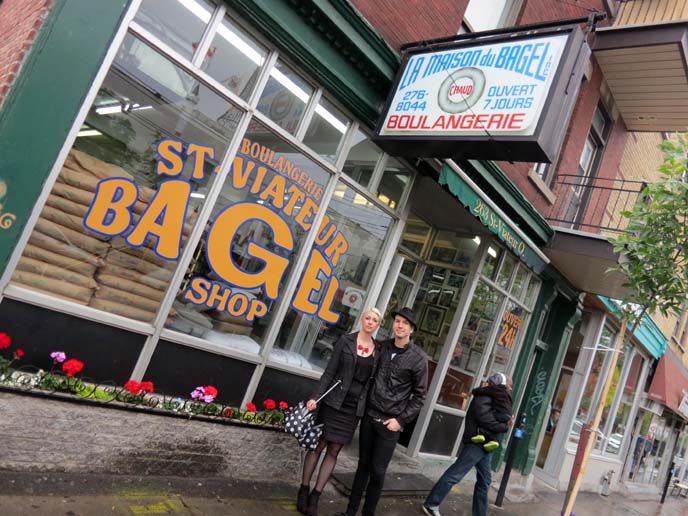 Which bagel did we like the most? You'll have to view our fun video to find out!
PS: if you don't get the "bagel head" joke, this Japanese forehead inflation article will fill you in.
Thanks to my friend Lauren for joining me on my French-Canadian journey, and to Tourism Montreal for making it possible.
What was your favorite moment in the travel episode? For more coverage of Montreal and Vancouver, browse the Alt Canada category of my blog.
Help! I'm locked in a cell with a Gothic Lolita… Where in the world am I?
To find out, watch my new video about alt, spooky travel in Arizona.
Can you tell I had fun on this trip? I'm especially happy with how this video turned out, thanks to the original soundtrack by Leon Lindon, and performed by the Lindon Automata.
** Please support our creative work by Sharing and Liking the article on HuffPost, or below. Thank you so much.
Eerie music plays as we explore Monsterland Bar & Grill, a theme restaurant in Mesa, Arizona (east of Phoenix).
I was already shaking as I entered the restaurant through a winding passage. Creatures of the night awaited me…
… some of which jumped out unexpectedly!
Inside, it was every horror scene come to life, from dungeons to dragons.
I got tied up in Frankenstein's lab.
Bunny shirt: Miffy store in Hong Kong
Scallop shorts: KiLaRa, from the Hong Kong Hello Kitty store
Bunny-eared headband: gifted by Soho Hearts
Monster gloves: gifted by Josie Loves J Valentine (remember the photoshoot we did in LA?)
Lolita shoes: Yosuke, from Marui One Shinjuku
Leon Lindon, in the Adventure of the Pharoah's Curse.
His visual musical band, Colosseum Thesis, braves the Grim Reaper's scepter.
"We did the Monsterland mash. It was a graveyard smash."
The VIP room was ruled by an alien (perhaps from our Sedona road trip?). Monsterland often has special events like video game nights, costume parties and "Scary-aoke."
The food matched the monstrous theme: beer tasters in a skull, "Children of the Corn" balls, bat wings.
The blue Swamp Water cocktail had a surprise at the bottom. You'll have to order one to discover what lies beneath.
Dare to be scared! Monsterland re-opens on August 24th (they were on temporary hiatus); check their Facebook for upcoming events.
Here's a bonus outfit photo, from dinner with Visit Mesa at Postino Wine Cafe in Gilbert, AZ.
Octopus print dress: gifted by Sourpuss Clothing; buy it here.
Black eyed bag: Hyoma, Izzue boutique Hong Kong (store photos soon)
Sunglasses: gifted by Lumete
I have fond memories of this meal. I tried a Macedonia Tikves Vranec wine, and stuffed myself with salads and bruschetta.
Gilbert, a town known for its water tower, has a nice food and arts scene.
I also ate very well at Liberty Market, across the street from Postino's.
We enjoyed fresh favorites like caprese salad, pizzas, burgers, and endless coffee refills.
I leave you with these photos of me in the Downtown Phoenix Westin hotel bathtub. You can see more photos of my Miffy bunny dress in this post.
Did you expect Arizona to have such spooky culture? Would you visit the monster restaurant?
I hope you enjoy the video and soundtrack. Tell us what you think of our Arizona adventure.
PS: Plane tickets booked for August! Can you guess where my travel team's going next?