Montreal's best bagel, St Viateur or Fairmount? Festival Kinetik 2013 video: Daniel Graves, Aesthetic Perfection.
It's the return of the bagelhead! Enjoy my spanking new travel video about the edgy, kooky attractions in Montreal, Quebec.
The episode features magic shops, pop art, and Daniel Graves — vocalist of Aesthetic Perfection, who performed at Kinetik Festival 2013!
For the full story, read my Huffington Post article. It gives an overview of Montreal's best alternative fashion, clubs and more.
Please press play above, and thumb's up below if you found my coverage useful. Merci beaucoup mes amis!
Montreal is famous for its bagels, and locals have strong opinions over which bakery does it best: Fairmount or St Viateur. Since the top two contenders were a short walk from Le Belmont (the venue for Kinetik Music Festival), Daniel and I put them to the test.
Fairmount (74 Avenue Fairmount Ouest) has a variety of flavors, and offers bagels with smoked salmon and cream cheese.
St Viateur (263 Rue Saint Viateur Ouest) has a frightful logo.
But the wall of accolades must mean something.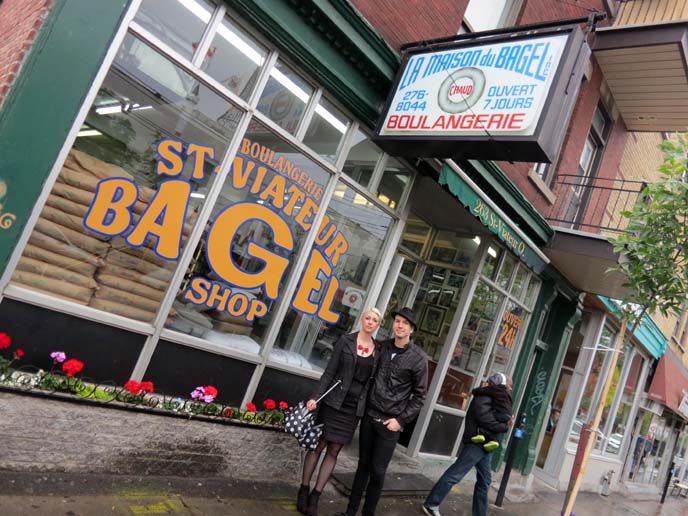 Which bagel did we like the most? You'll have to view our fun video to find out!
PS: if you don't get the "bagel head" joke, this Japanese forehead inflation article will fill you in.
Thanks to my friend Lauren for joining me on my French-Canadian journey, and to Tourism Montreal for making it possible.
What was your favorite moment in the travel episode? For more coverage of Montreal and Vancouver, browse the Alt Canada category of my blog.