A cheesy trip to Gruyeres, Switzerland! Traveling by Swiss trains to see Medieval castles & culture.
Ready for part 2 of my Gruyères, Switzerland journey? I'll warn you, it gets a little cheesy…
Last fall, I went to La Gruyere to see the H R Giger bar and museum (the dark artist behind the Alien movies). As you can gleam from my emoji sweater, I'm a die-hard fan.
However, there are many more reasons to check out Gruyeres. Located in Switzerland's canton of Fribourg, it's one of the most scenic destinations that photographer Joey Wong and I have ever seen.
(And it's the birthplace of Gruyeres cheese, which happens to be my favorite!)
We were surprised at how much we enjoyed this little Swiss village, with pastoral landscapes and a Medieval castle.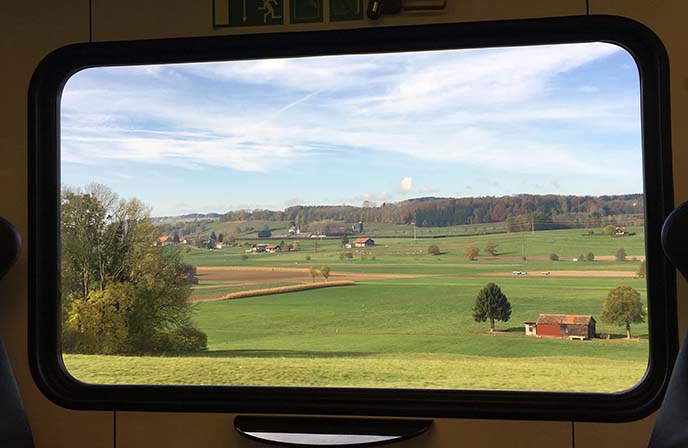 First, how do you get to Gruyere? Most travellers start in Geneva, the capital of Switzerland. From there, it's about a two-hour journey by train.
Joey and I used First Class Swiss Travel Pass from Switzerland Tourism, for unlimited rides on any of the country's trains. The system works like clockwork, with efficient timetables and connections. (No wonder the Swiss are known as master watch-makers.)
We stayed in a hotel in Geneva, and did a day-trip to Gruyeres (you can also stay in the village overnight, if you wish to spend more time here).
There are two railway routes you can take from Geneva central station: go to Romont and change at Bulle, or take the scenic ride to Montreux, and change at Montbovon.
I'd opt for the Montreux itinerary. As you can see, the view out the window is spectacular! For most of the journey, you can see the crystal waters of Lac Léman (aka Lake Geneva), one of the largest in Western Europe.
Our jaws dropped at the scenes that passed by our train window: quaint churches with steeples, furry sheep grazing, green hilly landscapes.
When you arrive at Gruyeres Station, you must walk up a path to reach the village itself. Take your time to enjoy the sights along the way, including this cute chapel with a bell tower.
We said hello to these hungry sheep, with bells ringing from their collars.
"The hills are alive, with the Sound of Music!" This view of the Alps made me want to dance around like Maria Von Trapp.
And then, we arrived at the village of Gruyeres: home to only about 2000 people. However, behind the charm lurks aliens… (as you can see in my article about the H. R. Giger museum and bar.)
Gruyeres is in the French region of Switzerland, so most of the signs are in this language. Cheese is the main industry here, along with culture tourism — people come here from around the world, to soak up the old-time charm of this little town.
The town is named after the founder, Gruerius. He captured a crane and made it his symbolic animal (in French, the bird is called a "grue").
No matter where you point the camera, La Gruyere is a stunner. We strolled by St. Theodul's church (Église Saint-Théodule), which dates back to 1254. The Counts of Gruyeres are buried under the altar of St. Michael, in this Catholic church
However, this Goth was more interested in the Satanic underbelly of this town! (My alien emoji sweater hints at the occult world of HR Giger. See more styles below:)

La Gruyere is especially vibrant in the fall, when the leaves are fiery red.
For those who love culture, there are several artistic attractions in the village, including a Tibetan art museum. 
Fans of the Alien movie series make pilgrimages here, to behold the H. R. Giger museum. Gruyeres is home to the largest collection of his works.
We started at one of the main sights, the Castle of Gruyères. This fortress from the Middle Ages now holds a museum, art exhibitions, and theatrical showings.
Gruyères Castle was built in the late 13th century, with a distinctive Savoy square layout. With a labyrinth and garden beneath the Alps… this is a picture straight out of a fairy tale.
Many travel to this region to hike in the nearby mountains. Moléson-sur-Gruyères and Dent de Broc are ranges in the Frebourg pre-Alps, overlooking the lake of Gruyère.
History and culture-lovers flock to Switzerland to see the famous Medieval castles. (We also visited Chillon castle at Montreux, which you can see here.)
This sculpture, located at the entrance of Chateau de Gruyères, caught my eye. It's called "Le Bouclier de Mars", and appears to be an ancient carving. However, in fact, it was created by Patrick Woodruffe in 1993.
Leave it to me to find the devil, wherever I go! (There was also a "heaven" circular panel next to this one.)
Woodruffe's work is based on his 1979 illustration, The Vicious Circle (1979). It depicts war as a closed circle of destruction and futility.
If you look at the imagery up close, you'll notice alien sci-fi motifs — not unlike Giger's visions.
The castle was hosting an exhibition of Patrick Woodruffe's fantasy art. His works are surreal and unsettling; this one is a riff on Jabberwocky from Lewis Carroll's Alice in Wonderland.
Gruyeres was once completely surrounded by protective stone walls. Parts of this Medieval battlement still stand.
No matter where you walk, you'll come across spectacular views of the surrounding countryside.
It's about to "get cheesy"… Around lunch-time, the entire village smells of delicious fromage! Diners come from afar to feast on Gruyere's iconic product, especially in the form of fondue.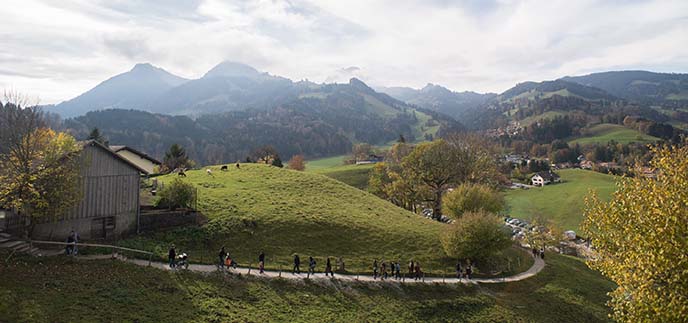 This Swiss cheese is as fresh as it gets. You can even spot the cows that provide the milk, in the nearby fields.
After a long afternoon, we sat down for an immensely satisfying meal at Chalet Restaurant. (Above is an image from their website, since the space was packed with people and it was difficult to get clear shots.)
Joey and I devoured the fondue (melted cheese in a communal pot, eaten by dipping bread, pickles and other crudites into the hot liquid). We also tried raclette for the first time (semi-hard cheese heated on a special device at the table, and scraped off), and the local herbal liqueur "Grande Gruyère". We ended with a decadent dessert: double cream and raspberries.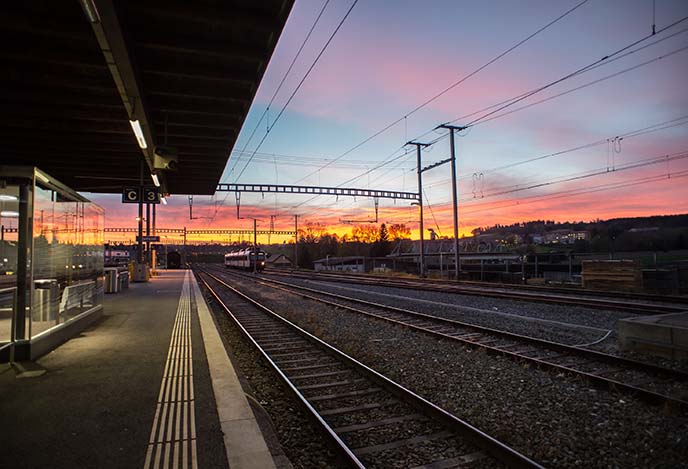 My Swiss cheese feast at Chalet was one of the most memorable meals I've had in Europe. We literally were in a food coma after, and dozed off on the train ride back! Fortunately, we woke up in time to make our connections back to Geneve, and capture this psychedelic sunset.
Merci La Gruyère Tourisme and Switzerland Tourism for welcoming us to this adorable Alpine town! If only I had room in my suitcase, to bring back a big hunk of Swiss cheese.
PS: For a look at the sci-fi side of Gruyeres, check out my article about the H R Giger alien museum and bar here.
PPS: If you're coveting an extraterrestrial sweater like mine, click the image below!