Futuristic Architecture in Rio de Janeiro, Brazil! Museum of Tomorrow, Niemeyer UFO building, Sofitel Ipanema hotel.
If you came across a flying saucer, what would you do? Personally, I'd beam myself in!
I think you can tell I had an (inter)stellar time in Rio de Janeiro, Brazil. The city turned out to be one of my favorite stops on my LATAM Airlines trip in South America.
Rio is a laid-back destination for anyone interested in Brazilian culture, food and beach life. It's also home to a few unexpectedly "spacey" attractions that stirred my imagination…
Read on for my alternative art / culture travel guide to RDJ. (Obrigado Rio CVB for the local assistance, and Sofitel Ipanema hotel for the beautiful stay.)
Let's start inside my spaceship. This cosmic wonder is actually the MAC Niterói Contemporary Art Museum, designed by Brazilian architect Oscar Niemeyer.
The MAC is located across the water from Rio de Janeiro. To get here, you can take a ferry across the water, or Uber over the sleek bridge to Niteroi.
Oscar Niemeyer is the modernist genius behind over 500 structures in Brazil, including the civic buildings of the new capital Brasilia (established 1960). With white concrete and flowing curves, his architecture looks like something out of a sci-fi movie.
(My outfit is a tribute to Niemeyer's modernism. I'm wearing a white Unique Vintage dress and silver glitter slip-on shoes.)
The stark, curving walls are the perfect setting for avantgarde art. Above is Ayrson Heraclitus's exploration of the Afro-Brazilian Candomblé religion. Visitors hear the clank of metalwork (representing Ogun, the warrior god) over footage of worshippers cooking feijoada (a local stew presented as an offering).
My travel partner and co-photographer was Elizabeth Wurtzel (author of Prozac Nation, Bitch, and other bestselling books). We adored the "Anna Bella & Lygia & Mira & Wanda" exhibition, which put the spotlight on four leading Brazilian contemporary artists.
Above is a movable metal sculpture by Lygia Clark. In the next room, Mira Schendel's Zen minimalist works express "transcendence from the zero spectrum" (that's how the didactic label put it!)
Doesn't this look like a scene from 2001: A Space Odyssey?
I was impressed by Wanda Pimentel's fine linework; she paints women's feet and domestic objects, in a "critique of society's suppression of privacy." We also loved the political art of Anna Bella Geiger, which rallied against "burocracia" and censorship during Brazil's dictatorship.
Be sure to take in the spectacular view of Rio, from the red ramps that wrap around the flying object. You can spot Sugarloaf Mountain, Christ the Redeemer and other landmarks across Guanabara Bay.
Then, walk down the spiral staircase to the bistro, where you can drink caipirinhas and browse handmade jewelry inspired by Niemeyer.
Oscar Niemeyer is one of my architecture heroes, and I was over the moon to finally visit one of his masterpieces.
(Outfit of the day: a white retro-style dress from Unique Vintage, and sparkly slip-on shoes.)
If you're into experimental art (and aliens!), the Museu de Arte Contemporânea de Niterói is one of the coolest museums on planet Earth.
On another day, Elizabeth and I visited Rio's Museum of Tomorrow, which also looks like an intergalactic shuttle! Designed by Spanish architect Santiago Calatrava, the Museu do Amanhã opened in 2015 right before the Olympics.
The museum and urban plaza rejuvenated the Porto Maravilha waterfront, which was once a run-down district of Rio.
Calatrava's innovative design looks like a spacecraft hovering over water. The silhouette was inspired by the bromelia flower, which he saw in Rio's Botanical Gardens.
The visionary Museum of Tomorrow is unlike any other. The experience focuses on five questions: Where did we come from? Who are we? Where are we? Where are we going? And how do we want to live together over the next fifty years?
Visitors receive a touch card in their language of choice, for interacting with the displays. At the end, you can measure your consumption footprint; mine was not great, as I fly more than 100 hours a year…
(Leather wrap bracelet by Bulgari Serpenti.)
The high-tech exhibits make you think about global matters like population growth, ecological and climate changes, and distributions of wealth.
First, we entered a "cosmic portal" and watched a 360-degree film by City of God director Fernando Meirelle, which traced our development from the Big Bang to today. Then, we explored four giant cubes with mixed-media displays, highlighting different aspects of the "5 questions."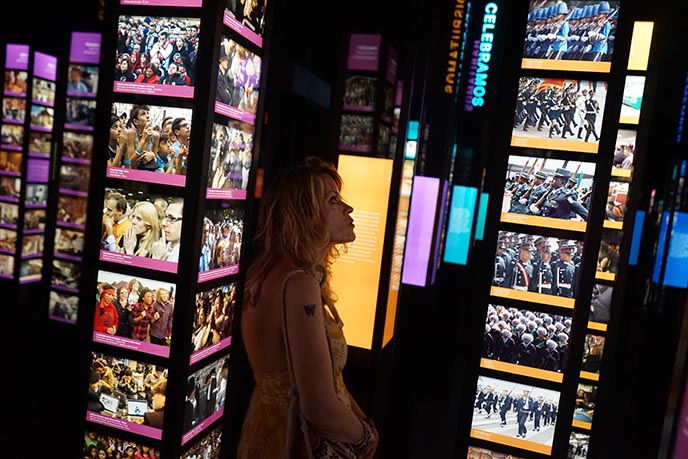 This cube had 1200 fascinating images arranged in pillars. They show global examples of prayers, sensations, relationships, power, body modifications and other human expressions.
The Museum of Tomorrow lets you reflect about our impact on the planet. These Stonehenge-like screens present real-time numbers about global gas emissions, ozone depletion, ocean population losses…
On the right, Daniel Wurtzel's dancing fabrics convey the constant flux of matter. (No relation to Elizabeth, but the last name was a neat coincidence.)
By the end, you're encouraged to think about the possibilities for transformation. We entered a wooden structure based on an indigenous longhouse, with an Australian "tjurunga" (symbolizing the passing on of knowledge) in the center. Music and lights mimic the cycles of sunset and sunrise.
At last, you emerge from the cocoon. As Elizabeth put it, "I am a purple butterfly looking into the future and everything is beautiful."
The large picture-windows reconnect you to the present. Santiago Calatrava designed a reflection pool around the building with filtered water that is pumped in from the bay, and then released back.
A Frank Stella sculpture appears to float on the water. Hearts for the neofuturistic Museum of Tomorrow and its message of sustainability.
Our guide Rodrigo took us to the nearby mural by Eduardo Kobra. It's the largest in the world, at 190 meters long.
The Brazilian street artist created this rainbow work for the Rio Olympic games.
The "Ethnicities" mural depicts five indigenous faces from five continents (Brazil, Ethiopia, Thailand, Northern Europe, and Papua New Guinea). They represent human ancestors and the colors of the rings on the Olympic flag.
Within a few years, "Olympic Boulevard" has become a tech center with green spaces, public events, live music and nightly fireworks.
However, Rio's beaches remain the heart of the city. Copacabana was favored by celebrities in the mid-20th century, but today, Ipanema beach is the place to be.
I loved walking by the ocean, especially on weekdays when Ipanema Beach is uncrowded. Groups gather in different "postos" or divisions; there are areas favored by hippies, LGBT, families, etc. You'll come across groups of friends playing "football" (Brazil's beloved national sport) and other games near the crashing waves.
I encourage you to book a hotel by the beach. My stay at Sofitel hotel let me live out my "girl from Ipanema" dreams: I only had to cross the street to have my feet in the sand.
(Book a stay at Sofitel Ipanema Rio here.)
The Sofitel made me feel at home with artistic interiors and surprise fruit plates, and staff that knew me by name. My 5-star room was decorated in mid-century modern tropicalia, with a picture-window that opened up to this view of Ipanema.
Every morning, I looked forward to Sofitel's breakfast. You could choose from the buffet (the selection included a refreshing green detox juice, and coconut yogurt smoothies), or order from the menu (I always got the acai with banana, and tapioca crepe with cheese and vegetables).
We had lunch at the hotel's 23 Ocean Lounge, located on a sunny terrace next to the swimming pool. We tried fresh cocktails made with Brazilian fruits, and ate local grilled fish followed by coconut mousse, while enjoying views of Ipanema and Copacabana beaches.
With a mod couch like this, waiting in the lobby was a pleasure! (Elizabeth is with Rodrigo, our outstanding local guide who also works as a TV fixer and speaks multiple languages.)
Sofitel Ipanema Rio de Janeiro is in the best possible location. You can walk over to the beachfront, or visit the fashion boutiques, cafes, jewelry stores and art galleries two blocks behind the hotel.
Most of the stores are on Rua Visconde de Pirajá. Brazilian fashion tends to be airy and relaxed. I was a fan of the footwear designers Melissa Shoes and Schutz Shoes; see below for some of their styles.

It was refreshing to be in a destination that doesn't feel "touristy." Very few people speak English in Brazil, even in major stores. I enjoyed the challenge of trying to communicate with hand gestures and bits of Portuguese!
Rio de Janeiro is the place to shop for swimwear and resort fashion. (Find a similar red and white striped bikini here.)
Every Sunday, the road by Ipanema is closed to cars, which lets locals ride bikes, roller skate and walk along the shore. I strolled along the beach every day, and enjoyed the views (I'm talking about both the scenery and the fellows in it!)
Rodrigo recommended that we check out Botafogo, an up-and-coming neighborhood with outstanding restaurants, live music bars and nightlife.
We had dinner in this neighborhood, at Iraja Gastro — and it turned out to be one of the best meals I had in South America. Chef Camila Anacleto welcomed us to the cozy restaurant, known for its contemporary tasting menu with Brazilian influences.
We began with two addictive plates: mandioca (cassava) chips with grana padano and clarified butter, and churros of cheeses and herbs. 
At Irajá Gastro, each dish is made with sustainable ingredients. Above is their latest version of caprese (it has gone through six variations so far): a brilliant combo of buffala mozzarella, basil oil, strawberry and tomato sorbet.
The open kitchen adds to the relaxed atmosphere of the restaurant. It's a perfect place to have a special meal with friends, or celebrate an occasion.
We adored the fish of the day with toasted coconut and avocado. On the right: an innovative ravioli with fondant palm, chestnut and canastra cheese. Below it is my juicy Angus entrecote cut of the day, with mustard and vegetables. It paired perfectly with a bottle of red Guaspari (Iraja Gastro carries an extensive Brazilian-only wine list).
The meal had a sweet ending with a berry marshmallow dessert, and "bolo de brigadeiro" — hot chocolate cake with vanilla cream poured on top.
I recommend that you make a reservation at Iraja Gastro, and experience their menu for yourself.
A trip to Rio isn't complete without seeing the spectacular view from the top of Sugarloaf Mountain (Pão de Açúcar). We rode cable cars up the two elongated mountains, which resemble traditional loaves of sugar.
Elizabeth and I took this photo from the top of the first mound, Urca Hill (Morro da Urca).
(I'm wearing Esqape sunglasses. and an Alex Streeter Morbid Debutante necklace. My dress is available for sale on my Depop, along with other items from my personal wardrobe.)
Visitors can walk around and take in the sights from 360 degrees.
When you're ready to ascend the next peak, hop into the second glass-walled cable car. In three minutes, you'll be at the top of Sugarloaf.
Do you see the crucifix-shaped silhouette on the mountain in the distance? That's the famous statue Christ the Redeemer, on the peak of Corcovado. The 38-meter Jesus has his arms outstretched, and appears to be blessing the people from high above.
"Cristo Redentor" was completed in 1931 by French sculptor Paul Landowski and Brazilian engineer Heitor da Silva Costa. It's the most recognizable landmark of Rio, and one of the New Seven Wonders of the World.
Both locals and visitors gather at the top of Sugar Loaf to take in this glowing sunset over Guanarana Bay. It's one of the best spots in the city for golden hour.
Rodrigo then took us to the nearby Urca district, and ordered us caipirinhas (Brazil's national cocktail, made with sugar, lime and cachaça — a sugarcane liquor). The seawall is a lively hangout spot for young locals, who play music and drink while watching the moon rise over the waterfront.
I also loved sipping tea and watching the pink skies from my window at Sofitel Ipanema hotel.
Elizabeth and I went outside to Ipanena beach for the last rays. Our trip to Rio was outstanding, and we'll remember it for life.
It's a great time to visit Brazil, as the complicated and expensive visa process has changed. In the past, you had to complete a detailed application that included bank statements and an employer's letter, and leave your passport at the consulate for up to a month. Now, if you're a citizen of Canada, United States, Japan, or Australia, the process is simpler. You can apply online for a Brazil tourist e-visa and receive it within a few days.
Obrigado LATAM Airlines for bringing me to South America for the first time, and Rio CVB and guide Rodrigo for showing us the best of your hometown.
Did you know Rio de Janeiro had such trippy, extraterrestrial attractions?
Time to fly off in my UFO… but more stories to come soon, including my dream journey to Easter Island!