Category Archive for
Switzerland
Ready for part 2 of my Gruyères, Switzerland journey? I'll warn you, it gets a little cheesy…
Last fall, I went to La Gruyere to see the H R Giger bar and museum (the dark artist behind the Alien movies). As you can gleam from my emoji sweater, I'm a die-hard fan.
However, there are many more reasons to check out Gruyeres. Located in Switzerland's canton of Fribourg, it's one of the most scenic destinations that photographer Joey Wong and I have ever seen.
(And it's the birthplace of Gruyeres cheese, which happens to be my favorite!)
We were surprised at how much we enjoyed this little Swiss village, with pastoral landscapes and a Medieval castle.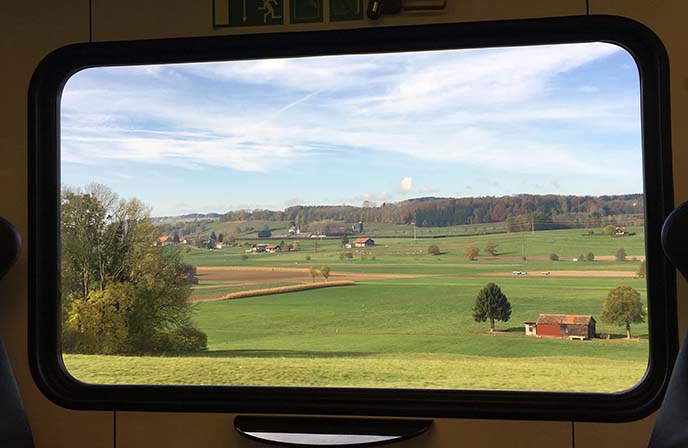 First, how do you get to Gruyere? Most travellers start in Geneva, the capital of Switzerland. From there, it's about a two-hour journey by train.
Joey and I used First Class Swiss Travel Pass from Switzerland Tourism, for unlimited rides on any of the country's trains. The system works like clockwork, with efficient timetables and connections. (No wonder the Swiss are known as master watch-makers.)
We stayed in a hotel in Geneva, and did a day-trip to Gruyeres (you can also stay in the village overnight, if you wish to spend more time here).
There are two railway routes you can take from Geneva central station: go to Romont and change at Bulle, or take the scenic ride to Montreux, and change at Montbovon.
I'd opt for the Montreux itinerary. As you can see, the view out the window is spectacular! For most of the journey, you can see the crystal waters of Lac Léman (aka Lake Geneva), one of the largest in Western Europe.
Our jaws dropped at the scenes that passed by our train window: quaint churches with steeples, furry sheep grazing, green hilly landscapes.
When you arrive at Gruyeres Station, you must walk up a path to reach the village itself. Take your time to enjoy the sights along the way, including this cute chapel with a bell tower.
We said hello to these hungry sheep, with bells ringing from their collars.
"The hills are alive, with the Sound of Music!" This view of the Alps made me want to dance around like Maria Von Trapp.
And then, we arrived at the village of Gruyeres: home to only about 2000 people. However, behind the charm lurks aliens… (as you can see in my article about the H. R. Giger museum and bar.)
Gruyeres is in the French region of Switzerland, so most of the signs are in this language. Cheese is the main industry here, along with culture tourism — people come here from around the world, to soak up the old-time charm of this little town.
The town is named after the founder, Gruerius. He captured a crane and made it his symbolic animal (in French, the bird is called a "grue").
No matter where you point the camera, La Gruyere is a stunner. We strolled by St. Theodul's church (Église Saint-Théodule), which dates back to 1254. The Counts of Gruyeres are buried under the altar of St. Michael, in this Catholic church
However, this Goth was more interested in the Satanic underbelly of this town! (My alien emoji sweater hints at the occult world of HR Giger. See more styles below:)

La Gruyere is especially vibrant in the fall, when the leaves are fiery red.
For those who love culture, there are several artistic attractions in the village, including a Tibetan art museum. 
Fans of the Alien movie series make pilgrimages here, to behold the H. R. Giger museum. Gruyeres is home to the largest collection of his works.
We started at one of the main sights, the Castle of Gruyères. This fortress from the Middle Ages now holds a museum, art exhibitions, and theatrical showings.
Gruyères Castle was built in the late 13th century, with a distinctive Savoy square layout. With a labyrinth and garden beneath the Alps… this is a picture straight out of a fairy tale.
Many travel to this region to hike in the nearby mountains. Moléson-sur-Gruyères and Dent de Broc are ranges in the Frebourg pre-Alps, overlooking the lake of Gruyère.
History and culture-lovers flock to Switzerland to see the famous Medieval castles. (We also visited Chillon castle at Montreux, which you can see here.)
This sculpture, located at the entrance of Chateau de Gruyères, caught my eye. It's called "Le Bouclier de Mars", and appears to be an ancient carving. However, in fact, it was created by Patrick Woodruffe in 1993.
Leave it to me to find the devil, wherever I go! (There was also a "heaven" circular panel next to this one.)
Woodruffe's work is based on his 1979 illustration, The Vicious Circle (1979). It depicts war as a closed circle of destruction and futility.
If you look at the imagery up close, you'll notice alien sci-fi motifs — not unlike Giger's visions.
The castle was hosting an exhibition of Patrick Woodruffe's fantasy art. His works are surreal and unsettling; this one is a riff on Jabberwocky from Lewis Carroll's Alice in Wonderland.
Gruyeres was once completely surrounded by protective stone walls. Parts of this Medieval battlement still stand.
No matter where you walk, you'll come across spectacular views of the surrounding countryside.
It's about to "get cheesy"… Around lunch-time, the entire village smells of delicious fromage! Diners come from afar to feast on Gruyere's iconic product, especially in the form of fondue.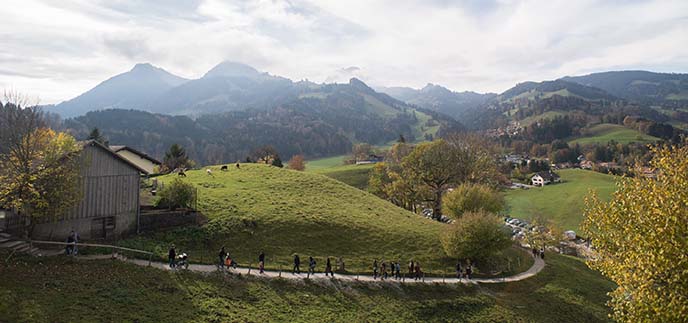 This Swiss cheese is as fresh as it gets. You can even spot the cows that provide the milk, in the nearby fields.
After a long afternoon, we sat down for an immensely satisfying meal at Chalet Restaurant. (Above is an image from their website, since the space was packed with people and it was difficult to get clear shots.)
Joey and I devoured the fondue (melted cheese in a communal pot, eaten by dipping bread, pickles and other crudites into the hot liquid). We also tried raclette for the first time (semi-hard cheese heated on a special device at the table, and scraped off), and the local herbal liqueur "Grande Gruyère". We ended with a decadent dessert: double cream and raspberries.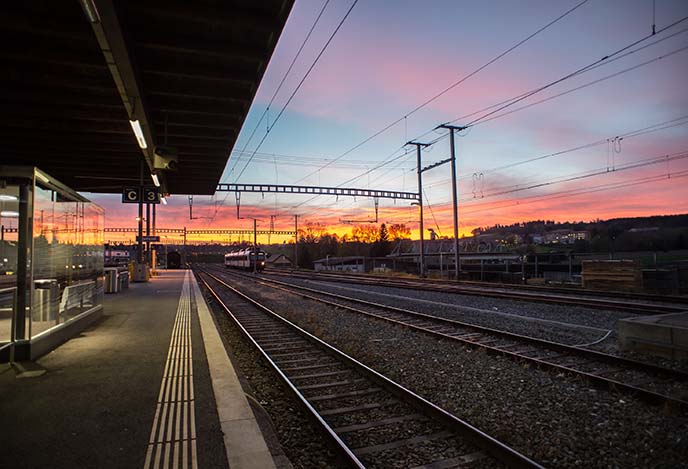 My Swiss cheese feast at Chalet was one of the most memorable meals I've had in Europe. We literally were in a food coma after, and dozed off on the train ride back! Fortunately, we woke up in time to make our connections back to Geneve, and capture this psychedelic sunset.
Merci La Gruyère Tourisme and Switzerland Tourism for welcoming us to this adorable Alpine town! If only I had room in my suitcase, to bring back a big hunk of Swiss cheese.
PS: For a look at the sci-fi side of Gruyeres, check out my article about the H R Giger alien museum and bar here.
PPS: If you're coveting an extraterrestrial sweater like mine, click the image below!

Star Beast achievement unlocked. I made it to the HR Giger Museum and Bar in Switzerland! 
While in Europe last fall, I made a weekend detour to Gruyères to see the museum dedicated to one of my favorite artists: H.R. Giger. I'm sure you'll recognize his surrealist concept art for Alien, Species, Poltergeist 2, the never-made Dune, and other sci-fi horror films.
If you share my fascination with Giger's biomechanical visions, then this travel story will make you want to drop everything and fly to Switzerland. Read on for a tour of the Giger museum and bar, including exclusive photos of his rare artwork inside the chateau!
This unassuming Swiss castle houses a motherload of dark biomechanical creatures. Open since 1998, the museum contains some of Giger's most famous works, as well as rare early pieces and erotic art. We're grateful to La Gruyère Tourism for the warm welcome and help with journalist access to the museum.
Outfit Details: It seemed appropriate to dress cybergoth for the occasion. My outfit is 100% Cyberdog: I layered their semi-sheer bodycon dress, alien "yogalien" tank top, and black mesh hooded long sleeved top. Cyberdog's futuristic sci-fi fashion is sold online, as well as in their giant Camden Market store.
Giger museum access / How to get here: Photographer Joey Wong and I came from London, and it only took us 1.5 hours to fly to Geneva. We then traveled from Geneva to Gruyeres by train, using the First Class Swiss Travel Pass from Switzerland Tourism. This gave us unfettered access to the country's trains, buses and boats; it turned out to be a beautiful journey through the countryside, which I'll show you in an upcoming post.
Musee HR Giger address: Château St. Germain, Rue du Château 2, 1663 Greyerz, canton Fribourg, Switzerland. Gruyeres is a small town with only about 2000 inhabitants, so the museum is easy to find.
The cosmic horror begins outside the museum, which is flanked by several ominous sculptures. The front entrance has a metal adaptation of his painting Gebärmaschine ("Birth Machine") from 1967. Giger created this work as a commentary on population growth.
The "birth machine" depicts goggled babies holding guns, sitting on bullets inside a larger pistol. Giger meant to convey that the babies would be shot out, but in fact, only their heads would be (the decapitated bodies would remain in the bullet casing). Somehow, that seems more fitting for this master of sci-fi terror!
On the left, the front staircase has the coolest handrail ever — a twisting alien spinal cord. 
Starting with the exterior, the museum evokes a feeling of dark, otherworldly mystery that is quintessentially HR Giger.
(My silver futuristic hair clip is Hair DesignAccess by Sylvain Le Hen.)
These extraterrestrial figures convey Giger's signature aesthetic, which he called "biomechanical." The term describes his surrealistic approach, which fuses organic elements with the mechanical. Part human and part machine — melded together in a beautiful yet uneasy alien hybrid. 
Giger's forms tend to resemble human bodies, but with a deadly twist. It's surprisingly powerful to stumble across these cosmic creatures in Gruyeres, an otherwise quaint Swiss village.
Science fiction, double feature. My magenta to purple ombre hair is by Chad Evans in Vancouver, BC.
My black leather Gothic shoes with silver buckles are similar to these boots; click below for more options.

This elegant building is Château St. Germain, which dates back to 1663. HR Giger visited Gruyeres several times, and had an exhibition in the village. He fell in love with the scenic region, and bought this Swiss castle in 1997.
Since there was massive demand, Giger turned St Germain Castle into a museum with architect Roger Cottier. In 1998, the H.R. Giger Museum first opened its doors. It remains the permanent home to most of his key works, as well as the largest collection of his furniture, paintings and sculptures from over the years.
Visitors aren't allowed to take photographs inside, but we were lucky to have media access. Read on for exclusive images of Giger's works within the museum. But first…
… let's head next door to the The Museum HR Giger Bar, which opened in Gruyeres in 2003! 
My dress and collar are by Cyberdog. Silver radiator bracelet by Alex Streeter.
Step inside, and your jaw will drop — it's like entering another universe! H.R. Giger designed the bar in a way that preserves the 400 year old Gothic architecture. He heightens the cavernous effect with dramatic skeletal arches that sweep over the ceiling. 
Beneath these bony vaults are high-backed shell-like chairs. They were originally designed as a Harkonnen throne for the Dune film that never got made. (Keep reading to see another variant of the seats inside the museum).
I love how Giger turned the Medieval cathedral-like space into a bio-mechanical vision of the future. What an incredible feeling to curl up in one of these spinal chairs at the circular windows, and feel like you've been swallowed up by an intergalactic beast.
Tip: the Giger bar is extremely popular with tourists, so try to avoid lunch time and other peak hours. You may have to wait a while to get a seat at your preferred table. Above are photos from their website to give you a sense of the space and custom furniture; it was difficult to capture with all the visitors around.
The Gruyeres Giger bar is actually the fourth one ever built. Only one other location remains open: the H.R. Giger Bar in Chur, Switzerland (his place of birth), established 1992. The Chur interior has a similar backbone design, but it's not as impressive as the bar beside the museum, which is the most famous one.
There was also a Giger Bar inside Peter Gatien's legendary Limelight club in NYC, the site of many decadent Gothic and Club Kid parties. Sadly, when it closed in the 1990s, the bar did as well.
The earliest HR Giger bar was built in the late 1980s, in Japan! It was located in Shirokanedai, the Minato district of Tokyo. However, Giger grew dissatisfied with the Japanese builders and strict codes (for example, they couldn't realize his idea of having private booths that doubled as individual elevators, moving up and down the bar). He ended his involvement with the Tokyo Giger bar, and it closed soon after.
As you can see from the menu board, Bar HR Giger serves drinks and small snacks, including themed items. You can sip a Giger mojito, or dare to order the mysterious "Dark Shadow." My Gothic preference is the HR Giger Absinthe, whcih I tried in Osaka, Japan.
The most visually interesting dish is the Alien Coffee, which comes on a wooden tray with little meringues, and honey herb liqueur.
Ready to head inside Chateau St. Germain, and take a tour of the Giger Museum? Let's do it.
Just beware… xenomorphs lurk in the ceiling corners, waiting to attack you!
So, who is this twisted genius behind these creations? Hans-Rudolf (HR) Giger was born in 1940 in Chur, an Alpine city in the eastern part of Switzerland east. He moved to Zurich to study architecture and industrial design, and became known for illustrations and paintings that fuse humans and machine.
H.R. Giger is best known as the concept artist behind Ridley Scott's "Alien" movie, which came out in 1979 and revolutionized science fiction horror films.
Above is his visualization of the "face hugger," the portion of the Alien's life cycle where it attaches to your face, and implants larvae through your mouth. When the babies mature, they burst through the human host's chest in a bloody explosion — and continue to mature and stalk more prey.
H. R. Giger was making terrifying imagery well before he joined the Alien movie. In 1977, he published a compendium of his art in a tome called the Necronomicon (much like HP Lovecraft's collection of horror stories). During pre-production, director Ridley Scott got hold of the book, and immediately hired Giger to create the visuals for Alien.
The Gruyeres museum contains Spell IV, the gigantic work that graces the cover of Giger's Necronomicon. It's a painting of Baphomet the Sabbatic Goat, with Satanic pentagrams and serpents in his signature color palate.
Alien's impact earned the Swiss artist an Academy Award in 1980, for Best Achievement in Visual Effects. The Oscar statue is on display if you look closely, beneath one of the ancient staircases in the museum.
Ridley Scott liked Giger's 1976 painting "Necronom IV," which shows a being with an elongated skull, steel-like ribcage and pointed teeth. He asked Giger to create the alien based on the design…
… and so, Giger gave birth to Xenomorph XX121! (The name refers to the alien species, and translates to "strange form" in Greek).
The museum has several xenomorphs of various sizes, ready to pounce on you. The largest one stands tall inside this glass display case (but if you recall the Prometheus birth scene, that wouldn't even hold a newborn alien for long…)
If you've seen the Alien series, you'll know to watch out for the segmented blade-tipped tails, burning acidic blood — and double-jawed set of teeth that extend out to pierce your flesh!
As you walk through the museum and take in the wall-to-ceiling art, you'll realize that Giger has an entire pantheon of dark creatures. Above is Li II, inspired by his lover at the time, actress Li Tobler. She tore up the original Li painting because she thought it made her look ugly!
The HR Giger Museum is larger than you'd expect from the outside. Since it's located in a 17th century castle, there are unexpected stairwells, rooms and hallways to navigate.
I enjoyed seeing Giger's earliest works, from the 1960s: biomechanical otherworldly forms in  acrylic and India ink on paper on wood. He truly was ahead of his time.
These busts made me think of the Alien movie tagline: "In space no one can hear you scream."
One section of the museum is adults only, and hidden behind a black curtain. Inside, the room is illuminated in red light and lined with his raciest works. Many of these sketches and sculptures have graphic imagery and Satanic overtones.
These cyborg fantasies were particularly shocking to conservatives of his time. Looking at his works today, it's amazing to realize how much Giger has inspired everything from cyberpunk to tech design.
One of the largest rooms contains black Harkonnen Capo chairs around a table with biomechanical legs. This was one of Giger's designs for Alejandro Jodorowsky, who was set to direct a movie adaptation of Dune, Frank Herbert's influential sci-fi novel (and one of my personal favorites). Unfortunately, the 1976 film never got past pre-production and eventually was passed on to director David Lynch, who did not use Giger's conceptualizations.
Where did Giger's demonic imagination come from? Partly from night terrors. The Swiss artist kept a sketchbook next to his bed, and would jot down these visions.
Giger (pictured above) was known to incorporate Satanic and occult imagery into his work. He even released a Baphomet Tarot card deck. 
I channeled Ellen Ripley (played by Sigourney Weaver) and got into a close encounter with a Xenomorph… maybe too close. On the left, Giger's concept art for Species, the 1995 movie starring Natasha Henstridge.
Giger had always worked with various media, but started focusing on sculptures in the mid-1990s. He's even designed album covers and computer games over the years, always with haunting hybrids of human and machinery.
It was a treat to see Giger's lesser-known works, including mirrors and light fixtures… and even giant wristwatches.
On the top level, there were these two portraits of the artist. HR Giger worked up to the end of his life in 2014, when he died from injuries after a fall on the stairs.
The top floor of the museum houses Giger's personal art collection. There are works by Salvador Dali, mixed in with creepy totems picked up during his travels.
The H.R. Giger Museum Gallery also exhibits rotating works by contemporary artists, who share his love of fantasy and surrealism.
Don't forget to look out the top floor window, for this gorgeous view of Gruyeres. No wonder Giger stayed in Switzerland and built his museum here, even though he could have lived anywhere.
As you leave, check out the Giger gift shop. It sells books, prints, cups, absinthe… or how about a giant alien head?
Mind blown after stepping into the dystopian world of Giger. It's amazing to have so many of his seminal works in one beautiful village.
In the words of Alien director Ridley Scott: "At its essence, Giger's art digs down into our psyches and touches our very deepest primal instincts and fears. His art stands in a category of its own."
I hope you'll have the chance to make the journey to Gruyeres, and take photos with his deadly star beasts!
For visiting info, here's the website for the H.R. Giger Bar. Don't forget to allow a lot of time in Gruyeres, as there may be a lineup. You can always hang out outside, and take photos with the alien-sculpted floor!
And here is more info on the Museum HR Giger website, including opening hours, admission rates, tickets and more.
I leave you with a line by HP Lovecraft, from his horror story "Pickman's Model," as I feel it captures Giger's power.
He's an artist who "knows the actual anatomy of the terrible or the physiology of fear — the exact sort of lines and proportions that connect up with latent instincts or hereditary memories of fright, and the proper color contrasts and lighting effects to stir the dormant sense of strangeness."
Are you also a fan of HR Giger's oeuvre? Would you want to visit his Swiss bar and museum? Coming up, I'll show you more from Gruyeres, including the chateau and cheese.
If you enjoyed this in-depth post, I hope you'll take a minute to share it on Facebook and social media. I appreciate it, and am excited to bring more travel stories like this to you!