Eero Aarnio furniture exhibition in Helsinki, Finland! Moomin stores, Loyly sauna restaurant, Design Museo.
A dark, cute welcome from Helsinki, Finland! Land of death metal and modern interior design. I think I'll fit in quite nicely, don't you agree?
On my first day in Finlandia, I went to the Design District and saw a groovy Eero Aarnio exhibit (he's the inventor of the Ball Chair). I stopped by the Moomin and Marimekko shops, and ended up at a restaurant/sauna overlooking the waters, sipping herbal gin and tonics.
But first, coffee… and the outfit of the day. The "Noir" sign behind me happened to match my look.
– I'm wearing a pentagram dress by Black Milk (who also make this Game of Thrones dress).
– My striped platform shoes are by Le Babe, who also makes these black pumps. My kawaii bag looks like a Totoro sprite, but it's by Mini Cream in Hong Kong.
I love this spider jacket so much. It's this exact Disturbia Black Widow bomber. The brand also makes a jacket with a skull on the back, and one with a rainbow Lucifer.
Click below for these clothes and more from Disturbia:

And who is this cutie? It's the Brown (Line friends bear) lamp, which just arrived from my friends MrMaria! 
This kawaii character gives you a hint at my next destination… To find out where I'll be, read on to the end of this post.
From our suite at Scandic Hotels, it was a easy walk to the major districts of Helsinki. I found a park with tall tombstones under grey skies. This city seems to be made for Goths!
The Finns are known for their modern interior design and architecture. My filmmakers and I had brunch at Block by Dylan, a perfect example of the hip, minimalist Scandinavian aesthetic that we saw all over the city.
We sat by the huge windows that overlook the harbor and Old Market Hall. I smiled at the graphic artwork that peeked out from the layered woodblock walls.
Block by Dylan serves breakfast, lunch and brunch buffet-style. This gave me a chance to try a bite of everything. I am still dreaming of the Finnish berries, tiny and rich in antioxidants, which I ate on top of mango quark. Nordic Europe's dark breads and smoked salmon are also beyond compare.
The friendly manager surprised us fizzy glasses of gin and tonics. I'm holding one of the best (and prettiest) G&Ts you'll ever get to try. The cocktail is made with Napue, a world-famous local gin infused with botanicals, and garnished with cranberries.
Our good mood got even better when we arived at DesignMuseo, Helsinki's design museum. They've gathered the most extensive collection of Eero Aarnio works, and put them on display in a playful space. (The exhibit ends on til Sept 25, so I hope you'll catch it if you're in town.)
I'm a longtime fan of Eero Aarnio, a Finnish designer known for his mod furniture designs from the 1960s onward. Above, I'm sure you have seen his Puppy chair design.
To fit the "Swinging Sixties" feeling, DesignMuseo put his works on giant Roombas! These platforms spin around and move across the room, reacting to your movements. (You've got to see this in action, so here's a video of me walking through the exhibit.)
Thanks to the rotating disks, I got to see Eero Aarnio's Tomato Chair and Pastil Chair from every angle.
Do you recognize the space-age Ball Chair above? It also comes in a swing version (which I later got to sit in).
Eero Aarnio became an international sensation with the release of the Ball chair, in the mid 1960s. I personally always wanted one of his Pony Chairs, which kind of looks like a bear. 
Eero Aarnio broke conventions about how furniture should look and feel. His mod designs are all about curves, fun and imagination.
For the first time, I got to see his rare original sketches, and retro images such as this girl sitting in his Pastil Chair.
One of the rooms highlighted the production process,  and how he molds materials into geometric forms. To this day, Eero Aarnio continues to create new designs from his studio, including toys and furniture for children. 
(I'd go on a ride on his Pony Chair, any day!)
I walked through the other floors of the Design Museo: there was a feature on innovative interiors, and a permanent gallery of Scandinavian furniture and home objects throughout the years.
The gift shop is a must-see. Eero Aarnio brings his signature aesthetic to everything from licorice boxes to watering cans. (His furniture is available for sale worldwide; browse below to learn more.)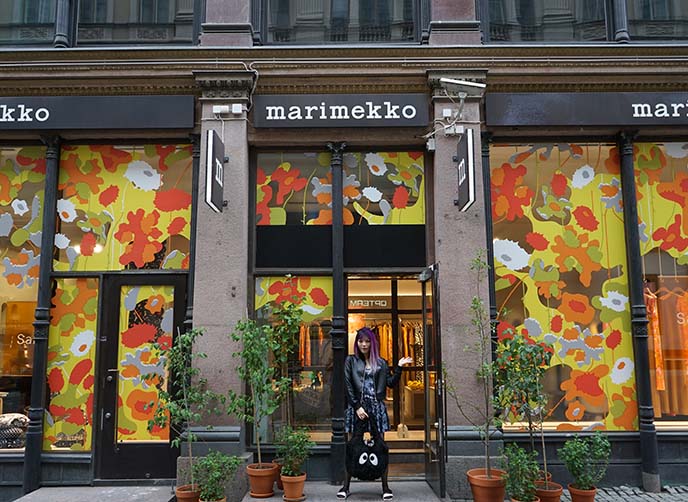 The museum is located in Helsinki's Design District, which is a joy to explore. I encourage you to walk around and pop into the various local stores, to admire the avantgarde furniture.
And you can't miss Marimekko, the famous Finnish designer with locations all over the city.
This large Marimekko store is in Esplanadi, a central esplanade and park.
Like Eero Aarnio, this Finnish home furnishings and fashion company made waves in the 1960s. Marimekko's bright, simple designs — often featuring stripes and flowers — are recognizable worldwide.
But Finland's cutest character… is beloved Moomin! Finnish illustrator/writer Tove Jansson created the Mumintroll, a white hippo-like creature that lives in the Moominvalley with equally adorable friends.
When I saw this pastel-colored store near Esplanadi, I couldn't resist going in and giving Moomin a hug. I later visited the mascot's store in the Forum shopping complex, and picked up some souvenirs.
(You can find the addresses of the Moomin stores worldwide, on their site. There's a Moomin cafe in Japan, too — remember when I went?)
The Moomin store in Helsinki's Forum Mall has a wide selection of goods, guarded by the mischevious Mymble's daughter.
(My favorites are these Moomin bowls, cute mugs and these colorful wallets.)
Don't worry — if you aren't anywhere near Scandinavia, you can still get Mumintroll goods online. Check it out below:

We were in Finland in August, meaning that the sun didn't set until 10pm!
This gave us plenty of time to relax over dinner at Löyly, a recently-opened restaurant and sauna. There's a huge patio, giving an Viking view of the waters.
Saunas are big in Finland. It's part of the culture and lifestyle: a way to unwind, with family and friends.
Loyly is an all-in-one destination, encased in this contemporary geometric wood structure. You can sweat it out in a traditional smoke or wood-burning sauna, and cool off by diving into the waters below. Then, head to the restaurant section for a hearty meal and drinks.
The cocktails once again specialize in gin and herbal mixtures. Loyly's menu takes an environmentally-conscious approach: all the meats are local, and free-range or game. We tried the reindeer meatballs with lingonberry jam, and a creamy salmon soup: magnificent.
At Loyly, it's easy to pretend you are a Viking, with these epic views from the terrace that stretches out over the sea.
(I'm wearing this exact Disturbia spider bomber jacket. This label also has a skull version, and a Lucifer jacket.)
What did you think of my "noir" adventures in Helsinki so far? (All photos by Borderless Media.)
Finally, here's a peek-a-boo from my new Line Friends Brown bear lamp, by the Dutch designers MrMaria!
They also make the Miffy lamp that I own, as well as other cute animal and character lights (see the full collection on Mr Maria's site).
As you know, I'm a long time fan of Brown, the poker-faced bear from the Line Friends app. (Remember when I visited the giant Brown in the Harajuku store?)
I can't help but smile when I look at MrMaria's latest lamp. They're a playful design studio based in the Netherlands, specialising in modern, minimal and kawaii home decor. (It's no surprise that I love their works.)
The small Brown lamp is perfect for my side table, and will match well with my XL Miffy Lamp.
As you can see, the perfectly round head and details are impeccable. This is top craftsmanship, with safe and warm dimmable LED lights, and options for international power connectors (so it can plug into any type of socket).
Brown comes in a large size as well. He'd look great in a child's bedroom, or a minimal-modern apartment like mine.
Cheers to MrMaria for producing such delightful works, filled with heart and imagination! This new release is magnificent, and I can't wait to see what they create next.
Line Friends originated in Japan… and you guessed it, that's where I will be next! I'm so excited to travel all around Japan, with JRailPass. I have unlimited access to trains, so I'll be in Tokyo, Kyoto, Kobe, Koyasan (Buddhist temple retreat!) and Osaka.
If you're in Tokyo on Saturday, Sept 24 — I invite you to party with me at Midnight Mess, Tokyo's longest running Goth night! Mistress Maya throws the best Goth parties in the city — as you may remember from past blog posts. The crowd is wonderfully inclusive, and you'll recognize a lot of familiar faces from this blog.
Dance with me to EBM, Gothic, Industrial music at Bar Shifty in Shibuya, from 10:30pm to dawn. Find out more about the "Nightmare before the 14th Anniversary" event here, and hope to see you at Midnight Mess on Sept 24!
Stay tuned to my social media @lacarmina to see my train travels in Japan!
And more from Hell-Sinki to come… steampunk bars and pirate cafes await…
(If you enjoyed the fashion and design in this post, you can shop it below.)