Category Archive for
Scandinavia + Nordic Europe
After the holidays and a much-needed catch up break, I'm thrilled to be on the road again!
I'm heading back to Europe this month, so I thought I'd do a final flash-back to my travels in Estonia.
Last summer,  I explored the hipster side of Tallinn — art factories, local fashion and design collectives. (Remember when I visited the Estonian Depeche Mode bar?)
Next week, I'll be back in the EU… this time, in the land of Miffy!
iAmsterdam is flying me to Amsterdam, where I'll be covering the cool culture of the city. You may recall that I previously went to the Miffy / Nijntje museum in Utrecht, a kawaii dream come true. If you're a fan of the Dutch bunny, check out these goodies below with a click:

I'm also heading to Athens, thanks to Marketing Greece! Get ready for the Acropolis, LGBT clubs and Greek island-hopping… Be sure to follow along on my Snapchat and Instagram (@lacarmina) for previews.
Now, let's talk about Tallinn. As you can see from these photos alone, this is one hip city. My team and I encountered a burgeoning creative culture in Estonia, which is located south of Finland, north of Latvia, and west of Russia.
Estonia was a "Soviet socialist republic" from 1940-1991 (gaining independence when the USSR collapsed). This era resulted in some intriguing cyberpunk relics such as this apocalyptic steam plant, which has been converted into a creative art hub. (More about this later in the post).
If you're interested in Tallinn's art scene, you've got to visit Telliskivi Creative City. This abandoned factory area has been reclaimed as an urban space, and is now home to the biggest artistic hub in the country.
Telliskivi spans 25,000 square meters, and contains over 200 independent businesses and non-profits. The crumbling structures have been converted into an artistic, alternative, public space. For example, the run-down walls by the railroad tracks are now covered in colorful murals.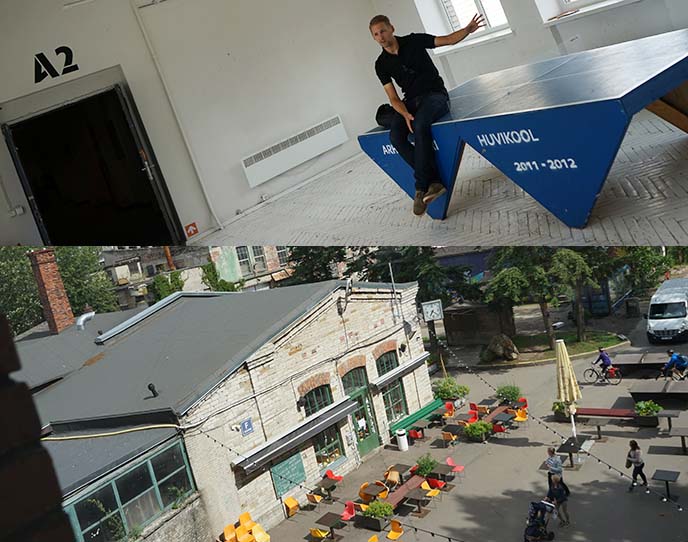 We met Jaanus Juss, the young founder and CEO of Telliskivi Loomelinnak. He talked about his vision of bringing together a wide variety of creatives, in an inspiring co-op space.
The "creative city" currently includes organic cafes, a printing shop, furniture makers, an antique book store, yoga studio, and childcare center. The residents also run regular dance evenings and flea markets.
The entire space is a canvas. As we walked around, we saw giant art installations and beautifully executed murals like the one above.
Telliskivi has revolving pop-up stores, which give local designers a chance to showcase their handmade arts, crafts and fashion.
Love these geometric concrete cacti planters.
In Telliskivi, the possibilities for artistic expression are endless. We passed by ateliers, workshops, a theater, galleries…
… and an architect's studio (above). We also tasted the world's best dark grain bread — no exaggeration — at Muhu Bakery (Muhu Pagarid). The brown rye loaves are baked fresh, with sunflower, hemp and flax seeds. Straight out of the oven, this hearty Estonian bread is a revelation!
Jaanus took us into one of the buildings that has yet to be restored. As we walked up the stairs, we glimpsed the scrawls of angels and demons. 
We made it to the rooftop, where he pointed out the first graffiti in Estonia. (Street art was previously frowned upon in Tallinn.)
We had a brilliant view of the entire collective, including the bordering train tracks and Old Town.
Back on the ground, we took a peek inside a bike shop. The skull art caught my eye.
Telliskivi was established in 2009, but the Baltic Railway buildings date back to 1869. I'm eager to see how this vibrant, creative city will keep on evolving over time.
The Baltics (Lithuania, Latvia, Estonia) currently have a thriving artistic scene — perhaps because these countries are now free from the USSR, and spreading their wings creatively. Cities like Tallinn are liberal, yet have a low cost of living: the perfect breeding ground for young artists.
This is certainly the case at Tallinn Creative Hub, a center for cultural events in the heart of the city. Behind these big red doors, there are workshops, festivals, exhibits, seminars and other creative enterprises.
This building was once the Tallinn City Central Power Station, which operated between 1913 and 1979. The current incarnation preserves the boiler room, gas reservoir and brick chimney — giving the venue a Steampunk meets Gothic vibe.
In 1977, director Andrei Tarkovsky used the power plant as the set for his cult film, "Stalker." My jaw dropped when I walked into "Cauldron Hall" — a high-ceilinged room that looks straight out of Mad Max or Blade Runner! 
These precarious, rusted ladders and balconies look like a post-apocalyptic set. It can be rented out for events — I'd have an epic "end of the world" party here.
Tallinn Creative Hub's cavernous spaces include a Maker Lab (workshop with various machines), recording studio, and food lab (for experimenting with recipes). There's also a community garden and cafe, free for locals to enjoy.
Outside, I walked up the "stairway to nowhere" — Linnahall. It's a large, grey, concrete staircase that doesn't really lead to anything (how surreal and Soviet)! Linna Hall was a sports venue built for the 1980 Olympics, situated on the harbour, but it's fallen into disuse today.
Back to Old Town, where we popped into the design store Tali. Everything here is made by local designers — jewelry, leather goods, clothing, and furniture.
I'm a fan of modern Estonian designs, which tend to have minimal, geometric forms (as characteristic of Northern Europe). The works are stylish, yet with a sense of humor.
The cute animal sleep masks and wooden bow ties were among my favorites, and are great souvenirs.
We also paid a visit to Estonian Design House, home to several studios and the headquarters of the Estonian Association of Designers.
There's an impressive selection of upcycled fashion, quirky lighting, hipster backpacks, sleek jewelry and posters.
Upstairs, I got a tour of Stella Soomlais studio. She makes custom leather accessories for men and women, such as the sleek black wallet I'm holding.
I love how Estonian art isn't afraid to "keep it weird." The octopus and rooster-headed photographs made me laugh.
Last stop: the Contemporary Art Museum of Estonia (EKKM). This non-profit initiative has a DIY feeling, with a cafe in the entrance hall, and an adorable flower garden in the back.
We saw the self-titled solo exhibition of Alice Kask, an Estonian painter. Her works use materials such as old wooden boards, which stand out against the stark, industrial walls.
Alice Kask's works have elements of surrealism, which I love. They touch upon themes such as the body, media images, and symbolism vs reality.
The Contemporary Art Museum of Tallinn brings in works both from Estonia and worldwide. Their rotating exhibitions always have a strong voice.
Her painting style is striking and a bit unnerving. Alice depicts human bodies with realistic strokes, but then gives them a bizarre twist and surrounds them in abstract space.
Isn't the art scene in Estonia intriguing? Thanks to Visit Tallinn for inviting us, and showing us around.
(All photos by Borderless Media.)
For more, check out my post about Estonian cuisine and the Depeche Mode bar here.
And now, I'm off to Europe again… dancing with joy. Can't wait to share travel stories from Amsterdam and Athens with you soon!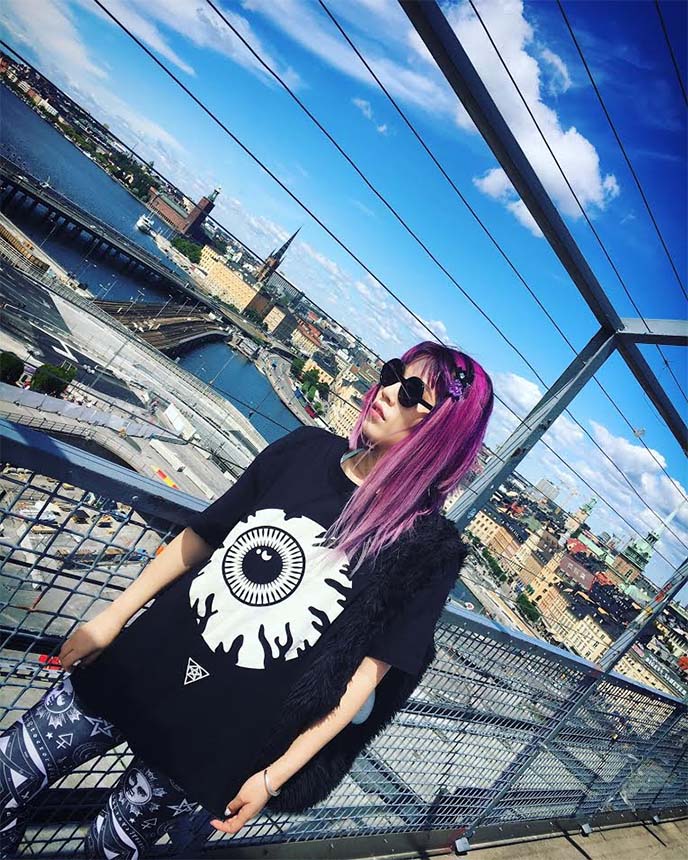 I spy, with my giant eye… Stockholm!  (My eye-catching top is by Long Clothing and these leggings are Killstar.)
I have quite a few friends from Sweden, but didn't make it to Scandinavia until last summer. I was curious about the young / artsy / subculture side of the city, so we spent the day exploring. I thought I'd share my findings in this hipster travel guide to Stockholm.
Along the way, I found the perfect outfit post location: Stockholm Cathedral's doorway, topped with a spooky black triangle. I'm wearing a Long Clothing x Mishka eyeball shirt, and these exact minimalist sandals.
Long Clothing's designs are great for travel, as they're stylish and easy to match, and also comfortable and lightweight. Below are some of my favorites from their collection.
Since it's still freezing in many parts of the world, I thought it would be nice to have a flashback to summer. Many tourists consider this the best time to visit Stockholm, as the weather is pleasingly warm.
My friends and I spent the entire day walking around the city — and it was perfection. From our Grand Central by Scandic hotel in Norrmalm (north of the city center), we walked south to Gamla Stan (the Old Town district, consisting of Stadsholmen island and a few islets).
Gamla Stan dates back to the 13th century. The cobbled streets and classic architecture give it an old time charm. I loved walking around these streets and admiring the historical buildings.
Some of these streets are very touristy, but there are also fun stores such as "Science Fiction Bokhandeln" (a fantasy / sci-fo bookstore) and "Zapata," a hippie counterculture shop where Yukiro buys some of his clothes.
Close-up on my Long Clothing oversize and pentagram leggings by Killstar. More from this Gothic occult designer below (click to see details):
Stockholm Royal Palace, Parliament and other government buildings are also located in Old Town. How neat are the Gothic pointed spires that pierce the skyline? And these manicured shrubs look like they were pruned by Edward Scissorhands.
I enjoyed the sweeping 18th century stairwells of Stockholm Palace — but this archway was a better fit for my style! The giant wooden doors lead into Stockholm Cathedral, which was built in 1279. The golden Medieval interior has hosted many a royal wedding.
This triangular symbol has a Freemason and occult vibe. However, it's apparently a symbol of the Holy Trinity radiating golden light.
(I'm wearing street style by Long Clothing, who also make:)
We kept on strolling… until I saw these happy Moomin figures, and ran straight in. This is a shop that sells cute character goods and souvenirs.
Moomin is the white, globular mascot created by illustrator Tove Jansson. (You may recall that I went to the Helsinki Moomin shop.)
Tove was born in Finland, but grew up speaking Swedish and studied art in Stockholm —  so both countries claim Moomin as their own. 
We crossed yet another bridge (Stockholm has many) — this time from Gamla Stan to Södermalm. "Soder" was once the working class district, but now it's gentrified and home to a bohemian and cultural scene. Many scenes in "The Girl with the Dragon Tattoo" were set here.
There's an incredble viewpoint here: "Katarinahissen" or Katarina Elevator. This steam-powered elevator was built in 1882 and powered by steam — very much ahead of its time, and steampunk to the max.
Today, Katarina Hissen is no longer in operation, but you can climb the stairs to reach the top (and it's open 24 hours). The cardio workout is worth it, for these incredible city views.
(All photography by Joey Wong.)
Stockholm is actually situated on 14 islands, which you can see from up here. No wonder it's often called he "Venice of the north."
(I got this cute bag from Hong Kong, but there's a similar Harajuku ghost backpack by Killstar.)
In my previous post, you'll recall that we visited the hipster district of Hornstull.
There's another hip haven in Södermalm: SoFo, short for "South of Folkungagatan." These blocks are a collective of indie fashion, vintage shops, cute cafes and artsy bars.
The ironically named Grandpa is all about young fashion and interiors. The shop has a Kinfolk-worthy atmosphere, and all the brands are carefully chosen. You'll find eco-friendly clothing, minimalist and subculture-inspired styles, and metallic Scandinavian home decor.
Behind me, I spy a rack of granny dresses, bicycles, and outdoor tables. (My leggings are Killstar; more pentagram witch fashion below:)
I spotted pink flamingos int front of this SoFo store. Coctail is a rainbow of cute retro maximalist kitsch.
I spotted a Miffy lamp, hovering on a cloud. This collection of colorful Mexican sugar skulls also drew my attention.
Don't miss out on SoFo's Pet Sounds record store. Run by music buffs, the shop has a delectable selection of vinyl records, CDs and DVDs.
I'm looking at disco rarities, of course. Pet Sounds has albums for the most obscure of tastes, including collector's items from around the world.
(See more items from Kill Star below:)
Last stop: the Fotografiska Museet, or Stockholm Photography Museum. I sometimes find photo exhibits to be hit-or-miss, but this museum had multiple floors filled with thought-provoking works.
The most compelling gallery was "Inherit the Dust" by Nick Brandt. In a "making of" video, I was amazed at the photographer's process. Nick blew up prints of his earlier wildlife photos, turned them into life-sized panels, and placed them in the slums and quarries of East Africa. He found locations that matched up the mountain ranges and backgrounds seamlessly, making it seem as if elephants and leopards were roaming these industrial wastelands.
There's no Photoshop in these black and white panoramas. The contrast between nature and uncontrolled development is startling.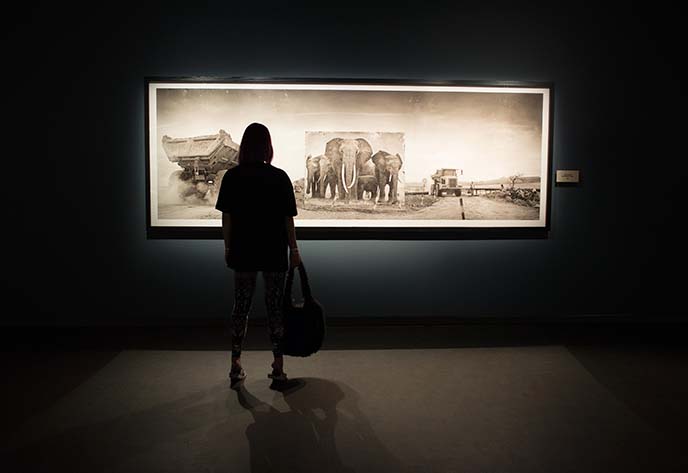 One of the most painful photos shows a drug squat, filled with addicts with glue bottles hanging from their noses, ignoring the giant elephant print looming next to them. If you're intrigued, I encourage you to look up Nick Brandt's photography about disappearing Africa.
All in all, I was very impressed by Stockholm's museums. (I also saw and reviewed the Yayoi Kusama art show, at Moderna Museet.)
Isn't Stockholm one sweet city? I hope this travel guide helps you plan a visit.
And if you're looking for a hip hotel in Stockholm, here's our review of Grand Central by Scandic.
How do you like my Nu Goth outfit of the day? There's more from these designers below!