Brussels local fashion boutiques! Shopping in Dansaert, Stijl Belgian designers, Lunetier Ludovic.
Can you tell I was delighted to be in Brussels? I got an inside look at the local fashion scene, thanks to the special arrangements by Belgium Tourism Board.
We filmed stories in three very different boutiques: glasses, jewelry, designer couture. I also found out why Brussel's Dansaert shopping street is known as one of the coolest in Europe.
PS – if you want to buy this Miffy shirt, it's available on my Depop shop along with many new items… Email me (gothiccarmina att gmail dotcom)  and let me know what you'd like from my clothing sale, before it's all gone!
First stop on my Brussels fashion tour — a unique eyeglasses shop.
These days, glasses have become a style statement. Lunetier Ludovic is the vision of Ludovic Elens, a Belgian optometrist who crafts distinctive frames by hand.
We loved the vintage vibe of Lunetier Ludovic boutique (Address: Ernest Allardstraat 14, 1000 Brussel).
I'm a glasses-wearer myself (although you usually see me in contact lenses), and quite picky about frames. My favorite styles come from Europe — where the designs tend to have a minimal, modern aesthetic.
Ludovic's glasses stand out because of his handcrafted techniques and quality materials, sourced from around the world. I tried on a few frames made out of Buffalo horn and cellulose acetate.
Lunetier Ludovic's storefront displays his own collection, as well as other indie glasses brands.
He is passionate about offering a bespoke experience for his clients. In the age of machines, Ludovic's work is a throwback to the days when artisans used their hands and simple tools to craft spectacles, from raw materials.
I loved the unique shape and speckled pattern of these eyeglasses.
Ludovic told me that he didn't feel there was a single style that best suited certain face shapes. Instead, he aims to make glasses that reflect his clients' personalities. 
We went downstairs to his workshop. Ludovic showed me how to cut silhouettes from raw acetate slabs, and polish them to perfection on a spinning tool. He often spends weeks refining a single pair of glasses, as each order is individually made and customized to the client.
So cool to see the artistic process from start to finish, at Lunetier Ludovic. The Belgian designer has a knack for capturing the customer's individuality through his handmade designs.
The inspiration continued at Bel' Arte,  a lively boutique run by a young couple. Everything here is made by independent Belgian designers. (Address: Rue de Flandre 53, 1000 Bruxelles)
Bel'Arte has the goal of highlighting local artisans, who often don't have the opportunity to display their goods in stores. I browsed one-of-a-kind jewelry, leather goods, furniture, lighting and other design items.
Very impressed by the skill of these young Belgian artists. These twisty rings and earrings would be fantastic gifts, as they can only be found here.
(All photos by Borderless Media – and our travel video will be out soon.)
I wore a Miffy outfit that day (it's available for sale on my shop!), and found my bunny boyfriend at Stijl — a famous boutique for Belgian designers. (There are separate shops for men and women; the latter is at Rue Antoine Dansaertstraat 74, 1000 Brussels).
In the 1980s, this neighborhood had very few attractions. Stijl opened in 1984, and transformed Dansaert into the cutting-edge fashion destination that it is today.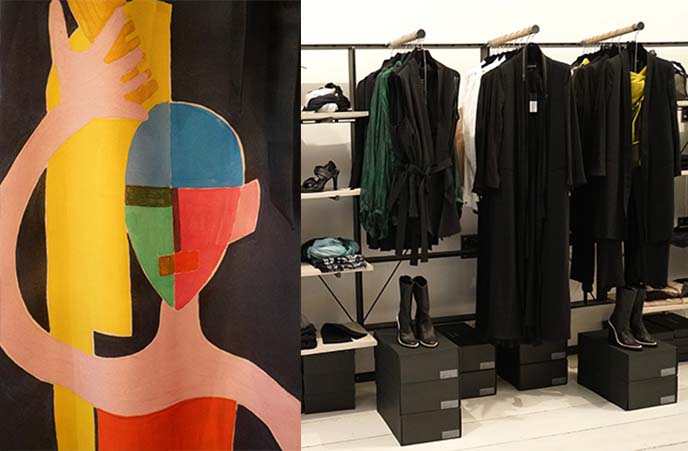 I interviewed Sonia Noël, the founder and owner. She wanted Stijl to be a platform for young Belgian designers to show their works.
Thanks to her initiative, these little-known locals have become big names in the couture world: Dries van Noten, Rick Owens, Ann Demeulemeester and Raf Simons, to name a few.
Stijl carries the latest collections of these now-famous names. However, the store remains true to its original goal, and always gives space to up and coming Belgian designers. 
(Below are designs you can find at Stijl; click the images for details)

I loved seeing the sleek couture of Maison Martin Margiela and the "Antwerp Six", beautifully displayed in a single boutique. Stijl is a must-visit for those who appreciate fine fashion.
The entire Dansaert district is worth browsing. I spent hours looking at vintage and modern clothing stores, book shops… and even found this old building facade, next to Chicago Cafe.
I'll leave you with a look at the classic architecture in Brussels. The tourism board took us to lunch at the Musical Instrument Museum (MIM), known for its collection of over 8000 instruments.
You know I'm obsessed with Art Nouveau… what a treat to look out from the museum's rooftop! This swirling steel and glass structure was built in 1899.
We had lunch by the windows: a feast of Belgian specialties like French fries, Liege meatballs and tartines (open face sandwiches).
This is only an introduction to the spectacular food we ate in Belgium… There's much more to come, including a video and a chocolate tasting.
Did the style scene in Brussels surprise you? Are you familiar with Rick Owens, Dries Van Noten and other local designers? (Shop a selection below…)

PS – Thank you to Buzzfeed Travel for featuring me in a big article about Tokyo bizarre travel! It went viral and trended for days.
PPS – Since there was so much demand, I've added new Japanese Lolita dresses, Miffy tops and more to my Depop shop. My best items are now up, so come take a look and email me quickly to let me know what you'd like. I'll gladly do exact shipping, and discounts if you get more than one item. Have fun!
Come shop La Carmina's wardrobe sale here.