My Goth fashion blogger closet sale on Depop! Selling Gothic Lolita, Japanese clothing & accessories.
Ever wish you had pieces from my wardrobe? Well, now you can — because I've launched a store on Depop! 
I've listed hundreds of unique clothes and accessories for sale: including Gothic Lolita, pin-up, J-rock, kawaii styles.
Most of my items are rare, and found only in Japan. As a thank you for your support over the years, prices are low, and I'm willing to put together a bundle order for you at a discount. Email me (gothiccarmina att gmail dotcom) and let me know what you'd like!
Ready to shop? Then come over to my Depop store – username "lacarmina" – and pick out your favorites! (I ship worldwide; contact me if you have any questions, I respond to everything myself, and can send items with a personal photo and note.)
Click to shop La Carmina's closet sale now!
A lot of my clothing can't be found anywhere else on the Internet. I'm selling designs by Japanese underground brands — including several that no longer exist (like Banana Fish, Peace Now, Sex Pot Revenge).
For example, everything in the above photo is for sale (dress by Banana Fish, coffin backpack by h.Naoto, shoes by Yosuke). You can find it all here on my Depop shop.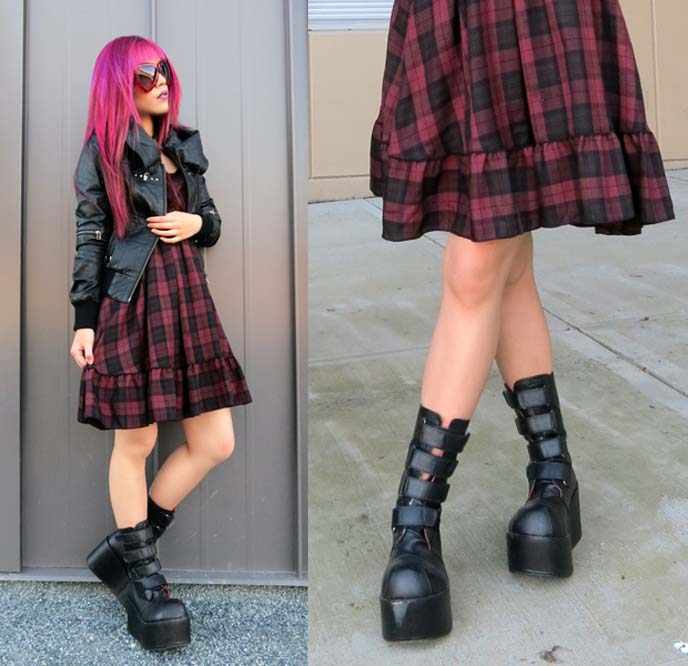 I've gotten many messages over the years from people who wanted to purchase my clothes — like the Miho Matsuda grunge dress above. However, I couldn't find an easy way to list and sell items.
Depop solved my problem. It's a free mobile app that makes buying/selling a breeze.
With a few taps on your cell phone, you can browse for goods (makeup, clothes, home decor) or put things up for sale. It takes me less than two minutes to snap a few photos, write a description and publish.
Above is a screenshot of my Depop store (lacarmina)! The app loads quickly, and has a fun visual layout similar to Instagram.
It's easy to click on an item to see more photos, and read the description (size, construction, etc). You can browse by hashtag or use the fast-loading search, and find beautiful designs for sale from all around the world.
I've worn a lot of my clothing only once for photoshoots, so they're in near-new condition.
Almost everything on my store is listed at 50%below the retail price, and I can ship to any address worldwide.
I'm selling a lot of my Gothic Lolita EGL dresses, skirts, corsets, accessories. These labels include Innocent World, Angelic Pretty, Baby the Stars Shine Bright, Alice and the Pirates. 
I've put up a fantastic selection of alternative, Goth and pin-up fashion. This Iron Fist dress and heart purse are available! 
Don't worry: my store has clothes in all sizes, and I'm selling dozens of accessories starting at a few dollars. Skull bracelets, kawaii jewellery, purses from Japan and Hong Kong, and more.
In addition to tons of Gothic, Jrock and Gyaru styles, I have a range of fashion by international designers. Floaty summer dresses, bohemian tops, you name it.
I'm loving the experience of using Depop. Payments are easy and secure through the app (PayPal, credit card) and I can ship to any mailing address in the world.
I'm personally responding to all comments and messages through my Depop store, so it's also a fun way for us to chat and interact!
Message me and I can put together a bundle order for you, at a discount. You'll also save on the shipping cost for the package.
Items are going fast from my wardrobe sale, so I encourage you to check out my store before your favorites are gone.
This dress, that skirt… it's all for sale now, on La Carmina's Depop shop! You won't find this fashion sold anywhere else online, and I've priced everything low.
I hope you enjoy my fashion blogger closet sale. Looking forward to chatting with you, and putting together a package for you — with a special signed note included! 
Ready? Set? Let's shop La Carmina's closet now!