Happy Holidays! Winter kawaii outfit post: Meemers Scottish Fold cat hat, Eat Your Kimchi.
Happy Nightmare before Christmas! Basil Farrow and I send you lots of snuggles.
Like many of you, we're taking this time to be with family and friends. If you're looking for holiday outfit inspiration, then this post is for you. I'll also share the elegant Xmas decorations I saw in New Orleans, including the Anne Rice house.
"Baby it's cold outside…." But that doesn't mean you have to wear bulky, unattractive jackets this season. What's the stylish solution?
My friends at Alice's Pig sent me this retro-inspired coat from their latest collection. It's got a unique zig zag front with double-buttons, and is lined to keep you warm. I haven't seen a design like this anywhere else, and have been wearing it non-stop.
♥ Psst: here's where you can buy the exact same coat! ♥
Basil looks like he approves of my Miffy purse. It's from the 2% Miffy store in Shanghai (here are photos of the Hong Kong location).
This is my go-to winter outfit: a big graphic-print sweater and leggings. Comfortable, warm, and J-poppy. "The Bitter End" is by Japan's Banana Fish, which is sadly no longer in business.
My witchy tights are from Killstar. This brand is so awesome that they make an Egyptian print maxi dress!
♥  Shop my outfit and favorite labels below: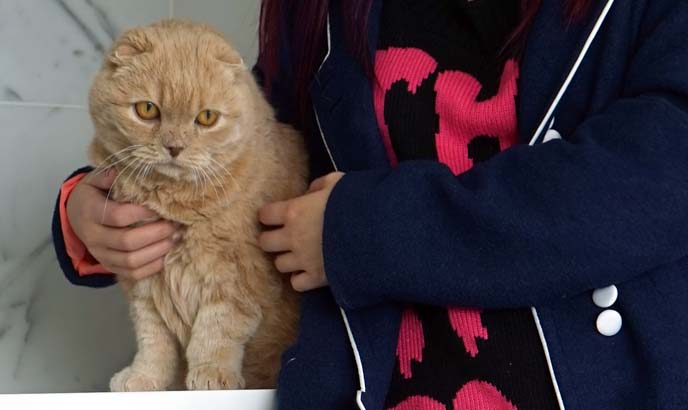 If you're still feeling chilly, Basil is ready to warm you up with a furry hug.
What a sweet teddy bear. Here's a profile view of my new hair color, by Stephanie Hoy in Vancouver. It's an ombre fade from blue to purple to red.
My Scottish Fold kitten may not have ears… but my purple winter hat makes up for it. (We call this a "tuque" in Canada.)
Do you see a folded-eared cat on the brim of the skullcap? That is Dr Meemersworth, the Scottish Fold companion of my Seoul friends, Eat Your Kimchi.
Anyone who lives with a Scottish Fold can attest that they're very special creatures. They have quirky personalities, love to cuddle, and want to take part in everything you do.
Look at that round head, and those sideways-paws! More photos like this are on our Instagram — @lacarmina.
You can get this kitty cat winter hat from the Eat Your Kimchi online store. They have a Meemers canvas bag too, and more.
Since we're in holiday mode, let me share some photos I took of Christmas decorations in New Orleans. On top of a home near Audubon Park, I spotted "Santa Ducky."
In NOLA, the stately manors get dolled up with lights, wreathes and bows. Or in this case above, nutcrackers.
Above is a home formerly owned by Anne Rice, author of vampire novels. It is now House of Broel, a Victorian mansion and dollhouse museum.
I couldn't get enough of the elegant Southern architecture, particularly in the Garden District.
Can't wait to show you more from my New Orleans travels. Cemeteries, voodoo shops, and devil parties are on the way.
Until then, Basil sends you warmth and cuddles.
We hope this gave you some inspiration for what to wear, in cold weather and to holiday parties. Merry Festivus, or whatever you celebrate!
(Shop this look below):