Category Archive for
New Orleans
When I mentioned I had a cameo on The Purge television series, everyone assumed I'd be one of the baddies. I think you pictured me donning a mask, and slashing victims with homemade weapons.
Surprise: I'm one of the people protesting Purge Night, at a Resist rally!
Did you spot me next to the main cast, in the finale of Season 2? The Purge TV show just finished airing on USA Network and Amazon Video – meaning I can finally share my experience with you.
For the second season of this horror series, The Purge took everything up a notch. Instead of focusing on a single night, we follow four interconnecting storylines over the course of a year.
This time around, each episode is filled with thrills, action, satire and blood — which is what the Purge universe does best.
Read on for my behind-the-scenes report from the set of the Purge, including the scoop on my appearance (I'm at the end of episode 10, titled "7:01 AM" — which also features Ethan Hawke!).
As a horror fan, I had the time of my life meeting the cast and watching the crew film wild stunts — like escaping from a bus lit on fire. (Head's up: some of this post may reveal slight spoilers, but I did my best to keep the main twists hidden.)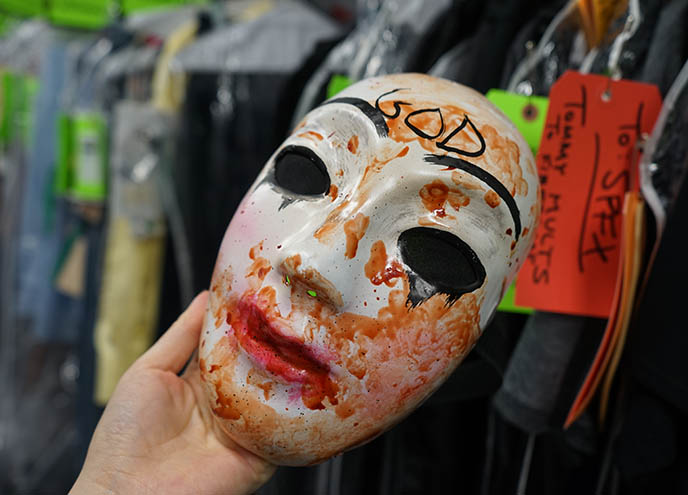 I also got to try on The Purge masks from the TV shoot, including the infamous blood-stained God mask!
As you may recall from this post, Blumhouse Productions and USA Network flew me to New Orleans for a set visit. I'm a mega-fan of Blumhouse's horror films (such as Purge 1-4, Sinister, Halloween, Insidious, Get Out) — so this was a Goth dream come true.
For those unfamiliar with the Purge concept: The USA was taken over by the New Founding Fathers of America (NFFA). This totalitarian government created an annual Purge Night, where citizens can commit pretty much any crime without penalty — even bloody murder.
Inspired by the Purge: Election Year character Kimmy, I made a Kiss Me mask to accompany my return to NOLA. I got to chat with several cast members; they all found my mask rather amusing / terrifying! 
I sat down with actress Paola Nuñez, who plays Esme Carmona — a NFFA agent who uncovers a conspiracy by her bosses, and sets out to make things right.
Paola revealed that when she was a child, she felt scared to watch horror movies. Today, she finds it exhilarating to be a principal actor in a series where "The greatest fear is what you don't know."
Paola had never been to New Orleans until this role, and she's enjoyed shooting in historic homes and iconic city sites. "There's a ghostly, voodoo energy here" that makes NOLA the perfect setting for The Purge.
(The lovely Paola hails from Mexico, and she also gave me fantastic travel tips for my Day of the Dead trip!)
I also had a conversation with Joel Allen, the main actor of another narrative in The Purge season two.
He plays innocent college student Ben Gardner, who narrowly escapes death on his first Purge Night out. The violent incident instills an "urge to purge…" Before long, Ben is putting on the creepy God mask and causing bloody havoc at his school.
Joel told me he enjoyed the challenge of portraying Ben's coming of age. This role required him to convey a range of emotions, from "pure fear" to killer instincts. Some of the scenes were difficult to shoot — particularly Ben's violent assault by "God," and complex choreography for the camera — which made the character evolution all the more gratifying.
The other journalists and I climbed into a van, and arrived on set (in a NOLA warehouse). We received hair, makeup and costumes… as we were "Resist the Purge" protesters in the final episode! 
It was thrilling to go behind-the-scenes at a major network TV show. I'm accustomed to run-and-gun travel TV hosting / production, which is very different from shooting a scripted series with massive sets, special effects, and hundreds of extras.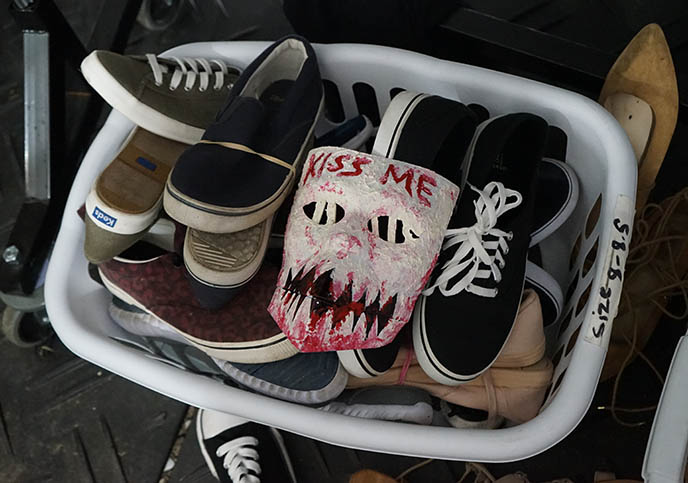 We joined the crew in a giant tent with craft service. The costume department was working hard, outfitting the background actors with dark garments typical of a resistance rally.
I wore my own faux-leather legging and stomper boots, and slipped on the Resist logo t-shirt that the Purge costumers gave me.
The hair artist gave me a semi-pulled back style. I sat in the makeup chair, and emerged with a dark lip and fierce smoky eye. I also got me badass fake tattoos… I made sure the crucifix was pointing upside down.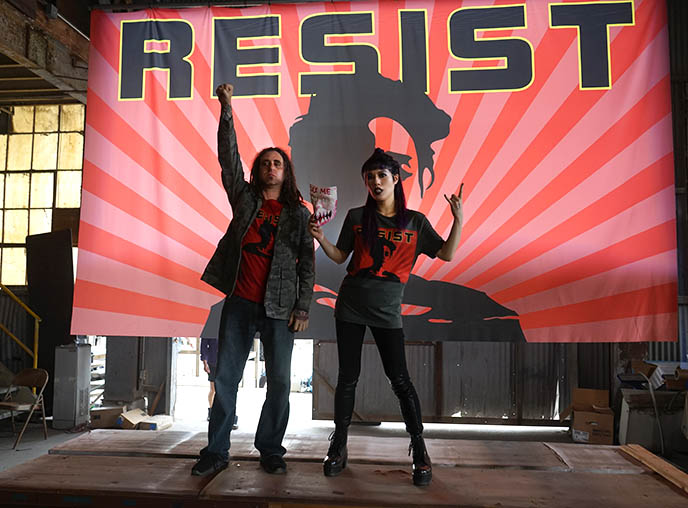 This ramshackle warehouse was set up with a platform and big red Resist banner.
Without revealing too much of the storyline — the sign shows Esme's face because of her fight to expose the NFFA's wrongdoings. She learned that Purge Night doesn't decrease violence as the government claims. It makes people like Ben hungry for more.
In season 2, the television show follows different groups of NOLA residents in the period between Purges. All the storylines cross in clever ways, leading to plenty of frights and a satisfying finish.
The Anti-Purge protesters cheered as Denzel Whitaker (playing university student Darren Moore) walks on stage. He delivers a rousing speech about how the destructive Purge needs to end, "right here, right now."
The director placed me next to two of the principal actors, Derek Luke and Rochelle Aytes. They play Marcus and Michelle Moore, a wealthy couple whose lives are turned upside-down when someone breaks into their home and tries to Purge him. 
I added my own handmade mask to the pile of props. In this end scene, I held one of these posters that urge citizens to "Join the Resistance" and "Stop the Purge – End the NFFA."
In the rally scenes, you can see me standing next to the main actors while we listen to Darren's impassioned words. The camera shows me in close-up as I clap and cheer him on.
It was fun to see how a single scene came together. The actors were pros, giving perfect performances with each take. At one point, the crew removed the banner so that they could get shots from an alternate angle.
Resist Authority! End the Purge!
Can you tell I had fun getting into character and rocking a darker look? 
Everyone I met was kind and welcoming, and it was an honor to be a tiny part of the show.
I can't post the full scene featuring me, but you can see a little clip with my fist-pumping closeup here!
Later that day, we got to watch another scene from Episode 10 while it was being shot. We drove to a covered hangar on the outskirts of New Orleans, where Jaren Mitchell, Jonathan Medina, and Chelle Ramos were geared up and ready for a fight.
Check out the guns and ammo on the table… Some of these are dummies, while others emit a loud noise with a realistic flash of light!
Chelle gets a touch-up between takes. In the resulting scene, you can't tell that they are in a sheltered space, and that it was quite humid even at night.
Very cool to meet Max Martini, and see him get intensely into character as leader of the team. (Perhaps you recognize the talented actor from Pacific Rim, Saving Private Ryan, Captain Phillips and Fifty Shades.)
Max Martini plays Ryan Grant, a former police officer who tried to execute a daring bank heist during Purge Night. Things go south when the rival Jackals arrive and one of his friends ends up jailed.
In the scene we witnessed, Ryan and his loyal team are preparing to make things right.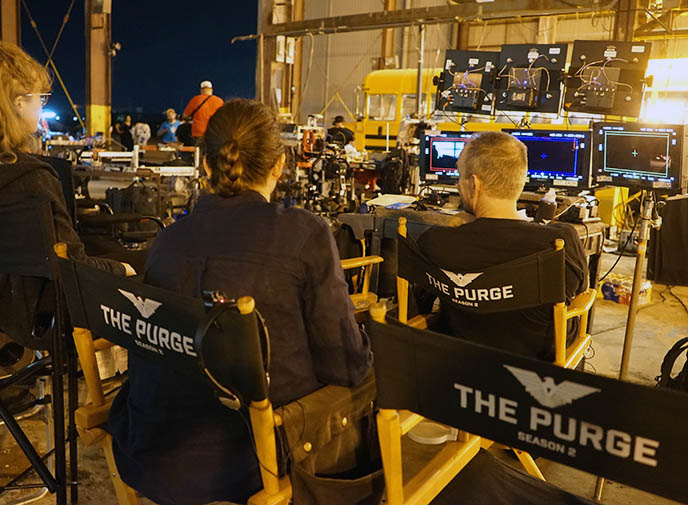 Take note of the cinematography when you watch The Purge, Season 2 — it's beautifully shot and paced. Acclaimed horror director Gigi Saul Guerrero helmed several of the episodes as well. 
I was also impressed by the efficiency of the Purge production. The director yelled the final "cut," and within 10 minutes, all the equipment had been packed and moved to the next location.
Onward to one of the most thrilling scenes in the show… A daring escape from a burning bus.
This stunt was carefully executed with the highest safety precautions. I learned that you can turn the blazing jets on or off, and that a fire-proof screen separates the back of the bus from the front driver's area. Still, these are real flames, and you can feel the heat even from a distance. 
Jonathan Medina must have nerves of steel… As soon as he stepped out of the hot bus, the "string" of fire behind him rose to human height!
I took advantage of these special effects to have a Sadako moment. Doesn't this look straight out of a Japanese horror movie?
I also got to go inside the costume truck, and try on the many terrifying masks from the Purge TV show. Costume designer Eulyn Hufkie (known for her work on The Walking Dead) and her team drew from their darkest imaginations to create the various disguises that Purgers wear. 
Eulyn says this Baby Doll mask " was inspired by a true story that I heard at the NOLA cultural museum. The baby dolls were a group of women who attacked Mardi Gras goers with sticks and knives. I had these made out of plastic and they all wear a different color lipstick."
The "God" mask made its first appearance in "The Purge: Anarchy" movie. Considered one of the eeriest masks in the series, it makes its return in The Purge TV show. 
There ended up being multiple people playing God, as events unfolded… so the costume department had to create multiple versions, and store them in bags. Doesn't this look like something you'd find in a serial killer's lair? 
The Purge costume designer Eulyn Hufkie reflects, "I always felt part of the grotesque allure of the Purge was that it allowed sick, demented psychopaths to play GOD – deciding who would live or who would die on this nihilistic day." 
At one point, a God mask gets broken. Sometimes, you only get a quick glimpse of a Purge mask, so it was sweet to see the bloody detail up-close. 
The Purge TV's masks are expertly made, from a variety of materials. If you see this one… RUN.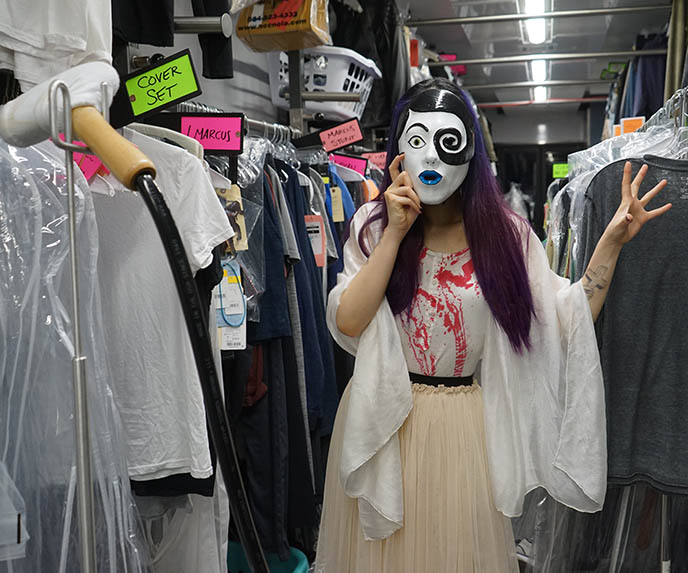 The flapper Baby Doll is among the freakiest looks this season. 
I'm standing next to racks of clothing for the various characters. The costume team drew upon brands and colors that best represented each personality. For example, they outfitted Dr. Marcus in Theory and Lululemon, while Max Martini's Ryan had a scruffier look. 
The Purge TV series got very creative for season 2. I always laughed out loud at the standalone opening vignettes, which gave glimpses into the twisted "Purge economy."
For instance, a marketing group discussed launching a scary rainbow mask, to appeal to LGBT+ Purgers! In my favorite, a Brazil bride-to-be asks a travel agent about booking a Purge bachelorette party in the USA. She whispers, "What if not everyone makes it back on the return flight?"
Here's a peek at the fake blood — you'll see a lot of it this season. 
I don't think you would want to run into me, in a dark alley… So much fun to get my hands on the Purge masks and costumes.
A last look at my temporary skull tattoo.  
The Purge TV show rocks — fans agree that the second season is better than the first, and stays true to the dystopian concept. I invite you to screen The Purge TV show (a Blumhouse production) on USA Network and Amazon Video.
There's also bonus website, Morning Time America: Post-Purge Edition, which is a spoof on the morning talk show. In the Off-Purge months, the peppy hosts chat about how to make yourself un-Purgeable, or put together a freaky look! 
(The team sent me this cheery mug, which I use daily. And I got to keep my Resist t-shirt from the filming.) 
In an alternate universe where "Blessed be our New Founding Fathers and America, a nation reborn… " it makes sense that my friends and I would be anti-Purgers, fighting with the Resistance.
Hail Blumhouse and USA Network for making this set visit possible. You can take glimpse at my Purge TV appearance in this clip here.
For Goth travel tips about New Orleans, see all my stories here.
Do you think I could be the next Scream Queen? Did these photos give you the urge to watch The Purge?
(PS: additional photos of me at the rally, Max Martini with his crew, Jonathan escaping the bus, and Denzel pumping up the crowd were shot by Alfonso Bresciani.)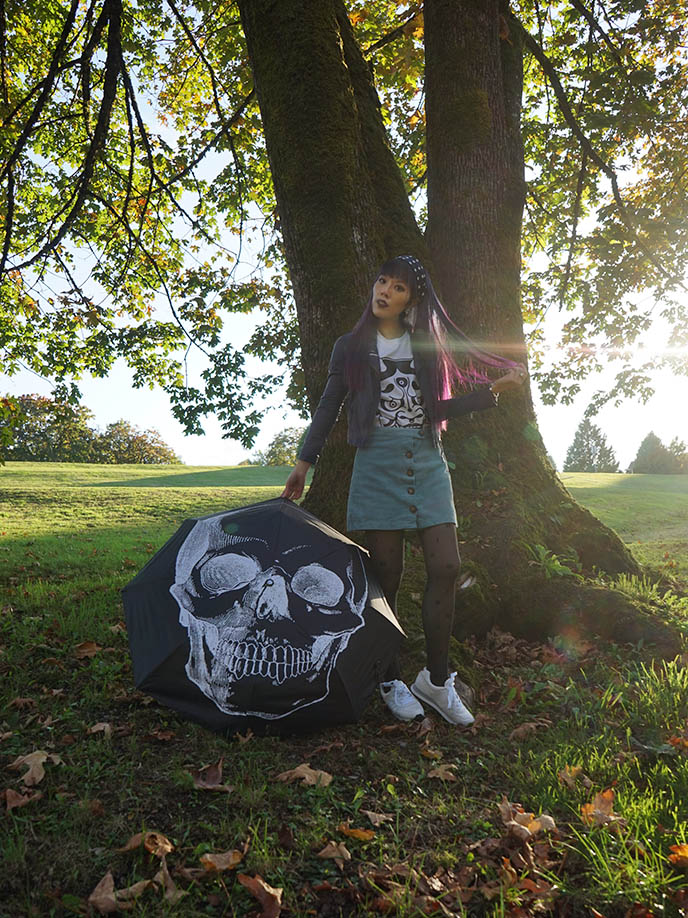 When leaves hit the ground, the veil between the living and the dead is at its thinnest… and I am in my element.
Happy October, everyone. I've missed the fall so much!
I have several Halloween tricks and treats for you, including a major trip…
My skull umbrella from Raven Goods is a hint at where I'm heading at the end of October.
I'm thrilled to announce that I'll be celebrating Day of the Dead in Mexico, on a cultural tour with Borderline Projects and Morbid Anatomy! I can't wait to share our Yucatan journey, which includes intimate encounters with the brushing of the bones, and Dia de Los Muertos.
Scroll to the end of this post for the full info about my deathly travels in Mexico, and how you can join next year's adventure.
I'll also give you a teaser of my Purge TV show adventure: I'm making a little cameo in the finale episode. (Above: I had the hardest time figuring out which one was my trailer…)
Blumhouse Productions and USA Network flew me to New Orleans, so I could get a behind-the-scenes look at the TV production. In our downtime, we did a little purging on Bourbon Street!
Keep reading to see my exclusive set visit, and… new tattoos??
(Season two of The Purge TV show begins airing October 15, on USA Network. I'm in the tenth / last episode.)
First, let's welcome the spookiest time of the year with some devilish outfit photos. 
OOTD: Goth umbrella Raven Goods, demon tee 1991NewYork, corduroy skirt Forest Ink, stockings UK Tights, hair scarf and sneakers Lola Ramona.
Isn't this grinning cranium umbrella fabulous? It's my new favorite accessory, from indie Goth boutique Raven Goods. 
Raven Goods has a magnificent curated selection of items in black or dark tones: perfect for creatures of the night like ourselves. Their web shop includes dark and Gothic home decor, jewelry, and crystals.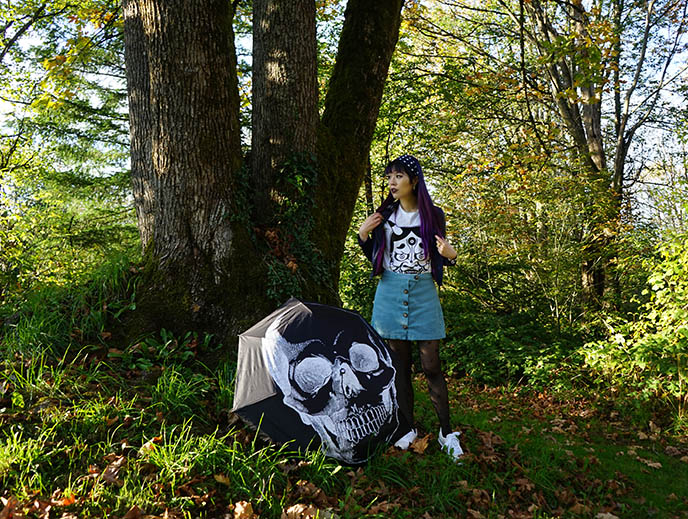 I'm all about supporting small businesses like Raven Goods, which is owned and operated by a husband and wife team. Their dark fashion and home design products are offered at reasonable prices, and they give friendly and fast personal support to their customers.
I love the reflecting crystal in the center of the skull (it looks a bit like a nose ring). The retractable umbrella is perfect for traveling, and doubles as a parasol: the black SPF fabric protects you from the sun.
Take a peek at RavenGoods if you fancy items like Victorian anatomy plates, Rococo Gothic bedding, ram's head rings, and dark angel wing earrings.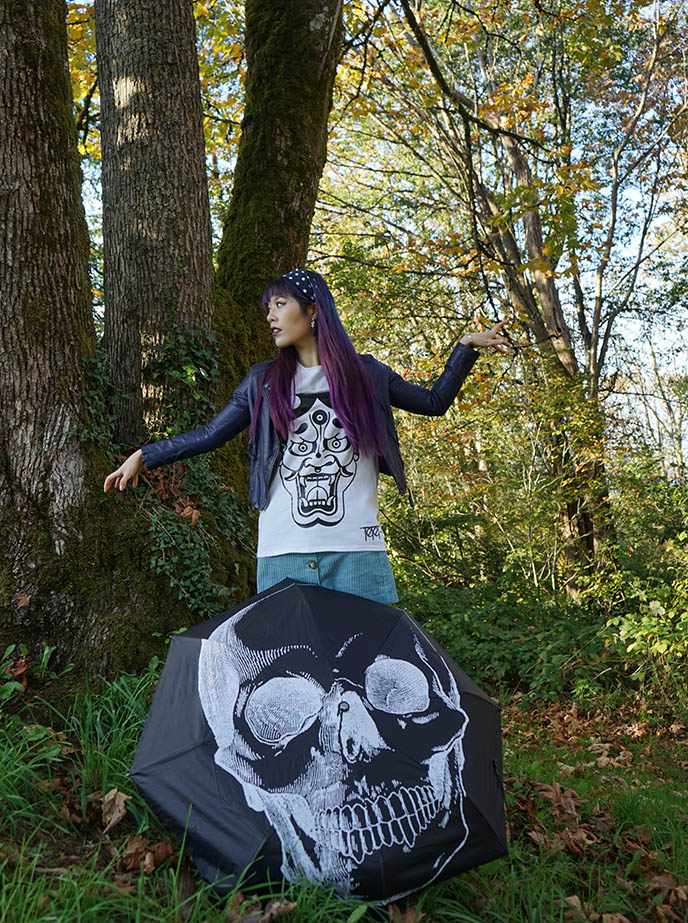 My scowling Japanese devil mask top is by 1991NewYork. It's actually a Hannya, representing a jealous Shinto female demon!
1991 New York is a streetwear brand by NY tattoo artist Hiten Damodar. His screen printed tees are 100% cotton and made in the USA, and feature his tattoo designs based on mythology. (You can see more of his striking designs on his site.)
How do you like my "white demon" look of the day? As you can see, it's possible to do a Gothic look without wearing black.
This is also an example of how to style white sneakers with an outfit.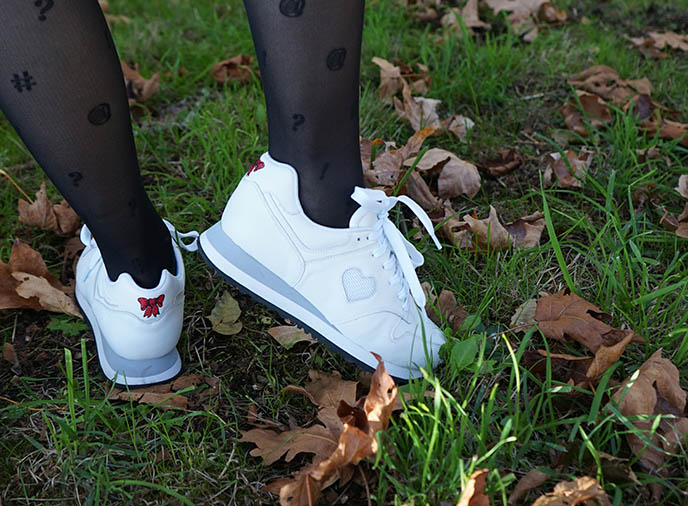 Lola Ramona sent me these Serena Bullseye white leather sneakers, and they're the cutest kicks I've ever seen. In love with the mesh heart on the sides, and red ribbon design in the back. The bouncy sole and comfortable lace-up style makes these sneakers perfect for fall walks.
I matched them with Lola Ramona's retro polka dot scarf, which I wore as a headband. My stockings with keyboard symbols is by UK Tights.
Click the thumbnails below for more shoe styles from Lola Ramona:
Now, let's talk about NOLA! I was invited along with several other journalists to visit the set of The Purge TV, which was shooting its second season after a successful debut.
Before flying to New Orleans, I felt inspired to put together a Purge cosplay. Using caulking and paint, I DIY-ed a Kiss Me mask like the one worn by  Kimmy the Candy Girl, in "The Purge: Election Year" movie.
My mask and I sat down to delicious New Orleans lunch: blackened cod po'boy and salad. On this press trip, I got my fill of grits, mahi mahi, gumbo, catfish, and Sazerac cocktails… but boy, are portion sizes immense in the South. Ironically, I was so full from these meals that I was close to Purging!
Quite fittingly for a horror television show, The Purge (season 2) is shot in New Orleans. Many of the new episodes make the most of the city's spooky vibe.
I hadn't been in New Orleans since my first visit in 2014, and it felt great to be back right before Halloween. We only had a few days here, but it was enough to explore a few spots — like Marie Laveau's House of Voodoo. 
With its vampire and voodoos connections, New Orleans is one of the Goth-est cities on the planet.
For more travel tips, see my NOLA Gothic guides from my previous trip. I covered the graveyards, haunted places, alternative nightlife and art galleries, you name it.
I've got the urge to purge…
Horror fans will be familiar with The Purge movies by Blumhouse Productions. In this universe, once a year for 12 hours, pretty much all crime is legal.
Some citizens love the annual bloodbath, and get creative in the ways they commit murder. Others hide in fear, or fight against the "New Founding Fathers" that implemented the Purge.
The Purge is now also a highly-rated TV show. The second season follows several characters in a year between the Purges, leading to intertwined storylines. I've watched several episodes of the new season so far, and it's bloody fantastic — better than the first, IMO.
As an invited journalist, I got to go on set while The Purge was filming, and meet the actors and crew.  I can't reveal any spoilers, but soon, I'll give you an inside look at the masks, daring stunts and more. 
I also got to be an extra in the final episode, in a scene with actors Derek Luke and Rochelle Aytes! (They play a husband and wife whose perfect life is shattered when an assassin breaks into their house on Purge night.)
My lips are sealed when it comes to exactly what I do in my appearance on The Purge TV show. You'll just have to wait until the last episode for my big scene…
However, I can show you this "Kimmy the Candy girl" costume I put together, in tribute to the evil schoolgirl from The Purge: Election Year film!
Here's a wink. I got to wear fake tattoos for my scene in the Purge TV finale!
The makeup artist put this temporary skull tattoo on my hand. I told the crew they could go wild with my hair and makeup, and so they did, as you'll see…
I made sure this crucifix tattoo was upside down. So much fun to embody a different character, and have giant Gothic tattoos for a day.
Here's another look at my Kiss Me mask, and Purge Election Year candy girl outfit.
Compare my cosplay to the character in the Purge movie, above. I think it turned out quite bloody well!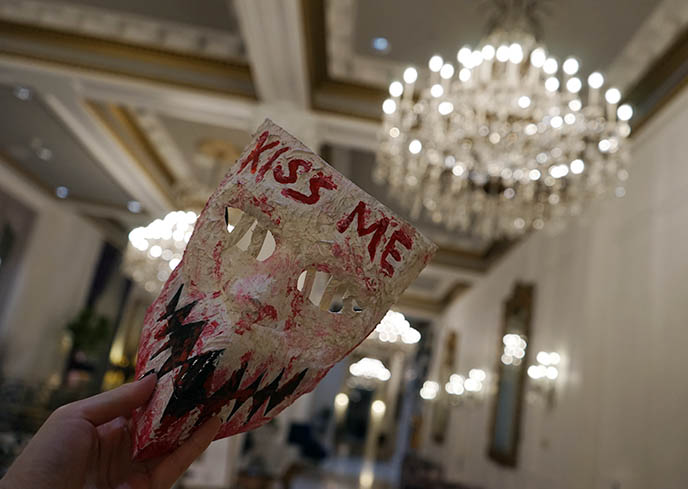 "This is your emergency broadcast system announcing the commencement of the Annual Purge."
The Purge TV show (season 2) starts airing Oct 15 on USA Network. Give it a watch; I assure you that you won't be disappointed. (And you can see me on-screen in the final episode, which will be broadcast Dec 17 at 9pm ET.)
I think you can tell I'm loving Halloween season… Next, I can't wait to celebrate Day of the Dead in Yucatan Peninsula!
Every year, Borderline Projects and Morbid Anatomy offer a curated tour that lets you experience Dia de los Muertos traditions with local communities in Mexico.
I'm joining this year's Mayan Rebirth trip, which will take me to Merida, Campeche, and surrounding areas. Take a peek at our 4-day Mexico itinerary: it includes a "Food for the souls" ritual, a "Festival of the Souls" celebration in a cemetery, and a "Cleaning of the Bones" ceremony in a small town.
Gracias to Borderline Projects for inviting me to take part in this Death In Mexico travel series; I can't wait to learn first-hand about Mayan rituals and folk traditions.
This year's tour is sold out, but there is already a RSVP list open for the 2020 edition. You can email info@borderlineprojects.com for more info and to reserve a spot for next year.
A last look at my nylons from UK Tights, and cute white leather sneakers by Lola Ramona. (See more shoe styles below from this designer.)
Can't wait to get my hands on more Mexican sugar skulls!
(Gothic umbrella Raven Goods, skirt Forest Ink, hair scarf Lola Ramona, Japanese tattoo t-shirt 1991NewYork).
Stay tuned to my Instagram/Twitter @lacarmina to see my adventures in Yucatan for Halloween and Day of the Dead. I also invite you to add Salvador Olguin & Borderline Projects on Facebook, Instagram and Twitter for updates on their cultural journeys.
I'll be stopping in Mexico City as well, so please let me know if you have any travel tips for me. See you at  Dia de los Muertos… and watch out for The Purge!