Le Meridien Taipei: modern art boutique hotel. Custom cat portrait paintings!
While in Taipei, I stayed at Le Meridien — a hotel that could easily be mistaken for a modern art museum. The focus is on Asian art with a sense of humor. Walking around, I encountered apologetic cavemen statues and grumpy fish.
Speaking of fun art… If you want a custom portrait of your pet (like the one of Basil Farrow above) then make sure you read to the end of this post. Lots of cute cat photos await you!
Let's start with a tour of Le Meridien. When you step into the lobby, you'll see an immense statue of a giraffe with his head bowed. Made from stainless steel by Chinese artist Li Hui, the animal represents the hotel's dedication to guests.
Le Meridien belongs to the Starwood group, and opened not long ago (November 2010). Despite being an international name, the hotel has a boutique feel.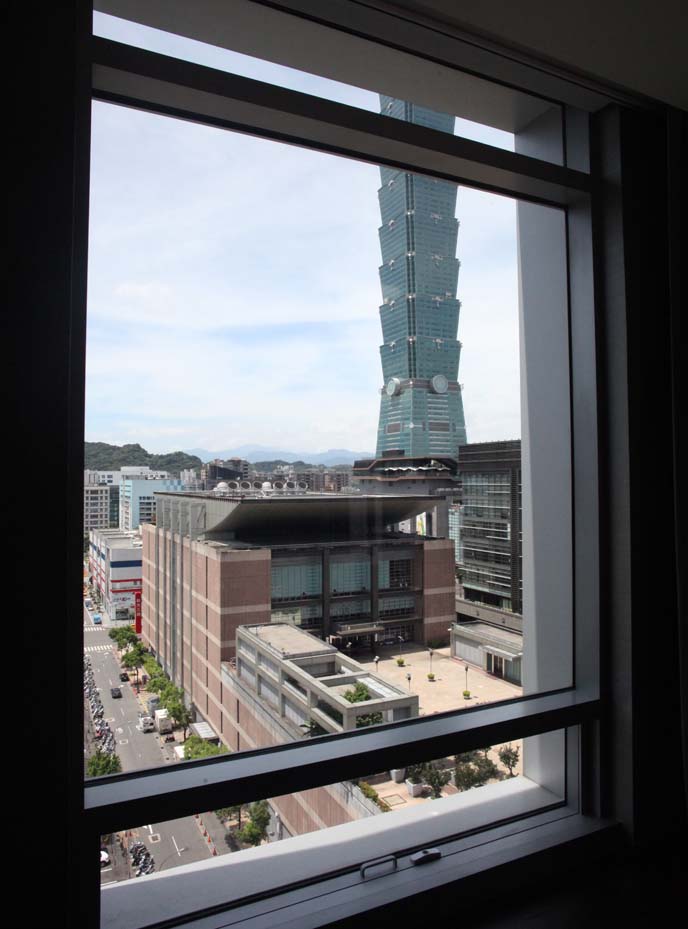 The large suites are popular for special occasions, especially New Year's Eve. Can't beat this window view of Taipei 101.
The building is located in Taiwan's downtown business district, Xinyi. The proximity makes it ideal for both work and play (since the best bars are also located here).
At Le Meridien Taipei, art an essential part of the guest experience. The 160 rooms contain different works, putting art within reach of every traveler. This living room had X-ray photo of luggage above the sofa, by Nick Veassey.
I was charmed by these seemingly child-like drawings by Ye Yongqing. Primitive, simple, yet profound.
Anyone can come into the property and stroll through the public spaces. Contemporary art is everywhere, and you can take photos of (or with) it.
I got into a fight with this caveman, who tried to apologize.. but I wasn't having any of it! (It's by Cao Hui, one of my favorite Chinese contemporary artists. His remarkable works mix humor and morbidness.)
Another favorite: these "The Little Prince" quotes by the elevators. The twisted wire is abstract, but it creates shadows that form words from the famous novel. (The hotel features international artists too; this is by Fred Eerdekens of Belgium.)
My blue hair matches the hue of Taipei 101, which used to be the tallest structure in the world. I'm wearing a white sheer caftan by Show Me Your Mumu, and a rainbow tie-dye top with a Gothic harness collar, by Gladnews Japan.
Le Meridien Taipei is not just about design — it's also a 5 star stay. Wouldn't you like to soak in this freestanding bathtub?
Or in the swimming pool? I was tempted to jump in, outfit and all.
I can't help but smile when I see "Dream Fish" by Hiroshi Ohashi, a Japanese Buddhist carver inspired by fairy tales. Look close: those are dolls riding on his scales!
Le Meridien's luxurious seafood buffet is one of the most popular in Taipei, with a current waiting list of three months! The price for a buffet meal is about $30 US, but that includes sushi and eclairs.
The PR team treated my photographers and me to lunch at My Humble House, the Cantonese restaurant found in the hotel.
They're known as one of the best dim sum spots in the city. I could have eaten these truffle-and-veggie steamed dumplings all day.
The dishes are hearty favorites — spicy tofu, barbequed duck — with an upscale twist, like these flecks of gold.
We also ate at Quube, a chic restaurant with tasty cocktails. The food ranges from Asian specials, like chicken fried rice…
… to Italian pasta with lobster, and tomato and bocconcini salad.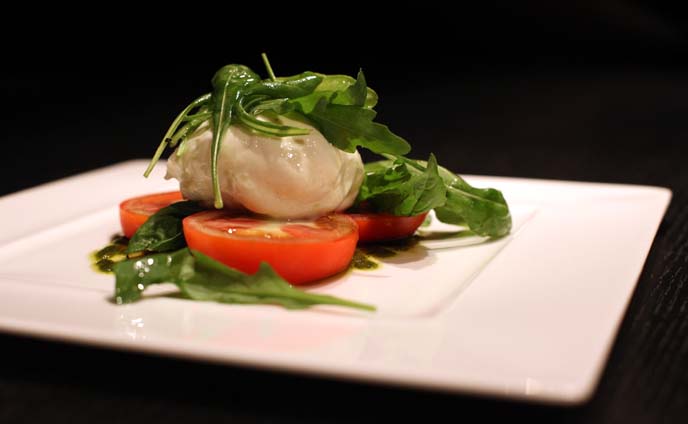 Quube's dishes are perfect for sharing: there's something for everyone. Images taken by Ken Yuen and noircorner.
I leave you with these Meng Jin paintings. They reflect on how everything changes while you're travelling, but the sky is the same — no matter where you are. Thank you to Le Meridien Taipei for this inspiring experience.
You can see more on Le Meridien Taiwan's Facebook page. Also check out my post about their sister property, Humble House.
Speaking of animal art… a huge package from artist Bitsy Knox arrived for us. Basil Farrow couldn't wait to look inside.
So he used his big, plush feet to try to open up the cardboard! He was right — the present was for him.
We uncovered… a custom painting of my Scottish Fold cat! Basil gives it a sideways-paw of approval.
Isn't the resemblance uncanny? Basil's round face, plush fur and short tail are perfectly rendered. Huge thanks to Bitsy Knox, a Canadian artist living and working in Berlin, for this adorable painting.
Would you like a custom painting of your cat or dog? Just contact Bitsy Knox through her website, and send her a few photos. She'll create a custom work that perfectly captures your pet's look and personality. It would be the perfect Christmas gift, especially for animal lovers.
Check out more photos of Basil and his portrait on his cat blog. There's also a new video of my Scottish Fold running obstacle courses. Yes, you can make cats exercise!
 Do you buy your pets presents? Did you enjoy the cheeky works of art in this post?