1600 Pandas exhibit at PMQ Hong Kong. Mongkok cute toys, clothing shops.
Hong Kong is quickly taking over Japan as the "land of the cute." On a recent trip, I encountered 1600 panda bears, Pirate Miffy toys, and googly-eyed shoes.
Enjoy this kawaii tour of Hong Kong!
Yukiro, John and I went to the 1600 Panda Bears exhibition at the art center, PMQ. Yes, you're looking at over a thousand paper-mache bears!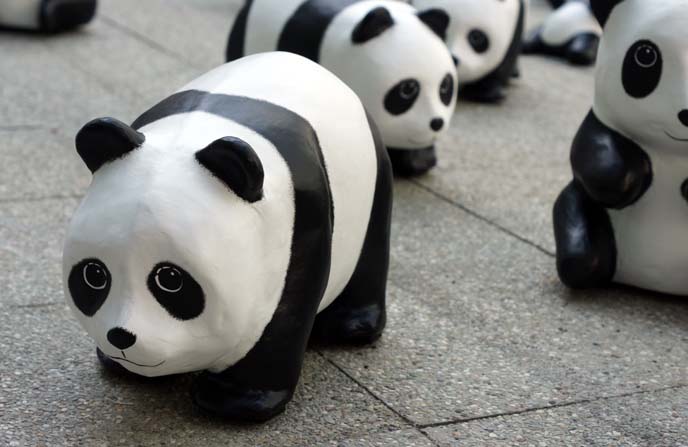 French artist Paulo Grangeon made these pandas, each with a different pose and expression. Some are babies, some are adults.
Every evening, when the doors close, the staff collects the bears and locks them up. The next day, they put them all back in place.
There are only an estimated 1,600 pandas left, hence the number. The World Wildlife Fund (WWF) commissioned this creative project, which uses eco-friendly materials and cuteness to share the message of wildlife conservation.
The panda-monium (ha ha) took place at PMQ (元創方). Formerly a Police Married Quarters, this 19th century building is now an art space. It's home to innovative restaurants and design boutiques, ranging from metalwork galleries to abstract knitwear. For this special event, a few of the cafes offered panda-themed food.
The 1600 Pandas tour has moved on to other countries, but you can always see public art at PMQ Hong Kong. Check their website for free upcoming "happenings," like drawing workshops. I'll also take you inside the artist studios, in an upcoming article.
Every major Hong Kong neighborhood has a kawaii attraction or two… or ten. Ever since I was a child, I've been visiting Wonderland in Hung Hom.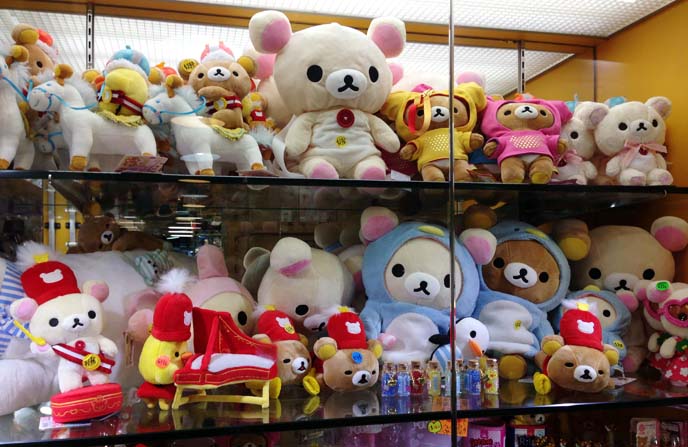 Rilakkuma, Domo, Hello Kitty, Totoro… this gift store has it all, in the form of stuffed toys, figurines, stationery, and other collectibles. Wonderland is a wonderful spot for children: girls love to try on Sailor Moon backpacks, while boys enjoy the robots, anime and action figures.
You'll find glass cases stuffed with plush toys, including obscure variations like a Pirate Miffy. (As you know, she's my favorite mascot. There's something about that minimal design and inscrutable X-mouth that reels me in.)
Prices are excellent — I got a "Henry Cat and Friends" Scottish Fold notebook for about $5 US, and you can't find this brand anywhere (not even in Japan). Come to Wonderland to pick up souvenirs, and all your friends will thank you.
Since I've been to Hong Kong dozens of times, I never go to tourist attractions like Temple Street or the Flower Market. Instead, I head straight to Izzue to shop til I drop.
This big-eyed kawaii brand is Hyoma. Funny enough, you can't find it in Japan. I've only seen it carried in the larger Izzue branches, such as the one in Mongkok.
Izzue and I.T are known for graphic print streetwear with a cute twist, like these cat-faced shirts.
Bright poppy colors and kawaii faces are Hyoma's signature.
Some of the items are too over-the-top for me, but I love seeing them on the shelves. I'm not sure who would rock these French fry sneakers.
Is "Musium" an unfortunate typo? Or is this an edgy label? In Hong Kong, you never know.
I love shopping in Hong Kong because the prices are low (considering the great quality), and there is no tax. These galaxy-print platform shoes with eyes are only $72 US! I'd expect them to be listed for well over $100 elsewhere.
To reduce the price even more, visit an I.T Izzue outlet. I'm standing in front of the one in Citygate Outlet Mall, Tung Chung.
Inside, I found cute clothes from past seasons for more than 50% off. These included Ghostbusters collaboration shirts from Chocoolate! (And no, that's not a typo).
I was there to visit the Hong Kong Express Airways team (I write for each issue of their magazine). It so happens that I'm wearing a Hyoma outfit, from the latest collection. The top says "Cream Skull" and the pink dress has crosses all over it.
Where else can you find kawaii makeup and gifts? Causeway Bay, the district known for its Japanese department stores and youth hangouts.
I'm a big fan of the cosmetics chain store, SaSa. You can see the pink sign above, and all over HK.
Sasa carries "only in Asia" makeup, like Hello Kitty Graffiti palettes.
Japanese brands are better-priced in Hong Kong than in Tokyo, so stock up on eyeliner pens and other necessities.
You can always find "Heroine Make" princess makeup, gyaru false eyelashes, color contacts, and more.
How adorable are these bunny-shaped lipsticks? I think the yellow one is making an angry face because he has no color.
Hello Kitty is perhaps more visible here than in Japan. She and Dear Daniel star in the Giordano "Play 4 Keeps" World Cup soccer collaboration.
Korea's Line Friends are also growing in popularity. These figures are sold in 7-Eleven. Out of the Line characters, Brown is my favorite. Expressionless animals for the win.
On the spooky-cute side, Spider remains my favorite Hong Kong Gothic & Lolita shop.
Spider's designs are always evolving. This time, I saw corset laced designs with a carnival feel. Everything is extremely well priced considering the high quality — the lace accessories are only a few dollars each.
Always a pleasure to see designer Natalie. If you're looking for Hong Kong Goth clubs, parties, events and stores, check out the HK Gothic Society Facebook page.
Yukiro enjoyed browsing the stalls of Women Street, which sell fans, cheongsams, iPhone cases and other souvenirs. The vendors treated him like a rock star, and insisted on taking his photo!
We saw backpacks shaped like owls, and others studded with spikes.
Hong Kong's MTR (metro) system is efficient, which makes it easy to visit the main districts. Spend a day shopping in Causeway Bay, Central and Mongkok, and you can't go wrong. Just look out for these two trouble-makers!
Check out more of my Hong Kong shopping articles, for additional store recommendations. Who is your favorite kawaii mascot? I'm rooting for Miffy all the way.