I went to the Tokyo owl cafe! Fukuro no Mise address, opening hours, directions, entry fee.
Yes, that's an owl sitting in my blue hair! This summer, I visited Tokyo owl cafe Fukuro no Mise. This newest Japanese trend lets you drink coffee while petting over a dozen live owls.
Keep reading for the shop address, cover charge, hours of operation… and tons of fluffy owl photos!
In Japan, cat cafes (where you can play with dozens of kitties) are old news. To keep the novelty fresh, people opened up petting spaces for dogs and bunnies, and penguin bars.
Now, owls are the stars of the show. Fukuro no Mise launched in 2012, and its bizarre concept became so popular that more have opened up. Today, there are two owl cafes in Tokyo (Tori no Iru and Fukurou Sabou), and two in Osaka (Owl Family and Crew), all run by different owners.
Let me take you inside! But first, the pertinent travel info…
Owl cafe address: Seven Star Mansion 1F, 2-6-7 Kiba, Koto-ku, Tokyo.
How to get here: Ride the subway to Tsukishima station (it takes about 40 minutes from Shinjuku, via Oedo or Yurakucho line). Walk out of Gate 10, and the café is a few blocks ahead.
Opening hours: Sun 12-6pm, Weds and Thurs 2-6pm, Fri 2-9pm, Sat 12-9pm. Closed Mon and Tues. English speaking staff every Friday.
Entrance fee: 2000 yen ($19.50), which includes a drink and gift book. Check their website for any changes.
I recommend arriving at least an hour before doors open to make a reservation, since the spaces fill up quickly and can't be booked in advance. (I arrived at the exact opening time, which varies depending on the date, and the earliest availability was three hours later.)
At the designated time, the staff let me in along with ten other customers. I saw real-life owls staring at me from every corner — some were smaller than my hand, others were larger than my head. There were even adorable stuffed toy owls everywhere.
All the birds are tame, and have a leg attached to the perch by string. I had an hour to enjoy their company and sip a drink that is included with the cover charge. The café doesn't serve food, so I didn't have to worry about beaks pecking at my plate.
I wore a mint-colored dress with a royal owl print, to match the theme cafe. It's from the Algonquins store in Shinjuku.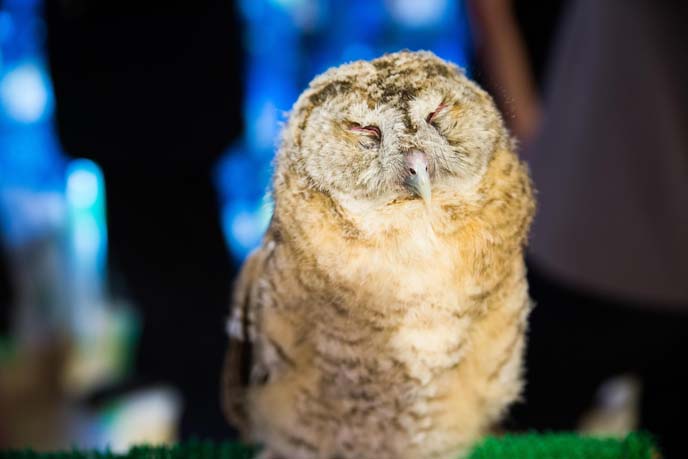 The staff gave a short introduction in Japanese (if you don't know the language, there's an English speaker on Fridays). Then, it was owl-cuddling time. I pointed at a horned one, and the staff helped me put her on my shoulder, hand or head. The birds are calm and I felt comfortable holding them. Up close, I could sense the power of their talons and bright eyes — such majestic creatures.
So far, these cafes are unique to Japan. Customers get to see these intelligent creatures up close, and interact with them for an hour. (All photos by Said Karlsson, Tokyo-based photographer.)
Fukuro no Mise houses a variety of different species, including barn owls. I was amazed at how tame they were, sitting quietly together.
The staff gave commonsense instructions, such as "Don't make sudden movements. Only touch the birds gently on the head or upper back."
With a cute cartoon, this sign reminds me not to take videos or flash photos.
A lot of customers took selfies with an owl on the wrist. The girls made cute poses with their hands, next to the owls.
These two are babies, so I was only allowed to touch them twice on the head. So soft and cute!
Before the hour is up, don't forget to browse the owl-themed memorabilia for sale.
Fukuro no Mise sells owl-decorated goods like a jeweled iPhone case, statuette, and stationery.
However, the pet owls are not for sale — although you may be tempted to take one home!
Here's a snap of the owl-petting cafe rules and cover charges.
As you can see, the menu includes a variety of soft drinks and coffees. One drink is included with every entrance. Alcoholic beverages cost slightly more.
My Scottish Fold cat, Basil Farrow, felt left out… so here's a photo of him. With their giant round eyes and heads, this breed is often compared to owls.
Scottish Folds are so gentle — they never scratch or bite, and love to get tummy rubs!
You can watch videos of my Scottish Fold cat with his robot-kitty clone (a moving toy from Japan!) on his kawaii blog.
For more animal-theme cafe coverage in Japan, check out my posts about Calico cat cafe, Harajuku bunny cafe, and Deco dog cafe.
Would you visit an owl cafe? What do you think the next Jpop cafe trend will be?