The Hippest Places in Portland: new travel video! Food Trucks, art hotels & hipsters.
Hip, hip, hooray! My Portland travel video is out on Business Insider, in which I explore the city's weird and wonderful subcultures. In a lot of ways, it's my favorite episode so far.
I'm biting my nails to hear what you think… Watch the video above and on BI. Did you laugh at my "fairy dance" and pirate torture scene?
My travel series wouldn't be possible without these two : Melissa Rundle and Eric Bergemann, who did all the shooting, editing and production. It's hard to find people who you can successfully travel, work and Goth-party with!
In our video, we take you inside Portland's underground subcultures. This includes a live performance of the Nightmare Before Christmas…
… complete with a spooky tree, covered with crows and brains.
We also went to the Goth-friendly Lovecraft bar (a tribute to the horror writer) and an underground warehouse party, Steep and Thorny.
I loved Portland's vintage clothing selection. Been searching for a disco dream-coat like this all my life.
Bokeh and ominous reflections, in the window of steampunk boutique Wells & Verne.
So many things about Portland are "me" to a T. Such as this steam-girl painting, inspired by Art Nouveau artist Alphonse Mucha.
Or this rainbow Buddhist mural on the wall of my room, at the Jupiter Hotel.
This hipster hotel must have been expecting me. Velvet Devil wine and green apples in the lobby…
… alongside modern art by local painters.
Portland's culture is all about creativity. My room at the Jupiter Hotel had a chalkboard door, and First Mate Naomi drew a cat on it.
I'll leave you with some bonus shots. This is the Avalon Theater, next to our vegan brunch cafe Paradox. I could have walked around PDX all day long, simply shooting photos.
Naomi's mis-matched tights match the autumn foliage.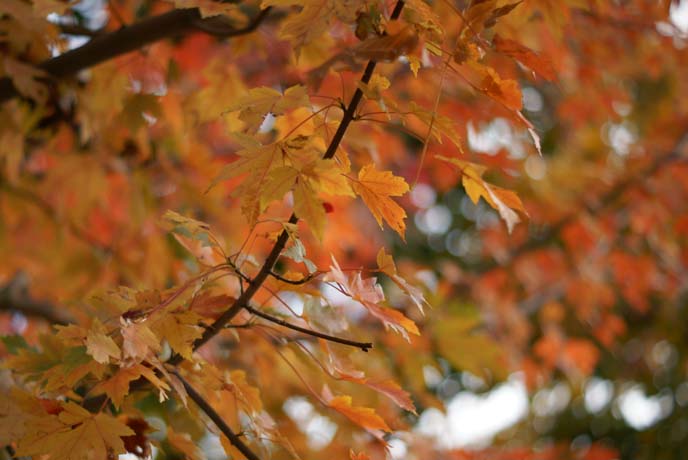 The Pacific Northwest may be grey and rainy, but you get all four seasons and there is nature everywhere.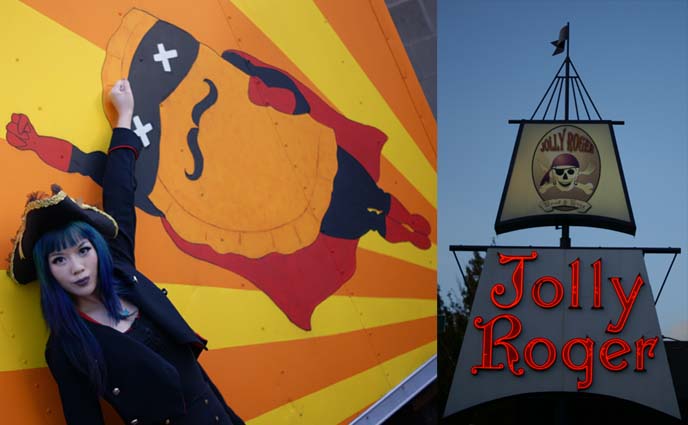 Arr! We went to a food truck pit stop, near the Jolly Roger. We sampled Mexican tacos, crepes and pumpkin butter sandwiches.
My favorite was the jambalaya, cooked fresh from a Creole truck. (New Orleans is on my list of must-visit places…)
PDX is proud of its local craft beer breweries. I enjoyed the pear and cherry ciders by Anthem Brewing.
Now you know why Portland is now one of my favorite American cities. Intrigued by the quirky indie culture here? Then please take a few minutes to watch our Portland travel video, highlighting the hippest parts of the city. (Keep your ears peeled for the evil laugh!)
How are you liking my travel video series? For more photos and tips, here are all my posts about Portland alt travel.