Shibuya 109 department store, young trendy Tokyo girls fashion! Gyaru shopping: Liz Lisa, Mitsumaru.
Where can you find rainbow heels and splashy fashion? In Shibuya 109, the infamous youth department store that caters to Japanese gyaru, or trendy gals — think Vivi, PopTeen and Egg Magazines.
Although Shibuya 109 is one of my favorite Tokyo shopping destinations, I haven't shared store photos with you until now. Keep scrolling for the latest collections, and please share this post if you enjoyed.
It's easy to spot the red 109 sign ("ichi-maru-kyuu," as it's called in Japanese) from Shibuya station's Hachiko exit (the dog statue).
The towering building sits on the famous Shibuya pedestrian crossing, as seen in movies like Lost in Translation.
Address: 2-29-1 Dogenzaka, Shibuya, Tokyo.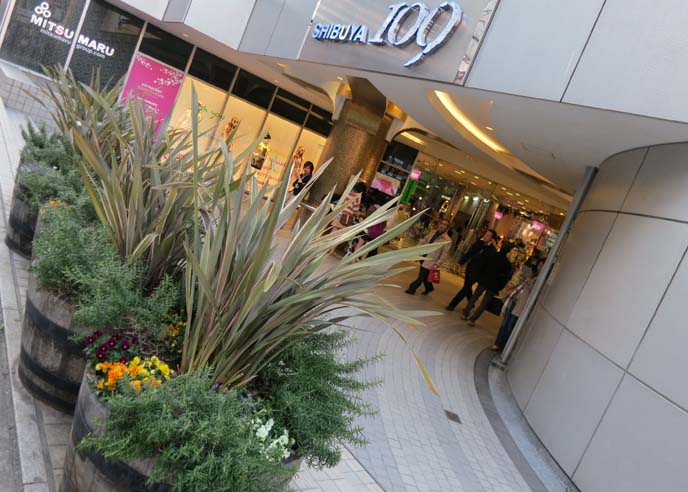 Brace yourself before going in, especially if you're visiting during peak hours (evenings, weekends). Shibuya109 is Jpop sensory overload.
Many of the shops sell similar clothing, and the selection moves as quickly as the trends (in other words, a mile per minute). Right now, the spring look is all about pastels, white lace, and oversized light sweaters.
There are eight floors and two basements, crammed with trendy, girly, romantic boutiques like Mitsumaru. The top two floors also hold cafes.
It's easy to get overwhelmed — especially since each store blasts loud, frenetic music, and the shop girls call to customers in high-pitch voices!
The shoe selection here is outrageous. There's always a spectrum of pumps and flashy footwear.
Some of the more eccentric offerings: bunny-faced heels, and spiked platform sneakers.
One shop had a Hello Kitty / Sanrio collaboration; I hadn't seen baskets like these before. Compare this to the Hello Kitty Hong Kong fashion line.
Colorful, patterned tights are all the rage in Japan. Cats are a popular motif.
This 1960s mod collection, with stark outlines and flower buttons, stood out among the girly pack.
Some of the stores have more of an urban or rocker edge. Prices are quire reasonable at Shibuya 109; full set coordinates are generally between $75-100. The quality of the garments can be hit-and-miss, however.
Designs can also be on the "huh?" side — like these strangely placed eyes on the t-shirt. Then again, you can get fun and affordable pieces like the Bettie Boop heart-shaped purse.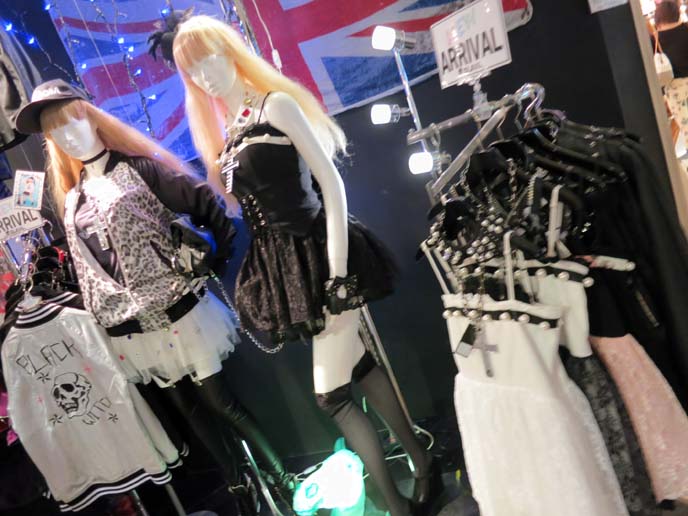 Apologies for the blurriness. I was too busy trying on clothes at GladNews to take photos! This is one of my favorite shops; the fashion is Nu-Goth meets metal, with lots of studs and crosses. More images soon.
Tips for shopping in Shibuya 109: take a walk around all the stores before pulling out your wallet. Since many of the poppy outfits are similar, you're best off seeing the full selection first.
Don't miss out on the cute accessories, like these sleepy bunny charms.
Or the makeup in the basement. I picked up fluttery false eyelashes, and tested this glitter eyeliner.
Be a smart shopper, since some items can be found all over Tokyo. These coy cat purses, for example, are found in many places and for variable prices.
Finally, the Lip Service brand isn't the same as the American one, so don't expect to find Goth / Industrial / Steampunk wear here! Funny how they share the same name.
How do you like the fashion and atmosphere at Shibuya 109? Have you bought anything from here?
For more Japanese fashion coverage, browse my Tokyo cute category — the store photos go all the way back to 2008!