Final Fantasy Square Enix cafe, Shinjuku Robot restaurant, Kagaya Shinbashi: Tokyo's weirdest theme restaurants.
Bizarre theme restaurants are maintaining their stronghold on the Japanese imagination. While in Tokyo, I visited two new themed cafes — robots and Final Fantasy — and an old favorite, Kagaya. Read on for scantily-clad fem-bots!
The Shinjuku Robot Restaurant has been raising eyebrows, for obvious reasons. I haven't been to it yet, but apparently, 5000 yen buys you dinner inside a disco-neon space where women in bikinis para-para dance and battle each other on giant robots.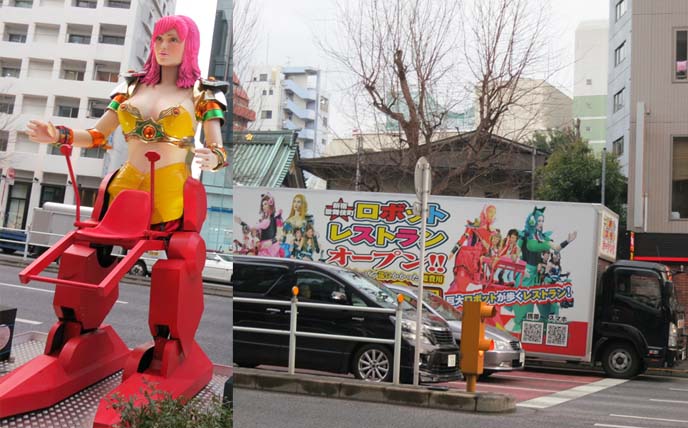 To promote the recently-opened theme restaurant, a truck drives around blasting loud music, with these two fembot killer machines attached. (Address: B2F Shinjuku Robot Building, 1-7-1 Kabukicho, Shinjuku)
I did make it to the Square Enix Artnia cafe and gift shop, dedicated to all things Final Fantasy. (Address: Shinjuku Eastside Square, 6-27-30 Shinjuku)
Artnia is a giant egg next to the towering Square Enix headquarters, where video game magic happens.
Inside, you can buy stuffed toys and memorabilia of your favorite characters, and posters of FF's Cloud. (Doesn't he remind you of Sebastiano?)
The Slimes (who are possibly the cutest villains ever) are popular Dragon Quest characters.
We had lunch at Artnia cafe, which serves themed food. (Photography by First Mate Naomi)
I ate every last bit of these chocolate-banana pancakes, fittingly stamped with a Chocobo bird.
I'm afraid I'm not too familiar with Square Enix characters. Do you recognize the figures that adorn these sweets?
How about these cute blue creatures?
In the back, there is a Final Fantasy VIII concept art gallery that runs until April 28th.
The character models are surrounded by dramatic lighting and mirrors. A fountain sits in the center.
For us Pirates, no Tokyo TV mission is complete without a visit to Kagaya izakaya in Shinbashi. (Address: Hanasada Building B1F, 2-15-12 Shinbashi)
I don't want to spoil the surprise for you, but Mark (the owner) has endless tricks and delights up his sleeve, including prank drinks and costume-crazy performances. You can glimpse the fun in this video of my 2010 visit.
Hungry to learn more about Japan's weird theme restaurants? I hope you'll check out my book, which covers Ninja, vampire, Lock-Up, Christon, Alice in Wonderland, Princess, Butler and more.
Are you a Final Fantasy fan? Would you like me to visit and report on the robot restaurant? Tell me in the comments and on my Facebook.
PS: Tons of international travels coming up… can't wait to announce where I'm heading next!