Lolli Punks, Cult Party Kei and Evangelion store! 90s Goth Grunge: Leather jacket, plaid dress & platforms.
Many of you requested more Harajuku photos after this shopping post, so I'm here to deliver. Read on for a peek inside Fairy Kei / Cult Party Kei store Lolli Punks, the Evangelion shop, Sex Pot Revenge and more!
But first, a new outfit post with a retro Goth grungy vibe…
Plaid dress with corset back: Miho Matsuda, from Closet Child Tokyo. Similar to this grunge fairy slip dress
Hooded leather jacket: Danier Leather, Canada. Reminds me of this Rick Owens leather jacket
Goth boots: Kera Shop Tokyo (a bit like these black platform boots)
These gargantuan, glamorous Marc Jacobs Dot sunglasses are a gift from Seby! The ladybug polka dots cleverly fit the bug-eyed look.
My light pink hair was a bit hard to maintain, so I changed it to a purpler shade.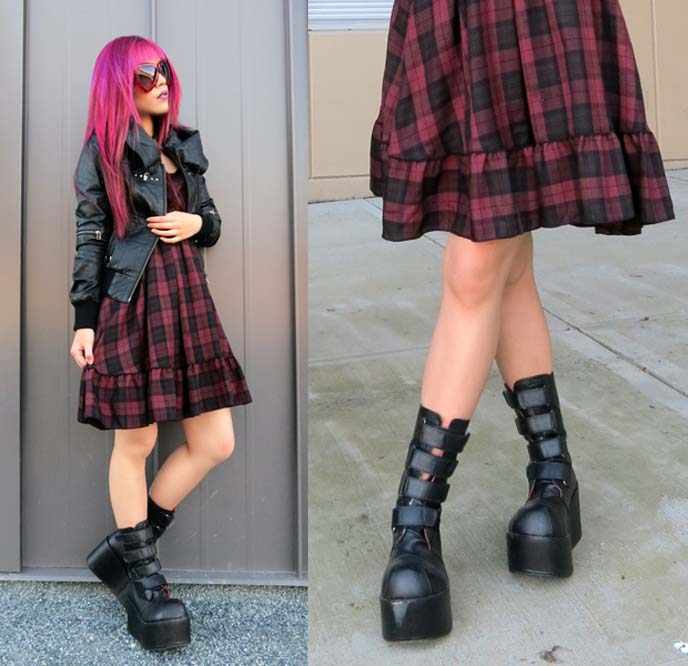 This dress is the first Miho Matsuda item I've owned. I like the soft detailing such as the gathers at the hem, and the cross-neck straps.
Details: these Marc by Marc Jacobs sunglasses have a butterfly on one side! This Hong Kong post has more images of my leather hoodie jacket.
Alright, let's move on to Harajuku. The stores on and around Takeshita Doori are constantly changing. At the moment, Harajuku has less of a Goth Punk presence, and more pastel-gyaru girliness.
Lolli Punks is a popular new destination for lovers of lace, pastels and girly cuteness. Is it fairy kei? Cult party kei? Pastel goth? People overseas may stress over the categorization, but in Japan, these "style tribes" are fluid. Many girls wear a combination of styles, or mix it up from one day to the next (Goth to Mori to Lolita).
Instead on getting tied up with names and distinctions, I prefer to look at Harajuku fashion from a broader perspective. No matter what you call it, there's currently a blossoming of light, sweet, 80s-influenced street style.
Don't get me wrong: there's still a good deal of striped, studded, kitty-cat punk wear.
And the shoes are still out of this world.
Panda bears, eyeballs and rainbow tutus.
Outside the Baby, the Stars Shine Bright (Sweet and Classic Lolita) shop. (For interior shots, see my BTSSB photos here.)
Hidden in a corner: the charming Jardin de Luseine, a spot for special celebrations.
Neon Genesis Evangelion fans, you'll enjoy this special shop that has every type of memorabilia imaginable (I'm talking about egg rolls and pricey wine).
Listen Flavor maintains its characteristic poppy fashion.
I leave you with the glow of Sex Pot Revenge. For more Harajuku boutique photos, maps and info, read my Tokyo alternative shopping guide.
Which Harajuku style tribes currently intrigue you the most? What type of outfits are you planning for the summer? Let me know your favorite brands and designers, and I'll check them out.