Sweet & Gothic Lolita dresses, Punk fashion at Yokohama Vivre. Angelic Pretty, Putumayo & eyeball tattoos!
I've photographed all of Tokyo's major alternative shopping centers (Laforet, Shibuya 109, Marui One etc) — but haven't explored Yokohama Vivre until now. This department store is smaller and more relaxed (no frenetic music or clingy shop-clerks), but carries a number of Goth, Lolita and Punk brands.
Read on for a peek inside Baby the Stars Shine Bright, Putumayo, Angelic Pretty and more… plus a look at eyeball tattooing in my latest Huff Post article.
I laughed when I saw BTSSB's "Baby Biscuit" purses. But I lusted over the Tim Burton Frankenweenie collaboration, which you can see in the first photo of this post.
Baby's dresses are fabulously detailed, but for some reason, their shop spaces always look like a mess.
Mix and match: fluffy stuffed rabbits, bow-print pastel dresses, clock purses, pearl necklaces.
Next door is Kera Shop Angel. Unless you're a character in Narcissus and Goldmund, I'm not sure where you'd wear this bizarre dress…
Ozz On and Ozz Croce maintain their striking signature look: dark cyber meets traditional Japan.
I like their distinctive designs, but they're a bit hard to mix with other items.
Kera Rock Shop has punk messenger bags with silver chains, short military skirts…
… and clothes printed with Goth crosses.
Angelic Pretty twins. Note the retro kids toys at the bottom.
AP's heart-shaped purses, with a big bow and pearl chain, are timeless.
I appreciate the casual direction of this new collection. The ribbons, lace and corset detail are classic Angelic Pretty, but the light fabrics are easier to wear in daily life.
As opposed to this JSK, which is better suited to special occasions. It's not something I'd wear, but I do like the print and relatively sleek shape.
Putumayo, famous for their Gothic Lolita Punk fashion, gets kitty-crazy this season.
Putumayo did an Alice in Wonderland collaboration, featuring the grinning Cheshire Cat.
Nice how they incorporate Alice storybook symbols, like the stopwatch and teacups, in the pink print.
This cat doesn't seem to fit the "playful" label… and why are clumsy bears captioned with "innocence is bold"?
Would you wear a schoolgirl uniform-inspired coordinate with a "Dark Bible" purse?
A wall of cute meets dark accessories.
Studded crown wallets, spiky bracelets, eyeball hair clips.
And a shimmery, flying unicorn lavender jacket!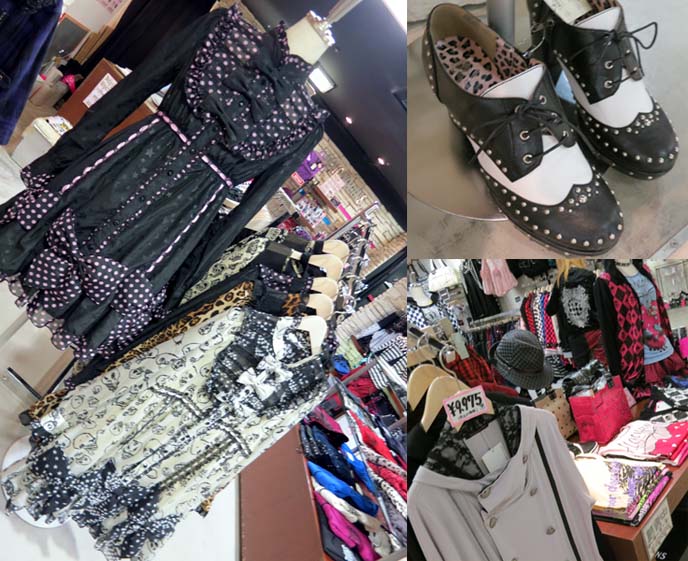 See more photos of these brands and more in my Tokyo Gothloli shop guide.
Have you been to Yokohama's Vivre? What do you think of Lolita and Goth clothing in this post? Which items would you wear?
PS: I have a new Huffington Post article about eyeball tattoos! I interviewed body modification artist Russ Foxx (based in Vancouver) about tattooing the whites of the eyes. What are the risks and effects? Read my article to find out, and don't miss the slideshow of extreme body mods like split tongues and pointed ears.