David Bowie theme cafe: Ginza, Tokyo. Alphonse Mucha art nouveau exhibit, Roppongi Mori Museum.
I rarely hang out in Ginza or Roppongi, the ritzy Tokyo districts. However, I ventured here for two of my heroes.. David Bowie and Alphonse Mucha (glam rock guru and Art Nouveau master). Read on for glorious photos, including a Mucha x Innocent World Lolita collaboration!
Japan is all about theme dining, as you know from my TV work and book, Crazy Wacky Theme Restaurants: Tokyo. To celebrate David Bowie's new album The Next Day, Sony turned a regular restaurant into a Thin White Dukedom.
From March 9-24, the Sony Building transformed its Pub Cardinal (1F, 5-3-1 Ginza) into the David Bowie Cafe.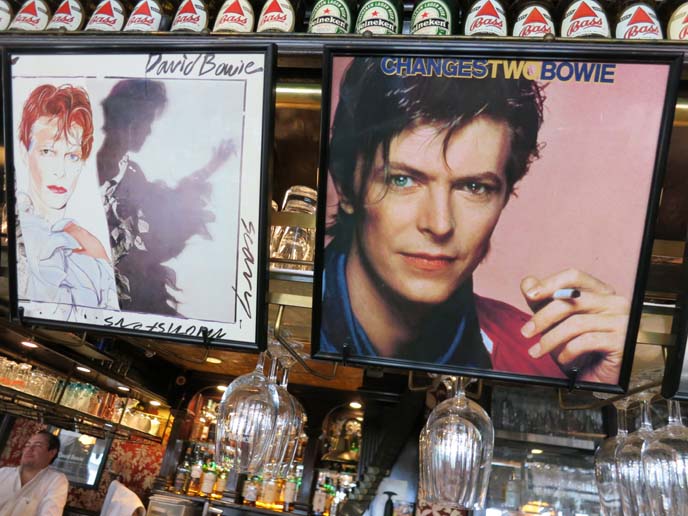 Autographed album covers, from the Ziggy era to today, filled every available space.
Quite a few Japanese businessmen dine here. For a Bowie twist, the restaurant served British dishes like shepherd's pie.
The cocktails are named after Bowie's songs: Cat People, China Girl, The Man Who Fell To Earth.
My favorite part of the pop up? Listening to non-stop Bowie music. (See my 6-second Vine video for a sense of the interior). The David Bowie Cafe closes on March 24, so I hope you'll catch it before it's gone.
Let's transition with a… Spider from Mars? Nope, this creepy-crawly sculpture is "Maman" by Louise Bourgeois, in the Roppongi Hills Complex.
As you can tell from this blog's header, I adore Alphonse Mucha (best known for his swirly, pastel, Art Nouveau innovations). His works are very popular among the Japanese. Thankfully, I was in town when "An Insight into the Artist" came to the Mori Art Museum (Roppongi Hills Mori Tower 52F, 6-10-1 Roppongi).
The exhibit had over 240 works by the Czech artist, including rare sketches and jewelry designs.
Some of his best known works, like the absinthe ads and Sarah Bernhardt posters, were on display. Marvelous to see them life-size — I could make out subtle details, like soft rainbow gradients in the swirls, and the silver sheen of "La Dame aux Camélias".
The gallery ran chronologically, from his earliest paintings, to Art Nouveau masterpieces like The Seasons, to his final religious and patriotic works.
Look what was in the gift store: an Alphonse Mucha collaboration with Lolita label Innocent World! The brand released a limited-edition skirt and dress, featuring pastel prints.
These Mucha ladies tights were immediately in my possession.
In addition to the usual postcards and books, there were special items like Star Jewelry.
But these "kawaii" versions of the Mucha girls turned out more "kowai", or scary!
The Mori Museum is a personal favorite; it has a sky view of Tokyo, and ever-changing exhibitions of artists like Yayoi Kusama.
I don't think Alphonse Mucha ever dreamed his "Jaroslava" (a portrait of his daughter) would be in the Tokyo subway! The showcase runs until June 15; it's well worth a visit for insight into the artist's creative process.
Are you fascinated by Art Nouveau? Mesmerized by David Bowie? Which artists and musicians do you admire, and why?