RIP Black Peace Now: Harajuku Japanese Goth fashion brand closes, bankrupt. Final collection photos.
Sad face… one of my favorite Harajuku Goth fashion brands, Black Peace Now, is no more. Please read on for a eulogy, and photos of the very last collection.
All the BPN Japan stores have already vanished. USA operations remain open, but I doubt they'll last for long.
Things haven't been great for Japanese Goth brands in recent years. h.NAOTO is closing its San Francisco boutique, and both Banana Fish and Sexy Dynamite London are gone for good.
How fitting that I wore this outfit to Hanzono Shinto shrine in Shinjuku, two weeks before the end. My Pirate first mate Naomi Rubin (comic artist and web designer at Naomiyaki) shot these photos.
Ghost top: Peace Now, from Closet Child Shinjuku
White fuzzy coat: got it in London years ago. It reminds me of the one the girl wears in Last Tango In Paris.
Starlet white hat: vintage, from ages ago
Gothic Lolita purse: Spider, Hong Kong
White sunglasses: Dolce and Gabbana (more photos here)
Black heels: Michael Kors
In front of Shinto prayer boards (ema). I should have wished for Peace Now to live on…
Nobody had any clue that the brand was on its last legs, especially since their last collection was strong. Highlights include these epic creeper shoes, which I bought. The pirate bear reminds me of Basil.
I took these photos of the BPN in Vivre (Yokohama department store) a mere fortnight before the brand folded. The last collection had Pastel Goth elements and cute ghosts.
I wasn't a big fan of their Moi-meme-moitie style Lolita dresses. However, I liked the scalloped jacket collars and cloud prints.
Star-studded platform sneakers, enough said.
Unlike some other Gothic and Lolita labels, Black Peace Now showed evolution over the years, and didn't stick to the same old formula. It's a shame that they had to say goodbye (apparently, they went bankrupt).
This is what the Peace Now boutique looked like at Vivre Yokohama, right before the fall.
And then… everything disappeared without a trace. No warnings or clearance sales. Two days after the announcement, there was nothing but empty space in Laforet Harajuku.
Rest in peace, Peace Now. May your ghost guy live on in the secondhand shop, Closet Child.
Let's hope that the remaining Japanese Goth Punk brands stay strong. (Here are links to the shop websites, along with photos of coordinates.)
Were you a fan of Black Peace Now? Surprised by its death? What do you foresee for other J-Goth clothing lines?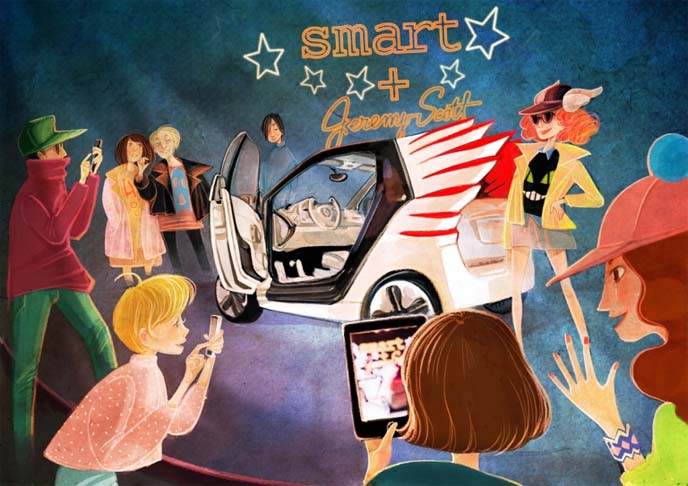 PS: Hope you've been enjoying Tokyo Fashion Week! Don't miss the Jeremy Scott smart forjeremy car, on display until Mar 23 (10am-9pm daily at Hikarie, 2丁目 Shibuya). Love how Berlin-based blogger and illustrator Nancy Zhang visualizes the road show in a fashionable comic.