Category Archive for
South Asia Travel
Great balls of lighting! My mind felt like it was exploding with color, when I went shopping in Bangkok's Chatuchak Market.
Seby and I spent a morning at the largest market in Thailand (also known as Jatujak, or J.J.). What type of designs are sold here? Did we buy anything cute? Let's shop and see…
Take note that Chatuchak (Kamphaeng Phet 2 Road) is only open on Saturdays and Sundays. We were grateful to have Sylvie from Destination Asia as our guide, since there were over 15,000 stalls to explore, and the narrow walkways were packed with shoppers!
I'm wearing a cut-out black top by TwoPercent Hong Kong, and studded ankle boots by Yosuke from Shibuya 109. The round orange sunglasses are vintage Gucci.
The little shops sell everything from Buddhist items to home goods and food. We asked Sylvie to take us to the area featuring hip local fashion, and spent about an hour browsing. Fortunately we were there early, as the market can get very hot and packed around noon onward.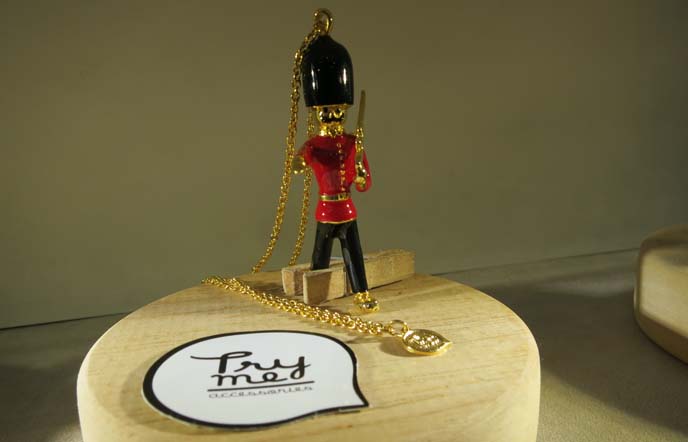 Some Asian markets, like "Women Street" in Hong Kong, sell poorly made goods. This is not the case at Chatuchak. Most of the boutiques sold lovingly crafted designs with a touch of cute. This Queen's Guard necklace is a great example.
I'm always on the lookout for Scottish Fold cat items. When I saw these rings by Good After Nine, I simply had to have one.
The store is run by two young Thai jewelers, who are passionate about making unconventional pieces. Basil Farrow says: the painted lines on the face, folded ears, and slightly angry expression are spot on!
Like in Siam Discovery Mall, a lot of the young, Bangkok designs have a twee and vintage feel.
Spotted another Scottish Fold item. I didn't get this shirt, as the print is a bit much.
However, Seby and I went nuts at Le Petid Print shop. All their t-shirts are 100% cotton and chemical free, with soft screen prints. I got the Halloween bunny tee, and he got the Stormtroopers one, among others.
Tip: if you buy more than one item, you get a discount — which ends up being about $2-4 US per shirt! Insane, considering the superb quality and prints that we found.
Another tip: some stores sell the same or similar items, so it's worth walking through the halls first to see what's available. However, if you come across something remarkable — like the cat-face jewels — get it right away, as you may get lost on the way back.
Among my favorites were these sweet, character-print scarves and bags.
A smiling fox family. See what I mean about the natural, charming vibe of the stores?
Put a bird on it, as the hipsters in Portland do.
These glowing ball lights would be great for home decor, or a photoshoot.
Love the faux flower crowns and My Fair Lady hats.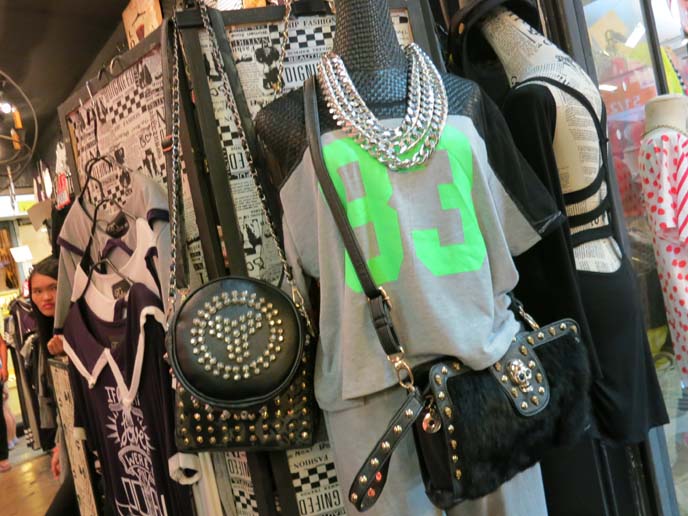 On the darker side, you can find studded Goth-metal clothing. Many Bangkok designers start out at JJ Market, since it's not too expensive to rent a space here. It's a great way to present their works and gauge the reaction.
Many items are handmade one-offs, which lets the creator experiment and gives the consumer something special.
A final tip: stock up on souvenirs and small accessories here. Since prices are so low, you won't regret spending baht and supporting these local businesses.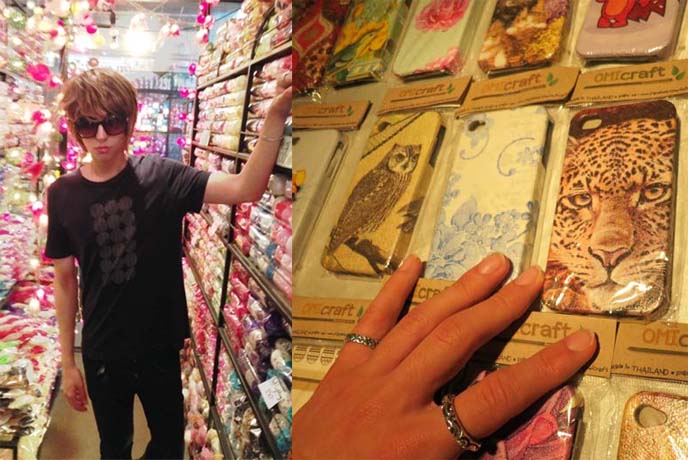 Look for illustrated iPhone cases…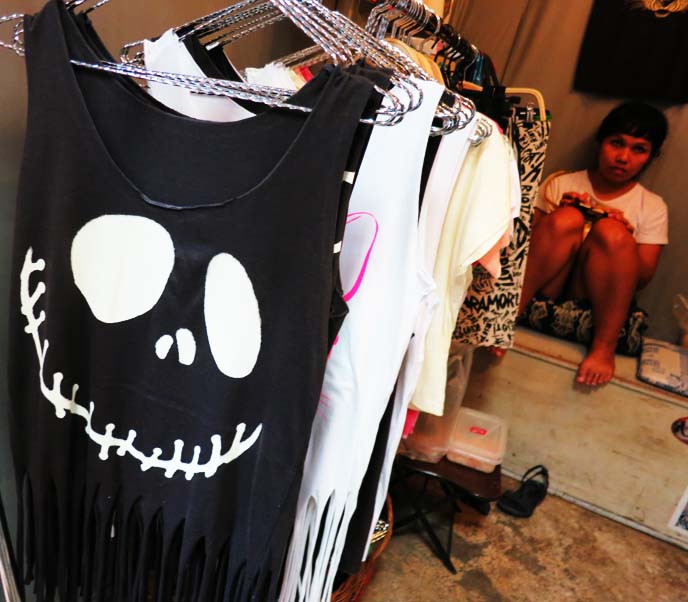 Nightmare Before Xmas t-shirts, printed with Jack Skellington's face…
And don't you dare leave without a funny t-shirt or two… or eight. (I think that's how many Seby and I got!)
I leave you with a peek inside a rockabilly store. Skulls and subcultures are everywhere around the world now.
Isn't Chatuchak Weekend Market inspiring? Did you know there was an indie design scene like this in Bangkok?
Coming up next: a video of my poppy Bangkok travels. For all my Thailand coverage, including temples and restaurants, check out the SE Asia category.
Is there such thing as a Gothic swimsuit? Seems so!
Enjoy the bathing suit shots by Seby, plus a peek inside a Bangkok Lolita boutique called Chuchu.
Online retailer Little Wicked's Emporium made my day when they sent me this Banned Apparel skeleton swimsuit. The design is cheeky yet chic, with lining and straps that tie around the neck. Such a treat to have swimwear that suits my aesthetic!
My white cat-eye sunglasses are Dolce & Gabbana, and my floppy hat is similar to this one.
Seby and I enjoyed every aspect of Sofitel So, the luxury hotel that hosted us in Bangkok. One of our favorite moments: splashing around the rooftop infinity pool.
The edge of the water appears to stretch on forever. At night, it turns into "The Water Club Bar", with special cocktails and lounge DJs.
It's hard to beat a swimming pool that overlooks the Thai skyline.
The Sofitel pool is shallow, which is good for people like me (I hardly made it to the "Maroon" level in the old Canadian Red Cross program).
Guests could play with a selection of inflatable donuts and sharks. Let's just say, we had a bit too much fun with these toys.
Between playing around, we took in the view of Lumphini Park, an inner-city green space with an artificial lake and boats for rent.
What type of swimsuit do you wear? Would you rock a skeleton one?
While it was tempting to stay in our hotel oasis, we braved the Bangkok traffic to visit Platinum Fashion Mall.
I came here for the new Sweet & Gothic Lolita boutique, Chuchu. (83, Zone1, Soi Ginza 6, Platinum Fashion Mall.) It's run by two Japanese sisters, Tsubasa and Mamu, who are now based in Thailand.
All items are designed and made locally. The frills and gathers are reminiscent of what you'll find in Tokyo shops — but for much lower prices. This is Bangkok, after all.
There's a cute selection of skirts and dresses, in many different pastel colors and styles. The sisters generously gave me a purple floral Lolita dress from their collection. You can see me wearing it during my Seattle trip.
Chuchu also makes cosplay clothing. The store has a loyal customer base, and takes part in local events like anime fairs.
You can see Japanese influence in the fashion styling and flyer design. Many of Chuchu's garments are reminiscent of classical Lolita cuts.
The stuffed bear and flowers prove their dedication to all things kawaii.
I'm glad to see Lolita fashion in the hands of young, international creatives. In Tokyo, EGL styles feel a bit stagnant to me, and quite a few labels have closed down (like Peace Now and Banana Fish).
Even if Lolita is not growing much in Japan, it's great that there are strong communities worldwide. Indie designers like Bangkok's Chuchu are reaching new audiences, and putting their own, local twist on the style.
Platinum Mall contains other small shops that sell original fashion or bulk clothing, like these colorful aprons. This is a good place to pick up inexpensive basics (like Seby's swim trunks).
However, for forward-thinking street style, the best shopping destination remains Siam Discovery.
We were in Thailand around Halloween, hence the cute ghost, pumpkin and skull chocolates.
Bangkok is famous for its street food. Outside, there was a vegetarian festival. Maybe that's veggie duck?
Time to get back. We hailed a taxi — they're very cheap in Bangkok, just be sure to get on with a running meter. Open air tuk tuks are another option, but with our hair and outfits, we prefer to be in an enclosed and air conditioned space.
Give yourself a lot of transit time, since the traffic is notoriously slow here.
At least the funny Bangkok taxi signs help to pass the time. Clients are urged not to gamble, sing karaoke or eat durian. My favorite is the "no water buffalo." Apparently, a buffalo is a Thai slang word for an idiot.
What do you think of my "all bones" Gothic swimsuit? Are you surprised to see a Lolita boutique in Thailand?
Here are more photos from inside the Sofitel So hotel — I've never felt so pampered!