DIY Bangkok Fashion at Chatuchak Weekend Market. Animal face rings, Thai organic t-shirts.
Great balls of lighting! My mind felt like it was exploding with color, when I went shopping in Bangkok's Chatuchak Market.
Seby and I spent a morning at the largest market in Thailand (also known as Jatujak, or J.J.). What type of designs are sold here? Did we buy anything cute? Let's shop and see…
Take note that Chatuchak (Kamphaeng Phet 2 Road) is only open on Saturdays and Sundays. We were grateful to have Sylvie from Destination Asia as our guide, since there were over 15,000 stalls to explore, and the narrow walkways were packed with shoppers!
I'm wearing a cut-out black top by TwoPercent Hong Kong, and studded ankle boots by Yosuke from Shibuya 109. The round orange sunglasses are vintage Gucci.
The little shops sell everything from Buddhist items to home goods and food. We asked Sylvie to take us to the area featuring hip local fashion, and spent about an hour browsing. Fortunately we were there early, as the market can get very hot and packed around noon onward.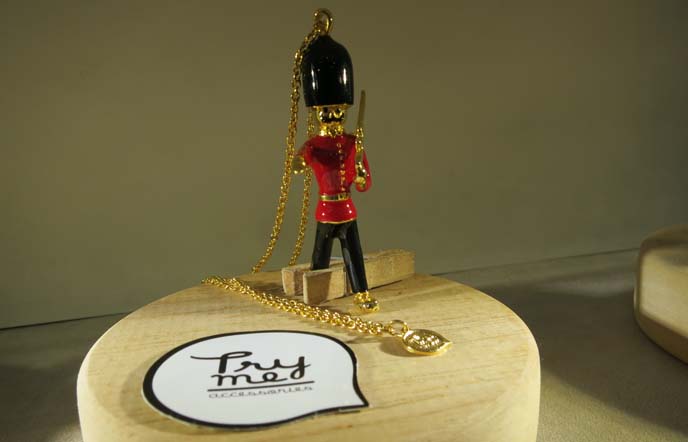 Some Asian markets, like "Women Street" in Hong Kong, sell poorly made goods. This is not the case at Chatuchak. Most of the boutiques sold lovingly crafted designs with a touch of cute. This Queen's Guard necklace is a great example.
I'm always on the lookout for Scottish Fold cat items. When I saw these rings by Good After Nine, I simply had to have one.
The store is run by two young Thai jewelers, who are passionate about making unconventional pieces. Basil Farrow says: the painted lines on the face, folded ears, and slightly angry expression are spot on!
Like in Siam Discovery Mall, a lot of the young, Bangkok designs have a twee and vintage feel.
Spotted another Scottish Fold item. I didn't get this shirt, as the print is a bit much.
However, Seby and I went nuts at Le Petid Print shop. All their t-shirts are 100% cotton and chemical free, with soft screen prints. I got the Halloween bunny tee, and he got the Stormtroopers one, among others.
Tip: if you buy more than one item, you get a discount — which ends up being about $2-4 US per shirt! Insane, considering the superb quality and prints that we found.
Another tip: some stores sell the same or similar items, so it's worth walking through the halls first to see what's available. However, if you come across something remarkable — like the cat-face jewels — get it right away, as you may get lost on the way back.
Among my favorites were these sweet, character-print scarves and bags.
A smiling fox family. See what I mean about the natural, charming vibe of the stores?
Put a bird on it, as the hipsters in Portland do.
These glowing ball lights would be great for home decor, or a photoshoot.
Love the faux flower crowns and My Fair Lady hats.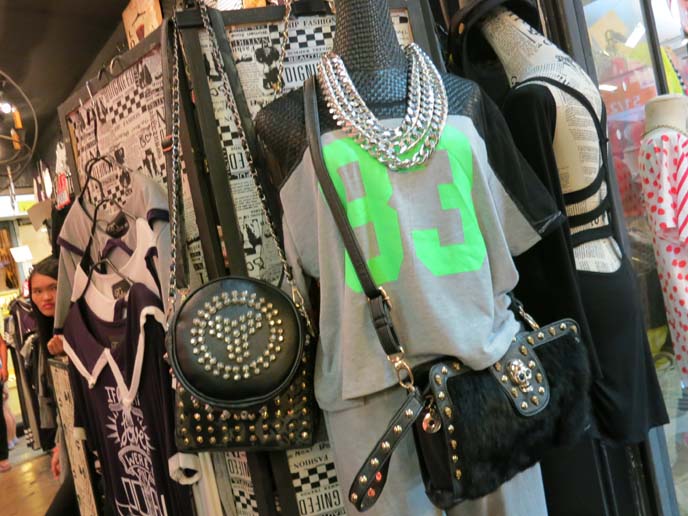 On the darker side, you can find studded Goth-metal clothing. Many Bangkok designers start out at JJ Market, since it's not too expensive to rent a space here. It's a great way to present their works and gauge the reaction.
Many items are handmade one-offs, which lets the creator experiment and gives the consumer something special.
A final tip: stock up on souvenirs and small accessories here. Since prices are so low, you won't regret spending baht and supporting these local businesses.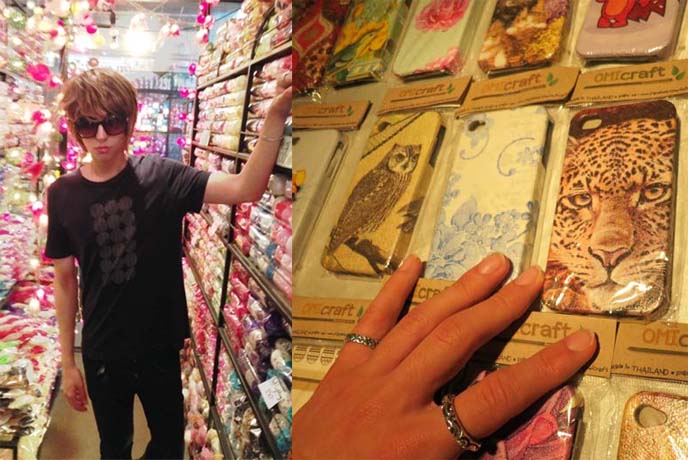 Look for illustrated iPhone cases…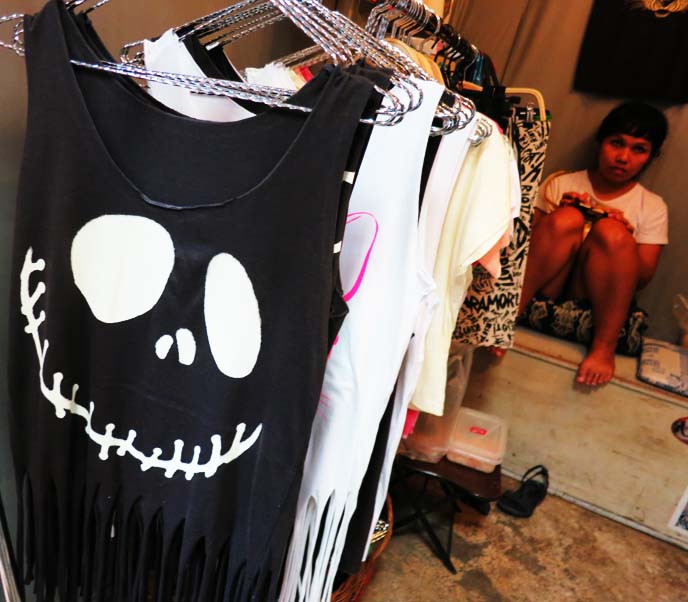 Nightmare Before Xmas t-shirts, printed with Jack Skellington's face…
And don't you dare leave without a funny t-shirt or two… or eight. (I think that's how many Seby and I got!)
I leave you with a peek inside a rockabilly store. Skulls and subcultures are everywhere around the world now.
Isn't Chatuchak Weekend Market inspiring? Did you know there was an indie design scene like this in Bangkok?
Coming up next: a video of my poppy Bangkok travels. For all my Thailand coverage, including temples and restaurants, check out the SE Asia category.