Category Archive for
Hawaii
Still can't believe I was in tropical Honolulu, Hawaii… after the mess of 2020, this trip feels like a dream.
Every morning, I said "aloha" to this ocean view from my balcony at 'Alohilani Resort Waikiki Beach.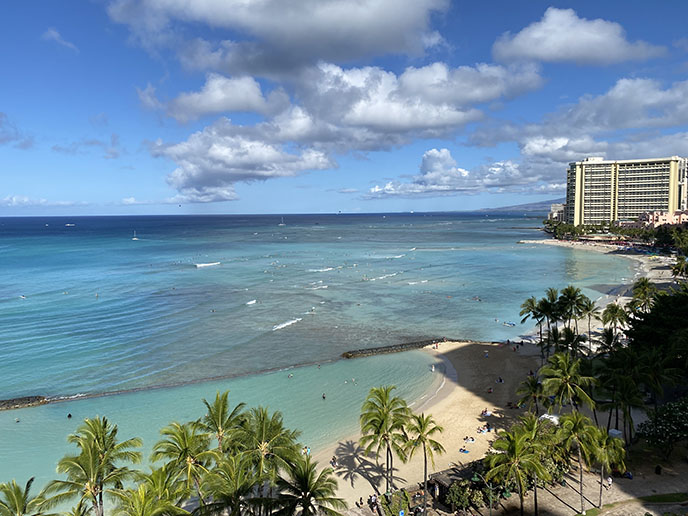 If I had to design a dream Hawaiian hotel, it'd look a lot like the luxurious Alohilani. My room had a private balcony overlooking the ocean waves, palm trees and warm sand. All I had to do was walk across the street, and I was on Waikiki (Kuhio Beach).
Come with me, and I'll take you around my 5-star hotel. The 'Alohilani went through a 2018 renovation, so the common areas — such as the entrance and driveway — are a modern tropical feast for the eyes. (Address: 2490 Kalakaua Avenue, Honolulu; it's right by Waikiki Beach.)
Outfit details: Skeleton crop bikini / swimsuit by Towers Swimwear, tartan schoolgirl skirt Ninja Cosmico, silk hair scrunchies and mask Lemonwood Luxury.
The resort is named after Queen Lili'uokalani, the last reigning monarch of the Hawaiian Kingdom. The Queen was a talented composer and author who was passionate about local culture, and beloved by the people. In this spirit, the Alohilani gives guests a warm and artistic stay.
The spacious rooms (about 330 square feet) mix contemporary design with locally inspired elements, such as framed rainbow photographs that reflect the beauty of Hawaii.
However, the most outstanding feature is hands-down the balcony! My Alohilani Hotel oceanfront room had a spectacular, unblocked view of the famous beach, Diamond Head volcanic crater and the Pacific Ocean.
The room is stocked with all the modern conveniences — with the added bonus of Japanese TV channels. I got a kick out of watching this exercise program on NHK Japan.
Take me back to my Premier Ocean Front guestroom and private lanai… I loved lounging outside on the chairs, with a cocktail in hand.
'Alohilani Resort's common areas are just as captivating. The lobby features pendant lights and a textured statement wall, and a traditional royal costume on display. Next to O Bar, there's a two-floor saltwater Oceanarium full of coral and fish of all sizes.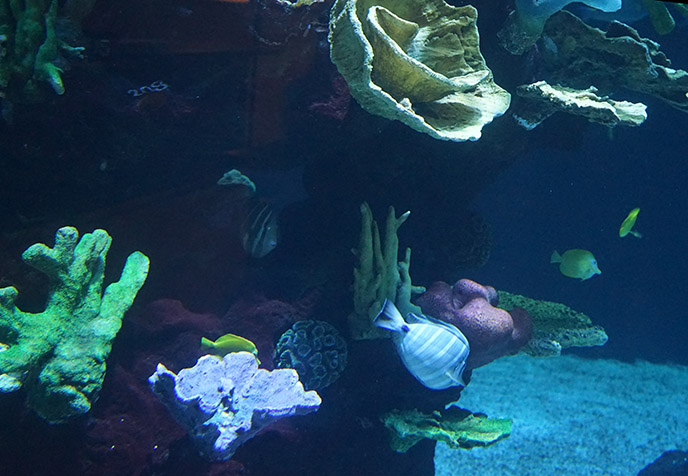 At 10:30 a.m. & 2:30 p.m every day, you can watch the staff feed the colorful Hawaiian fish in the enormous aquarium.
As a guest of the hotel, it's well worth adding on access to 'Alohilani's Longboard Club. You get VIP access to an elegant indoor-outdoor club space — meaning you can relax in peace, in a private cabana.
Every morning, I looked forward to the Longboard Club's included breakfast. The freshly made dishes included eggs, Hawaiian fried rice, passionfruit juice, creamy yogurt, and the signature acai bowl with granola and fruit (I had this every single day!)
Not a bad place to work or watch movies, wouldn't you say? Longboard Club is open at all hours as long you have the access card, and there's breakfast service as well as cocktail hour hors d'oeuvres.
Decisions, decisions… the 16-bottle wine Cruvinet (high tech wine dispensing gizmo) had an enticing selection. I did my best to sample everything.
When it got too hot outside, I went into the air-conditioned indoor area to unwind.
The cocktail hour selection includes salads and charcuterie with international cheeses and crudités.
Love the design elements including fire pits behind glass, and pink flower borders.
My skeleton print top is actually a long-sleeved surf bikini by Towers Swimwear.
In addition to Longboard Club, the 'Alohilani Resort Oahu is home to several restaurants. Dine at Morimoto Asia or Momosan ramen and sake (created by the Japanese Iron Chef.)
Or grab cocktails, poke bowls and burgers at Swell Restaurant and Bar, by the main swimming pool. The deck has private cabanas over a saltwater infinity pool, and a pool bar with live electronic DJs at night.
For those who love shopping, the hotel also has a variety of fashion and jewelry boutiques. I confess I was most excited about the in-house ABC Store! This legendary Hawaii-based chain of convenience stores first opened in 1964 in Waikiki. Now, you'll find the big ABC signs all over Honolulu.
I always head straight to the cute stuff. ABC Stores carry special Hawaiian edition kawaii goods, such as these Doraemon plush toys with surfboards and sunglasses.
Look, even Hello Kitty got a tan in Honolulu. She wears a Hawaiian hula skirt, and replaces her signature pink blow with a flower. Her Sanrio cute character friends (Gudetama, My Melody) get in the mood by strumming ukuleles.
I picked up souvenirs and inexpensive snacks at the ABC Store. The local Placa Pineapple Shortcake and lilikoi cookies were tasty, as were the "On the Rocks" premium bottle cocktails.
One of my favorite memories; watching the sun set from the balcony of my 'Alohilani hotel room. Hawaii truly has magic.
And here's the night view. As a city-person, I enjoyed the mix of urban life and beaches at Waikiki.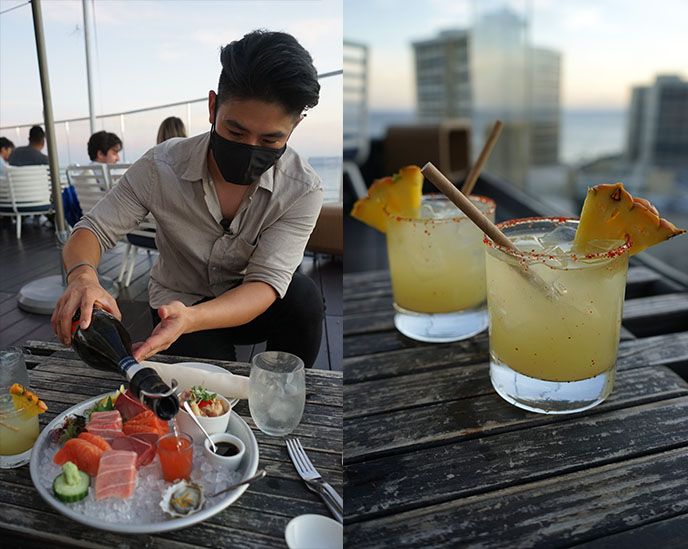 While in Waikiki, I sought out sushi — as fresh-caught seafood is a Hawaiian specialty. I had a magnificent dinner at Sky Waikiki Raw & Bar, located a few blocks from the beach and my hotel.
Sky is an open-air restaurant located 19 floors up. The glass railing gives every diner an uninterrupted view of Waikiki from up high. It's a terrific spot for champagne or cocktails — loved the spicy pineapple handcrafted creation — and oyster shooters with sparkling wine poured right into the shell.
As you can see, Sky's wrap-around rooftop deck delivers stunning panoramic views (this is the iconic Royal Hawaiian "Pink Palace of the Pacific" hotel, beloved by 1960s celebs). Come for dinner and catch the sunset; if you're a vampire like I am, you can huddle under a hand-held parasol provided by the staff!
Sky's sashimi and sushi are as fresh as it gets. Salivate over these slices of salmon, yellowtail, ahi tuna and Hokkaido scallop.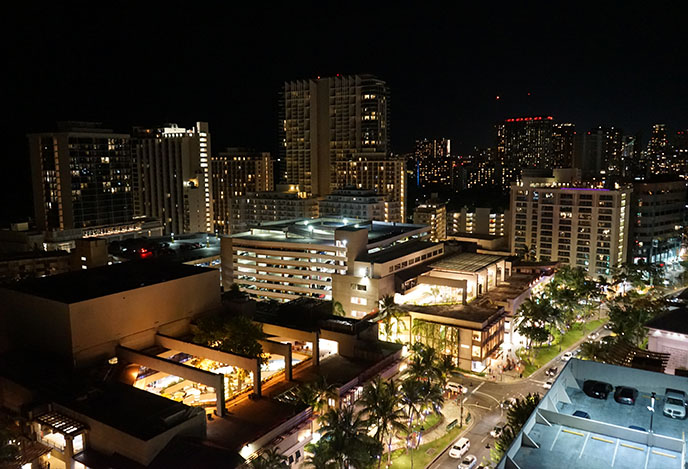 After nightfall, the city below glitters with light. Such a treat to dine alfresco and up high. at Sky Waikiki Restaurant
Waikiki is also known as a shopper's paradise. You'll find the usual couture stores here, similar to Rodeo Drive in LA. However, I bypassed them and made a bee-line to the Kira x Miffy store! I was greeted by an enormous statue of my favorite X-mouthed bunny character, wearing a lei (flower necklace).
Miffy (or Nijntje) is the creation of Dutch artist Dick Bruna, and any reader of my blog knows I'm obsessed with the rabbit's minimalist kawaii. At the Kira Kids x Miffy store, you'll find exclusive Hawaii collections featuring Miffy — such as tropical totes and toys.
The store has items such as onesies for babies and kids, but there are also plenty of Hawaii-themed Miffy goods for fans of all ages.
(The Kira Miffy store is located in the Royal Hawaiian Center shopping complex. Address: 2233 Kalakaua Ave B114, in Waikiki, Honolulu.)
Kira Honolulu has Miffy toys, lamps, backpacks, home goods, you name it. (I bought a themed wine bottle stopper, because why not?) There are also products featuring the lion, Boris the bear, and Snuffy the dog.
For more Miffy madness, check out my stories about her Amsterdam stores, and the Miffy Museum in Utrecht.
Pop into other Waikiki stores, and you'll find Hawaii-edition Hello Kitty products. There's a significant Japanese population here, and Hawaii is popular with tourists from Japan — hence the copious amounts of kawaii.
I leave you with some bonus shots from my balcony at the Alohilani…
Still can't get over this view. Note the breakwater on Kuhio Beach, which creates a wave-free zone popular with families.
The beach also has a gorgeous banyan tree dating back to 1904.
Go to Waikiki Beach early to beat the crowds, and watch the surfers and sailboats over the rolling waves.
Aloha to 'Alohilani Resort Waikiki Beach for a luxurious and rejuvenating stay that I will never forget. I'm already daydreaming of being back here.
(Forever a shady lady, even in tropical paradise…. you know I'm all about sun protection!)
Have you been to Honolulu, Oahu — or anywhere in Hawaii? If you have any questions about traveling in Hawaii, leave me a comment.
If the tropical leaves and ukulele didn't give it away… surprise, I've been hanging out in Honolulu, Hawaii!
After over a year at home in Canada, I jumped on the chance to be on the paradise island of Oahu.
In Part 1 of my Hawaiian diary, you'll see how I fit right in at The Laylow, a mid-century modern design hotel by Waikiki beach.
Still dreaming of this sunset… the fashionable Laylow hotel was walking distance from poke cafes and picture-perfect beaches, like Fort DeRussy Beach (above).
Since we're taking a look at Hawaiian contemporary design, I'll also show you the flamboyant murals of Kakaʻako, and a street art exhibit at the Bishop Museum. (Quite a few have a Gothic and kawaii influence, which isn't a surprise as there is a substantial Japanese population in Honolulu.)
The Laylow hotel is part of Marriott's Autograph Collection, a group of unique design properties. My hotel room was made for photography, with statement wallpaper, a colorful midcentury sofa, and a ukulele to strum. (The little guitar-like musical instrument was introduced to Hawaii by Portuguese, where it took off.)
(My long bat print Goth dress is by Sourpuss Clothing.)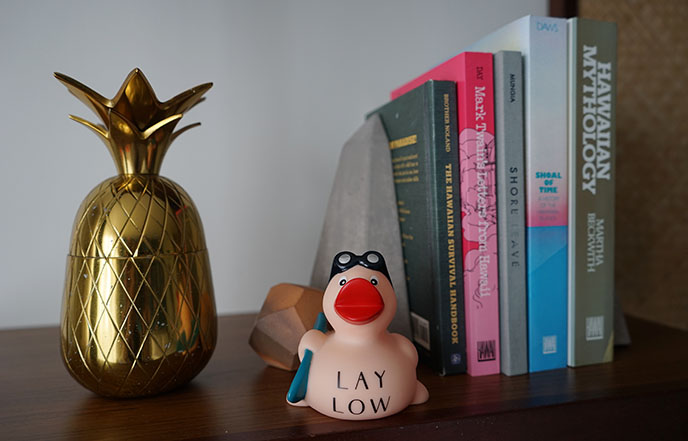 Each of the 251 rooms is filled with retro-tropical touches. All guests receive this Lay Low surfer rubber ducky in a gift basket, as a memento to take home. The shelves contain nostalgic books about surf culture, art, and more. (I was fascinated by the an architecture book about Vladimir Ossipoff, Hawaii's most renowned mid-century modern architect whose buildings were inspired by his childhood in Japan.)
I loved "laying low" in my cozy and spacious room, which had a vintage Hawaii color scheme and design accents.
Snuggling up in this white robe, which every guest can find in the closet. With its round illuminated mirror, the futuristic Laylow bathroom looks like something out of 2001 A Space Odyssey.
In addition, every stylish room has a private lanai, or curved balcony.
You may recall that my own apartment decor is inspired my mid-century modernism — it's one of my favorite design styles. The Laylow's custom and refurbished vintage MCM furniture includes a pin-leg lounge chair and curving table reminiscent of a surfboard.
Everyone who checks in receives a generous "E Komo Mai Basket" of goodies to use and take home as souvenirs. These include Laylow branded flip flops in two sizes, water bottles, snacks, a cute rubber duck and a sanitization kit.
Be sure to take a photo with The Laylow's signature monstera leaf wallpaper, which was inspired by vintage bark cloth patterns.
The cheerful kitsch extends to the hotel's common areas. Behind the check-in counter, you'll find classic hula dancer figurines swaying their hips and strumming ukuleles.
The Laylow maintains the 1950s/60s vibe with its outdoor saltwater pool framed by foliage. I'm all about the egg chairs and retro bullet planters (I have one myself).
The Laylow boutique hotel opened in 2017, so everything is brand new — while retaining the sprit of the 1960s-era hotel that it replaced.
And did I mention the location, location, location? I only had to walk for a few minutes to be at Waikiki Beach! (With all my sun protection, of course.)
After the past year and more… I couldn't believe I was in sunny Honolulu, wading in the clear waters and saying hello to the schools of fish that darted about.
A moment of Zen, watching the waves roll over the rocks at Waikiki. (Thankfully, I managed not to drop my phone in the ocean…)
If you're a sportier type than me, you can take part in water activities like surfboard yoga, paddle-boarding, and sailing. (These bright surfboards lined the walkway to the water.)
The Laylow is located at 2299 Kuhio Avenue, right by International Marketplace and major Waikiki shops/restaurants. Take the long escalator down to the street level, and everything is right at hand — including multiple ABC Stores, the infamous Hawaiian "conbini"!
The hotel also has a stylish dining space: Hideout at The Laylow. The restaurant that serves modern Hawaiian cuisine with ingredients from the ocean and local farms.
With outdoor seating and a sandy floor area, Hideout felt like beachside dining. Come for happy hour to try the signature mai tai made with local rum, pineapple, and lilikoi (a fruit similar to the passionfruit).
The Hideout menu includes poke bowls (I chose ahi tuna, and it came with kimchi and an egg on top). Fresh fish is always a good idea when you're in Hawaii, and the kampachi ceviche with calamansi hit the spot.
The seared ahi tuna sandwich has a Japanese touch. It's coated with bubu arare, tiny glutinous rice pops originating from Kyoto.
Later, you can grab a bottled cocktail from the ABC Store, and sit on your Laylow private balcony to take in the sunset.
I was inspired to see more of Hawaii's art — past and present — at the Bishop Museum. Founded 1889, the Bishop is the state's largest museum and has the world's largest collection dedicated to the history, culture, and environment of Hawaiʻi and the Pacific.
The Castle Memorial Building held a special art show: "POW! WOW! The First Decade: From Hawaiʻi to the World." The vibrant exhibition showcases some of the most notable local and international street artists, whose works include a big-eyed inflatable bunny.
This exhibit was curated by Jasper Wong, the founder of POW! WOW! (a nonprofit that brings contemporary artists together to enrich neighborhoods with art). The Bishop featured over 160 artists, with 30 creating new murals and installations.
I walked into what looked like an urban street corner, covered in decals and graffiti tags.
The creative works included a modified old-school Mortal Kombat arcade game. I spotted a Stop Asian Hate Crimes poster by Lauren YS.
The devil is always lurking about, wherever I go…
The Bishop's gallery space included over 120 new 2'x2' paintings. In the foreground, Winnie is squatting and straining, and living up to his "pooh" name…
The kinetic artwork drew my attention. The ""good" and "bad" ideas sway left and right into the empty heads.
The show brought together contemporary creative expression with traditional and indigenous perspectives.
Leave it to me to find some cute pastel monsters. Designer and illustrator Kevin Lyons is known for these funky characters.
The Bishop has many other exhibits, as well as a museum of science and nature. Be sure to wander in the impressive Hawaiian Hall, guarded by a 55 foot long sperm whale. It houses thousands of fascinating artifacts about the royal family and Polynesian cultures.
On the first floor, I learned about ancient Hawaiian gods and legends, which are expressed through haunting stone carvings. (They reminded me of my time on Easter Island.)
A few of the many fascinating totems by Pacific Island tribes. Thank you to The Bishop Museum for letting me discover Hawai'i's history and living culture.
Even for a sun-phobic Goth, spending outdoors is a must in Hawaii. At Diamond Head beach park, you can walk up to a lookout point for this view, or hike up to the summit of the volcanic crater.
You'll come across hens and roosters roaming about the park. The birds first arrived on the island through Polynesian voyagers in 300 AD, and have stuck around.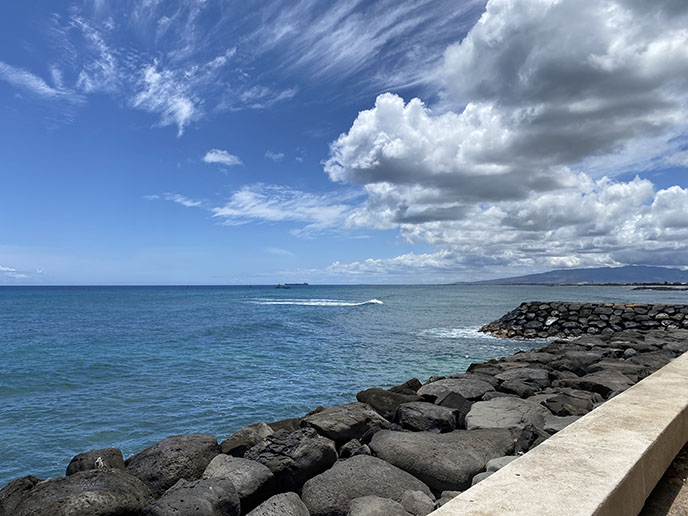 There are endless spots on Oahu to see the waves – this is Kakaʻako Waterfront Park. I would have driven to the North Shore and Japanese temples, had there not been a rental car shortage…. (Something to be aware of when you plan your trip.)
Honolulu's Kakaʻako district has been revitalized with urban street art. I encourage you to come here to see the impressive large-scale works, such as "Aloha Monsters" by Kevin Lyons.
Most of these were part of POW! WOW!, the festival that brings local and global artists to the neighborhood to paint public murals. 
Kakaʻako isn't too far from Waikiki, so you can Uber or Lyft here easily. Set your location to the "Fisher Hawaii" office supply store, and you'll find tons of murals in the surrounding streets.
Quite a few had Japanese manga aesthetics. Here's a gundam robot fist and hopping bunnies.
I dug this eccentric take on tiki statues.
Spend some time walking around Kakaako, then end up at the hip Salt retail center for an iced tea.
Tokidoki is easy to recognize. Note how the palm trees look like skulls and animals, and a dinosaur is chomping on one!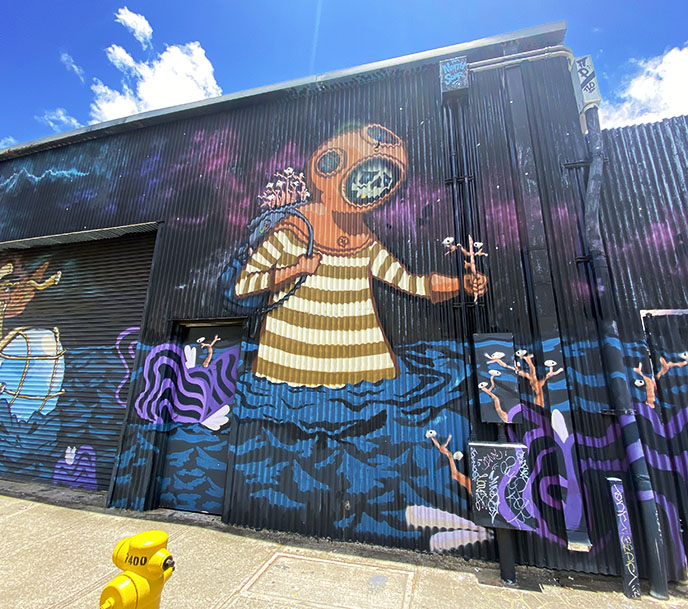 Quite a few murals had a Goth or spooky theme, such as this skeleton diver.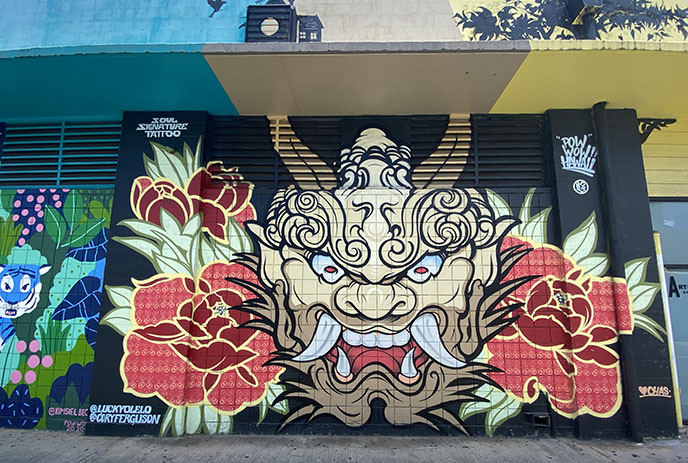 And the devil is always near.
Not surprising to see cuteness like this in Hawaii, as it has one of the world's largest Japanese communities.
Waikiki has plenty of great Japanese food options as well as poke, the native Hawaiian dish of diced raw fish. I had this generous selection of spicy salmon and marinated tuna at The Poke Bar, near my hotel. (And I stumbled upon Satan on my walk there.)
Hawaiians also invented spam musubi, or fried canned ham placed on a rice ball and secured with a strip of nori seaweed. (I'm not a fan, but I loved the wide selection of bento boxes and onigiri.)
Stop by Mitsuwa Marketplace to pick up snacks, or to-go dishes like a salmon roe chirashi. And PSA: Honolulu has Coco Ichiban, my favorite Japanese curry chain… Of course, I went out of my way to get my Coco Ichi fix!
After the year and plus we've had, it was a dream come true to be in Honolulu. I'll miss meandering from my hotel to Fort DeRussy Beach, which has this view of Diamond Head volcano.
Come back to the beach at nightfall, and walk up the jetty pier to see the sunset over the ocean waves.
I have more to share with you from the Aloha State — stay tuned for part two of my dispatches. Thank you to The Laylow for the happy memories here.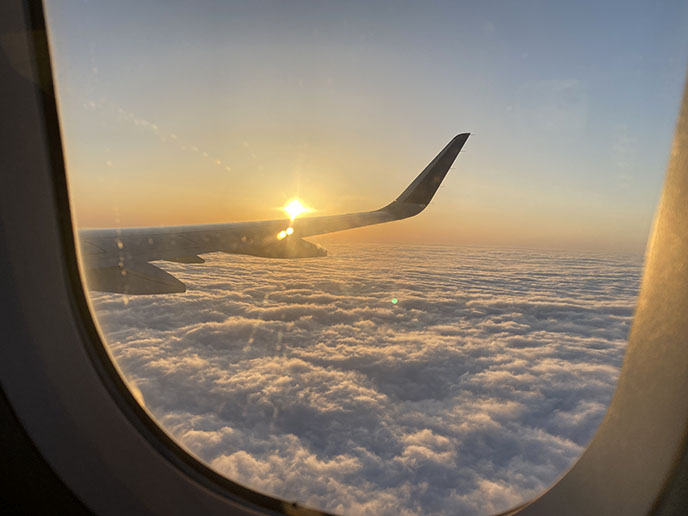 I leave you with a view from the wing — I've missed this! Please stay safe this summer.
Will you be flying somewhere soon, or do you have any road trips or local getaways planned?