'Alohilani Resort Honolulu review: Oahu luxury design hotel, beach view balcony! Sky Waikiki raw bar, Kira Miffy Hawaii.
Still can't believe I was in tropical Honolulu, Hawaii… after the mess of 2020, this trip feels like a dream.
Every morning, I said "aloha" to this ocean view from my balcony at 'Alohilani Resort Waikiki Beach.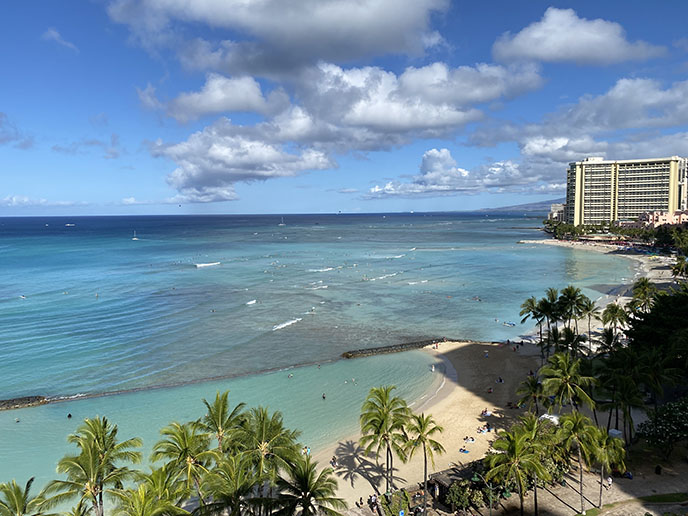 If I had to design a dream Hawaiian hotel, it'd look a lot like the luxurious Alohilani. My room had a private balcony overlooking the ocean waves, palm trees and warm sand. All I had to do was walk across the street, and I was on Waikiki (Kuhio Beach).
Come with me, and I'll take you around my 5-star hotel. The 'Alohilani went through a 2018 renovation, so the common areas — such as the entrance and driveway — are a modern tropical feast for the eyes. (Address: 2490 Kalakaua Avenue, Honolulu; it's right by Waikiki Beach.)
Outfit details: Skeleton crop bikini / swimsuit by Towers Swimwear, tartan schoolgirl skirt Ninja Cosmico, silk hair scrunchies and mask Lemonwood Luxury.
The resort is named after Queen Lili'uokalani, the last reigning monarch of the Hawaiian Kingdom. The Queen was a talented composer and author who was passionate about local culture, and beloved by the people. In this spirit, the Alohilani gives guests a warm and artistic stay.
The spacious rooms (about 330 square feet) mix contemporary design with locally inspired elements, such as framed rainbow photographs that reflect the beauty of Hawaii.
However, the most outstanding feature is hands-down the balcony! My Alohilani Hotel oceanfront room had a spectacular, unblocked view of the famous beach, Diamond Head volcanic crater and the Pacific Ocean.
The room is stocked with all the modern conveniences — with the added bonus of Japanese TV channels. I got a kick out of watching this exercise program on NHK Japan.
Take me back to my Premier Ocean Front guestroom and private lanai… I loved lounging outside on the chairs, with a cocktail in hand.
'Alohilani Resort's common areas are just as captivating. The lobby features pendant lights and a textured statement wall, and a traditional royal costume on display. Next to O Bar, there's a two-floor saltwater Oceanarium full of coral and fish of all sizes.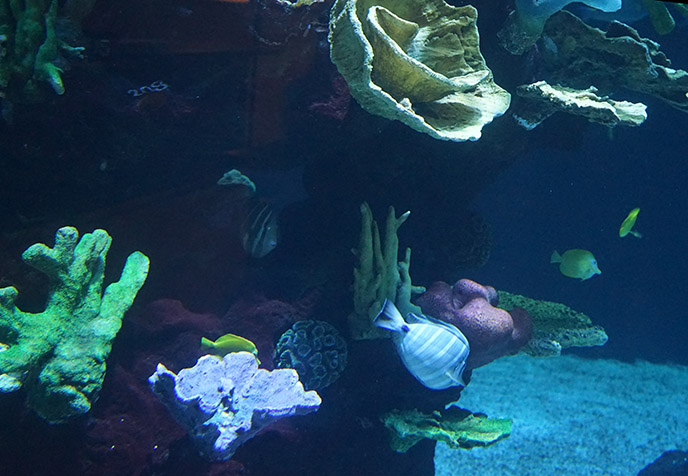 At 10:30 a.m. & 2:30 p.m every day, you can watch the staff feed the colorful Hawaiian fish in the enormous aquarium.
As a guest of the hotel, it's well worth adding on access to 'Alohilani's Longboard Club. You get VIP access to an elegant indoor-outdoor club space — meaning you can relax in peace, in a private cabana.
Every morning, I looked forward to the Longboard Club's included breakfast. The freshly made dishes included eggs, Hawaiian fried rice, passionfruit juice, creamy yogurt, and the signature acai bowl with granola and fruit (I had this every single day!)
Not a bad place to work or watch movies, wouldn't you say? Longboard Club is open at all hours as long you have the access card, and there's breakfast service as well as cocktail hour hors d'oeuvres.
Decisions, decisions… the 16-bottle wine Cruvinet (high tech wine dispensing gizmo) had an enticing selection. I did my best to sample everything.
When it got too hot outside, I went into the air-conditioned indoor area to unwind.
The cocktail hour selection includes salads and charcuterie with international cheeses and crudités.
Love the design elements including fire pits behind glass, and pink flower borders.
My skeleton print top is actually a long-sleeved surf bikini by Towers Swimwear.
In addition to Longboard Club, the 'Alohilani Resort Oahu is home to several restaurants. Dine at Morimoto Asia or Momosan ramen and sake (created by the Japanese Iron Chef.)
Or grab cocktails, poke bowls and burgers at Swell Restaurant and Bar, by the main swimming pool. The deck has private cabanas over a saltwater infinity pool, and a pool bar with live electronic DJs at night.
For those who love shopping, the hotel also has a variety of fashion and jewelry boutiques. I confess I was most excited about the in-house ABC Store! This legendary Hawaii-based chain of convenience stores first opened in 1964 in Waikiki. Now, you'll find the big ABC signs all over Honolulu.
I always head straight to the cute stuff. ABC Stores carry special Hawaiian edition kawaii goods, such as these Doraemon plush toys with surfboards and sunglasses.
Look, even Hello Kitty got a tan in Honolulu. She wears a Hawaiian hula skirt, and replaces her signature pink blow with a flower. Her Sanrio cute character friends (Gudetama, My Melody) get in the mood by strumming ukuleles.
I picked up souvenirs and inexpensive snacks at the ABC Store. The local Placa Pineapple Shortcake and lilikoi cookies were tasty, as were the "On the Rocks" premium bottle cocktails.
One of my favorite memories; watching the sun set from the balcony of my 'Alohilani hotel room. Hawaii truly has magic.
And here's the night view. As a city-person, I enjoyed the mix of urban life and beaches at Waikiki.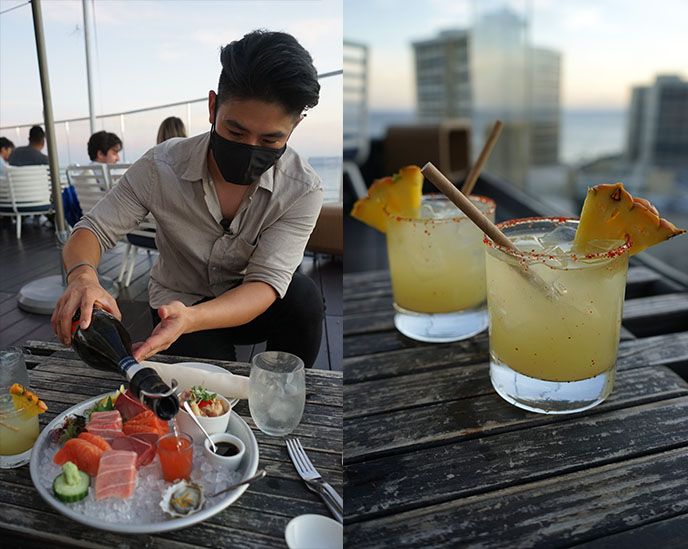 While in Waikiki, I sought out sushi — as fresh-caught seafood is a Hawaiian specialty. I had a magnificent dinner at Sky Waikiki Raw & Bar, located a few blocks from the beach and my hotel.
Sky is an open-air restaurant located 19 floors up. The glass railing gives every diner an uninterrupted view of Waikiki from up high. It's a terrific spot for champagne or cocktails — loved the spicy pineapple handcrafted creation — and oyster shooters with sparkling wine poured right into the shell.
As you can see, Sky's wrap-around rooftop deck delivers stunning panoramic views (this is the iconic Royal Hawaiian "Pink Palace of the Pacific" hotel, beloved by 1960s celebs). Come for dinner and catch the sunset; if you're a vampire like I am, you can huddle under a hand-held parasol provided by the staff!
Sky's sashimi and sushi are as fresh as it gets. Salivate over these slices of salmon, yellowtail, ahi tuna and Hokkaido scallop.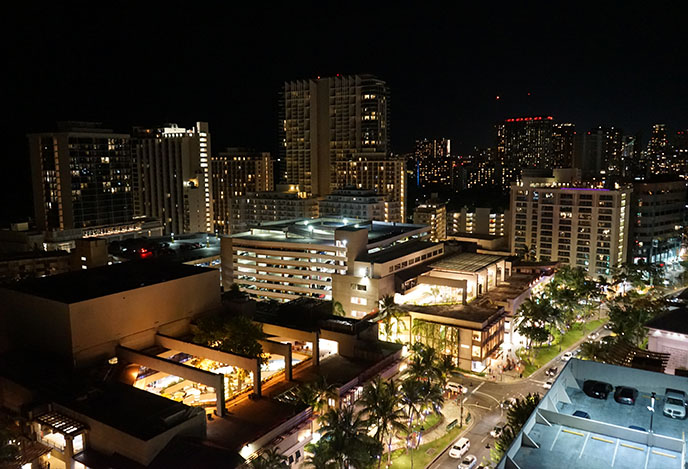 After nightfall, the city below glitters with light. Such a treat to dine alfresco and up high. at Sky Waikiki Restaurant
Waikiki is also known as a shopper's paradise. You'll find the usual couture stores here, similar to Rodeo Drive in LA. However, I bypassed them and made a bee-line to the Kira x Miffy store! I was greeted by an enormous statue of my favorite X-mouthed bunny character, wearing a lei (flower necklace).
Miffy (or Nijntje) is the creation of Dutch artist Dick Bruna, and any reader of my blog knows I'm obsessed with the rabbit's minimalist kawaii. At the Kira Kids x Miffy store, you'll find exclusive Hawaii collections featuring Miffy — such as tropical totes and toys.
The store has items such as onesies for babies and kids, but there are also plenty of Hawaii-themed Miffy goods for fans of all ages.
(The Kira Miffy store is located in the Royal Hawaiian Center shopping complex. Address: 2233 Kalakaua Ave B114, in Waikiki, Honolulu.)
Kira Honolulu has Miffy toys, lamps, backpacks, home goods, you name it. (I bought a themed wine bottle stopper, because why not?) There are also products featuring the lion, Boris the bear, and Snuffy the dog.
For more Miffy madness, check out my stories about her Amsterdam stores, and the Miffy Museum in Utrecht.
Pop into other Waikiki stores, and you'll find Hawaii-edition Hello Kitty products. There's a significant Japanese population here, and Hawaii is popular with tourists from Japan — hence the copious amounts of kawaii.
I leave you with some bonus shots from my balcony at the Alohilani…
Still can't get over this view. Note the breakwater on Kuhio Beach, which creates a wave-free zone popular with families.
The beach also has a gorgeous banyan tree dating back to 1904.
Go to Waikiki Beach early to beat the crowds, and watch the surfers and sailboats over the rolling waves.
Aloha to 'Alohilani Resort Waikiki Beach for a luxurious and rejuvenating stay that I will never forget. I'm already daydreaming of being back here.
(Forever a shady lady, even in tropical paradise…. you know I'm all about sun protection!)
Have you been to Honolulu, Oahu — or anywhere in Hawaii? If you have any questions about traveling in Hawaii, leave me a comment.