Category Archive for
Eastern Europe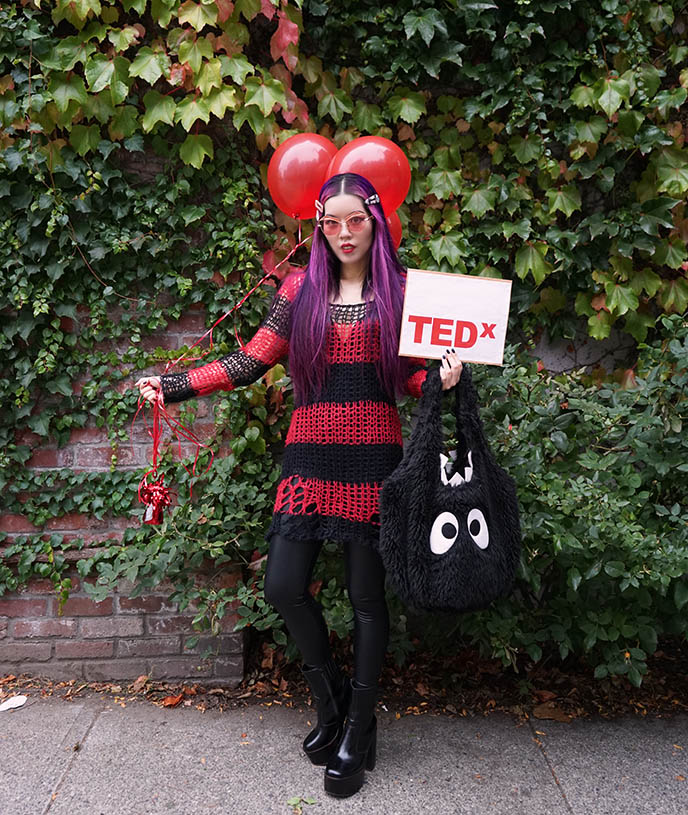 Balloons out, as it's getting closer… to the date of my 2020 TED talk!
You're invited to watch my TEDx speech, which will be livestreamed (there won't be a live audience event this year). Tune in on Nov 14 and 15 from 1-5pm Pacific, to see me and other speakers deliver "ideas worth spreading." The TEDxSFU conference is free to watch — just register here (my Ted talk is airing Nov 15 around 3:30pm PT).
(Read on for more about TED, as well as exclusive photos from the spooky Sedlec Ossuary — a Czech Republic church made from real human skeletons!)
I'm delighted to be part of this year's TEDxSFU 10th anniversary conference. The theme this year is "Unravel," and there's a lineup of 12 speakers from a variety of backgrounds and disciplines.
Register here to watch my TED talk on Nov 15, 3:30 pm Pacific — tickets are free or by donation!
By registering for this event, you'll get access to both livestreams on Saturday November 14 and Sunday November 15, from 1:00PM to 5:00PM PST. You'll get to see six TEDx talks each day (including mine on the second day), as well as performances.
Find out more on the TED x SFU website and Facebook invite page, and pick up free tickets here.
I'm thrilled to be giving the first TED talk ever about Goths. As my TEDx Vancouver video caption will read, "What does it really mean to be a Goth? Why do many of us have biases towards Goths, as well as other groups who seem "strange"?
La Carmina shares her personal journey into the dark subculture, and unravels six of the biggest stereotypes about Goths. Through eye-opening photos and stories, she demonstrates how people of color worldwide participate in Gothic culture, in surprising yet beautiful ways."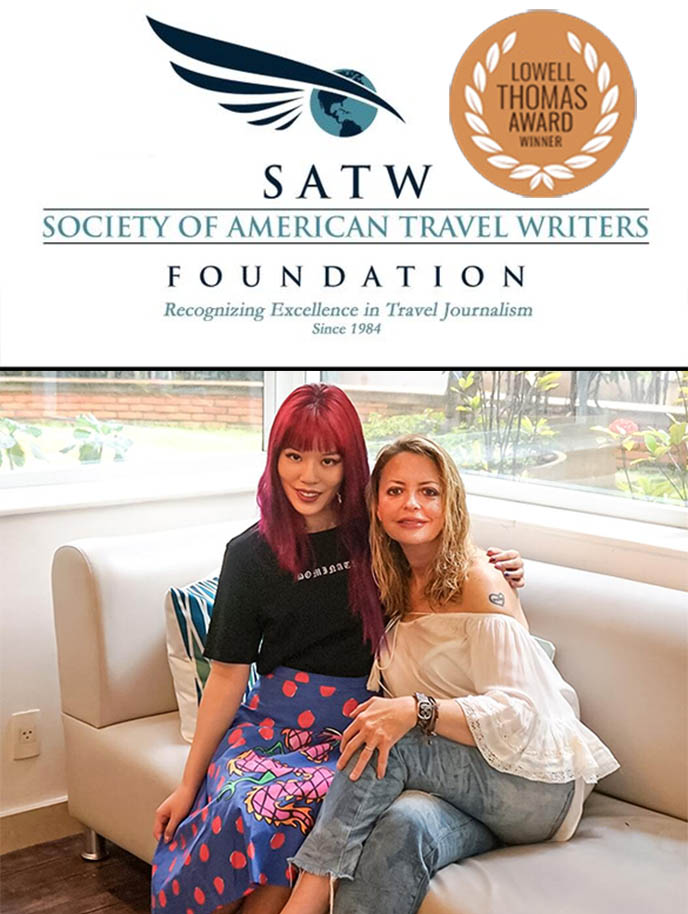 Also, some unexpected news… I received a travel journalism award from the Society of American Travel Writers!
"La Carmina was awarded Bronze in the 2020 SATW Lowell Thomas Travel Journalism Competition. This prestigious annual award ceremony has been "recognizing excellence in travel journalism" since the early 1980s. Journalist La Carmina won in the Best Personal Comment category, for her travelogue about visiting Brazil with her friend Elizabeth Wurtzel."
I'm speechless and honored! You can read my award-winning piece on Fodor's. Thank you everyone who believed in me.
Celebrating with a Goth-Punk sweater in red and black, the colors of the TED conference.
I did my gel nails by myself, using the Gelish at-home gel nails system (it works so well — recommended!). My silver creature ring is by Alex Streeter, and devil necklace by Sofia Zakia 
Close-up on my Witch Tarot 14k gold necklace by Sofia Zakia Jewelry of Montreal. You may recognize the goat, pentagram and fire imagery from the horror movie "The Witch." The horned one taunts: "Wouldst thou like to live deliciously?"
Here is my Satanic Gothic necklace layered with a Stephen Einhorn gold bee pendant. I'm all about fine jewelry with bite.
As a travel blogger, it's quite the change to be stuck at home in 2020. Fortunately, I'm able to take this time to pursue new avenues (like freelance journalism, and TED talks).
And I have trusted friends worldwide who can still bring us international travel stories… Like this exclusive peek inside Sedlec Ossuary near Prague, Czech Republic! Time to turn over the blog to photographer/writer Joey, for his tale of the church made from real human skulls and bones.
Hello again! It's Joey, trusted traveller and photographer friend of La Carmina. I'm back to tell you about my spooky day trip to the Sedlec Ossuary, the chapel adorned with bones from over 40,000 human skeletons.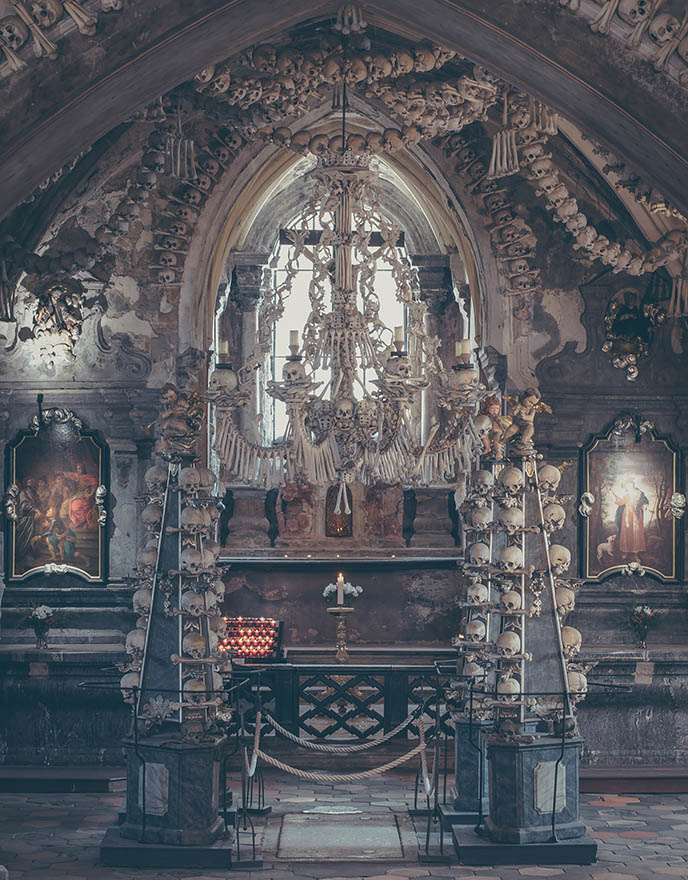 Also aptly known as the Bone Church, the Sedlec Ossuary is located just an hour east of Prague in Kutna Hora making it an easy, must-do day trip from Prague. Due to its close proximity to Prague and it's extraordinary, otherworldly atmosphere, it's no surprise it is one of the most visited attractions in the Czech Republic with over 200,000 visitors a year.
A selfie with skulls is sure to get the Likes, but it is important to note that there is a strict ban on photography inside the chapel. This is due to excessive, inappropriate behaviour from visitors who all too often forget the significance and beauty of the church and touch the bone displays or take inappropriate selfies.
As press, I received unrestricted access to photograph the ossuary. I spent over two hours inside the chapel photographing the striking displays in order to capture the true essence and beauty of this seemingly gloomy place. Somber yet fascinatingly beautiful, I am privileged to share my experience and exclusive photos with you.
The Sedlec Ossuary comes with an enchanting history that matches its striking interiors. It is said that in 1278, an abbot returned to Sedlec with some holy soil from Jerusalem. He spread this holy soil across the cemetery which in turn, made it a very popular place to be buried. Due to the Black Plague and the Hussite Wars of the 14-15th century, the Sedlec Ossuary became the final resting place of an estimated 40,000+ people.
After being commissioned by the Schwarzenberg family in 1870, a Czech woodcarver named František Rint crafted the bone arrangements that we see today. You can even see his name signed in bone on the entry into the chapel!
Today, the ossuary is going through a significant reconstruction, which is completely funded by ticket sales. Although the church is a popular site, most visitors come in groups that are aligned to the train timetable or wider Kutna Hour organised tours. I was very pleased to have many moments where I had the whole chapel to myself so I could enjoy the peace and serenity.
During my visit, I saw so many remarkable creations in the chapel with the most notable being an extravagant chandelier made with every bone of the human body that hangs in the centre of the chapel.
It's easy to get lost in the captivating sites and mounds and mounds of skulls, but when you visit, be sure to absorb the atmosphere and pay close attention to the finer details of the bone creations. In addition to garlands of skulls and a bone coat of arms, I also saw cherubs sitting atop towers of skulls and even a raven poking a human eye out!
Travelling is my favorite form of escapism, and the Sedlec Ossuary truly brought me to another world.
Thanks for following me along on my Prague and Sedlec Ossuary adventures. Until next time!
How to get to Sedlec Ossuary and Church: From Prague, take the train from Prague main station to Kutná Hora hl.n. From there, it's a 15 minute walk to Sedlec.
Joey's photos make me keener than ever to visit Sedlec. Did you know there are other structures worldwide constructed from human remains?
There's a Chapel of Bones in Evora, Portugal. In Italy, you can see desiccated mummies and skeletons in crypts, such as Appia Antica, and Cappucuni Catacombes. Niš, Serbia has a Tower of Skulls. The list goes on…
At least I got to creep through the Catacombs of Paris, France last year. If you missed my story about the Paris Catacombes, check it out here.
For tickets, opening hours, and more info about Sedlec Ossuary, visit their site.Note that Joey received advance media permission to take photos of the interiors; otherwise, photography at Sedlec is prohibited.
Thank you, Joey, for this spooktacular tour of Sedlec Ossuary! At least I got a chance to travel to Prague in 2012. I am dreaming of returning to the Czech Republic for a glass of wormwood-infused absinthe.
I've been on so many memorable travel adventures with photographer Joey. Before we fly away, let's take a photographic stroll through memory lane.
Joey and I met in Tokyo 2010, and above is the first photoshoot we ever did together (in the alleys of Golden Gai, Shinjuku!) I got my hair done gyaru-style in a Japanese salon for the occasion. (Enjoy more of my Japan travel stories.)
Our first international trip together was to Iceland — and it remains one of our favorite destinations. Joey took this photo of me in the Blue Lagoon… right before his glasses fell in the water! See all our photos from Iceland (Reykjavik).
We went to Whitby UK for the annual Gothic Weekend, and shot these dramatic images in front of Whitby Castle (the architectural inspiration for Bram Stoker's Dracula). See more of our United Kingdom adventures.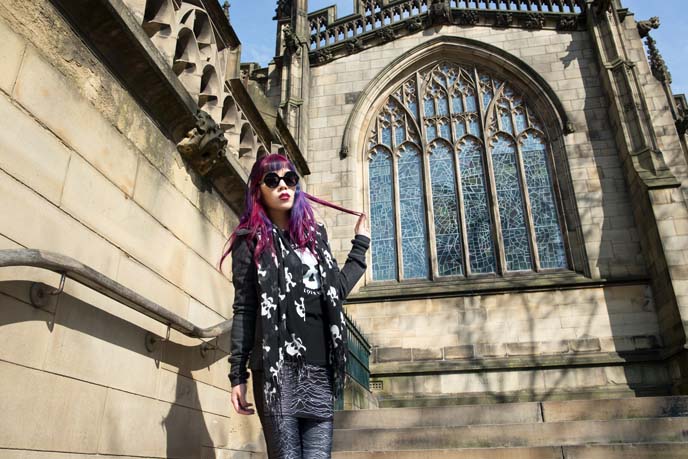 Here's one from Manchester Cathedral (site of the Joy Division album cover photo.)
We hung out multiple times in Vancouver. Joey photographed me for the cover of Giuseppina Magazine, and for a spread in Leveled. We also did a Killstar shoot in front of the Museum of Anthropology.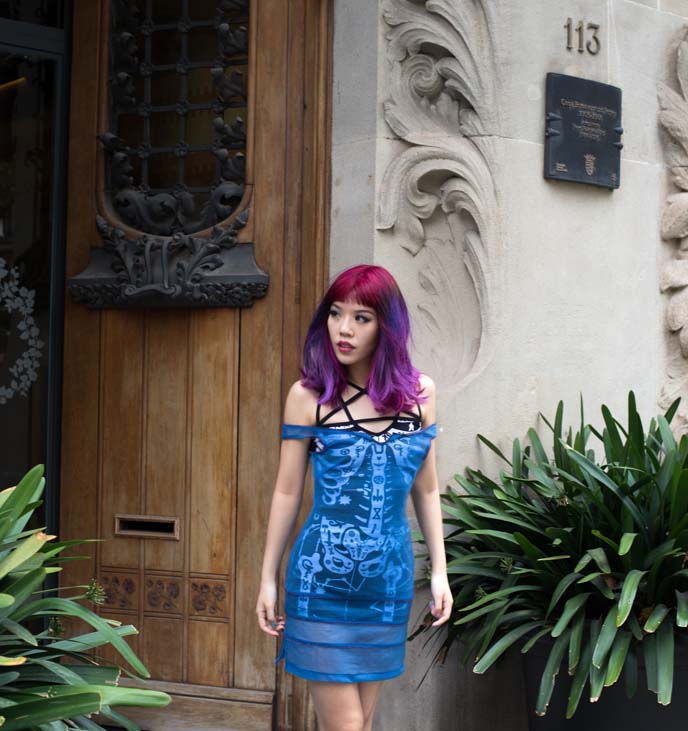 Hola Barcelona, where we stayed in an Art Nouveau palace while working with Spain Tourism and Eurail. Here are our Spain travel guides, which include Granada.
Istanbul, Constantinople! What a city. I was invited there, as a top travel blogger, to attend World Tourism Forum. More of Joey's epic pics from Turkey.
We got ghoulish with Yukiro in NYC, at the Morbid Anatomy Museum (which is now as dead as these wax heads). Can't believe I've been blogging about New York City, NY for over a decade now!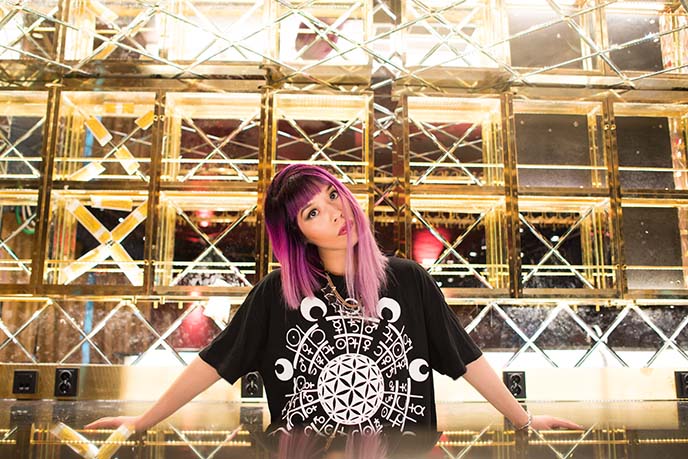 Off to Scandinavia. where we stayed in a haunted theater-hotel in Stockholm, Sweden.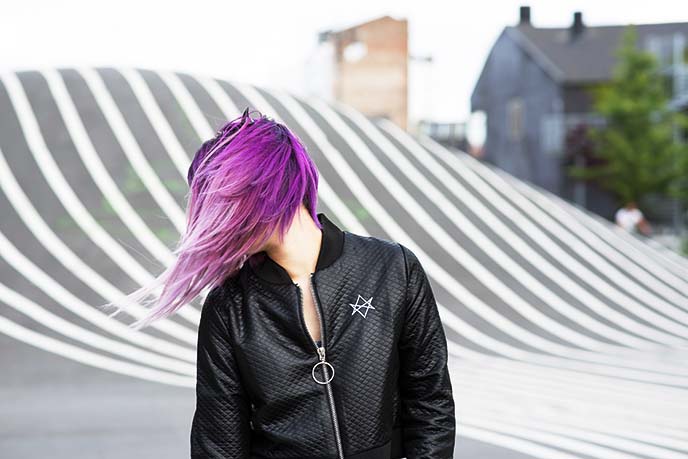 Joey and I also spent time exploring Copenhagen, and got inspired by Superkilen Park.
V-fingers for beautiful Athens and Santorini, Greece. I miss eating sardines, dolmades and orange cake.
A Goth dream come true to visit Romania, as a speaker at Experience Bucharest Conference. The graveyards and Dracula's Castle in Transylvania were to die for.
It was also a dream (or nightmare) to shoot with Joey at the HR Giger Museum and Bar in Gruyeres, Switzerland. We ate so much cheese that we fell into a coma on the train back, and nearly missed our stop in Zurich!
Don't cry for me, Argentina… A little drizzle in Buenos Aires added emo drama to these photos.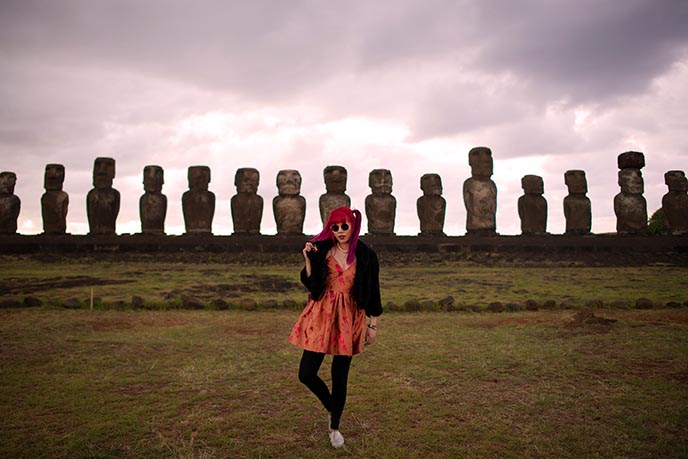 Joey and I reached the zenith of travel photography… Standing with the Tongariki moai of Easter Island! I just wrote about the strange mysteries of Rapa Nui and its stone-faced statues, for this article on Fodor's Travel.
Our LATAM Airlines project took us to various South America destinations, like Santiago and Valparaiso in Chile. (So glad we made the most of these opportunities before the world came to a halt.)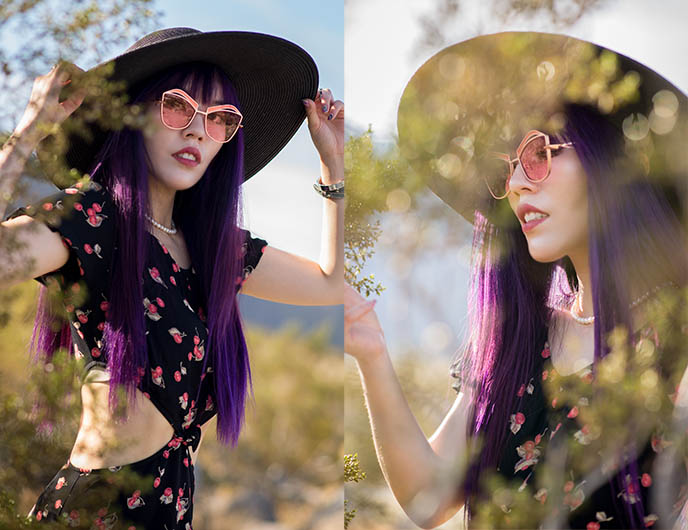 Joey and I had one final trip together in January 2020, before life took a strange turn for us all. Palm Springs, California… A destination as warm and dreamy as the bokeh.
We said goodbye in Los Angeles (after taking snaps at the Blade Runner Bradbury building). What will the future hold for us — space travel, perhaps?
Until the borders re-open, I'll think back at our adventures around the world. (Such as meeting the elves of Iceland). Nothing lasts forever, so take plenty of photos in special places… you won't regret it.
For now, I'm making the most of local adventures in Vancouver, Canada. At the end of summer, I got to experience the Sea to Sky Gondola about a hour north of the city (in Squamish, BC).
It was a joy to rise up into the mountains. (Sadly, a week later, a vandal cut the cable lines for the second time… sending the gondolas crashing to the ground. But the Sea to Sky is re-building, and I'm confident they'll be back and running soon.)
When the Sea to Sky Gondola is back in operation, I hope you'll get a chance to experience the epic views and nature activities up top. I went across the suspension bridge, did scenic hikes, and had a drink at the patio bar.
I'm not usually an "outdoors" person, but that's all we have these days, due to 2020's surprises… so I'm pushing my boundaries. I did a hike at Whyte Lake in West Vancouver — wearing my platform boots, of course!
And that's why they call it "Beautiful British Columbia." I'll be showing you more local getaways in the next articles.
Until then, I'll be counting down the days to my TEDx talk! Register here to watch me on Nov 15 (it's a free livestream, and you'll get to see talks from the other speakers too).
And I'm sooo happy it is Halloween. Wearing my funny egg ghosts shirt from Mexico City, which I got last fall. Gold chunky crystal choker / glasses holder by Frame Chain.
A few final life updates. I'm continuing to write for a variety of travel publications. Read my latest dispatch — "I'm a Goth. Here's How I Stay True to My Style When I Travel the World" — on Fodor's Travel. 
I also did a round-up of destinations with creative skull art for Fodor's. From Malta marble tombstones to Bangalore pirate restaurants and Japan's skull museum, these places are thrilling to the bones.
I've started writing for Brides Magazine as well. Enjoy my guides to having a Gothic wedding, and planning a Buddhist marriage ceremony.
My funny article about animal-shaped architecture also got picked up by MSN.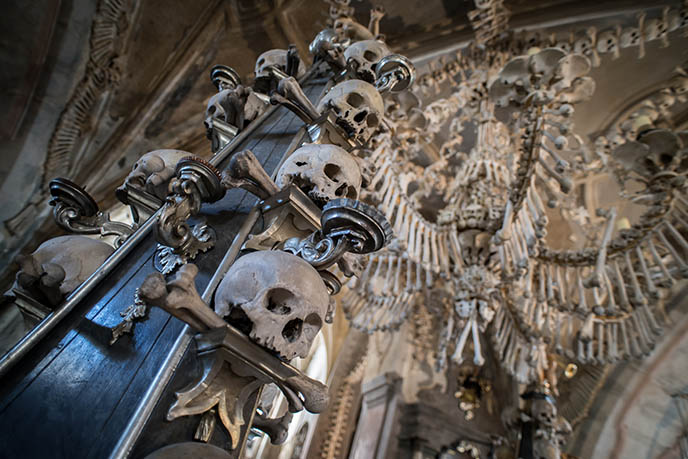 I hope you had a happy Halloween! My guide to the Satanic Temple and Salem Art Gallery came out in time for the darkest day of the year; see it on Tripsavvy, where I'm a regular travel contributor.
I also celebrated Halloween with an Instagram takeover on Tripsavvy's page (@tripsavvy). Check out their story highlights and grid, to see my memories of spooky travels worldwide. You can see more of my travel articles here on Tripsavvy.
And please take a moment to reserve your free ticket for my TEDx talk about Goth culture, airing Nov 15, 330pm PT!.
2020 has been topsy-turvy, to say the least…
But on my birthday (Aug 17), I'm pleased to share some happy news. I'm honored to have been selected to give a TEDx talk in Vancouver!
(Portraits by Kristin Thorogood Photography, assisted by Andre Dupuis.)
This fall, I will be the first person ever to give a TED talk about Goths! My TED talk will break apart six Goth stereotypes, and share my personal journey into the subculture. I'll tie this to the larger theme of unraveling prejudices, and how we should be more compassionate towards those we consider different from us.
2020 is the 10th anniversary of the TEDxSFU conference, and this was the most competitive year yet for applicants. (I went through a comprehensive application and two rounds of Zoom interviews, before receiving the good news.) Now, my fellow speakers and I will be spending the next months honing our speeches, and running through rehearsals.
This year's TED Vancouver will be safely pre-recorded because of COVID, and live-streamed on November 14 or 15. (I'll have more details for you soon, so you can watch it online). My talk will also be featured on the official TED.com website.
In a year of cancelled projects, I'm grateful I can be part of TED, and dive into something new and meaningful. It's been a pleasure getting to know the TEDx SFU team and other remarkable speakers. I hope you'll tune in to the TED x 2020 Vancouver event in November, and get inspired by our "ideas worth spreading."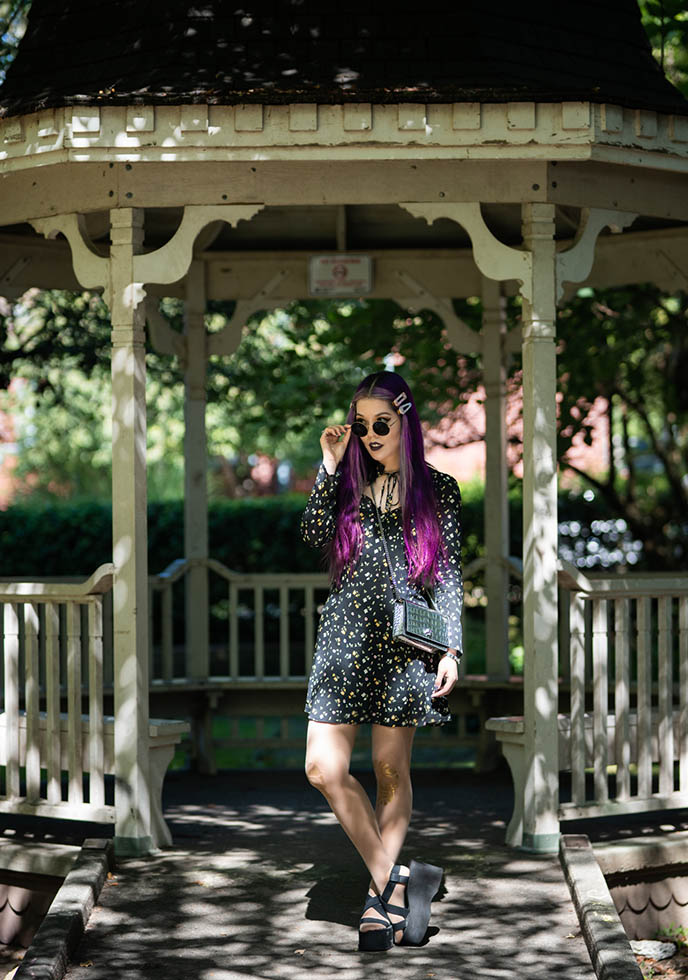 Outfit details: This summer dress is a gift from my aunt in Hong Kong, similar to the Reformation Vivianne mini dress. Love the Queen Anne cut-out neckline with a ribbon tie, and Georgette floral print. (Check out Reformation's Victorian dress here.)
My silver skull crossbody bag is by Alexander McQueen, the king of Goth couture.
Shop my style by clicking below:

These dreamy portraits are by Kristin Thorogood Photography, assisted by Andre Dupuis. I think you can tell that we had fun with this photoshoot! (Love how Kristin captured my hair flip in motion, with her Sony mirrorless DSLR.)
It was a joy to catch up with my friends while they were in Vancouver. Kristin has been to 70 countries, and specializes in documentary-style travel photography and portraits. Andre is a director and cinematographer (you may know of his work from the Canadian TV show Departures, which I think is one of the best travel shows ever made). Both are passionate travelers, and I hope we can do more together soon.
Kristin shot these photos outside Roedde House, a Victorian manor in Vancouver's West End that is now a historic museum. It was built in the late 19th century, and designed in the Queen Anne Revival style (possibly by famed architect Francis Rattenbury.)
The architecture happened to match the Queen Anne neckline of my dress! (Find Reformation's Vivianne dress here, which has the same high neck with cut-out keyhole, and flower pattern.) My crocodile skull evening purse is Alexander McQueen,
Love how Kristin created a "secret garden" feeling by shooting through the purple flowers.
Enjoy more of Kristin Thorogood's worldwide photography on her Facebook page and Instagram. She's currently traveling through Canada with Andre, and capturing unexpected sights — such as the grasslands and sand dunes of Saskatchewan.
An enormous thank you to TEDxSFU for having me be part of this year's conference! You can see updates about the TED 2020 Vancouver event on their Instagram and Facebook.
The team asked what storytelling meant to me. I replied, "Sharing my lived experience with honesty, as well as amplifying voices that tend to be overlooked. In my writing and travel TV shows, I try to shine a positive light on alternative subcultures, such as Goth — in the hope that this can open people's minds to different ways of being."
Speaking of storytelling, and 2020 pivots — I've been doing more freelance writing as of late. It's been nice to stretch my writing muscles for new publications. (Plus, I can't do my usual travel and television work.)
I'm delighted to share a personal narrative about my hair & self-identity, published by Yahoo Canada Style! I wrote about getting my hair done after months in lockdown (with dramatic before-after transformation photos). I also featured my friend Molly's traumatic cancer head-shave, and my stylist Chad's wise words on the transformative power of hair.
Intrigued? Then check out my beauty essay here on Yahoo.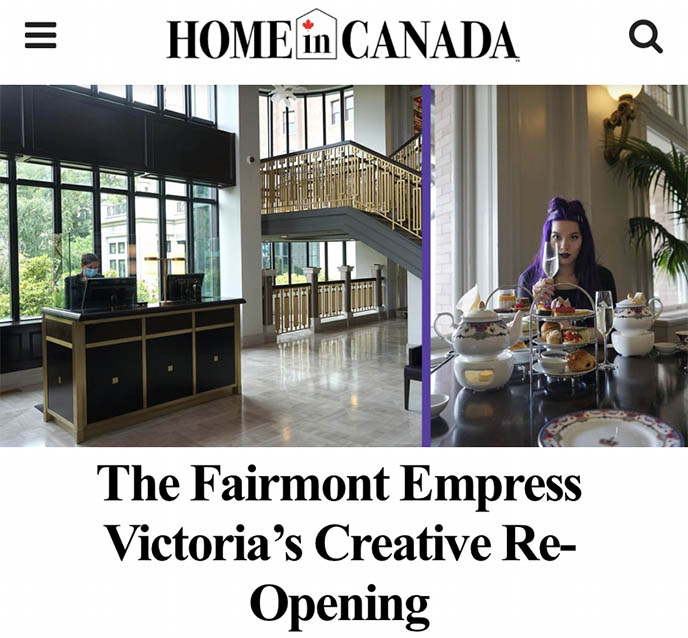 I'm also writing regularly for national print magazine, Home in Canada, and loving it.
Here's my latest travel article about staying at a hotel during the pandemic. (You can see more from my Fairmont Victoria stay in this blog review as well.)
And now, a birthday treat for you… A Prague travel diary from Joey Wong, one of my most constant travel companions! Since he's UK-based, he was recently able to do a safe trip to the Land of Absinthe.
Even if I can't fly anywhere for months to come, I can bring you new travel stories from my friends around the world. Let's begin with Joey's favorite Prague hipster spots such as an art factory, and Michelin-starred restaurants.
Ahoj! My name is Joey, trusted traveller and photographer friend of La Carmina. Together we've traveled and photographed the far corners of the globe from Easter Island to Japan.
Like many of you, travelling has become an integral part of my life so when COVID-19 hit, my lifestyle and priorities were flipped upside down. However, if there's one thing this pandemic has taught me, it's to do what you can when you can. So with super-hygiene and social distancing becoming our new normal, I knew it was time to take advantage of the low COVID case numbers in Europe and start travelling again. My destination of choice? Prague!
Without further ado, join me during my week as a digital nomad and experience the unexpected perks of traveling during a pandemic, including tourist-free sites, private dining experiences, and the same incredible experiences we gain when exploring a different city and culture.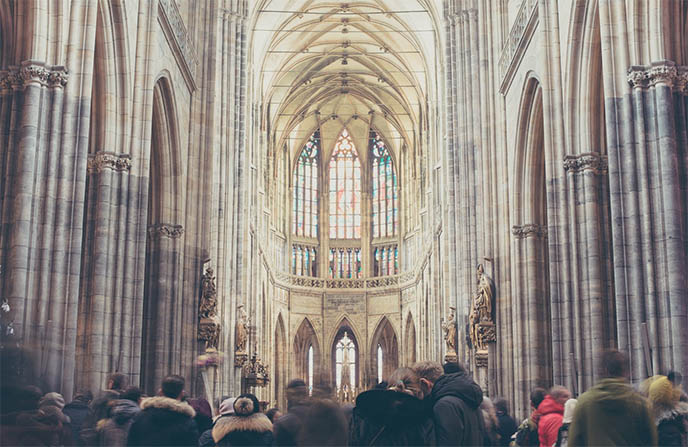 I first visited Prague in winter 2016, and it easily became one of the most majestic, photogenic cities I had ever been to. While I typically lean towards off-the-beaten path travel, I couldn't stop photographing Prague's magnificent sites including the Medieval statue-lined Charles Bridge, and interiors of the St. Vitus Cathedral (above).
During my stay, a light layer of snow dusted the city, making my experience more magical.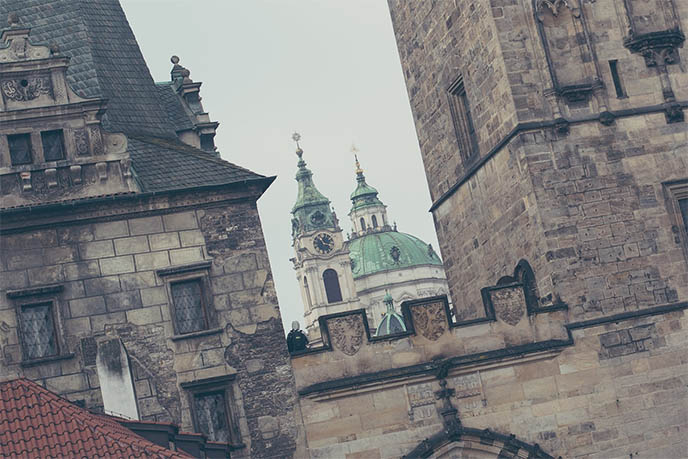 When my office in London closed due to COVID-19, I discovered an unexpected but welcomed consequence: the ability to work from anywhere. In July, case numbers were down, so I booked a flight to Prague. After months in lockdown, I was excited to spend a week both working and exploring.
In 2016, I ticked off Prague's most-visited tourist sites. This time, I wanted to make sure my experience in the Czech Republic was different from my first. I was keen to base myself in a comfortable, convenient, non-touristy neighborhood where I could pop out to get anything I needed in a pinch, yet still be in walking distance to major sights and restaurants.
Secret. Hip. Bohemian. These are the words you'll hear people say when describing Karlin, the neighborhood where I chose to stay. Located close to the northeast of historical Old Town, Karlin was not just trendy. It was also extremely convenient and surprisingly affordable. The cost of my private Airbnb apartment per night was cheaper than my average per night rent in my shared London flat!
What I love about neighborhoods like Karlin is the contrast of new and old. I was endlessly discovering new things to photograph – one being the Church of Saints Cyril and Methodius, which has been standing since 1863.
After a dinner out, I stumbled on the Karlin Barracks which is – you guessed it – the site of former military barracks. Now it is a huge, multi-building cultural complex that contains a bar, gallery, music club, fire-pit, and even beach volleyball! On my visit, a full-on summer cinema was underway.
Random discoveries like the Karlin Barracks are what makes me love to travel so much, so it should be no surprise that one of my favourite things to do in any city is to just roam. Due to time zones differences (GMT +2 means I didn't have to start work until 10AM) and long summer evenings, I had the privilege of having plenty of exploring time before and after work.
I had expected Prague to be a haven for street art, but surprisingly, it was not. But I was in for a pleasant surprise: the lack of street art was overcompensated by brilliant public sculptures by the acclaimed Prague-born artist David Černý. David Černý has several provocative pieces dotted across the city and I'd highly recommend a sculpture walk to spot them all.
You absolutely should not miss Černý's latest installation The Head of Franz Kafka. This sculpture is made of 42 rotating metallic panels, all rotating individually to form the shape of the famous-Czech novelist. You'll have to see it with your own eyes to believe it. After sending my brother a short video clip of the statue in action, he asked if it was CGI.
When you're on your sculpture hunt, don't forget to look up! I spotted Černý's work high above on the Žižkov Television Tower. Can you see the babies crawling up the tower? If you don't look up, you'll also miss Man Hanging Out, a depiction of Sigmund Freud dangling from a pole attached to a building rooftop in Old Town.
Besides some amazing sculpture, Prague has a lot of don't-miss galleries and culture centers — such as the DOX Centre for Contemporary Art and Vnitroblock.
If you want more of an alternative vibe, head to Meet Factory, a non-profit organisation and contemporary art factory founded by David Černý himself. While it's a bit out of the way from the main sites and neighborhoods, you won't be able to miss the MeetFactory complex – easily spotted with a large, red automobile hanging from the building facade. Inside, expect contemporary and alternative art from up and coming artists. One piece that stood out to me was a BDSM-themed pillow.
When you're finished with your sculpture spotting and art hunting, it's time to get a bite to eat. Prague, like many cities in continental Europe, has amazing Monday – Friday 'business lunch' deals. Three course meals can be had at the fraction of the dinner price.
Since I was working remotely and had limited free time, I carefully researched and reserved all the best Prague establishments. From Michelin starred modern Czech to Vietnamese street food to burgers and beyond, my highest recommendations are…

Divinis
Elegant yet unpretentious, Divinis was by far the best meal out of my entire trip. I wouldn't expect Prague to have fantastic Italian, but it absolutely did. I was particularly impressed with the amuse-bouche, which was a creative play on a garlic dough ball. I went in at around 2:00PM and had the entire restaurant to myself – an unexpected, yet welcomed perk to the recent pandemic perhaps?
Cafe Imperial
I was committed to avoiding all tourist traps, so I went to Cafe Imperial with hesitation. However, it ended up being one of the most memorable dining experiences on my trip. I was quickly won over by the fantastic and extravagant Art Deco atmosphere and attentive staff. I opted for the aptly named Imperial Breakfast that included a poached egg over avocado tartar. I felt like a VIP throughout my entire experience.
Pho Vietnam Tuan & Lan
Pho in Prague? Really? I was just as surprised as you are, but Prague has a surprisingly large Vietnamese food scene — so expect to see several pho and bahn mi eateries across the city. If you need a quick Asian fix, head to Pho Vietnam Tuan & Lan. There's more than one of these in the city, and I'd recommend the bistro venue at Slavíkova 1. Get takeaway and eat in the nearby leafy Jiřího z Poděbrad Square with the locals.
Kro Kitchen
After months in lockdown, I definitely indulged on my trip. So after my pho in the park, I walked to Kro Kitchen just 2 minutes away to have my second dinner. They are famous for their rotisserie chicken, but I ordered their signature lechon which was served over mashed potatoes, grilled pak choi, black garlic gray, and heaps of spring onion. Yum.
Pro tip: If you don't stay in Karlin, stay in Vinohrady. This is the neighborhood where Pho Vietnam Tuan & Lan and Kro Kitchen are located. I often found myself coming back for the amazing eats, and it's also the center of LGBTQ+ nightlife!
Eska
Part bakery, part cafe, part restaurant, and pure awesome, there's nothing secret about Eska anymore. Located in Karlin and already awarded a Michelin Bib Gourmand, the airy ambience, innovative menu and hybrid-dining concept makes Eska a must-visit on your trip to Prague. You can even take home some of their famous pickles!
I'll be honest – I booked my trip to Prague with hesitation but I'm so glad I went. For me, travelling has enabled me to live my life with open eyes and an open mind. Traveling is invigorating and it gives me a sense of purpose. If you feel restricted because of the current environment, do not lose hope – travel will return for all of us and when it does, it will be even more meaningful.
I can't wait to reunite with La Carmina for more worldwide escapades where our 'normal' is searching for the not normal – the off-beat, alternative, off the beaten path adventures that we love to capture and share.
Until then, stay safe, stay hopeful, and look out for my next guest post with exclusive photos from Sedlec Ossuary: the church adorned with bones from over 40,000 human skeletons.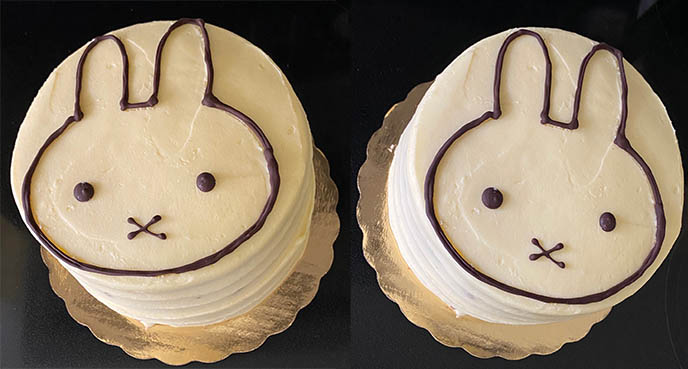 Dík (thank you) Joey for sharing his story. And thanks to all of you who left me birthday wishes! If only I could give everyone a slice of my Miffy cake. (I got this carrot cake, decorated with the face of my favorite cute bunny character, from Whole Foods).
Coming up… I have another guest travel post for you, from Yukiro in Japan!
Can't wait to reveal more about my TEDx talk on Goth culture as well. Cheers to everyone who encouraged me to be part of TED.
Find my clothing below, including this Victorian high cut out neck dress and Alexander McQueen bag: