I'm giving a TED talk! TEDxSFU Vancouver conference speaker. Offbeat travels in Prague, Michelin star restaurants.
2020 has been topsy-turvy, to say the least…
But on my birthday (Aug 17), I'm pleased to share some happy news. I'm honored to have been selected to give a TEDx talk in Vancouver!
(Portraits by Kristin Thorogood Photography, assisted by Andre Dupuis.)
This fall, I will be the first person ever to give a TED talk about Goths! My TED talk will break apart six Goth stereotypes, and share my personal journey into the subculture. I'll tie this to the larger theme of unraveling prejudices, and how we should be more compassionate towards those we consider different from us.
2020 is the 10th anniversary of the TEDxSFU conference, and this was the most competitive year yet for applicants. (I went through a comprehensive application and two rounds of Zoom interviews, before receiving the good news.) Now, my fellow speakers and I will be spending the next months honing our speeches, and running through rehearsals.
This year's TED Vancouver will be safely pre-recorded because of COVID, and live-streamed on November 14 or 15. (I'll have more details for you soon, so you can watch it online). My talk will also be featured on the official TED.com website.
In a year of cancelled projects, I'm grateful I can be part of TED, and dive into something new and meaningful. It's been a pleasure getting to know the TEDx SFU team and other remarkable speakers. I hope you'll tune in to the TED x 2020 Vancouver event in November, and get inspired by our "ideas worth spreading."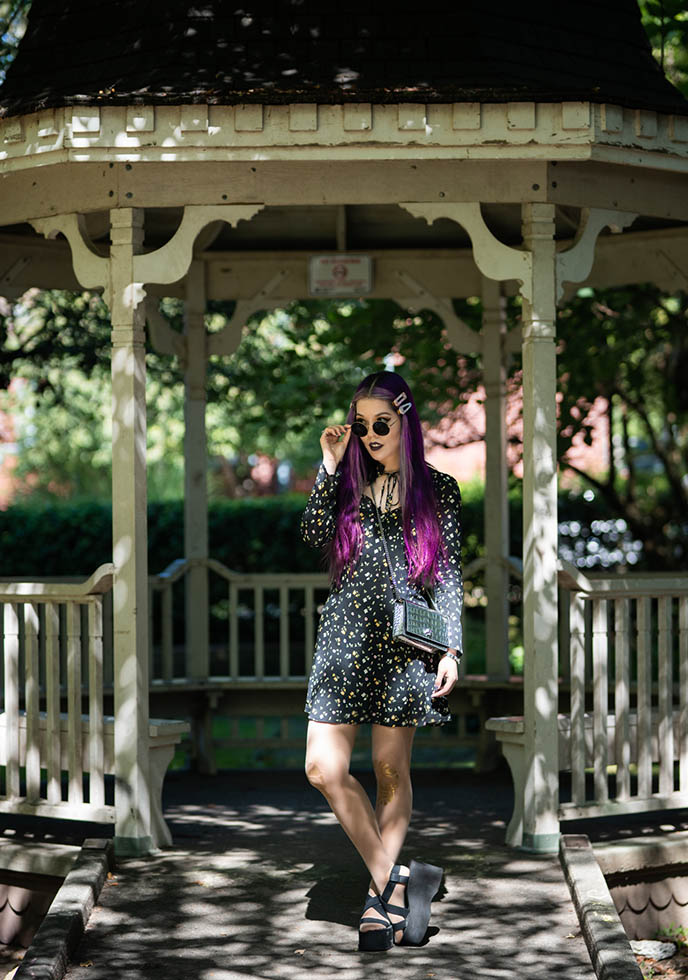 Outfit details: This summer dress is a gift from my aunt in Hong Kong, similar to the Reformation Vivianne mini dress. Love the Queen Anne cut-out neckline with a ribbon tie, and Georgette floral print. (Check out Reformation's Victorian dress here.)
My silver skull crossbody bag is by Alexander McQueen, the king of Goth couture.
Shop my style by clicking below:

These dreamy portraits are by Kristin Thorogood Photography, assisted by Andre Dupuis. I think you can tell that we had fun with this photoshoot! (Love how Kristin captured my hair flip in motion, with her Sony mirrorless DSLR.)
It was a joy to catch up with my friends while they were in Vancouver. Kristin has been to 70 countries, and specializes in documentary-style travel photography and portraits. Andre is a director and cinematographer (you may know of his work from the Canadian TV show Departures, which I think is one of the best travel shows ever made). Both are passionate travelers, and I hope we can do more together soon.
Kristin shot these photos outside Roedde House, a Victorian manor in Vancouver's West End that is now a historic museum. It was built in the late 19th century, and designed in the Queen Anne Revival style (possibly by famed architect Francis Rattenbury.)
The architecture happened to match the Queen Anne neckline of my dress! (Find Reformation's Vivianne dress here, which has the same high neck with cut-out keyhole, and flower pattern.) My crocodile skull evening purse is Alexander McQueen,
Love how Kristin created a "secret garden" feeling by shooting through the purple flowers.
Enjoy more of Kristin Thorogood's worldwide photography on her Facebook page and Instagram. She's currently traveling through Canada with Andre, and capturing unexpected sights — such as the grasslands and sand dunes of Saskatchewan.
An enormous thank you to TEDxSFU for having me be part of this year's conference! You can see updates about the TED 2020 Vancouver event on their Instagram and Facebook.
The team asked what storytelling meant to me. I replied, "Sharing my lived experience with honesty, as well as amplifying voices that tend to be overlooked. In my writing and travel TV shows, I try to shine a positive light on alternative subcultures, such as Goth — in the hope that this can open people's minds to different ways of being."
Speaking of storytelling, and 2020 pivots — I've been doing more freelance writing as of late. It's been nice to stretch my writing muscles for new publications. (Plus, I can't do my usual travel and television work.)
I'm delighted to share a personal narrative about my hair & self-identity, published by Yahoo Canada Style! I wrote about getting my hair done after months in lockdown (with dramatic before-after transformation photos). I also featured my friend Molly's traumatic cancer head-shave, and my stylist Chad's wise words on the transformative power of hair.
Intrigued? Then check out my beauty essay here on Yahoo.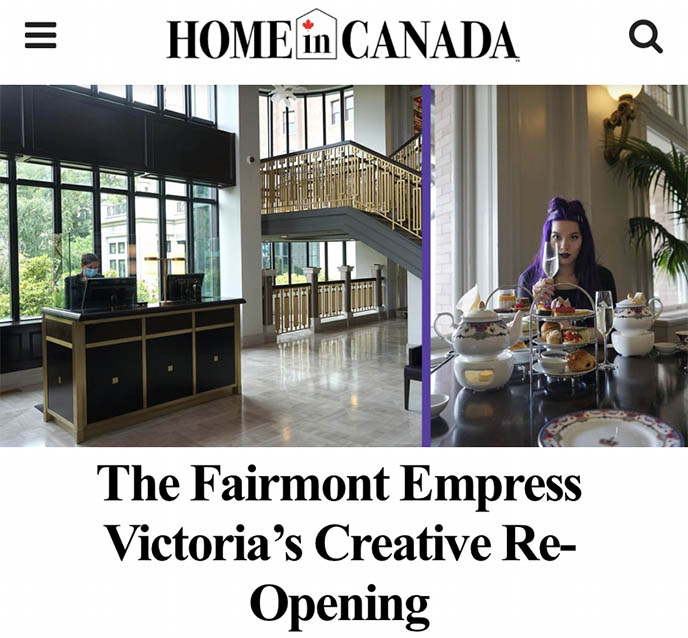 I'm also writing regularly for national print magazine, Home in Canada, and loving it.
Here's my latest travel article about staying at a hotel during the pandemic. (You can see more from my Fairmont Victoria stay in this blog review as well.)
And now, a birthday treat for you… A Prague travel diary from Joey Wong, one of my most constant travel companions! Since he's UK-based, he was recently able to do a safe trip to the Land of Absinthe.
Even if I can't fly anywhere for months to come, I can bring you new travel stories from my friends around the world. Let's begin with Joey's favorite Prague hipster spots such as an art factory, and Michelin-starred restaurants.
Ahoj! My name is Joey, trusted traveller and photographer friend of La Carmina. Together we've traveled and photographed the far corners of the globe from Easter Island to Japan.
Like many of you, travelling has become an integral part of my life so when COVID-19 hit, my lifestyle and priorities were flipped upside down. However, if there's one thing this pandemic has taught me, it's to do what you can when you can. So with super-hygiene and social distancing becoming our new normal, I knew it was time to take advantage of the low COVID case numbers in Europe and start travelling again. My destination of choice? Prague!
Without further ado, join me during my week as a digital nomad and experience the unexpected perks of traveling during a pandemic, including tourist-free sites, private dining experiences, and the same incredible experiences we gain when exploring a different city and culture.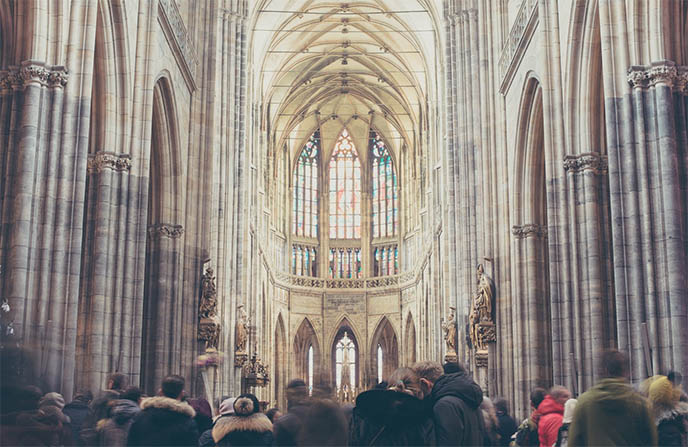 I first visited Prague in winter 2016, and it easily became one of the most majestic, photogenic cities I had ever been to. While I typically lean towards off-the-beaten path travel, I couldn't stop photographing Prague's magnificent sites including the Medieval statue-lined Charles Bridge, and interiors of the St. Vitus Cathedral (above).
During my stay, a light layer of snow dusted the city, making my experience more magical.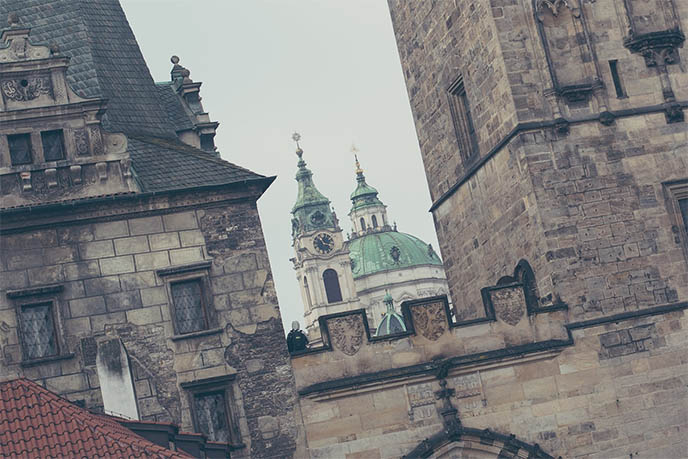 When my office in London closed due to COVID-19, I discovered an unexpected but welcomed consequence: the ability to work from anywhere. In July, case numbers were down, so I booked a flight to Prague. After months in lockdown, I was excited to spend a week both working and exploring.
In 2016, I ticked off Prague's most-visited tourist sites. This time, I wanted to make sure my experience in the Czech Republic was different from my first. I was keen to base myself in a comfortable, convenient, non-touristy neighborhood where I could pop out to get anything I needed in a pinch, yet still be in walking distance to major sights and restaurants.
Secret. Hip. Bohemian. These are the words you'll hear people say when describing Karlin, the neighborhood where I chose to stay. Located close to the northeast of historical Old Town, Karlin was not just trendy. It was also extremely convenient and surprisingly affordable. The cost of my private Airbnb apartment per night was cheaper than my average per night rent in my shared London flat!
What I love about neighborhoods like Karlin is the contrast of new and old. I was endlessly discovering new things to photograph – one being the Church of Saints Cyril and Methodius, which has been standing since 1863.
After a dinner out, I stumbled on the Karlin Barracks which is – you guessed it – the site of former military barracks. Now it is a huge, multi-building cultural complex that contains a bar, gallery, music club, fire-pit, and even beach volleyball! On my visit, a full-on summer cinema was underway.
Random discoveries like the Karlin Barracks are what makes me love to travel so much, so it should be no surprise that one of my favourite things to do in any city is to just roam. Due to time zones differences (GMT +2 means I didn't have to start work until 10AM) and long summer evenings, I had the privilege of having plenty of exploring time before and after work.
I had expected Prague to be a haven for street art, but surprisingly, it was not. But I was in for a pleasant surprise: the lack of street art was overcompensated by brilliant public sculptures by the acclaimed Prague-born artist David Černý. David Černý has several provocative pieces dotted across the city and I'd highly recommend a sculpture walk to spot them all.
You absolutely should not miss Černý's latest installation The Head of Franz Kafka. This sculpture is made of 42 rotating metallic panels, all rotating individually to form the shape of the famous-Czech novelist. You'll have to see it with your own eyes to believe it. After sending my brother a short video clip of the statue in action, he asked if it was CGI.
When you're on your sculpture hunt, don't forget to look up! I spotted Černý's work high above on the Žižkov Television Tower. Can you see the babies crawling up the tower? If you don't look up, you'll also miss Man Hanging Out, a depiction of Sigmund Freud dangling from a pole attached to a building rooftop in Old Town.
Besides some amazing sculpture, Prague has a lot of don't-miss galleries and culture centers — such as the DOX Centre for Contemporary Art and Vnitroblock.
If you want more of an alternative vibe, head to Meet Factory, a non-profit organisation and contemporary art factory founded by David Černý himself. While it's a bit out of the way from the main sites and neighborhoods, you won't be able to miss the MeetFactory complex – easily spotted with a large, red automobile hanging from the building facade. Inside, expect contemporary and alternative art from up and coming artists. One piece that stood out to me was a BDSM-themed pillow.
When you're finished with your sculpture spotting and art hunting, it's time to get a bite to eat. Prague, like many cities in continental Europe, has amazing Monday – Friday 'business lunch' deals. Three course meals can be had at the fraction of the dinner price.
Since I was working remotely and had limited free time, I carefully researched and reserved all the best Prague establishments. From Michelin starred modern Czech to Vietnamese street food to burgers and beyond, my highest recommendations are…

Divinis
Elegant yet unpretentious, Divinis was by far the best meal out of my entire trip. I wouldn't expect Prague to have fantastic Italian, but it absolutely did. I was particularly impressed with the amuse-bouche, which was a creative play on a garlic dough ball. I went in at around 2:00PM and had the entire restaurant to myself – an unexpected, yet welcomed perk to the recent pandemic perhaps?
Cafe Imperial
I was committed to avoiding all tourist traps, so I went to Cafe Imperial with hesitation. However, it ended up being one of the most memorable dining experiences on my trip. I was quickly won over by the fantastic and extravagant Art Deco atmosphere and attentive staff. I opted for the aptly named Imperial Breakfast that included a poached egg over avocado tartar. I felt like a VIP throughout my entire experience.
Pho Vietnam Tuan & Lan
Pho in Prague? Really? I was just as surprised as you are, but Prague has a surprisingly large Vietnamese food scene — so expect to see several pho and bahn mi eateries across the city. If you need a quick Asian fix, head to Pho Vietnam Tuan & Lan. There's more than one of these in the city, and I'd recommend the bistro venue at Slavíkova 1. Get takeaway and eat in the nearby leafy Jiřího z Poděbrad Square with the locals.
Kro Kitchen
After months in lockdown, I definitely indulged on my trip. So after my pho in the park, I walked to Kro Kitchen just 2 minutes away to have my second dinner. They are famous for their rotisserie chicken, but I ordered their signature lechon which was served over mashed potatoes, grilled pak choi, black garlic gray, and heaps of spring onion. Yum.
Pro tip: If you don't stay in Karlin, stay in Vinohrady. This is the neighborhood where Pho Vietnam Tuan & Lan and Kro Kitchen are located. I often found myself coming back for the amazing eats, and it's also the center of LGBTQ+ nightlife!
Eska
Part bakery, part cafe, part restaurant, and pure awesome, there's nothing secret about Eska anymore. Located in Karlin and already awarded a Michelin Bib Gourmand, the airy ambience, innovative menu and hybrid-dining concept makes Eska a must-visit on your trip to Prague. You can even take home some of their famous pickles!
I'll be honest – I booked my trip to Prague with hesitation but I'm so glad I went. For me, travelling has enabled me to live my life with open eyes and an open mind. Traveling is invigorating and it gives me a sense of purpose. If you feel restricted because of the current environment, do not lose hope – travel will return for all of us and when it does, it will be even more meaningful.
I can't wait to reunite with La Carmina for more worldwide escapades where our 'normal' is searching for the not normal – the off-beat, alternative, off the beaten path adventures that we love to capture and share.
Until then, stay safe, stay hopeful, and look out for my next guest post with exclusive photos from Sedlec Ossuary: the church adorned with bones from over 40,000 human skeletons.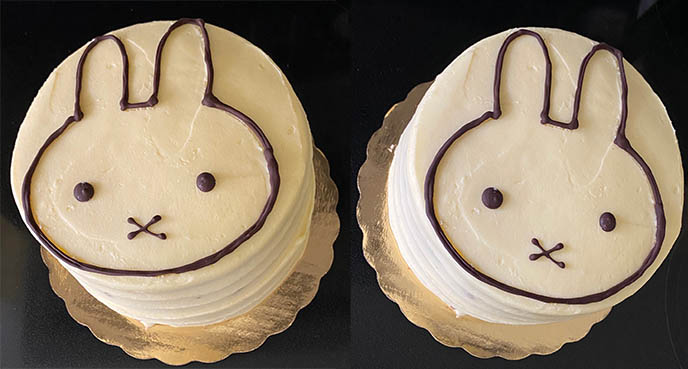 Dík (thank you) Joey for sharing his story. And thanks to all of you who left me birthday wishes! If only I could give everyone a slice of my Miffy cake. (I got this carrot cake, decorated with the face of my favorite cute bunny character, from Whole Foods).
Coming up… I have another guest travel post for you, from Yukiro in Japan!
Can't wait to reveal more about my TEDx talk on Goth culture as well. Cheers to everyone who encouraged me to be part of TED.
Find my clothing below, including this Victorian high cut out neck dress and Alexander McQueen bag: