Tokyo Halloween themed food: pumpkin burgers at Grand Hyatt, Oak Door! Pastel pink hair color, Attitude Clothing.
Trick or treat! I now have pastel pink hair, with blue and purple highlights. Are you surprised to see this new color?
I'm overjoyed because it's the best time of the year — Halloween. To celebrate, I'll show you photos from Japan, where locals celebrate the season big-time.
We'll kick things off with my fairy-hair, and then chow down on Halloween-themed cuisine in Tokyo, including skull cocktails and bat pastries at the Grand Hyatt's Oak Door restaurant.
First, let's take a look at the latest additions to my fall wardrobe. I'm wearing wooden designer sunglasses by Moat House, my favorite independent eyewear designer.
These artisans craft all their frames by hand in their Derbyshire, England workshop. The Moat House team sent me these gorgeous Godiva frames in Brazilian purple heart and oak, with a violet mirror lens. The cat eye shape is as flattering as it gets, and the frames are lightweight — so I can wear them with comfort all winter.
I'm a big supporter of Moat House's artisinal approach, and encourage you to support indie, sustainable brands like them. (They have all styles of wood glasses for both men and women, which you can see on their website.)
Attitude Clothing (an online shop with an amazing selection of dark fashion) sent me some designs by a Thailand designer, Morph8ne. Their dresses seem to be made for Wednesday Addams and Nancy of The Craft (especially their plaid schoolgirl dress).
I'm wearing the Charlotte dress, which has ultra long sleeves and a doll-like lace up corset back. I love the details such as the keyhole closure in the back, and the Morph8ne logo in a heart on the front.
Isn't this witch-baby dress perfect for the Halloween season? (Shop more fashion by this brand from Attitude Clothing, and by clicking below…)

How would you describe my new mermaid hair: My Little Pony? Cotton candy pastels? It also looks a bit like the asymmetrical cut and color of Final Fantasy's Lightning character.
I always go to hair stylist Stephanie Hoy at Sugar Skull Studio, in Gastown (#300-68 Water Street, Vancouver BC). Her work is magic: I went from grey-green to layers of light pink, baby blue and lavender. Stephanie is amazing at alternative dyes, but does all types of cuts: ask for her!
As the weather gets colder, I've been reaching for these new gold skull tights from Gal Stern. Based in Israel, she designs luxury legwear and just released a new Halloween collection that is perfection.
The nude hosiery is the softest, highest quality (it won't tear or run) and how wonderful are the Day of the Dead golden skulls printed over the knees! 
I've been keeping warm with my Long Clothing beanie, also from Attitude Clothing (they carry all my favorite brands). There's a skeleton skull and chain version of this knit cap as well — or tuque, as we say in Canada.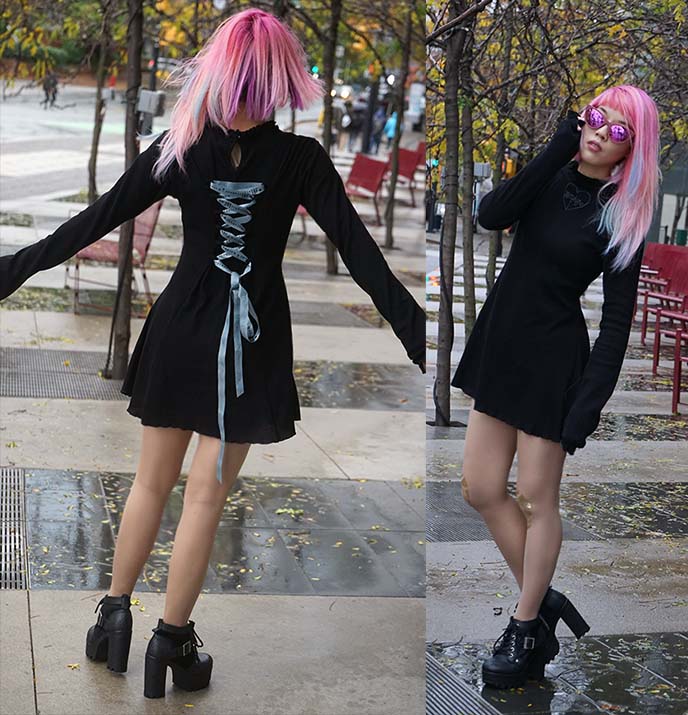 My doll-heel platform shoes are similar to these ankle boots by Demonia, and these shoes by YRU. More similar styles from my favorite footwear brands are below.
Thanks Attitude Clothing, Moat House eyewear and Gal Stern tights for the winter wardrobe update! In the next post, I'll show you a second outfit featuring these designers. (Photos by Joey Wong.)

Now, let's take a look at the cute Halloween food you can currently find in Tokyo! The October holiday gets bigger every year in Japan, and you'll find spooky-themed dishes all over the city.
Nobody does it better than The Oak Door restaurant, located at The Grand Hyatt hotel in Roppongi Hills. This American steakhouse released a masterful Halloween menu, complete with kabocha pumpkin burgers.
Pick your poison: the Oak Door Bar is also offering creative cocktails that feature skull glasses and syringes. All are beautifully mixed and presented, and available only for a limited time.
Above, I sipped on a Deadly Rose with pomegranate syrup, apple brandy, silver tequila and lime juice — with dry ice added for a ghostly touch. In the middle, the V-Blood pays tribute to vampires. The Trick or Treat on the right is an unusual and delicious concoction of vodka, melon and pineapple juice.
The "Dr Frankenstein" behind these drinks is Seyeram Anagbonu, bartender of The Oak Door. He takes a playful approach to his creations, and showed us how he made "brain sludge" out of vodka, lime juice and cranberry jelly.
Then, Chef de Cuisine Adam Noffsinger came in with these mouthwatering burgers… which look exactly like Halloween pumpkins!
I've never seen a burger bun as creatively executed: the bread is made from pumpkin puree and baked in the shape of the squash. Delicious, and all-naturally flavored and colored. Inside, there's a juicy patty (The Oak Door is known for its beef), Gruyere cheese, thinly sliced Japanese kabocha and classic fillings. Paired with sweet potato fries and spiced aioli, this turned out to be the most "spooktacular" meal I've ever had.
The Grand Hyatt also debuted a Halloween afternoon tea, and we got to try a sampling of dark desserts. The bat-shaped chocolate cookies, crème brûlée, tarts and creamy roll cakes (all pumpkin flavored) are made in-house by the award winning patissiers.
They're masterpieces: not overly sweet, with pleasing combinations of natural flavors, and expert decoration (check out the intricate swirls on the tarts).
Head pastry chef Goto Junichi is highly regarded, and deservedly so. His Halloween desserts showcase his fine French training, fused with a Japanese sensibility and touch of kawaii.
You can find his sweets at Fiorentina Pastry Boutique at The Grand Hyatt hotel, and I hope you'll come to The Oak Door for a kabocha burger and Gothic cocktail before the season ends. (Above food photos by John S.)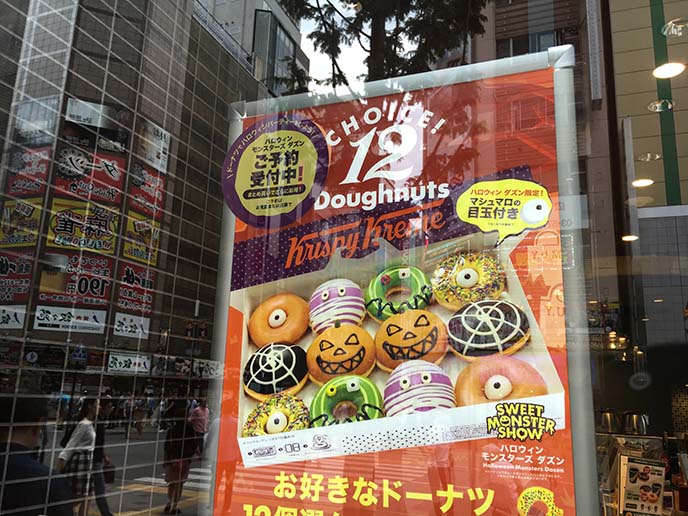 As you may have seen on my social media, I was in Tokyo for the start of my JRailPass train journey. I found lots of Halloween-themed snacks all over the city, and took photos for you. If only I could eat them all…
At Krispy Kreme Japan, there's a "sweet monster show" donut box available.
You can buy the Krispy Kreme donuts individually, or get a dozen in a graveyard-decorated box. I spy a melon soda monster, spider chocolate custard puff, grinning caramel pumpkin jack, and a purple mummy with sweet potato icing!
The Mr Donut franchise also gets into the Halloween spirit, with spooky Snoopy donuts. 
Mister Donut has donuts shaped like the Peanuts puppy, in white chocolate and chestnut glaze. The seasonal packaging makes it look like Snoopy is wearing a witch's hat. This chain is also selling chocolate spider and pumpkin ring donuts at the moment.
The cute cafe La Petite Mercerie celebrates with these adorable cakes: a Halloween shortcake and pumpkin gateau chocolat.
Their smiling Jack-o-lanterns with highlighted cheeks are the definition of spooky-cute.
Cozy Cafe is offering a Disney Villains special. There's a Mickey Mouse pumpkin cream cake, with chocolate 3D facial decor. Cozy Cafe also has gift boxes and other sweets themed like Maleficent, Ursula and other baddies.
If you want to buy Halloween snacks to take home, don't despair. You'll find plenty of items in gift stores all over Tokyo.
For these sweets, Snoopy transforms into a vampire, and peers out of a coffin.
At Don Quixote (the discount general store), you can find all sorts of inexpensive themed snacks during this season. I found anime biscuits and Halloween Pocky, as well as many others for under $5.
Japan rocks at packaging design. The Halloween mascots are always kawaii, with bright colors and simple shapes.
At Tables bakery, I was tempted to buy a Jack-o-lantern demitasse cupcake. There's also one that looks like Jack Skellington from Nightmare Before Christmas.
How cute are these bite-sized purple pumpkin and ghost mini cupcakes? 
In Harajuku, I swung by Nicolas House, a cafe with a bunny theme. All the custards and sundaes have rabbit ears and smiling faces. For the time being, there'e an orange pumpkin Bunnicula.
Nicolas House did a Miffy collaboration last year, decorating all the sweets to look like the Dutch character.
Even the savory dishes have a cute bunny theme.
Finally, I popped into the Kawaii Monster theme cafe in Harajuku. The restaurant is Kyary Pamyu Pamyu meets an acid trip: there's a cyber mushroom disco inside, and a giant sofa that looks like a cat. Everything is rainbow-colored, even the food — such as primary colored pasta, served on an artist's palette.
I didn't go inside or eat a meal here, but you can get the gist of it from these photos of the exterior. Kawaii Monster Cafe is open all year round, so you can get a taste of the rainbow at any time.
I leave you with this anatomical dish on display at Okadaya (the Shinjuku craft store).
What do you think of the Halloween treats in Japan, and my newly pink hair color? 
PS: If you're looking for a Halloween costume, I'm selling many of my favorite cosplay outfits on my Depop shop! I've also put up more Japanese Goth and Lolita fashion for sale including Banana Fish, h.Naoto, Peace Now, and much more.
Come see all the listings here, then email gothiccarmina@gmail.com and let me know what interests you. I'll do bundle discounts, and all items come with a photo and personal note. Looking forward to hearing from you.