Travel guide to visiting Lake Bled, Slovenia! Romantic castle & island near Ljubljana, Slovenian cuisine at Tito's Palace.
I've been asked: as a travel blogger, do I get jaded about traveling? Does going to new countries become boring at some point?
The short answer is no. Every time I visit a destination, especially one I know little about, I end up finding unexpected gems.
This was exactly my experience at Lake Bled in Slovenia. Who knew that this unassuming country would have a lake and castle straight out of a fairytale? 
Photos of Lake Bled are stunning enough, but the views are even more impressive in the flesh.
It's the definition of picture perfect: a tiny island with a white church, in the center of an emerald lake. The isle surrounded by the lush green Julian Alps, and Medieval-era Bled Castle.
You'll recall from my introduction post that Slovenia is a tiny country, which makes it easy to travel around. From the capital of Ljubljana, it's less than an hour's drive to Lake Bled.
That day, I wore my new blue tie-dye dress by Disturbia, the Goth and alternative fashion label that is one of my favorites.
My sheer Sailor Moon jacket is perfect for warm weather. I got it in Hong Kong, and love how the color is neutral, and the wands and crescent moons are subtle (but Sailor Moon fans will understand the references!)
Shop more fashion from Disturbia by clicking the pictures below 

Bled Castle is the oldest in Slovenia, and one of the country's proudest attractions. Since it's easy to access Bled from Ljubljana (there are also buses and trains), many visitors take a day trip to the lake.
I walked around the towers of Bled Castle, imagining that I was a European princess. Inside, I saw the silver armor of knights, spooky bones and other relics from the Middle Ages.
There's a crazy Medieval toilet in one room: the hole is a precarious drop down below, like the Vale's Moon Door in Game of Thrones.
Bring your camera. There are outstanding views of Slovenia, from the castle windows and terrace.
It's obvious why Lake Bled is a favorite destination for romantics. The location also leads into Triglav National Park, where you can take part in all types of outdoor adventures.
Time to explore the little island on Lake Bled. The traditional way to get here is by pletna, or a gondola with paddles.
As you can see, it takes a lot of muscle to row, row, row the boat! 
The Church of the Assumption is the focal point of island. Excavations revealed a chapel that dates back to 9 AD, but the current one was built in 1698. Inside, there's a "wishing bell": you pull on a long rope, and it rings the bell at the top of the steeple.
Lake Bled is not one of Europe's most known attractions, and this is a good thing. You'll feel as if you stepped into the olden days, and the experience doesn't feel commercialised.
The same well-muscled fellow took us back to the shores. He does hundreds of back-and-forth rows per day – what a workout!
I was glad to have the pletna to myself. We shot a 360 degree virtual reality video on the boat, which we will release soon.
I looked back, and the island faded into the distance. Many Slovenians get married here. According to local tradition, if a husband carries his new bride up the 99 steps to the church, then a happy marriage is guaranteed!
But even if he crashes and burns, romance is in the air, with pink flowers and picturesque frames like this.
Even though I didn't do any rowing, I was ready for lunch. At Lake Bled, dining comes with a 5-star view.
Our guide Ales took us to Vila Bled, which used to be Tito's palace.  President Josip Broz Tito lived here, during Slovenia's time in Yugoslavia. He was known as a "benevolent dictator"… perhaps the beauty of Lake Bled kept him from harsh ruling!
We walked through Tito's decadent palace. One of the rooms had a giant Soviet-style mural, featuring hardy workers waving red star flags and sickles.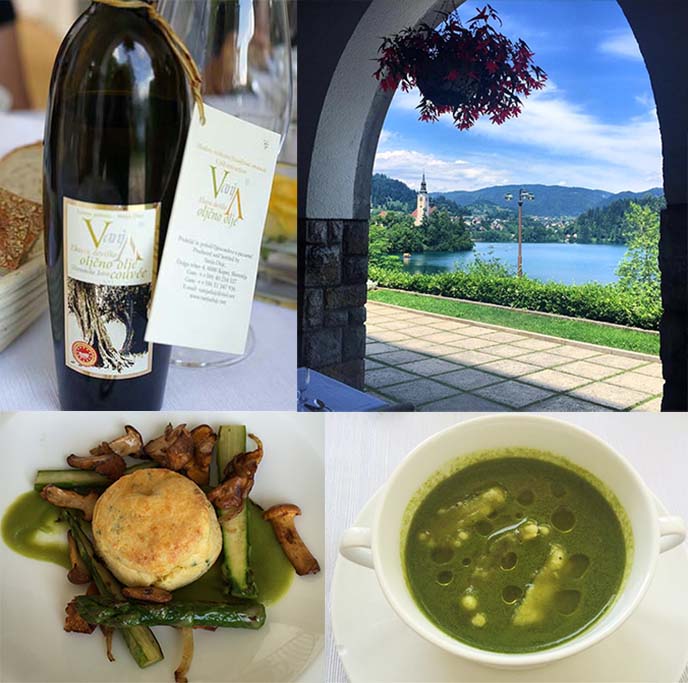 We sat down at a table in his courtyard — you can't beat a view like this. My filmmakers and I started with fresh juices, asparagus soup, and a feta and vegetable souffle. Even the simple brown bread, dipped in Slovenia's best olive oil, was beyond this world.
As I mentioned in my Portoroz post, there are lots of Mediterranean influences in the local cooking. This starter, a ravioli with parmesan, was executed with as much finesse as anything I've eaten in Italy.
If you've been following me on Snapchat (@lacarmina), I'm sure you were drooling at the food we ate that day. Trout is outstanding in Slovenia, and I ordered it multiple times during my journey. As you can see from the stamp above, Vila Bled's version was moist and colorfully presented with fresh vegetables.
Everywhere we went, Slovenian food was outstanding. At Gostilna pri Mari in Piran, an older local couple brought out plate after plate of incredible seafood. We started with octopus and squid carpaccio, moving on to squid ink risotto and penne with cuttlefish, and an entire grilled seabass.
Although you rarely hear of Slovenian wines, the local varietals are as complex and delicious as the ones produced in neighboring Italy and Croatia. I'm holding one of their dry, white wines from the Littoral region.
From Bled, we drove to Vila Podvin in the village of Mošnje Radovljica. This was a bed and breakfast inn to remember: the owners are proud of their heritage, and display Slovenian crafts in the lobby. We relaxed in clean and quaint rooms, then went downstairs to the garden — to experience their award-winning Slovenian restaurant. 
At Vila Podvin, the dishes are "New Slovene" masterworks by Chef Uroš Šteflin. He reawakens forgotten Slovenian recipes, with modern and creative techniques. We started with a unique soft boiled egg appetiser, followed by either lamb or trout in nuanced, naturally-flavored foam. One of the best meals of our entire trip.
We even woke up early for the breakfast at Vila Podvin, a mix of homemade thick yogurt, fruits, farm eggs and other European delicacies.
Like Elaine on Seinfeld, I don't like to use the word "breathtaking"… but for Lake Bled, I'll make a happy exception! Although my film team and I have been to many beautiful places around the world, this under-the-radar destination took our breath away… awayyy…
(All photos by Melissa Rundle and Eric Bergemann of Borderless Media).
I wave goodbye with the national flag of Slovenia. The coat of arms is a shield with the image of Mount Triglav, the country's highest peak. Below are two wavy blue lines representing the Adriatic Sea and local rivers, and the colors go back to Medieval times — like the castle where I'm standing.
Had you heard of Lake Bled? Wouldn't you like to visit?
PS: Shopbop is having a major sale right now – only til Oct 14th at midnight Pacific time! You can just enter code "MAINEVENT16″ for up to 30% off. My favorites are above: a leopard skull sweater, Goth skull print leggings, and this bat sweatshirt that is perfect for fall.
PPS: If you like what I'm wearing, shop more Nu Gothic fashion from the same brand (Disturbia) with a click below. And I've added new items to my online shop, including h.Naoto, Banana Fish, rocking horse Lolita shoes. Come see it here.