Better Late Than Never, Hong Kong: travel TV show with William Shatner, Henry Winkler! Sydney Opera House.
Thank you for your fantastic response to the Hong Kong episode of Better Late Than Never, the new NBC show travel TV show!
It was a dream come true to hang with The Fonz, Henry Winkler (of Happy Days fame)…
… and William Shatner, aka Captain Kirk on the original Star Trek. That is indeed me, dancing with Shatner in the streets of Mongkok, for this travel TV shoot! (Thanks to Thomas for this epic shot — full photo credits below.)
I'm very happy that "Better Late Than Never" has been raising lots of laughs and positive reactions! I couldn't believe it when the producers contacted me to be part of the series. I was flown to Hong Kong and got to take part in this second episode.
This hilarious travel-reality show stars Terry Bradshaw (quarterback and broadcaster), William Shatner (Star Trek's Capt. Kirk), Henry Winkler (The Fonz on Happy Days) and George Foreman (boxer and grill-master). Along with comedian Jeff Dye, these funny guys travel around Asia in search of adventures and Zen, with lots of mishaps along the way.  
Their journey throughout Asia includes Tokyo, Kyoto, Seoul, Bangkok and Chiang Mai. I was thrilled to have them be in Hong Kong with me — my friends and family even got to join the big dance scene in Mongkok.
(My dress is Spider by Natalie Lam. I'm currently selling a lot of my personal wardrobe; let me know if you're interested in any of my fashion/accessories! Take a look at my store listings here, and email me to let me know what you'd like.)
The weather was a little iffy that day, but the rain and clouds cleared in time for the big dance number. Believe it or not, we took over one of the busiest streets of Hong Kong!
The Fab Four arrived on the scene — Henry Winkler turned his camera on us for this shot. Terry Bradshaw whipped out a microphone and burst into song!
Then it was time to dance, dance, dance. I was impressed by their ability to pull off a choreographed number!
So much fun, to dance in the streets with Captain Kirk and Fonzie! 
(All of the amazing photos above are by Thomas Sandfield of Sandfield Productions. Thank you for capturing this epic day.)
I was glad to have my local friends with me, to take part in the scene.
Chaos, color, song… that's the spirit of Hong Kong! Can you see me dancing with William Shatner in the middle?
(Above two photos by K. Lau of Bright Production.)
I also filmed a scene on the minibus, where I talked about Hong Kong's travel attractions and general awesomeness. (Love the V-fingers photobomb behind me.)
What a joy to joke and riff with Henry Winkler and George Foreman, for this TV scene. They're truly kind and humble, and up for anything!
Here are more black and white images from Thomas Sandfield of Sandfield Productions. It was a genius idea to pair "culture and Zen" William Shatner with "let's roughhouse and sing" Terry Bradshaw on a travel show!
We were dancing along to the Otis Day and the Knights song "Shout (You Make me Wanna)."
Above shots by Arthur Rash. Thanks to everyone who supported the TV shoot, and for watching NBC's Better Late Than Never!
On that note… I never got around to posting about my travels in Sydney, Australia. But better late than never, right?
If you have me on your Snapchat (@lacarmina), then you'll have glimpsed me taking selfies under Harbour Bridge, earlier this year. (Since many of you asked, I'm wearing Karen Walker sunglasses.)
I'm wearing a Black Milk top and skirt: this Great Wave maxi-skirt is one of my favorites (see me wearing it at New Zealand's Hobbit Town). Blackmilk's designs are fantastic for travel because they're lightweight and don't crease, and easy to pack in luggage. (And stylish, of course). My fuzzy purse is from Mercibeaucoup in Shinjuku.
I had never been to Australia, and had very little time to explore. However, it was worth the trip to go down under and at least see Sydney. I'll have to come back soon to see the Gold Coast, Melbourne and more.
As a first-timer, I had to visit the Sydney Opera House. I took the subway to Circular Quay, and walked over.
The Sydney Harbour Bridge is also located here. Many travellers do the "bridge climb" where they walk on top of the structure for panoramic views. I'm not afraid of heights, but you aren't allowed to take your own photos, and must wear a not-so-stylish jumpsuit… I'd prefer to pose below, wearing Black Milk!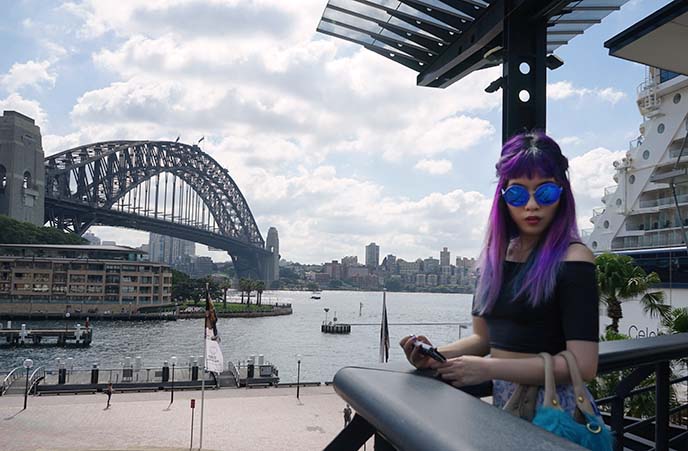 Even from "down under" the bridge, you can't beat these views of the harbor.
(My sunglasses are Karen Walker, similar to these round ones by her. More of her styles below.)

I don't usually like to do "tourist" activities in cities, but I thoroughly enjoyed the Sydney Opera House tour. This guided tour lets you go inside the concert halls and see Jorn Utzon's masterful architecture up close. 
I learned, for example, that the "white" sails of the roof are actually made over a million chevron tiles, in two shades of cream. Our guide spoke about the politics involved in the construction process, and how the Danish architect eventually left the project. (He's never even been inside the completed structure, which opened in 1973.)
I had the opportunity to see Jørn Utzon's room, defined by concrete structural beams and a 14 meter long tapestry of his own design. On the opposite end, giant windows overlook the harbour waters.
Our guide spoke about how Utzon solved design problems in innovative ways, such as by peeling an orange to see how the curved sails could fit together.
As you can tell, I learned so much from the multimedia Opera House tour. Anyone who is interested in modern architecture should check it out.
I selected the Tour and Tasting Plate, which ends with an al fresco meal underneath the sails.
At Opera Kitchen, I got to try a three-tiered lunch set with a range of finger foods: sushi, mini burgers, dumplings, salad and more.
The perfect lunch for sharing with a friend, especially when paired with Australian pinot noir. I got to enjoy the sunshine, and bask in this uninterrupted view of the Harbour Bridge and waters. 
From Circular Quay, it's a short walk to the Royal Botanic Garden. This large park is filled with different themed gardens, and has a pond and Asian pavilion.
It would be tragic if went to Sydney and skipped out on Bondi beach. I rode the subway to Bondi Junction, and then hopped on the bus that runs frequently to the beach. When you see this curving cove of sand, you've arrived.
This 1 km long beach is classic Sydney. I watched surfers ride the waves, and walked barefoot on Bondi's warm and soft sand.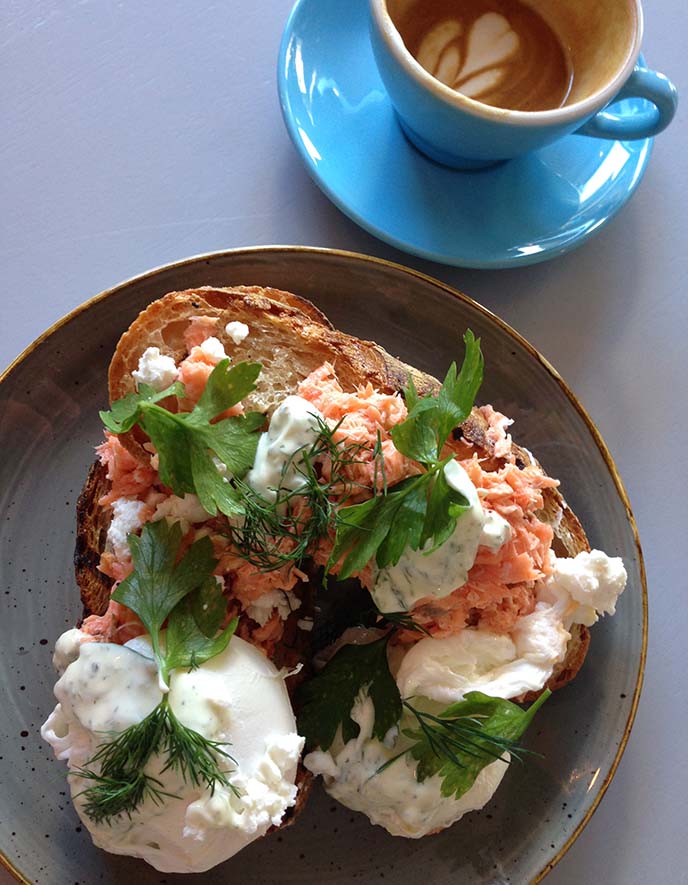 Time to chow down. I've heard that Sydney is famous for its breakfasts, and found this to be true. This salmon eggs Benedict, with an almond milk flat white, was as good as it looked on my Instagram.
I loved the breakfast at Ceru Restaurant so much that I came back for dinner. (I went to the Potts Point location, but the restaurant is currently moving to a new spot.)
I was accompanied by my friend Leanne, writer at Trashtastika. We were charmed by the Middle Eastern ceramics near the windows.
British chef Tom Kime launched Ceru as a celebration of Levantine cuisine. He incorporates flavors and recipes from the Eastern Mediterranean, infusing them with a modern interpretation.
We started by sharing a spread of mezzes and salads. Beetroot and chickpea purees, with cucumber sticks and pita — everything is organic, and the menu is vegan and gluten free friendly.
Fresh pomegranate, mint, and pistachio add dimension to this lamb dish. These Levant spices pair marvellously with Ceru's craft cocktails and cold-pressed juices.
I'm still thinking about Ceru's honeycomb baklava ice cream… with flavors of burnt caramel and roasted nut. Possibly the tastiest and most creative dessert I've had all year.
PS – you can find out more about Better Late Than Never on their website, including viewing times and clips.
I leave you with a few more scenes from this huge network shoot. There were so many moving parts, but the team pulled it off.
"We-eee-eeel…. / You know you make me wanna (Shout!) / Kick my heels up and (Shout!) / Throw my hands up and (Shout!)"
For more Hong Kong adventures and travel tips, check out all my posts here. And don't forget to take a glimpse at my wardrobe sale.
Have a happy weekend!