Istanbul Nightlife, Fashion, Hipster Districts: Beyoglu, Karakoy. 360 panorama bar, 1924 Rejans restaurant.
Istanbul is one of those fascinating destinations where ancient history and edgy youth cultures co-exist. In a single street, you can walk by the 14th century Galata Tower, and come across a spread of psychedelic graffiti.
Let's take a stroll through the hipster neighborhoods of Istanbul: Karaköy and Beyoğlu. I'll take you inside video-art galleries, and the design stores of Çucurcuma. We'll end our day with cocktails while overlooking a 360 degree view of the Bosphorus.
And since this is my birthday week (August 17!), I've put up many new items on my Depop store! Please take a browse. It would make me happy to send you a package of my Goth Kawaii fashion and accessories.
Check out my sales and email me if there's something you'd like!
Istanbul is a city made for walking. At every turn, you'll find photo-worthy details like flowering tiles, brightly painted walls, mosques… and a cat or two. (I wrote more about the street animals of Istanbul in this post.)
For a glimpse of local life, wander through the winding roads of Beyoglu. I enjoyed seeing the family-run markets and colorful homes of this district.
Outfit Details: I'm wearing a coat by Alice's Pig – here's a similar jacket with faux fur collar, by Free People. My natural wood sunglasses are Moat House Eyewear. (More fuzzy collar jackets below!)

You'll come across cats and dogs everywhere in Istanbul. They're quite well fed and relaxed — this kitty made himself at home, on a motorcycle!
I recommend wearing good walking shoes, since Beyoğlu's roads are steep and lack pavements. The area is safe during the day, but my local friends advised me not to go here alone at night.
On the popular shopping street, Istiklal, you'll find lots of modern art galleries. At Arter, there was an intriguing collection of video and light projections. Quite a few had creepy motifs: a giant stuffed bear, a floating dress, a bedroom voyeur. 
If you're afraid of clowns, then you wouldn't want to come across this gigantic pregnant mime! 
Continue to the Karakoy district. You'll find stores selling handmade goods, and walls of colorful street art.
There's a funky, hippie vibe to a lot of the works. I just love the energy of cities like Istanbul.
Be sure to find Çukurcuma, a cool street in the heart of Beyoglu. It's famous for its antique shops, but I was more interested in browsing the hip design boutiques.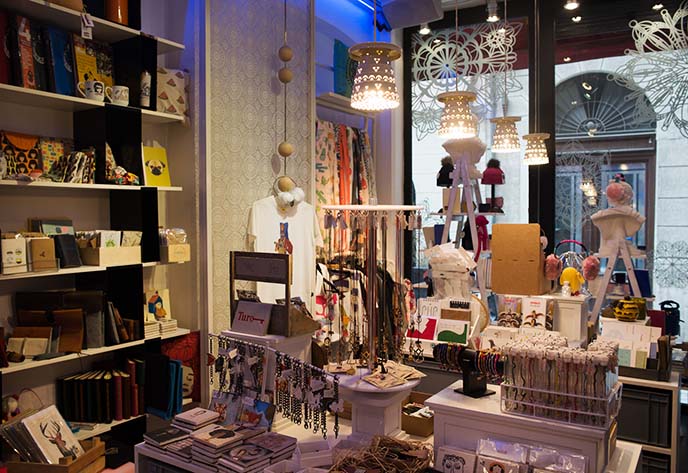 I found Totoro pins and bunny dolls in Lunapark. Most of the Cukurcuma retailers are local and independent — a nice contrast to the more commercial shopping areas.
Nearby, there was a jewelry maker, and a comic books store. We passed by the cutest cafes, and couldn't resist stopping for a tulip-shaped glass of hot black Turkish tea.
Every district of Istanbul has a distinct character. The fish and fruit vendors waved me into Besiktas market.
Pants: I'm wearing these exact Black Milk leggings.
Shoes: Ecco Intrinsic sneakers — love these kicks!
Coat: Alice's Pig, similar here. Faux fur, always.
Shades: Moat House Eyewear
Istanbul's hottest restaurants and nightlife are centered around Istiklal St, near Taksim Square.
We had a world-class dinner at 1924 Rejans, a restaurant that hearkens back to the era of Russian emigres in Turkey.
(Address: Asmalı Mescit Mahallesi OIivya Geçidi No:7-A, 34435, Istanbul)
Rejans was once an Istanbul hot-spot for wealthy Russians, who fled the Bolshevik revolution and recreated their urbane lifestyle in Turkey. Bohemians and politicians alike rubbed shoulders in the wood-paneled dining room.
Today, the restaurant has been revived as 1924 Rejans. The classic decor and attentive staff instantly bring you back in time.
The mixologist introduced himself, and brought out a pushcart of house-infused vodkas. We started with the classic lemon vodka: I was tempted to taste every flavor.
We ordered a round of classic cocktails, each made in perfect measure.
Nostalgia isn't afraid to meet innovation. I watched the bartender make me a smoky Negroni, with molecular cocktail theatrics.
The menu is tribute to classic Russian and Eastern European favorites, with some modern twists. We started with a delightful spread of appetizers including salads and warm salmon blinis, followed by comfort classics like chicken Kiev and beef Wellington.
A live accordion player filled the room with Slavic song. 1924 is a warm, elegant dining experience that brings you back to Europe's golden days.
On another night, we had a very different — but equally memorable — evening at 360 Istanbul. Located on the rooftop of an eight story building, this bar / restaurant / club offers one of the best panorama views of the city. (Address: Tomtom Mh., İstiklal Cad. Mısır Apt.No:163 K:8, 34433 Beyoğlu).
360 Istanbul is completely surrounded by windows, which lets you dine with a spectacular unblocked view. You can also step onto the patio to gaze out at the Bosporus, mosques and historical district.
The restaurant is open for lunch and dinner, with a large selection of dishes that range from Turkish mezzes to international cuisine. On the weekends, 360Istanbul turns into 360Club, with top DJs and live musical performances.
Don't miss out on the many clubs and bars in the Taksim area, especially in the summer. At night, these streets are full of energy, and venues are pumped up with partygoers until early morning.
I leave you with some illuminated art, from a gallery in Besiktas.
Istanbul is inspiring, isn't it? I hope this guide gives you a sense of the coolest neighborhoods, what to see, and where to eat! Please feel free to share the post with friends who are interested in Istanbul, and perhaps traveling here soon.
And thank you again for the birthday wishes. I'd love it if you took a look at my store — I'm selling lots of my Japanese fashion and accessories for low prices.
Just take a browse here, and email me directly if there's something you would like. I'll gladly do exact shipping and bundle discounts, and send your package with a personal note, photo, and more. Talk soon!