Vietnam Buddhism & Tattoos! Hanoi tattoo shops & Tran Quoc pagoda, FAM or press trip.
I'm sad that this is my final dispatch from Vietnam… but we're ending on a happy note in Hanoi. I'm sure I will be back soon, to see more of this peaceful country.
In this final post, we'll visit tattoo artists with vampire fangs, a temple where people worship mothers, and eat pho with Pirate Miffy!
(And if you'd like to have the skeleton dress I'm wearing, it's available on my Depop store — along with hundreds of alt clothes and accessories from my personal collection.)
Thanks to our guide Bao at Vietnam Food Tour, John and I experienced the best of North Vietnam — including a cooking class with a family, and a boat journey thorough Halong Bay.
For our last days, we decided to explore Hanoi, known as the cultural capital of the country. We stayed in the Old Quarter, a timeless neighborhood that came alive with clubs and street food at night.
(Photos taken with the amazing Sony alpha7 mirrorless DSLR camera.)
I'm always interested in the juxtaposition of ancient and avantgarde in worldwide cities. We began our day by traveling back in time, and visiting the 6th century Trấn Quốc Pagoda.
Above: how many youths can fit on a motorbike? The footage you see on travel TV shows is true — the Vietnamese are masters of balancing an entire family on a single motorcycle.
It was a hot day, so we cooled off with fresh coconut water and coconut milk popsicles, sold right by the pagoda.
Foodie tip: When you're in Southeast Asia, ingest fresh tropical fruit at every opportunity! You can't mangoes and coconuts of this quality back home, not even at Whole Foods. Plus, these local fruits cost a fraction of the price.
Tran Quoc pagoda rises over Ho Tay (West Lake). It's the oldest temple in Hanoi, and arguably the most picturesque. The Vietnamese flag, red with a yellow star, waves in the background.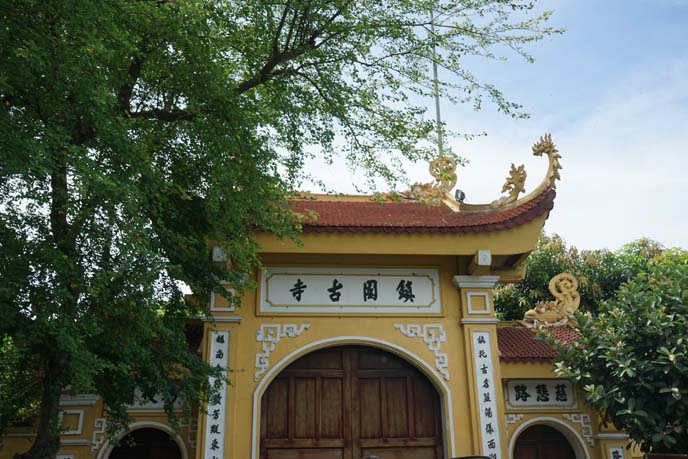 Make sure that you visit the temple during its opening hours, which are generally from late morning to the early evening. To enter, we walked through these elegant gates with the distinctive Vietnamese curved rooftops. 
I paused beneath the Buddhist Bodhi tree. It was a gift from the president of India, in 1959. Legend says that it grew from a branch of the same tree where the Buddha became enlightened. Our Vietnam Food Tour guide showed us how to walk counter-clockwise around the trunk, while reflecting and strengthening intentions.
(Here's where you can get a similar skeleton dress or sweater — and the exact one I'm wearing is available via my wardrobe sale!)
Vietnamese Buddhist monks live in this temple, and are often seen in walking meditation. At the main shrine, visitors light incense and give blessings.
(My cat-eye wooden sunglasses are from Moat House Eyewear.)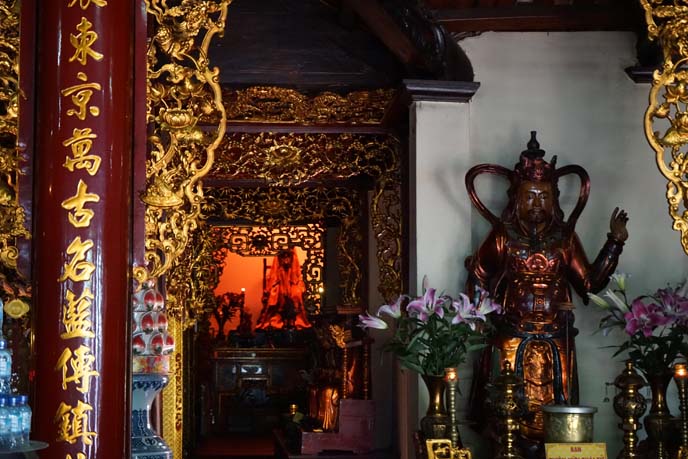 I've been to Buddhist temples in various parts of Asia (including the Hong Kong Tian Tan statue, and Wat Pho in Bangkok). It's fascinating to see the regional differences in the design and approach.
Inside this Vietnamese temple, we saw various incarnations of the Buddha depicted in ornate gold. On either side, there were shrines dedicated to folk heroes and ancestors. Many homes and shops — like Mr An's house — have personal shrines that give reverence to all of the above.
Outside, we admired the towering red pagoda. Each level held a white Buddha statue, sitting in the lotus position. Amazing that Tran Quoc dates all the way back to Emperor Ly Nam De in the sixth century.
I noticed that many Vietnamese buildings are painted yellow — the color associated with gold and royalty.
We were glad to have our Vietnam Food Tour guide with us, to answer questions and fill us in on the distinctive culture.
For instance, we were surprised to see locals praying in front of doll-like statues of women. Our guide explained that the Vietnamese practice "Dao Mau," or the worship of mother goddesses — a folk ritual that dates back to the days before Buddhism.
I loved hearing about the local spirituality, which integrates folk and Buddhist traditions in a natural, personal way.
We saw a different type of shrine later on that day. John Skeleton and I wanted to learn about tattoo culture in Vietnam, so we visited several top studios and interviewed the artists.
If you're looking to get a tattoo in Hanoi, we hope you find John's following report helpful.
Tats Studio (Address: 91 Ba Trieu Street, Hanoi)
To get to Tats Studio, you'll need to follow a long corridor plastered over with tattoo designs in every style imaginable. It opens into the reception area, lined on one side by a wide variety of tattoo inks, needles, and other equipment — and by sofas and alcoves full of skulls and knickknacks on the other.
The studio's logo is displayed prominently on the wall, flanked by a life-sized silver skeleton. We met head artist and owner of the studio, Tuan, who flashes a pointy smile made even more toothsome by a pair of vampire canines that, he claims, are real.
We had heard from our tour guide and others that tattoos were viewed as something only for gangsters, playboys, and maybe a handful of rebellious youth in Hanoi.
However, Tuan impressed us with his strong desire to elevate tattooing to a higher level of appreciation in Hanoi, even working together with other Vietnamese artists to raise the overall level of artistry and technique throughout the country.
Tats Studio's business card says "We'll Make You All Tats-A-Holic." While the artists at Tats Studios can accommodate just about any range of style, Tuan specializes in portrait tattoos that are photorealistic down to the tiniest detail.
He also told us about the way he and his artists have been incorporating traditional Vietnamese folk paintings of tigers and other animals into their tattoo work to create something that is distinctly Vietnamese.
Ninja Ink Tattoo Studio (Address: 35 Nghi Tam, Yen Phu Tay Ho, Hanoi)
Nini Beltran and Jack Bullard not only combined their names to form their studio's appellation (NinJa Ink), they have also fused their talents to put a fresh new face on tattooing in Hanoi. While Jack was unable to join us at the studio that day, Nini filled us in on how she became involved in tattooing. Starting off in Manila with an Electronics and Communications Engineering degree, it wasn't long until she realized that her true calling was in artistic pursuits.
She specializes in colorful tattoos in numerous styles, but told us that she particularly enjoys photorealistic tattooing because of the technical challenge it represents. Jack's works covers a wide spectrum, but often employs bold use of black line work to create traditional and tribal motifs, as well as more modern designs.
They are currently expanding their studio to accommodate more artists and clientele, and also offer henna skin art for those who aren't quite ready to take the plunge into permanent designs.
Many of their clients are women, who trust the aesthetic judgment of the female tattoo artists. In a country where tattooing remains a Wild West (with no licensing requirements and little regulation), Ninja Ink sets the bar for high standards.
In between the visits, we paused on Luong Van Can, Hanoi's toy street. Kids will go crazy for these stores, which are packed with stuffed toys.
Remember my advice to devour all the fresh fruit in sight? I got the best mango, avocado and banana smoothie of my life — and it only cost $1.50 US!
John continues with his tattoo studio report…
Hanoi Tattoo (Address: 73 Hang Bo Hoan Kiem, Hanoi)
The first thing that struck us about Hanoi Tattoo, aside from the spacious and homey interior, was the prevalence of Japanese wabori-style designs — from Noh hannya masks on the wall to framed artwork of bodysuit tattoo designs.
Head artist Đoàn Văn Quyền told us that Japan's style of tattoo design was very popular in Vietnam, especially among older men who admired the elaborate bodysuit patterns seen in Japanese gangster flicks. However, with around 10 artists, he assured me that Hanoi Tattoo could take on just about any style of tattoo design for its customers.
While Vietnam's tattoo renaissance has been slow in coming, his studio was one of the first to crop up in Hanoi, having been established in 2003.
He is a regular at the annual Vietnam Tattoo Convention, which, he tells me, is not about competition among artists. In fact, there is no "Best of Show" award, simply a plaque that each artist receives to show their participation, as the goal is mutual honing of the techniques and artistry behind the craft of tattooing.
Like the Tats Studio, Hanoi Tattoo is attempting to put tattooing, which was previously in the realm of gangsters and playboys, into the spotlight as a legitimate artistic medium in Vietnam.
After all these interviews, it was time to relax at our hotel, Maison d'Hanoi Boutique Hotel. We were fans of the bright, modern meets traditional lobby.
The staff always greeted us with big smiles. When we checked in, we got tea and welcome towels. Pirate Miffy gives that an "arr"!
We highly recommend staying in Hanoi's Old Quarter. This neighborhood seems frozen in time, with narrow streets cross-crossed by motorcycles, and vendors carrying big baskets of fruit. It's also central, and has many restaurants and clubs within walking distance.
At Maison d'Hanoi's restaurant, we ate pho — the fragrant Vietnamese noodle soup. An absolute must-have, if you travel here.
Miffy's expression may be unreadable, but she is bursting with joy on the inside!
A typical pirate, Miffy then plundered the rum at the hotel bar.
Tea and internet — John's happy place.
It's important to stay in a safe, top-rated hotel like Maison d'Hanoi, since I've heard of travellers getting their belongings stolen in sketchy hostels.
The hotel is also a great choice for honeymooners and couples, since they decorate the rooms in this sweet way. Looks like a certain bunny is the third wheel… oh Miffehhh!
After dinner, we walked around our Old Quarter neighborhood. Locals and tourists gathered in the streets, drinking and socializing. (See this in action, at the end of our Vietnam travel video.)
We wandered into a rock music bar, RockStore, and had such a fabulous time that we went back the next evening. Drinks were buy one get one free, including a fresh mango and rum concoction that they made just for me.  The pizza was on point, and a live "Funny Band" featured an electric saxophone. We were able to request songs, so we turned the club into an 1980s Italo Disco fest. When you come, say hi to the awesome Benny (above) from us, and he might deliver free shots!
What more can I say? Vietnam rocked our socks. John and I are already planning to go back to see the snake village, and fire bazookas on a range!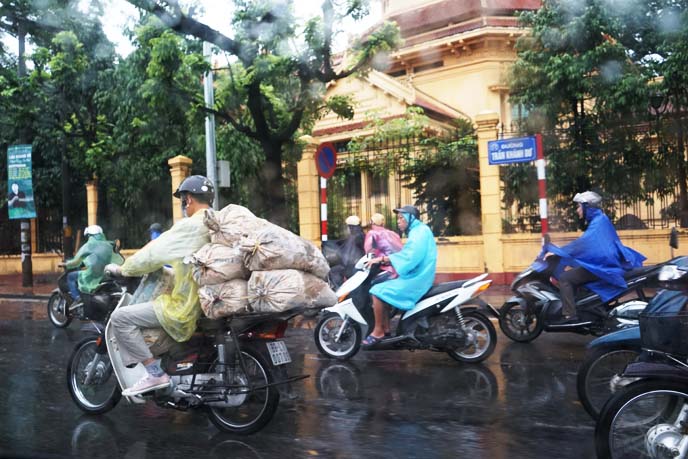 We are so grateful to Vietnam Food Tour for these eye-opening experiences. The guides went above and beyond to customize our stay, and introduce us to Vietnamese cuisine. I hope you'll consider traveling with them too (more info on their Facebook page).
The tour company is currently offering a FAM trip (press trip) to Vietnam for travel agents, journalists and bloggers! From Oct 16-26, 2016, they'll take you to all the best spots including Ha Long Bay, Hue, Hoi An, and Ho Chi Minh city. If you're a travel professional and interested in joining (all tour expenses are covered), check out the info here and let them know I sent you.
I leave you with a few iPhone panoramas – and please don't forget to watch our Vietnam travel video, which shows our adventures in Hanoi and Ha Long Bay.
And don't forget — you can shop my Japanese Goth Cute wardrobe right here, at discounted prices! Shoot me an email and I can put together a bundle for you.